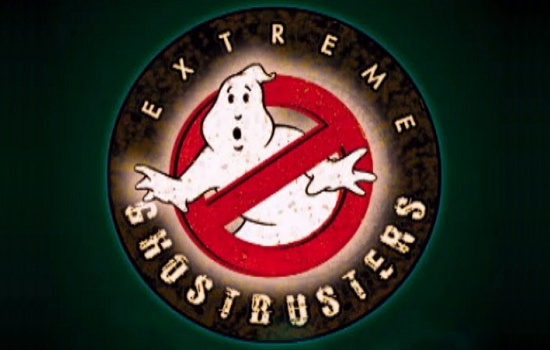 From September 1st to December 8th 1997, Ghostheads were treated to the first new Ghostbusters media since The Real Ghostbusters aired its last original episode in September 1991. Back in the '90s, everything was EXTREME! So, naturally, we'd get EXTREME GHOSTBUSTERS!!! Yeah, the title was dumb even back then, but at least they
weren't "super"
. The series saw a new crew of young 18- and 19-year-olds being mentored by an older Egon and Janine, who were the only original team members left after the city's influx of spiritual energy ran dry years ago.
A lot of Ghostheads disliked the show at the time, as they wanted to see Peter, Ray, Egon, and Winston; not Eduardo, Kylie, Garrett, and Roland. Those who stuck with it - assuming they could find it, as Sony dropped it into the shittiest syndication deal possible at the time - found a show that was a lot more mature than the "kiddie" stuff ABC was peddling with The Real Ghostbusters in the latter years. I rewatched all 40 episodes last year, and was surprised by how well the show has held up 20+ years later. The writing is sharp, the acting in on point, and the character designs are fantastic. The only thing that sucks is the piss-poor animation. Sorry animators, but flickering back and forth between Photoshop filters is
not
how you animate proton streams.
Spook Central is giving you the chance to watch this semi-forgotten piece of Ghostbusters lore all throughout the month of October. Every day leading up to Halloween, I will present one or two episodes, with optional English subtitles, and a little bit of commentary from me. A little something to whet your appetite until
Afterlife
comes out next year. So, sit back, relax, and let's get EXTREME!!!!!
Ray, Winston and Peter return for Egon's birthday celebration and decide to bust some ghosts, just for nostalgia's sake. But then they decide they've "still got it," and the Extreme Ghostbusters now feel that they are the obsolete ones. That is, until the Real Ghostbusters get in trouble, and the Extreme Ghostbusters must save their butts.
We've reached the end of this journey, and what better way to end it then with a family reunion. Yes, the two "Back in the Saddle" episodes originally aired two spots earlier, but they were meant to be the finale. We started with a two-parter, and that's how I'm ending this.
Frank Welker (as Ray), Buster Jones (as Winston), and Dave Coulier (as Peter) all return to reprise the characters they voiced in The Real Ghostbusters. They're all a little older, and a little out of shape, but they still have what it takes to get the job done. As a Ghosthead, this was a pure dream to have the original guys back AND teaming up with the new kids.
FAVORITE QUOTE
Peter Venkman:
Suit up boys, we're back in the saddle.
The old team sticks around to help battle the largest threat the Ghostbusters have ever faced: a huge, foglike, growing, amorphous mass of ectoplasm, which contains the ecto center of the Bermuda Triangle, heading toward New York and devouring everything in its path.
The story concludes, and it's bittersweet since this would be the last Extreme Ghostbusters episode, EVER! The characters did return in some of the IDW comic books, but it's not the same. With next year's
Afterlife
reportedly going to feature a return of the original Ghostbusters and a new team of ghostbusting kids - literally "kids", as they are all much younger than the 18- and 19-year-olds in Extreme Ghostbusters - I hope that we'll get the warm-fuzzy feelings again that we got from this two-part finale.
FAVORITE QUOTE
Kylie:
You are a Ghostbuster. You're on a case. Whip out your PKE and get to work.
No feedback yet
Leave a comment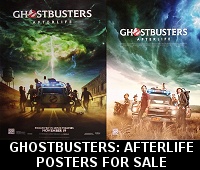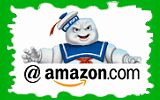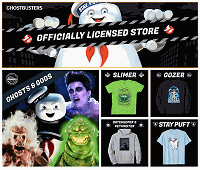 Please be aware that as an Amazon Associate, I earn a very tiny commission from purchases made though the Amazon links on this site.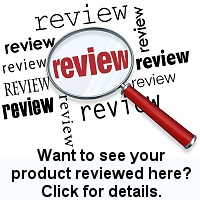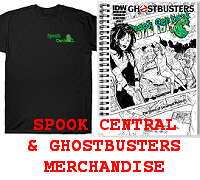 (
MY COMPARISON REVIEW
)
(
AVOID SHIPPINGEASY/STAMPS.COM
)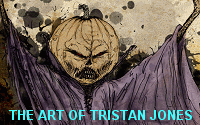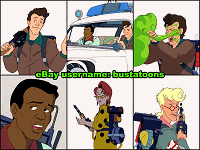 U.S. eBay (Ghostbusters stuff)
U.K. eBay (Ghostbusters stuff)