www.BuyItHere.tk
CLICK ON AN ITEM TITLE TO VIEW A PHOTO OF THE ITEM.

UNLESS OTHERWISE STATED, THERE IS ONLY *ONE* OF EACH ITEM AVAILABLE.
IF YOU CHANGE QUANTITES IN THE CART TO ANYTHING MORE THAN "1", YOU WILL GET A "SOLD OUT" MESSAGE.[ BACK TO MAIN PAGE ]
Just a quick note to state that I do not judge the condition of the packaging boxes for action and collectible figures. Almost all that I have are in fantastic condition, but I'm not going to look them over for minor signs of shelf wear. Please refer to the item photo for an idea as to the condition of the box. Any that have considerable wear with be noted.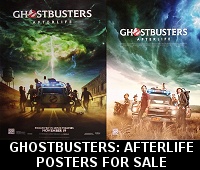 ======================================================================
(QTY: 2)
Funko Pop #925 Ghostbusters Afterlife: Phoebe
Price: $10.00


Condition: Brand New
======================================================================
Funko Pop #926 Ghostbusters Afterlife: Lucky
Price: $10.00


Condition: Brand New
======================================================================
Funko Pop #927 Ghostbusters Afterlife: Podcast
Price: $10.00


Condition: Brand New
======================================================================
Funko Pop #928 Ghostbusters Afterlife: Mr. Grooberson
Price: $10.00


Condition: Brand New
======================================================================
(QTY: 2)
Funko Pop #304 Ghostbusters 2016: Erin Gilbert
Price: $9.00


Condition: Brand New
======================================================================
Funko Pop #305 Ghostbusters 2016: Jillian Holtzmann
Price: $15.00


Condition: Brand New in Non-Mint Box
======================================================================
Funko Pop #307 Ghostbusters 2016: Gertrude Eldridge
Price: $9.00


Condition: Brand New
======================================================================
Funko Pop #548 Stranger Things: Ghostbuster Lucas
Price: $11.00


Condition: Brand New
======================================================================
Funko Pop #141 Domo Ghostbusters: Stay Domo
Price: $40.00


Condition: Brand New
======================================================================
Dorbz Ghostbusters Winston Zeddemore Vinyl Collectible Figure
Price: $5.00


Condition: Brand New in Non-Mint Box
======================================================================
(QTY: 2)
Mattel Classic Ghostbusters Peter Venkman Figure
Price: $11.00


Condition: Brand New
Figure is approx. 6" tall.
======================================================================
(QTY: 2)
Mattel Classic Ghostbusters Ray Stantz Figure
Price: $11.00


Condition: Brand New
Figure is approx. 6" tall.
======================================================================
Vinimates Ghostbusters Ray Stantz Vinyl Figure
Price: $6.00


Condition: Brand New in Non-Mint Box
======================================================================
Stranger Things Ghostbusters Sweatshirt (Extra Large [XL])
Price: $40.00


Condition: New with Tags
======================================================================
Vintage Kenner The Real Ghostbusters No Ghost Logo Proton Pack Armband
Price: $8.00


Condition: Very Good
This originally came together with the Proton Pack. It measures 10.75" in length. Designed for child arms, not adults. Very minor wear from usage.
======================================================================
Vintage Kenner The Real Ghostbusters Water Zapper Toy Weapon
Price: $50.00


Condition: Very Good
You fill it with water, then pump the barrel to spray the water. Since I want to keep it dry, I did not test it out, but I see no reason why it wouldn't work. SOLD AS IS.
======================================================================
Vintage Superior The Real Ghostbusters Gumball Machine Coin Bank + Extra Topper
Price: $55.00


Condition: Acceptable
This unique item was manufactured by Superior in 1987. I think that you fill it with gumballs though a hole in the bottom, then put a coin in the slot and turn it to get a gumball, while depositing the coin into the base. The coin bank itself and its topper show moderate to heavy signs of wear, and it's missing the bottom. The extra topper is in great shape. Its operational status is unknown as a dispenser, so it's best for display use only. SOLD AS IS. (ADDITIONAL PHOTO #1, ADDITIONAL PHOTO #2)
======================================================================
Vintage The Real Ghostbusters Childrens Kids Size Stretchy Elastic Belt Lee NYC
Price: $6.00


Condition: Acceptable
Lee NYC manufactured this soft stretchy belt which features the show title logo, the No Ghost logo, and Slimer. It is dirty with wear on the buckle from age and usage. I'm not sure if it can still be adjusted. In its current form, it measures 16". The full length would be 26" if the clip could be moved. I didn't try opening the clip. This is for children, not adults. SOLD AS IS.
======================================================================
Custom Ghostbusters No Ghost Logo Analog 10" Wall Clock
Price: $25.00


Condition: Very Good
This plastic clock operates on a single AA battery (not included) and measures approximately 10.25" in diameter. Some minor wear, scuffs, and scratches as seen in my photo. I have TESTED it, and it DOES WORK! The second hand moved around, so I assume the minute and hour hands do, too. SOLD AS IS.
======================================================================
(QTY: 3)
Ghostbusters Blue Logo Reusable Bag
Price: $5.00


Condition: Brand New
======================================================================
Ghostbusters: Book of Shapes Board Book
Price: $5.00


Condition: Brand New
This educational board book is for ages "3 and up", measures 7"x7", and contains 10 pages.
======================================================================
(QTY: 2)
Ghostbusters: 1 to 10 Slimer's Loose Again Board Book
Price: $5.00


Condition: Like New (some shelf wear)
This educational board book is for ages "infant and up", measures 7"x7" and contains 20 die-cut pages, with numbered tabs around the top and right sides.
======================================================================
Audio CD Set - Halloween Party Monster Mix / Monster Mash: Party Songs & Spooky Sounds for Kids
Price: $5.00


Condition: Brand New (Both Sealed)
Cases may have cracks.
======================================================================
Audio CD Set - LittlePeople: Halloween Sing-Along (Sealed) & Halloween Fun (Opened)
Price: $5.00


Condition: Brand New (Sing-Along) / Like New (Fun)
======================================================================
Audio CD Set - LittlePeople: Halloween Sing-Along & Halloween Fun (Both Sealed)
Price: $9.00


Condition: Brand New (Both Sealed)
======================================================================
Audio CD Set - Monster Mash: Kid's Halloween Party (+DVD) / Haunted Mansion
Price: $5.00


Condition: Brand New (Monster Mash) / Like New (Haunted Mansion)
Cases may have cracks.
======================================================================
Ghostbusters Times Scare Mini Comic Book
Price: $5.00


Condition: Near Mint
Measures approx. 5.5"x8.5".
======================================================================
Classified Secrets of Infestation Mini Comic Book (in SEALED IDW BAG) - Ghostbusters Star Trek
Price: $20.00


Condition: Brand New in SEALED IDW Bag!
Measures approx. 5.5"x8.5".
======================================================================
Ghostbusters DVD (1999 Release)
Price: $5.00


Condition: Good
Includes case, disc, and insert. Do note that there is a minor crack on the inner ring of the disc which has been repaired with some tape. The disc plays perfectly fine.
======================================================================
(QTY: 2)
Ghostbusters II DVD (2005 Release in Slim Case)
Price: $5.00


Condition: Good/Very Good
The disc includes two episodes of The Real Ghostbusters: "Citizen Ghost" and "Partners In Slime".
NOTE: One of the two copies has a cut down the side of the plastic case. The artwork is fine, just the case is cut. I don't have any other slim cases to put it in, and the case is otherwise fine.
======================================================================
Ghostbusters: Answer The Call (2016) DVD
Price: $5.00


Condition: Like New
Includes case, disc, and all inserts.
======================================================================
(QTY: 2)
The Real Ghostbusters Vol. 3 DVD
Price: $5.00


Condition: Brand New (Sealed)
Includes the following 11 episodes: Doctor Doctor / Ghost Busted / Beneath These Streets / Boo-Dunit / Chicken, He Clucked / Ragnarok and Roll / Don't Forget the Motor City / Banshee Bake a Cherry Pie? / Who's Afraid of the Big Bad Ghost? / Hanging By A Thread / You Can't Take It With You.
======================================================================
Mattel Ghostbusters Ecto Ghosts Store-Used Empty Display Box (2016) (BOX ONLY, NO TOYS)
Price: $30.00


Condition: Acceptable
Box has wear from being used in the store. See photos for quality.
======================================================================
Underground Toys Ghostbusters Talking Plush Clip-On Store-Used Empty Display Box (2016) (BOX ONLY, NO TOYS)
Price: $30.00


Condition: Acceptable
Box has wear from being used in the store. See photos for quality.
======================================================================
Spirit Halloween Ghostbusters Gel Clings
Price: $10.00


Condition: Brand New
======================================================================
The Goop Ghostbusters Ghost Trap Lunch Tote
Price: $20.00


Condition: Brand New
======================================================================
Ghostbusters Cord/Cordless Bluetooth Kids Headphones (NEW)
Price: $40.00


Condition: Brand New
======================================================================
Ghostbusters Cord/Cordless Bluetooth Kids Headphones (USED)
Price: $25.00


Condition: Very Good
Includes the headphones and the removable cord. No manual, box, or any other accessories (if it came with anything else).
======================================================================
Ghostbusters Logo & Stay Puft Keycovers
Price: $15.00


Condition: Brand New
======================================================================
(QTY: 2)
JustFunky Ghostbusters Logo Bag Clip Key Chain
Price: $8.00


Condition: Brand New
Measures 3.3"x3.6" (83mm x 91mm) according to the packaging.
======================================================================
Cryptozoic Ghostbusters Mighty Meeples 2016 Event Exclusive Bag (OPENED)
Price: $9.00


Condition: Like New
Includes three figures: Slimed Peter Venkman, Slimed Ray Stantz, and Exclusive Slimer. These bags were given out exclusively at conventions and other events in 2016 and were never sold in stores.
======================================================================
Cryptozoic Ghostbusters Mighty Meeples 2016 Event Exclusive Bag (SEALED)
Price: $15.00


Condition: Brand New (Sealed)
Includes three figures: Slimed Peter Venkman, Slimed Ray Stantz, and Exclusive Slimer. These bags were given out exclusively at conventions and other events in 2016 and were never sold in stores.
======================================================================
(QTY: 2)
Sealed Hasbro Mini-Puft Surprise Series 1 Canister (Figure N01: Melted Mini-Puft)
Price: $10.00


Condition: Brand New
Although sealed, the canister is coded so I can tell you what's inside.
======================================================================
(QTY: 2)
Sealed Hasbro Mini-Puft Surprise Series 1 Canister (Figure N02: Mini-Puft Eating Chocolate)
Price: $10.00


Condition: Brand New
Although sealed, the canister is coded so I can tell you what's inside.
======================================================================
Sealed Hasbro Mini-Puft Surprise Series 3 Canister (Figure N21: Mini-Puft with Umbrella)
Price: $10.00


Condition: Brand New
Although sealed, the canister is coded so I can tell you what's inside.
======================================================================
Sealed Hasbro Mini-Puft Surprise Series 3 Canister (Figure N23: Mini-Puft Wrapped in Christmas Lights)
Price: $10.00


Condition: Brand New
Although sealed, the canister is coded so I can tell you what's inside.
======================================================================
Sealed Hasbro Mini-Puft Surprise Series 3 Canister (Figure N25: S'mores Mini-Puft)
Price: $10.00


Condition: Brand New
Although sealed, the canister is coded so I can tell you what's inside.
======================================================================
(QTY: 2)
JustFunky Ghostbusters Logo Enamel Pin
Price: $9.00


Condition: Brand New
Pin measures 1.3"x1.5" (33mm x 38mm) according to the packaging.
======================================================================
LootCrate Ghostbusters Terror Dog Enamel Pin
Price: $9.00


Condition: Brand New
Pin measures approx. 1.5"x1"
======================================================================
Hasbro Playskool Ghostbusters Stay Puft Marshmallow Man Toy
Price: $17.00


Condition: Brand New
======================================================================
Funko Pop Pez Dispenser - Ghostbusters: Peter Venkman (CANDY REMOVED)
Price: $8.00


Condition: Brand New in Damaged Packaging (Candy Removed)
======================================================================
The Coop Ghostbusters Slimer Hardcover Journal (232 Lined Pages)
Price: $15.00


Condition: Brand New
======================================================================
Cryptozoic Ghostbusters Stay Puft Apron & Chef Hat
Price: $20.00


Condition: Brand New
======================================================================
Spirit Halloween Ghostbusters String Lights (BATTERIES REMOVED)
Price: $25.00


Condition: Brand New
Measures 9-feet long with 10 lights of Slimer and the No Ghost Logo. For indoor use only, requires three AA batteries (no included)
======================================================================
Ghostbusters Slime Wallet
Price: $5.00


Condition: Good
======================================================================
NerdBlock Ghostbusters Money Containment Unit Ghost Trap Tyvek Wallet
Price: $15.00


Condition: Brand New
======================================================================
Entertainment Weekly Magazine - November 14 / 21, 2014 - Ghostbusters Reunion Cover
Price: $25.00


Condition: Very Good (minor shelf wear)
======================================================================
Remind Magazine - July 2019 - 1980s Top Summer Blockbusters
Price: $10.00


Condition: Very Good/Near Mint (bagged and boarded, no label)
Features Star Wars, Indiana Jones, Ghostbusters, Back to the Future, Gremlins, Top Gun, E.T. the Extra-Terrestrial, and more!
======================================================================
McDonald's The Real Ghostbusters Egon Spinner Happy Meal Toy/Bike Accessory (Canada, 1990)
Price: $15.00


Condition: Brand New
======================================================================
Official Ghostbusters I Ain't Afraid of No Ghost Photo T-Shirt (Adult Size: Extra Large/XL)
Price: $10.00


Condition: Brand New with Tags
======================================================================
Official Ghostbusters Distressed Logo T-Shirt (Adult Size: Extra Large/XL)
Price: $10.00


Condition: Brand New
======================================================================
(QTY: 2)
Official LootCrate Ghostbusters ESP Logo T-Shirt (Adult Size: Large/L)
Price: $10.00


Condition: Brand New
======================================================================
Official Ghostbusters No Ghost Logo T-Shirt (Adult Size: Extra Large/XL)
Price: $10.00


Condition: Brand New
======================================================================
Official Hybrid Apparel Ghostbusters Distressed Logo Ringer T-Shirt (Adult Size: Medium/M)
Price: $15.00


Condition: Brand New with Tags
======================================================================
Official Stranger Things Ghostbusters Sweatshirt (Adult Size: Extra Large/XL)
Price: $50.00


Condition: Brand New with Tags
======================================================================
(QTY: 2)
Official LootCrate Ghostbusters Windbreaker (Adult Size: Large/L)
Price: $70.00


Condition: Brand New
======================================================================
Set of 2 Campfire Stay Puft & Mini Stay Puft Marshmallow Bags (2021) (SOLD AS A COLLECTIBLE, NOT TO EAT)
Price: $20.00


Condition: Brand New
NOTE: Although the foodstuffs are still sealed and may technically be edible, they are being sold AS A COLLECTIBLE AND ARE NOT INTENDED FOR EATING. Eat them at your own risk.
======================================================================
(QTY: 3)
Ghostbusters Afterlife Drink & Play Mini-Puft Figure #2 (Happy, Both Arms Up)
Price: $5.00


Condition: Brand New
Each sale includes 1 figure, 1 capsule, 1 checklist, and 1 bottle wrapper. The 1.5" tall figure has been freshly-removed from the bottle and is in the same condition it came from the factory. Items may have slight manufacturing quality differences from each other.
======================================================================
(QTY: 2)
Ghostbusters Afterlife Drink & Play Mini-Puft Figure #4 (Tongue Sticking Out)
Price: $5.00


Condition: Brand New
Each sale includes 1 figure, 1 capsule, 1 checklist, and 1 bottle wrapper. The 1.5" tall figure has been freshly-removed from the bottle and is in the same condition it came from the factory. Items may have slight manufacturing quality differences from each other.
======================================================================
(QTY: 3)
Ghostbusters Afterlife Drink & Play Mini-Puft Figure #5 (Happy, Arms By Sides)
Price: $5.00


Condition: Brand New
Each sale includes 1 figure, 1 capsule, 1 checklist, and 1 bottle wrapper. The 1.5" tall figure has been freshly-removed from the bottle and is in the same condition it came from the factory. Items may have slight manufacturing quality differences from each other.
======================================================================

---