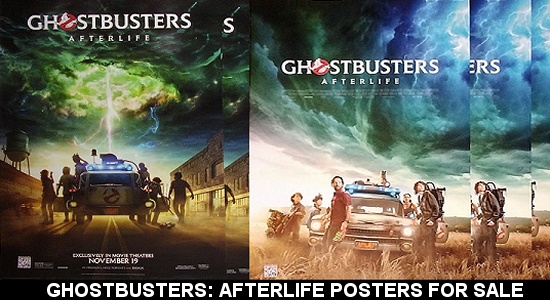 I have a whole bunch of
Ghostbusters: Afterlife
movie posters for sale to help raise funds. Read on to find out more...
Before I get to the goods, I have a lot to get off my chest...
It was 26 years ago this month, way back in the ancient year of 1996, that I created Spook Central. To put it in perspective, that was a FULL 10 YEARS before my birthday bestie Mckenna Grace (Phoebe Spengler) was born! The site is also older than Celeste O'Connor (Lucky) and Logan Kim (Podcast), but I don't share birthdays with either of them. Working on Spook Central has been the longest job I have ever had, yet it has never brought in steady income. It's really never brought in much income, at all. If anything, it's
cost
me money to run the site.
I don't think site visitors realize that
I
had to pay money to acquire the vintage materials that you see here. Sony didn't provide me with the
movie
and
episode scripts
or the old
books
and
photographs
. (I would KILL for Sony to let me raid Ghost Corps' archives for materials!) All of that content would not be here on Spook Central - for sites like "MovieStillsDB" (I refuse to give them a link) to steal and hide behind a paywall - if I didn't pay for the physical items first. Not to mention the man-hours spent to convert the items from a physical format into a digital format. After seeing the high-resolution lobby cards and photographs I scanned in, and then spent HOURS cleaning-up, appear on "MovieStillsDB", where they are CHARGING PEOPLE TO DOWNLOAD THE PHOTOS THAT *I* PAID FOR AND SCANNED IN, I am seriously reconsidering having all of the high-quality non-watermarked materials available for free here on Spook Central. At least if I made this stuff
Spook Central VIP-exclusive
, I would get paid for my acquisition and restoration work at least
once
before it gets stolen. Unfortunately, since I don't legally own the content, there is nothing I can do about it. I am eternally grateful to Raffaele Ruffaldi for giving Spook Central a home for the past 20 years. Not having webhosting expenses to pay for does help free me of one site expense.
Since I have spent more time working on Spook Central than
all
of the other "real jobs" I have had in my entire life, I really need the site to start helping me pay my living expenses. Currently, I am getting by on a disability check, but it's not even enough to pay the rent in the house I shared with my parents. After they both passed away a few years ago, I was on the verge of homelessness for an entire year. Were it not for the help of a distant relative to subsidize the rent, I would have been. Eventually, my sister had to move in and take over the apartment in order for me to have a place to live. Not one single person with social services, or other agencies that were being
paid
to help me, did a damn thing to make sure I had a place to live.
That experience didn't help the chronic depression and anxiety that I deal with every day of my life. If you ever wondered why Spook Central isn't updated on a daily or weekly basis, that's a big reason why. Even though I have lots of unpublished content on my hard drive (some of which has been given to the
Spook Central VIPs
in its raw form), there are some days when I would rather spend my free time working on something else. Of course, Spook Central isn't really the type of site that needs daily updates. Spook Central is a reference library, not a news site. To be fair to myself, I have put in a quarter-century of work on the site, so I think I'm allowed to be a little lax in the updates. At least I am
still
updating it! Spook Central is the
only
Ghostbusters website from the 1990s that carries that distinction.
One reason that the site doesn't provide steady and consistent income is that I refuse to clutter the site with ads... aside from the ones for myself and friends in the right sidebar and carousel atop the blog. I use an adblocker, and I suspect that most of you do, too, so it would seem rather pointless (and hypocritical) to sign up with an ad company. I've seen what other Ghostbusters sites look like with my adblocker off, and DAMN are they a mess with ads all throughout the content. I don't want Spook Central to look like that. Another income stream that Spook Central doesn't have are YouTube videos that can be monetized. It's really ironic that the guy who had dreams in high school of being a movie director (see some of
my self-edited music videos
) is the one guy NOT making videos on YouTube. Besides, the type of content I work with would get me frequent copyright strikes on YouTube, and I am not dealing with that crap. Also, unlike other Ghostbusters webmasters, I have no interest in being the literal "face" of Spook Central. Not to mention that all of my video editing skills are stuck in the analog days.
It pains me to say this publicly, but all of my efforts to make money online have been failures. I've had a few niche affiliate programs on Spook Central throughout the years that never garnered me a single cent. I am the only person who has made purchases from the
Spook Central TeePublic store
that I opened a few years ago. I used to sell stuff on eBay for a few years, and I was lucky if I sold one single item per month. There were several months where I wouldn't even sell that much. All eBay gave me was anxiety attacks from dealing with their
constant bullshit
and all of the obstacles they put in my way to hinder my sales. Once they refused to allow me to be paid directly via PayPal, I donated the overwhelming majority of my "inventory" (I needed to reclaim the storage space), and put the remaining items on my basic
www.BuyItHere.tk - Paul's Merchandise For Sale site
. No one has bought anything from it, aside from the occasional
digital copy code
- though I would love to offload all of the codes before they expire (
if
they eventually do).
For the past two decades, I have been a member of the Amazon Affliliates program, which is why I frequently link to items on Amazon, such as everything on the
Store page
. Although this has brought me some money, I would hardly call it a success. Amazon makes payouts only when the balance reaches a minimum of $10. There have been times when it has taken me SEVERAL MONTHS to reach that meager amount. The reason why is because Jeff Bezos, although one of the richest people in the world, is a stingy bastard who makes Scrooge seem generous. The items that people buy through my links only earn me a mere 1% commission. For a $22.47 pack of Safe 'n Easy Citrus Paint & Varnish Remover Gel Strips (something I never linked to), Amazon gave me a mere $0.22. The Heart and Souls Retro VHS Blu-ray (that
I reviewed on The Corner Penthouse
) gave Amazon $9.99, but they only saw fit to give me a freakin' quarter! I guess I'll use that to buy a gumball from the vending machine the next time I go to the laundromat.
Click here to view all of my earnings for July 2022
- and
that's
a good month! I guess Lex Luthor needs the other 99% from the sale of each item to pay for his
phallic spaceship
that makes
Flesh Gordon
jealous.
The only money-making effort that has been a moderate success is the
Spook Central VIP Patreon page
. When I opened it in mid-2019, it was a failure, too. For the first six to twelve months, it only brought in $20 to $40 a month, after Patreon took their hefty set of fees. Now, it's a modest success, but it's still less than $200 a month after Patreon takes their big cut, and the amount is not consistent. This month, my take was $30 less than it was last month. I don't know until the 5th of each month how low or high it's going to be. I do my best to keep adding VIP-exclusive content, so the money can keep coming, but it's not easy to do at the moment. My desktop computer need to be updated so that I can add content to Patreon from it. Until I have the time and desire to do that update, and deal with everything that will no longer work as a result, I have to transfer files from the desktop computer to my tablet in order to add it to Patreon - and Patreon doesn't really support mobile browsers. The modest amount I get from Patreon isn't enough to live on, even adding it to my disability check.
I'm not even going to bore you with all of the medical issues I have to deal with, though I will publicly state that I hate the "for profit" healthcare system we have here in America. I have government-provided health insurance for the poor, but trying to find a dentist that accepts it is like pulling teeth, pun intended. There are some, but they are usually not the best, not close by (I don't have a car), and certainly not equipped to deal with a "special needs" patient like me. I need a nearby dentist that accepts Medicaid and provides sedation services to fill cavities that I've had for a year now. I have yet to find one that checks both of those boxes. If the system were just and fair, the government would require that any medical professional who wants a medical license also accept government-provided health insurance. You don't want to accept it, you don't get a license. Simple as that.
Phew! It feels good to get all of that off my chest. Now, let's look at the posters I have for sale, though this first item isn't a poster, but it is related to
Ghostbusters: Afterlife
. If this item sells, it will definitely help me pay a few bills, even though a good chunk of the purchase price will go towards shipping the HUGE 15 POUND BOX, the PayPal fee, and repay the money I had to put out to buy the shipping supplies for the posters.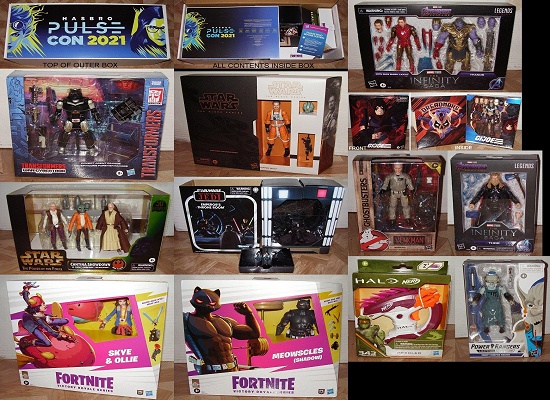 COMPLETE HASBRO PULSECON 2021 SWAG BOX - RARE!
Price: $475.00 (includes shipping)

(price includes continental U.S. shipping;
contact me
if you live in Hawaii, Alaska, or outside of the U.S.)
Condition: Brand New (some items opened but not removed from their boxes)
This box of action figures and other goodies was given out exclusively to members of the press who participated in Hasbro's PulseCon event (October 22nd and 23rd 2021). The "swag box" (it's a "swag bag" in a box) comes inside a large beautiful 30.5" x 13" x 11" box with the PulseCon 2021 logo on the top. It includes ALL 12 items listed below, all of which are either still sealed, or were opened but nothing removed from their boxes. All boxes are in great condition with minor shelf wear at most, though the Power Rangers figure's box has a small bit of damage in the corner. Click on each for a very large photo.
I have
more action figures for sale here
.
Below are two different ORIGINAL single-sided
Ghostbusters: Afterlife
movie posters, all of which came to me directly from Sony. Although I have everything set up for each item to be shipped separately, I will combine items where possible. For example, if you order both posters, I'll roll the smaller one up with the larger one and put them both in the tube box. If you order the smaller poster and the photo set, I'll put the envelope with the photos in the flat rigid mailer with the poster. That way you can get everything in one package.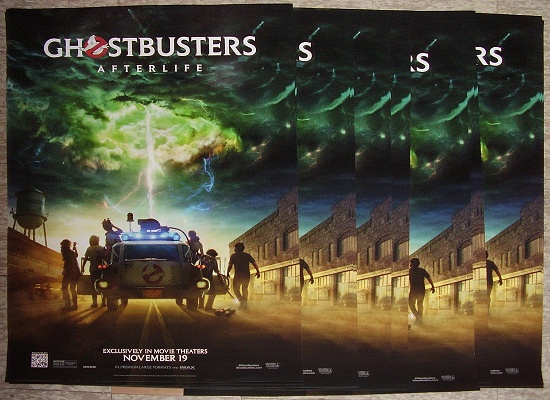 GHOSTBUSTERS: AFTERLIFE 27"x40" MOVIE POSTER (THEATRICAL SIZE)
Price: $25.00
(includes UPS Ground shipping -
[SOLD OUT]
(price includes continental U.S. shipping;
contact me
if you live in Hawaii, Alaska, or outside of the U.S.)
Ships rolled up in a tube box. There is a VERY LIMITED SUPPLY, and once all have been sold, that's it.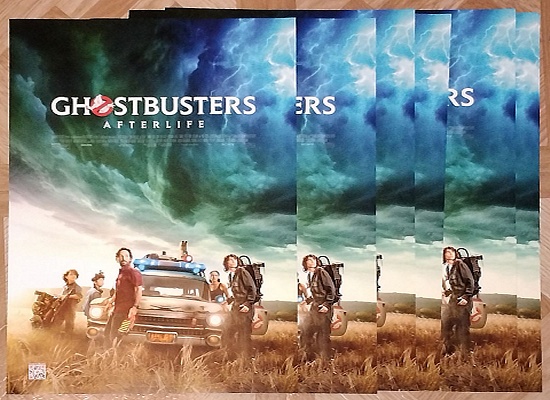 GHOSTBUSTERS: AFTERLIFE 11"x17" MINI-POSTER
Price: $15.00
(includes First Class Mail shipping)

(price includes continental U.S. shipping;
contact me
if you live in Hawaii, Alaska, or outside of the U.S.)
Ships flat in a 18"x13" rigid mailer.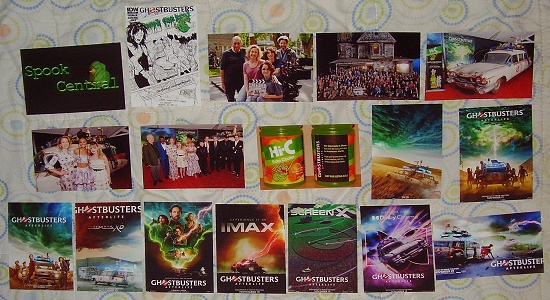 GHOSTBUSTERS AFTERLIFE / SPOOK CENTRAL 4"x6" PHOTO SET
Price: $15.00
(includes First Class Mail shipping)

(price includes continental U.S. shipping;
contact me
if you live in Hawaii, Alaska, or outside of the U.S.)
I originally had this custom set of 17 photo prints made exclusively to give away as holiday gifts to the
Spook Central VIPs
. There is a VERY LIMITED SUPPLY (UPDATE: ONLY 8 LEFT), and once all have been sold, no more will be made. A small amount has been put aside for the VIPs, and that will be the only way to get one after these are gone.
Hopefully these items will sell and help bring a little extra money into my household. I have more items for sale on my
www.BuyItHere.tk - Paul's Merchandise For Sale site
, which includes a
WHOLE PAGE OF GHOSTBUSTERS ITEMS
. Please check it out. Thanks for your support.
No feedback yet
Leave a comment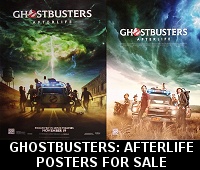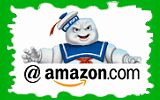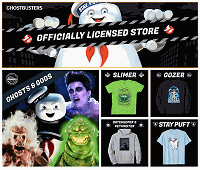 Please be aware that as an Amazon Associate, I earn a very tiny commission from purchases made though the Amazon links on this site.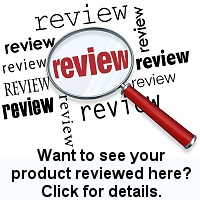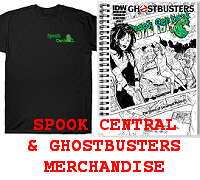 (
MY COMPARISON REVIEW
)
(
AVOID SHIPPINGEASY/STAMPS.COM
)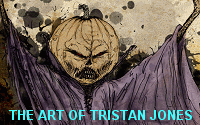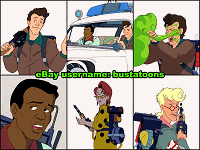 U.S. eBay (Ghostbusters stuff)
U.K. eBay (Ghostbusters stuff)