By Paul Rudoff on Jun. 19, 2022 at 12:00 PM in Home Video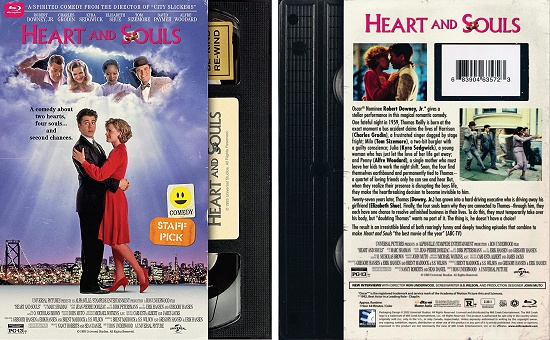 Heart and Souls (1993)
arrives on Blu-ray as part of Mill Creek Entertainment's Retro VHS Style series, with packaging designed to look like the
VHS videocassettes of the 1980s and 1990s
. Several other titles in the series have
already been reviewed
on The Corner Penthouse, and I'm always excited when Mill Creek announces more. It's fun to see if it's a title I used to own on VHS, or one whose trailer I remember seeing at the start of some other VHS tape, or even some obscure movie I've never heard of before.
[ SYNOPSIS ]
Harrison (Charles Grodin), Penny (Alfre Woodard), Julia (Kyra Sedgwick) and Milo (Tom Sizemore) die in 1959 when the bus they are riding crashes. The four continue as ghosts, guardians to the child born at the moment of their deaths. Baby Thomas grows up to be a businessman (Robert Downey Jr.) who has memories of his playmates, but assumes they are products of his youthful imagination. When the ghosts realize they need Thomas' help to move on, they decide to make an appearance once more.
[ SPECIFICATIONS ]
The movie is presented in a 2.35:1 aspect ratio with a runtime of 1:43:16. The movie
has been rated
PG-13 for some sensuality. Audio languages include English. Subtitle languages include English.
[ SPECIAL FEATURES ]
Here is a list of the special features that are included on the disc. I'm utterly surprised to see that Mill Creek included NEW material, since they usually don't include any, even if a previous DVD had some.
Driven by Destiny: Making Heart & Souls (37:15) - A new interview with director Ron Underwood.
Writing Heart & Souls (12:07) - A new interview with screenwriter S.S. Wilson.
Designing Heart & Souls (2:58) - A new interview with production designer John Muto.
Theatrical Trailer (2:18)
[ VHS SLIPCOVER ]
The real "bonus feature" here is the vintage-looking VHS-inspired slipcover, with faux wear and tear, and fake "rental stickers" on it, while giving the appearance of a videocassette being pulled out from the right side, complete with tape label side on the right spine. The VHS-style artwork may be based on the original U.S. or U.K. VHS box art, or bear a similarity to it, using the same or similar photos, but in a different orientation. The case artwork underneath is different, either made in a modern style, or perhaps sticking closer to the original theatrical movie poster. The VHS-style slipcover may only be available for a limited time.
No Digital Copy code is included.
[ NOTES ]
Just like
King Ralph
, which
I reviewed yesterday
,
Heart and Souls
is another film that my family owned on VHS. Looking at the cover of this Blu-ray brings back so many memories. That's why I love this Retro VHS series. On top of that, Mill Creek Entertainment is a budget company, so these releases are not expensive. Go grab
Heart and Souls
on Amazon for a great low price right now.

The "Retro VHS Style" series includes the following Blu-ray releases, which are being listed in the order they were released onto Blu-ray.
This item has been provided by Mill Creek Entertainment for review on this site.
No feedback yet
Leave a comment