History - written by Fodor's Travel Guides
Still known locally as the Central Library, this facility was renamed the Richard J. Riordan Central Library to honor the former mayor of Los Angeles. Major fires in the 1980s closed the library for six years, but today, at twice its former size, it's the third-largest public library in the nation. The original building, designed by Bertram Goodhue, was restored to its 1926 condition, with the pyramid tower and a torch symbolizing the Light of Learning crowning the building.
The mega-size of this library can be overwhelming with several floors and departments catering to your every literary wish. You can stop at a computer kiosk to search for a particular title or simply walk around to explore the interior design. The Cook rotunda on the second floor features murals by Dean Cornwell depicting the history of California, and the Tom Bradley Wing, named for another mayor, has a soaring eight-story atrium. The library offers frequent events and special exhibits, plus a small cafe to refuel. Out-of-towners may apply for a visitor's card by showing a valid ID to check out books. Don't ignore the gift shop, which is loaded with unique items for readers and writers.
Fun Facts
In my research for the GB map of Los Angeles, I e-mailed the staff at the Los Angeles Public Library. Below is the e-mail I received from Ms. Mary Anderson. Out of respect, I have not included her e-mail address.

Subject: Ghostbusters
Date: Tue, 04 Aug 1998 12:18:49 -0700
From: Mary Anderson
Organization: County of Los Angeles Public Library
To: Paul Rudoff

Dear Mr. Rudoff:

There was a library scene in the film Ghostbusters which used our old "shelflist" cards (we were converting over to an electronic system at the time). Shelflist cards look just like catalog cards complete with card catalog shelves and trays.

I am told that the actual library where the movie was filmed was the old (pre-fire) Central Library of the Los Angeles Public Library. I have not been able to verify this. You may wish to visit their site at http://www.lapl.org

So, it seems that the catalog (where the cards flew up in the air) was from the County Public Library but the interiors that were supposed to be New York Public Library were shot at Los Angeles Public Library (the City library).

We have no written records of this but several long-time County Public Library staffers remembered. Hope this helps!

Mary T. Anderson
Head, Adult Services
County of Los Angeles Public Library
Real World Photos
Outside Links
Search (Reference Library Only)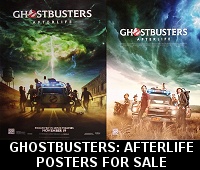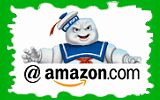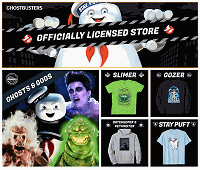 Please be aware that as an Amazon Associate, I earn a very tiny commission from purchases made though the Amazon links on this site.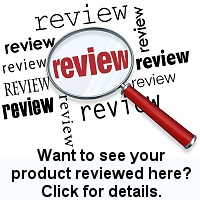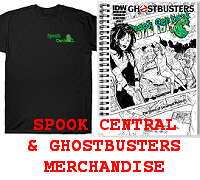 (
MY COMPARISON REVIEW
)
(
AVOID SHIPPINGEASY/STAMPS.COM
)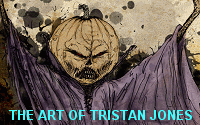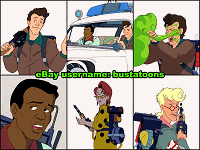 U.S. eBay (Ghostbusters stuff)
U.K. eBay (Ghostbusters stuff)