"Grease"

Production #115
Episode 14

Aired: Thursday September 25, 1997
in Syndication

Writer: Steven Roberts

Director: Gloria Jenkins
Synopsis: A Gremlin sets out to destroy all the communications, transportation and power companies throughout New York City, and the Extreme Ghostbusters successfully try to convince the authorities they have a ghost on their hands. Instead of being thanked, though, the Extreme Ghostbusters are arrested and put on an airplane, where they have a final confrontation with the gremlin.
Guest Stars
Richard Anderson [Jack Stone]
Jeff Glen Bennett [?]
Mona Mansour [?]
Fun Facts
Title Reference: Grease, in the sense likely reference by the title, is an oily substance; a thick lubricant.
The Extreme Ghostbusters' phone number is (212) 555-GOST
Garrett says "We're gonna be on Letterman. Oprah, at least." The cast of Ghostbusters II was on the Oprah Winfrey Show in June 1989.
When we first see the FBI agents in the doorway (as seen in the image at the top of this page), that is a reference to the logo from the film & animated series "Men In Black". Both films were made by Columbia Pictures, and both animated series were made by Adelaide Productions. (MIB logo courtesy of the SPHE Publicity website.)
The two FBI agents are named Jack Stone and Harry Gannon. The names are a reference to the two lead actors and characters from the classic 1967 series "Dragnet": Jack Webb, who played the stone-faced Sergeant Joe Friday, and Harry Morgan, who played Officer Bill Gannon. Jack Stone even looks a lot like Jack Webb. Dan Aykroyd played Sergeant Joe Friday in the 1987 feature film remake.
Multimedia
Search (Reference Library Only)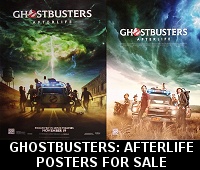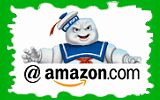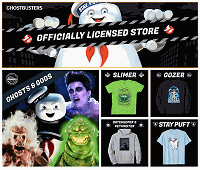 Please be aware that as an Amazon Associate, I earn a very tiny commission from purchases made though the Amazon links on this site.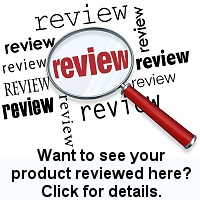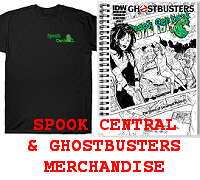 (
MY COMPARISON REVIEW
)
(
AVOID SHIPPINGEASY/STAMPS.COM
)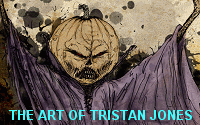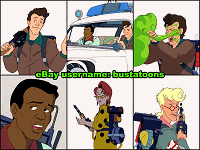 U.S. eBay (Ghostbusters stuff)
U.K. eBay (Ghostbusters stuff)