MOVIE SCRIPTS
There have been several drafts made of the "Ghostbusters II" script. Below are all the drafts and/or revisions I know of, though not all of them are available for your reading pleasure. All of the scripts that are noted as being from my (Paul Rudoff) personal collection are ones that I actually own copies of. Some of these scans have been cleaned by Matthew Jordan.
I have digitalized (scanned in) all of the scripts presented on this page, except where otherwise noted. These scripts have been compiled into PDF files suitable for printing. In order to view and print these scripts, you will need a PDF viewer.
In some cases, a script may be available in formats other than, or in addition to, PDF. For example, I may have transcribed a script into plain text/html format. In these cases, I have left all spelling, grammatical, and typographical errors that were present in the original script, in tact in these transcriptions. This was done so that what you read is very close to the actual thing.
These scripts have been specially formatted for the printed page. I encourage you to print them out, punch holes in the printed pages and place them into a 3-ring binder. Now you'll have your own neatly-printed script, perfect for any library. Photos of some original scripts can be found on the Ghostbusters Wiki.
Remember: These are the scripts as originally written by the writers. They most likely are not 100% the same as what appears in the finished filmed product.
Please Note: Some of these scripts (the plain text/html versions) have been taken from this site and used elsewhere on the internet, but with my transcriber's credit removed. Although I don't claim to own the scripts, it's very rude for others to have done this to me. If you find any of these scripts on other sites, please remember that they originally came from this site. None of these scripts were online before I personally transcribed them. That's a fact.
If you have any scripts not already provided here, and can scan then in, please e-mail me. I'd like to provide the most complete collection of scripts available.

Cinefex magazine issue #40
mentions that Dan Aykroyd's initial script for a second Ghostbusters film was "a story in which Dana was kidnapped and taken to Scotland where she discovered a fairy ring and civilization underground". Dan said, "One idea that did stay in our script was the notion of having things occur underground. We went skyward in the first film - up to the top of a skyscraper - so I thought for the second one it would be nice to see the underbelly of the city. But my original concept for going underground was different. It involved a pneumatic tube two thousand miles long that they traveled in for three days. It was like a primitive mail chute." I have never seen this script, and know nothing more than this. There are rumors that it was titled "The Seed", or
"The Last of the Ghostbusters"
.
August 5, 1988
(from Paul Rudoff's personal collection,
bought from Tim Lawrence
)
• NOTE: This draft is wildly different than the final film. There is no Slimer, Dana, Janosz, River of Slime, Vigo painting, or Ghost Jogger. New characters Lane Walker and Jalmar Litvinov would, in essence, become Dana and Janosz later on. Instead of the Vigo painting, the vessel of evil is a religious Icon triptych held by Jalmar. Vigo, who's Russian here, commandeers the Statue of Liberty and chases the Ghostbusters through the city streets at the film's climax. Oscar is possessed by Vigo and moves like an adult with an adult's gaze. The vehicle which we know as "Ecto-1A" is referred to as "Ecto-1". And that's just the tip of the iceberg of the differences in this draft.
• NOTE: The Ghostbusters Wiki has
detailed notes on this script draft
.
September 29, 1988
(from Paul Rudoff's personal collection)
• NOTE: Although the story still focuses on Lane Walker, Dana Barrett and Slimer are in, with Slimer first appearing on page 46. The River of Slime is in, however, the opening scene with the baby carriage is not motivated by contact with the slime as seen in the final cut of the film. This is because the slime, as a theme, developed over the course of production. The baby carriage scene was originally shot and cut with no slime. Close-ups of the slime were shot and added near the end of production to help link the slime incidents from beginning to end. The Statue of Liberty is now a hero element, the Ghost Jogger is in, and the Oscar possession scene has been replaced by the Ghost Nanny scene. (Tim Lawrence, creature shop supervisor for the film, had an
autographed copy of this script
for sale on eBay in May 2014.)
• NOTE: The Ghostbusters Wiki has
detailed notes on this script draft
.
November 27, 1988
(with some 12/12 and 12/14 revisions) (from Paul Rudoff's personal collection,
bought from Tim Lawrence
)
• NOTE: The original script has four different colored pages (all have been converted to black and white in the PDF here). The white and blue pages, which is the majority of the script, are dated 11/27/1988 (same as the cover page). The pink pages are dated 12/12/1988 (pages 38-44, 45B, 48), and the yellow pages are dated 12/14/1988 (pages 45 & 45A).
• NOTE: The vehicle which we know as "Ecto-1A" is referred to as "Ecto-2".
• NOTE: The Ghostbusters Wiki has
detailed notes on this script draft
.
There may or may not be drafts with the following dates. These are listed as revision dates on my 2/27/1989 draft, but they may just be individual page revision dates, and not the date of full drafts: December 12, 1988 / December 14, 1988 / January 11, 1989 / January 12, 1989 / January 13, 1989 / January 17, 1989 / January 24, 1989 / January 26, 1989 / February 8, 1989.
February 27, 1989
(from Paul Rudoff's personal collection)
(also available as:
Text/Html
,
PDF Text (v1)
,
PDF Text (v2)
,
Multi-Page Html
)
• NOTE: Pages 107, 107A, and 108 feature two different versions of the scene when the Ghostbusters are released from the psych ward.
Final Film Transcript
(transcribed by MrMichaelT)
(also available as:
RTF document
)
• NOTE: This is a word-for-word transcription of the dialogue and situations from the final edit of the film.
Search (Reference Library Only)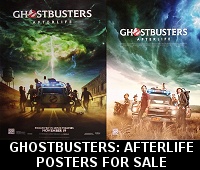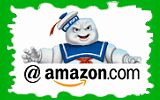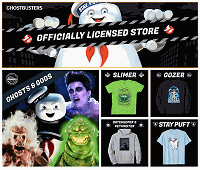 Please be aware that as an Amazon Associate, I earn a very tiny commission from purchases made though the Amazon links on this site.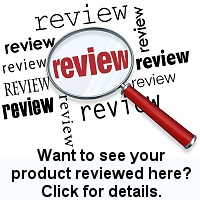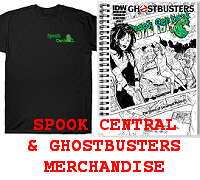 (
MY COMPARISON REVIEW
)
(
AVOID SHIPPINGEASY/STAMPS.COM
)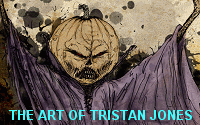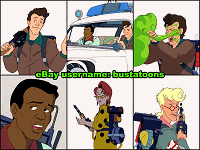 U.S. eBay (Ghostbusters stuff)
U.K. eBay (Ghostbusters stuff)