"Ghostbusters" Movie Script
June 6, 1983 Excerpts
This page contains excerpts from and tidbits about this draft of the "Ghostbusters" script as detailed in the book "Making Ghostbusters" by Don Shay. This was the first draft co-authored by Dan Aykroyd and Harold Ramis.

The graffiti on the Paranormal Studies door read: "Venkman sucks cocks in Hell!" -- an amusing reference to one of the shocker lines from "The Exorcist."
---
The Ghostbusters were tossed out of a small New England college and then go to New York.
---
The opening sequence takes place in a nice, converted farmhouse where this family has been bothered by incessant knocking that they're unable to trace. So the Ghostbusters are in there climbing all over the house, knocking out walls and ripping up floorboards in their nicely remodeled kitchen. And at the end of the scene, all they're able to tell them is, "Well, you've got a knocking." "We know we've got a knocking! What's causing it!" "We'll have to get back with you on that."
---
Venkman and the alien Zuul -- masquerading as human in Dana's body -- leave the restaurant and encounter several carriage horses. Noticing the bridles and harnesses, Zuul inquires if they are prisoners, Uncertain of her reaction, Venkman responds promptly: "No, no, They're volunteers. This is considered a good job for a horse." "They look so sad," Zuul laments, and then kisses one of the beasts with enough genuine emotion to elicit a worried look from the carriage driver. Venkman pulls her away and segues -- ever so smoothly -- into an invitation which leads to his surprise wakeup the next morning: "You know. I was just thinking. No trip to this dimension would be complete without a visit to the Times Square Motor Hotel.
---
Rather than making an aerial passage uptown, the ghosts descend into an all but deserted subway station. As a transit cop chats amiably with a female cashier, the subway turnstiles begin spinning unaccountably. Investigating, the officer discovers a huddled mass of ghosts and vapors hovering directly over the tracks. When a speeding express train passes by, the spirits hitch a collective ride uptown -- taking over the cars en masse and sending everyone from motormen to muggers fleeing before them.
---
Spengler pinpointed a small community in northern New Jersey as the likely epicenter of major psychic activity, due to its central proximity to three nuclear power plants and a number of chemical waste storage areas.
---
The Ghostbusters regroup in New Jersey for a final battle with Gozer in its most terrifying form -- a swirling psychic maelstrom topped by a disembodied aphid's head of monstrous proportions.
Search (Reference Library Only)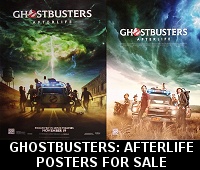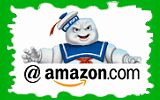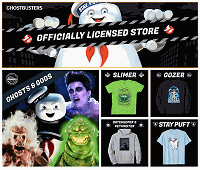 Please be aware that as an Amazon Associate, I earn a very tiny commission from purchases made though the Amazon links on this site.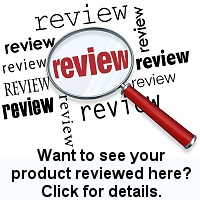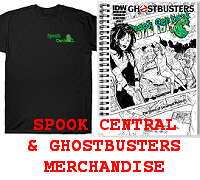 (
MY COMPARISON REVIEW
)
(
AVOID SHIPPINGEASY/STAMPS.COM
)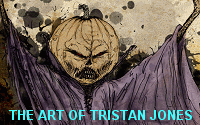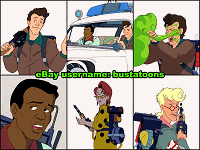 U.S. eBay (Ghostbusters stuff)
U.K. eBay (Ghostbusters stuff)