Site
> Spook Central Help
Spook Central Help
If you have trouble playing any video clips, audio clips, or have any problems with this site, this page should provide you with some information to help you out. There are also some answers to some general frequently asked questions about Ghostbusters listed here too (most of them are located at the bottom of the page).
First, here is quick access to Spook Central's two search engines, which will allow you to search
this site only
. You can not search the internet with this search engine. Although there are a few non-Ghostbusters pages listed in the Everything Else section, please remember that this IS a Ghostbusters website. So, searching for things that are totally unrelated to Ghostbusters may not bring up any results.
| | | |
| --- | --- | --- |
| SEARCH THE REFERENCE LIBRARY | | SEARCH THE ARTICLES |
Q:
What are the minimum system requirements for properly viewing this website?
A:
WEB BROWSER
: I personally recommend Mozilla's
SeaMonkey
, which is available for Windows, Macintosh, and Linux. If you don't need the built-in html editor and e-mail/newsgroup client, you can use SeaMonkey's more famous cousin
Firefox
, also available for the same operating systems.
Google Chrome
is also another good option.
PDF VIEWER
: To view the scripts, game manuals, etc., you'll need a PDF viewer. If you're using Windows, get
PDF-Xchange Viewer
. If you're using a non-Windows system, please try to find your own PDF viewer, or else you'll be stuck with the big and bloated
Adobe Reader
.
Q:
Can I use some of your pictures, audio, etc. on my site?
A:
You may take
ten
pictures of your choice (excluding personal photos and pictures expressly given to me by others for this site only), upload them to your site, and use them in any way you wish. Edit them, create a collage, use them in a layout: I don't care.
However
, only if you put a
link
saying where you found them (i.e. This picture is from
Spook Central
and is used with permission) can you do this. In regards to the pictures that you take, I do kindly ask that you don't take all or most of the pictures from one particular section. Take a couple and say that more can be found on Spook Central. By the way, notice that I only mentioned pictures. Audio, video, text, and other files are for this site only. Thanks for respecting my wishes. (I don't e-mail pics, so if you can't figure out a way to download the ones on this site, then I can't help you.)
Q:
Could you send me some files?
A:
No. Everything that I want to provide to the public can be found on this site. You either download it here or you don't get it at all. None of the files on my site require any special tools in order to be able to download them. If you can't figure it out, you're out of luck.
Q:
I have a web site. Could you put a link to my site on yours?
A:
It depends. All sites that I've linked to on this site are considered by me to be good, original web sites, with original material. They are sites that interest me. If you have a site that you think might be appropriate for one of the areas of this site (Ghostbusters or non-Ghostbusters), you can
tell me about it
, but there's no guarantee that I'll link to it. I reserve the right to deny a link to any site at my discretion. If you want to put a link to my site on your site, feel free, but you are under no obligation to do so. Just because you put a link to my site on yours, does not mean that you are entitled to have a link to your site on mine.
Q:
Do you have ___ [name of request here] ___?
A:
Everything I have is available on this site. If you can't find what you're looking for here, use
Google
to search the web.
Q:
I'm designing my own web page. Can you help me out with some of the code?
A:
I'm sorry, but again I am busy enough working on my own page to be helping other people build theirs.
Q:
Where did you get all those Deleted Scene pics and sounds?
A:
They come from a variety of sources, which includes: the GB1 DVD, Criterion's GB1 laserdisc, the GB1 picture storybook, the GB2 picture storybook, the GB1 calendar, the GB1 novel, the GB2 novel, and some GB2 television spots and trailers. Most of these sources can be bought in the
store
.
Q:
Where can I buy ____ [name of merchandise] ___?
A:
Check out Spook Central's
Ghostbusters Store
.
Q:
Why weren't all of the deleted scenes from Ghostbusters on the DVD or Blu-ray, especially the ones from the laserdisc?
A:
Since I had no part in the making of the home video releases (I wish I did), I can only speculate on the subject. After seeing the deleted scenes and the before & after special effects footage on the home video releases, I believe that the home video crew had an entire workprint (or rough cut, pre-effects) of the film at their disposal. There is undoubtedly a lot more deleted footage in that workprint than the 10 scenes they showed us. Perhaps they decided to just include 10 scenes, 10 being a nice even number, and opted for what they believed to be the 10 best deleted scenes in the workprint. The laserdisc contains 2 deleted scenes, one of which is on the home video releases (it's part of the City Hall loading dock scene). The other is a scene of the three guys walking down the stairs to their university lab discussing their prospects of winning the Nobel Prize. This was probably in the aforementioned workprint, but the home video crew probably didn't think that it was as good as the other 10 scenes.
Q:
A lot of the Ghostbusters: The Video Game PC video files contain multiple audio tracks. Do you know of a way to just keep the English audio?
A:
No, I don't. I'm also looking for a way to keep just the English audio, as well. That's why I've only been able to upload a few select videos to the
Spook Central Facebook page
. Only the
few videos
with Engligh-only audio, music-only audio, or no audio, and the two I recorded directly while playing the game, were able to be uploaded properly. The others would lose the audio completely if I upload them to Facebook or anywhere else. Trust me, I tried.
Q:
Where can I find the script to Arcade, Men In Black, and The Wizard Of Oz?
A:
In addition to all of the Ghostbusters-related movie and tv scripts you currently see on this site, I transcribed the scripts for those three movies. I gave copies of them to one site and one site only:
The Daily Script
(archived). However, other people have taken the three scripts and placed them all over the internet. The good ones kept my transcribers intact. The bad ones removed it. Here's where you can find them:
Arcade
,
Men In Black
, and
The Wizard Of Oz
. All of the aforementioned links are from an archived copy of The Daily Script.
Q:
What are the answers to the questions you're frequently asked about the guides you have posted over at GameFaqs?
A:
Please understand the following:
GAMEFAQS IS THE ONLY SITE THAT CAN HOST MY GUIDES! It says this in every single guide right by the link to my e-mail page. Don't waste my time asking if you can host my guides because the answer is NO. All e-mails of this nature will be deleted right away.
I DO NOT PROVIDE ANY TECHNICAL SUPPORT FOR MY GUIDES. All of the information I have is in the guides, and I write in a straightforward clear manner, so you shouldn't have any problems understanding what I've written in my guides. Plus there are some guides for which I no longer own the games that they're written about. In general, if a guide is on the "Final" version, then I'm completely done with it.
I CAN NOT HELP WITH YOU ANYTHING THAT MY GUIDES ARE NOT ABOUT. I frequently get mail from people who see "Mission" in the title of my Mission Select Mod guides and think that I can help them pass missions. They apparently don't actually READ the guide and see that it's about a code that lets you play missions whenever you want, not a guide about the missions themselves. There are plenty of walkthroughs over at GameFaqs. Consult one of them. Also, some folks see "Mod" in the title and think I can help them with game modifications. Again, if they actually READ the guide they'd see that Mod is short for Modifier (as in you can modify the code with different digits), not Modification (as in altering the game code or contents).
DON'T ASK ME ABOUT THE SUPERMAN OUTFIT FOR GRAND THEFT AUTO: SAN ANDREAS. This actually relates to number 3, but since I've actually gotten a few e-mails specifically about this, I'll address it separately. I don't have a guide that relates to GTA modding, so I have no idea why people e-mail me about this. Besides, you can't mod the PS2 version of any game, which is the only version of GTA that I have guides about.
DON'T ASK ME FOR GAME PLAY TIPS FOR GHOSTBUSTERS: THE VIDEO GAME. As stated in my Tobin's Spirit Guide guides, all of the descriptions came from files on the game disc. I did not get that information from playing the game itself.
USING/RESIGNING PLAYSTATION 3 GAME SAVES: I really wish GameFaqs would include info on their site telling people how to resign PS3 saves because most saves on their site are useless without this information. They make it seem like it's a simple "download and copy to your console" routine, but it's a little more involved than that. They also don't let contributors "update" their saves (you have to request deletion and then reupload as a new save), so I can't update my older saves with "blank user" versions. My newer saves are all "blank user" versions (they're listed as "not account locked/no resigning needed"), though I always suggest resigning anyway, just to ensure you can unlock trophies. For resigning, I personally use Bruteforce Save Data (BFSD). You can find some info and download links on my PlayStation 3 page (on the PlayStation 3 tab). I should have enough basic info there for you to be able to figure it out. If not, search Google and YouTube for instructional guides/videos. BFSD is a very popular program so you'll have no problems finding help :-) Once you get the hang of it, it'll be really easy to use any more saves you download in the future.
Q:
What items do you need for the Spook Central website?
A:
This is a list of items I need for this website and for my personal collection. If you have any of these items and can make me a copy (or bear to part with the original), then I would appreciate it if you can send it to me.
E-Mail me
and I'll give you a snail mail address to send items to. I don't have very much money, so I can't pay you very much for the items, though I can send you a reasonable fair amount. Of course, if you send me something at no cost to me (nee, for free), you will be added to the
Credits
page. Anything you send me will NOT be returned.
VIDEOS
• A bootleg/pirated theater-cam VHS of Ghostbusters II filmed back in June 1989. I'm sure the movie was pirated and distributed by street vendors back then, as the local news did a story on Home Alone theater-cams a year later in 1990. It's just a matter of seeing if someone has kept one these decades later and if they sell it (hopefully at a yard/tag/white elephant sale) where I can buy it dirt cheap.
• Ghostbusters II Betamax (tape) (usually found in VHS boxes with a yellow "Beta" sticker on the front)

GHOSTBUSTERS PROMO MATERIALS (ORIGINALS WANTED)
• GB1 8x10 Color U.S. Lobby Card #1 (three guys in front of the firehouse).
• GB2 8x10 B&W Press Photo # 1, 3, 4, 6-8, 10-15, 17-58, 61, 64-73, 75-83, 86-98 (anything above 102?).

MATTEL GHOSTBUSTERS FIGURES (ORIGINALS FOR $5 EACH)
• Mattel Classic Ghostbusters Egon 6" Figure (Brand New) (two of them)
• Mattel Classic Ghostbusters Winston 6" Figure (Brand New) (two of them)

GHOSTBUSTERS 2016 FUNKO POP VINYL SET (ORIGINALS FOR $5 EACH)
• Patty Tolan
• Kevin
• Rowan's Ghost
• Rowan's Ghost (Glow-in-the-Dark) (FYE Exclusive)
• Team 4-Pack (FYE Exclusive)

GHOSTBUSTERS PLAYMOBIL (ORIGINALS)
(excludes Real Ghostbusters)
• Ghostbusters Slimer with Hot Dog Stand
• Ghostbusters Stay Puft with Stantz (HAVE STANTZ TAKEN FROM TRU OPEN BOX)

Review & Advertising Policy
REVIEWS
- I've been writing reviews online for over 20 years. You can find a plethora of
Ghostbusters product reviews
on Spook Central, and
other home video and pop culture products
have been reviewed on The Corner Penthouse. I would be happy to review your product on one of my sites. All you have to do is send me a complimentary copy.
Send me an e-mail
to discuss it further and to get my mailing address. Do be aware that not all product review solicitations will be accepted.
I have already worked with the press departments of Sony, Sony Music (RCA Records), CBS/Paramount, Lionsgate, Universal, Warner Bros. Home Video, Warner Bros. Games, Insight Editions, Arrow Films, Atari, IDW Comics, Cryptozoic Entertainment, Simon and Schuster, Tor Books, Random House, Coca-Cola/Hi-C, Running Press, Papa John's Pizza, and various others, and would love to work with you, too.
ADVERTISING
- I DON'T DO FREE ADVERTISING. I can be compensated with money or with product, depending on what it is you'd like for me to promote on one of my sites. Advertising can be a square banner in the sidebar of Spook Central or The Corner Penthouse. It can be a horizontal banner image in the slider atop the Spook Central blog. I could post something to social media (Facebook and/or Twitter). I can write an article specifically about the thing you want me to promote. I can even do sponsorship advertising in Spook Central blog articles, but you should be aware that I don't write articles very often as I strive for quality, not quantity. Whatever type of advertising you're looking for, I would need to be paid first (preferrably via PayPal) before I run the advertising that we agree upon. Feel free to
e-mail me
to discuss. Do be aware that not all advertising solicitations will be accepted.

Linking & Banners
Q:
What url/address should I use when linking to this site?
A:
Use
http://www.spookcentral.tk
to link to the main page. At the bottom of every page on this site is a url that you can use to link to that specific page. Both of these urls are forwarding, so if I ever have to move the site again, your links won't be broken. Although you can use the direct url (the one that should be listed in your browser's address bar), I would appreciate it if you wouldn't (to prevent broken links should I ever need to move this site again). Also, you may
only
link to my webpages (.htm files). You are expressly forbidden from linking to any of my other files (images, audio, etc.), except for the banners and buttons in the codes below. There's an issue of
linking rights
involved if you don't respect my wishes.
Q:
Do you have any banners or buttons that I can use on my website to link to yours?
A:
Yes I do. Take your pick from any of the banners and buttons below. You can place these images on your website ONLY if you use them to link to Spook Central, do not alter them in any way, and do not use them to depict Spook Central or its author Paul Rudoff in a negative way. You can use as many of them as you like. Just copy and paste the code below the banner or button to your webpage for the one that you would like to use.


created by Bill Emkow



created by Andrew Ellis



created by Dan Shannon



created by Tristan Jones



created By Tristan Jones



created by "El Zorro"

Search (Reference Library Only)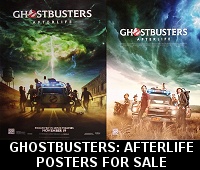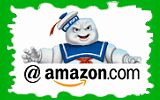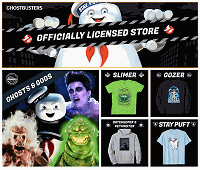 Please be aware that as an Amazon Associate, I earn a very tiny commission from purchases made though the Amazon links on this site.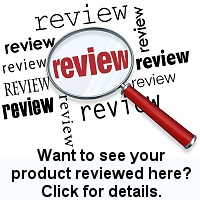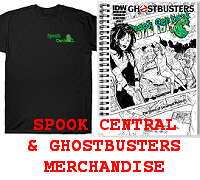 (
MY COMPARISON REVIEW
)
(
AVOID SHIPPINGEASY/STAMPS.COM
)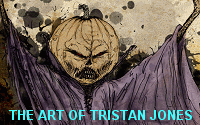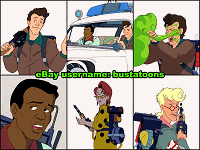 U.S. eBay (Ghostbusters stuff)
U.K. eBay (Ghostbusters stuff)