Ghostbusters 1999 DVD Press Kit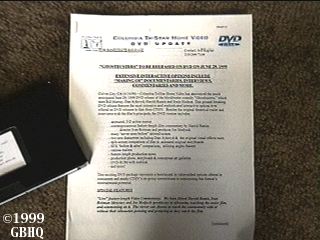 (image courtesy of Ghostbusters Headquarters)

Note From Jeff
April 29, 1999
Dear Editor:
Attached please find a press release on the upcoming DVD release of GHOSTBUSTERS.
As you can see, this disc is loaded with special features and bonus materials that will be of great interest to your viewers. We at Columbia TriStar Home Video are extremely proud of this accomplishments and have created a short 5 minute publicity reel that beautifully highlights these unique special features. If you would like to receive one of these VHS cassettes or any other materials related to this release, please call me at 310-244-7164.
Thank you.
Jeff Kaplan
Manager of Publicity
Sony Pictures Entertainment

Press Release
FOR IMMEDIATE RELEASE
Contact: Jeff Kaplan
310-244-7164
"GHOSTBUSTERS" TO BE RELEASED ON DVD ON JUNE 29, 1999
EXTENSIVE INTERACTIVE OPTIONS INCLUDE "MAKING OF" DOCUMENTARIES, INTERVIEWS, COMMENTARIES AND MORE.
Culver City, CA (4/14/99) - Columbia TriStar Home Video has announced the much anticipated June 29, 1999 DVD release of the blockbuster comedy "GHOSTBUSTERS," which stars Bill Murray, Dan Aykroyd, Harold Ramis and Ernie Hudson. This ground-breaking DVD release features the most extensive and sophisticated interactive options ever offered on DVD releases to date from CTHV. Besides the original theatrical trailer and interviews with the film's principals, the DVD version includes:
animated, 3-D action menus
contemporaneous feature-length film commentary by Harold Ramis, director Ivan Reitman and producer Joe Medjuck.
many "never-seen-before" deleted scenes
two new featurettes including Dan Aykroyd & the original visual effects team.
split-screen comparison of film to animated original storyboards
SFX "before & after" comparison, utilizing angles feature
various trailers
feature-length production notes
production photo, storyboard & conceptual art galleries
DVD-ROM with weblink
and more!
This exciting DVD package represents a benchmark in value-added options offered to consumers and marks CTHV's on-going commitment to maximizing this format's entertainment potential.
SPECIAL FEATURES
"Live" feature-length Video Commentary. We have filmed Harold Ramis, Ivan Reitman (director) and Joe Medjuck (producer) in silhouette, watching the entire film, and commenting on it. The viewer can choose to watch the commentary with or without their silhouettes pointing and gesturing as they watch the film.
Feature-length production notes. We have taken the text of "THE MAKING OF GHOSTBUSTERS" by Don Shay and put it into a subtitle stream, so that the viewer may choose to watch the film with anecdotes, trivia and bits of interviews that pertain to particular points in the film.
Three complete featurettes:
1984 featurette of "THE MAKING OF GHOSTBUSTERS" with interviews of cast and crew.
1999 Star featurette: New interviews with Harold Ramis, Ivan Reitman and Dan Aykroyd talking about the origins of GHOSTBUSTERS, how it changed their lives and careers, and how their kids like it.
Meet the SFX Team: 1999 interview with more than a dozen of the original visual effects team. Includes original production photos and conceptual art.
Storyboard to Film compare: This has a split-screen comparison of three scenes in the film next to animated original storyboards.
Before and After SFX utilizing ANGLES feature of DVD. With the ANGLES feature of DVD, the viewer can toggle back and forth from the rough cut to the final cut of the film to see three scenes before and after the final visual effects were added. (This kind of creative utilization of the ANGLES feature is something that many DVD consumers are looking for.)
Three still photo galleries, including:
More than 50 original pencil and chalk conceptual drawings of ghosts and monsters. (Three of these have been selected to be given away in CTHV contest.)
Many original storyboards
Hundreds of production photos taken of the SFX team sculpting monsters, creating and destroying sets, and generating animation.
Ten Deleted scenes.
DVD-ROM: Includes the following:
Filmographies of cast and crew...these will be hyper-linked to detail pages of most of the CTHV DVD titles through filmographies with degrees of separation.
Original Final Shooting Script: This will also be hyper-linked to the film so that the viewer may jump from the script to that point in the film in order to compare it to the final partially-improvised film.
Web-link: There will be various links from the DVD-ROM to the SPE site, the CTHV site and to www.ghostbusters.com.
Three-dimensional animated menus. The main menu is a 3-D view of the Manhattan skyline, with the StayPuft Marshmallow Man wandering through the buildings.
Four original trailers (These will be accessible through the DVD menus, and can also be played from the detail pages of these titles in the DVD-ROM catalogue of CTHV DVDs)
GHOSTBUSTERS
GHOSTBUSTERS II
GROUNDHOG DAY
STRIPES
SYNOPSIS
Bill Murray ("Groundhog Day"), Dan Aykroyd (Academy Award-nominee, "Driving Miss Daisy"), Harold Ramis ("Parenthood") and Ernie Hudson star as a maniacal band of parapsychologists who try to save Manhattan from ghosts on the rampage. Also stars Sigourney Weaver ("Alien") and Rick Moranis ("Honey, I Shrunk the Kids").
Rated PG
Feature: 105 Minutes
Color
Closed-Captioned
Sound: Dolby Digital 5.1
Format: Widescreen (Enhanced for 16x9 TVs)
Languages: English
Subtitles: English
Price: NSL/M.A.P. $24.95
DVD #04139
ALSO AVAILABLE ON JUNE 29:
GHOSTBUSTERS II.
SYNOPSIS
Sidelined for five years since their spectacular save (and near destruction) of New York City, the superstars of the supernatural (Bill Murray, Dan Aykroyd and Harold Ramis) spring back into action when the infant son of single mother Dana Barrett (Sigourney Weaver) becomes the target of a powerful demonic force. Reunited with the no-nonsense Zeddemore (Ernie Hudson), nerdy, near-sighted Louis (Rick Moranis) and their ever industrious secretary Janine (Annie Potts), the heroes of the hereafter must put a stop to an enormous underground river ready to rot the roots of the entire Big Apple.
Rated PG
Feature: 102 Minutes
Color
Closed-Captioned
Sound: Dolby Digital 5.1 and Dolby 2 Channel
Format: Widescreen (Enhanced for 16x9 TVs)
Languages: English, Spanish and Portuguese
Subtitles: English, Spanish, Portuguese, Chinese, Korean and Thai
DVD #50169
TRADE INFORMATION
Order Date: June 1, 1999
Columbia TriStar Home Video is a Sony Pictures Entertainment company. Sony Pictures' global operations encompass motion picture production and distribution, television programming and syndication, home video acquisition and distribution, operation of studio facilities, development of new entertainment technologies and distribution of filmed entertainment in 67 countries worldwide. Sony Pictures Entertainment can be found on the World Wide Web at http://www.spe.sony.com
VISIT COLUMBIA TRISTAR HOME VIDEO ON THE WORLD WIDE WEB AT: http://www.cthv.com

Slides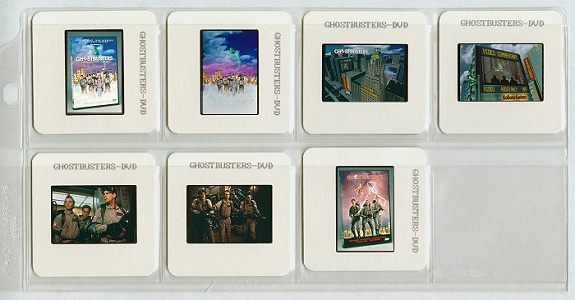 A set of 7 slides, stored in a half-page protective plastic sheet, showing the box art for both Ghostbusters DVDs, the unmarked box artwork for the first film, two menu shots for the first film, and two promotional photos from the first film. Click on the images in the group scan above for enlargements.

DVD Publicity Reel


(click to enlarge)
This six-minute videocassette shows off many of the Ghostbusters DVD's special features, such as the animated menus, the new cast and effects crew interviews, the deleted scenes, and more. It also contains something NOT found on the DVD: a "before & after SFX comparison" of when Ray first sees Slimer.


Outside Links
Search (Reference Library Only)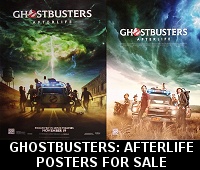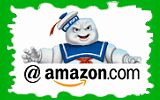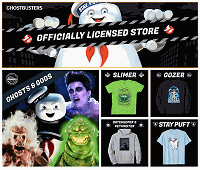 Please be aware that as an Amazon Associate, I earn a very tiny commission from purchases made though the Amazon links on this site.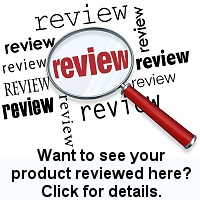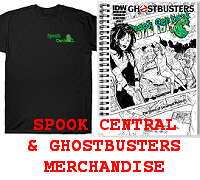 (
MY COMPARISON REVIEW
)
(
AVOID SHIPPINGEASY/STAMPS.COM
)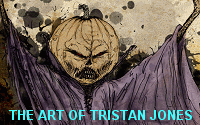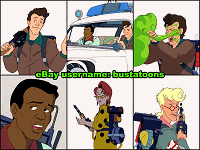 U.S. eBay (Ghostbusters stuff)
U.K. eBay (Ghostbusters stuff)