"Ghostbusters II" (Blu-Ray)



Release Date: September 16, 2014
MSRP: $19.99 [ind], $26.99 [set], $149.99 [dlx set]
Video: 16:9 Widescreen (2.40:1 aspect ratio), 1080p High Definition, MPEG-4 AVC [some special features in 4:3 Full Screen/Letterbox, Standard Definition]
Audio: DTS-HD 5.1 Master Audio, Dolby Digital 5.1, Dolby Surround, Stereo (language dependent)
Languages: English, French, German, Italian, Japanese, Portuguese, Russian, Spanish Castilian & Latin American, Thai
Subtitles: English, English SDH, Arabic, Bulgarian, Chinese Traditional, Croatian, Czech, Danish, Dutch, Finnish, French, German, Greek, Hebrew, Hindi, Hungarian, Icelandic, Italian, Japanese, Korean, Norwegian, Polish, Portuguese Brazilian & Portgual, Romanian, Russian, Spanish Castilian & Latin American, Swedish, Thai, Turkish
Discs: 1
Sides: 1
Layers: 2
Regional Coding: A, B, C
Video Format: NTSC
Total File Size: 34.4 Gigabytes
Package Type: Keep Case [ind], Digibook [set]
SPHE Catalog Number: 44294 [ind], 44295 [set]
There are three distinct releases of this Blu-ray. There's an individual release of each film, a double feature set containing both films packaged inside a 27-page book (called a "Digibook"), and then there's a deluxe double feature set containing the two-film Digibook bundled with a Slimer statue. For the first print run (at least), the individual releases each had an embossed glossy slipsleeve. A pre-printed "Personal Note From Ivan Reitman" was included with all releases; at least for the first print run.
Special Features
Missing Special Features
(only GB2 movie-related features are listed)
1999 DVD: Talent & Filmographies - brief biographies and filmographies of the film's main cast.
Notes
The "Louis' Secret" deleted scene is edited and contains one blurred logo. As Louis comes down the stairs, there's a refrigerator on the left with a Coca-Cola logo on it, which is blurred on the Blu-ray. The Blu-ray also edits out Louis' "pizza delivery man" line before he turns around and zaps Slimer, and lots more dialog between Louis and Janine at the end of the scene. The full scene was made available by special effect crew member William Forsche as part of a video he uploaded containing all Slimer deleted scenes.
"Peter's Concern" and "Jack Buys It" are listed as two separate deleted scenes, but really, they are part of the same continuous scene. The video named "Peter's Concern" contains the middle part of the conversation (from Peter's "Dracula's brother-in-law" dialog to Ray's "tenth level of hell" dialog). The video named "Jack Buys It" contains the first part of the conversation (Hardemeyer's "clown car" dialog) and the last part of the conversation (from the mayor's "Can you get into that museum?" dialog to Hardemeyer being sucked into the slime). I have no idea why they edited it like this instead of piecing/keeping it together in its proper form. If the Kumbaya singing part were to make itself known, then a fan edit of the entire scene *could* be somewhat possible.
Multimedia
Outside Links
Search (Reference Library Only)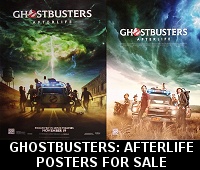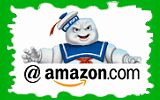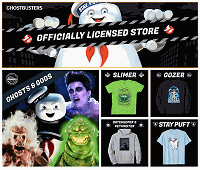 Please be aware that as an Amazon Associate, I earn a very tiny commission from purchases made though the Amazon links on this site.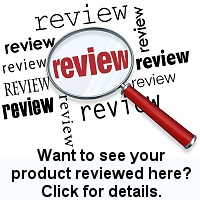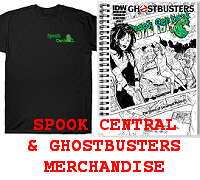 (
MY COMPARISON REVIEW
)
(
AVOID SHIPPINGEASY/STAMPS.COM
)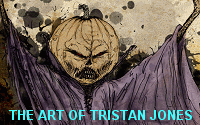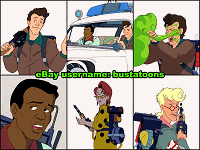 U.S. eBay (Ghostbusters stuff)
U.K. eBay (Ghostbusters stuff)