DELETED SCENES

(with optional English subtitles)
INT. FORT DETMERRING - SINGLE OFFICERS' QUARTERS - NIGHT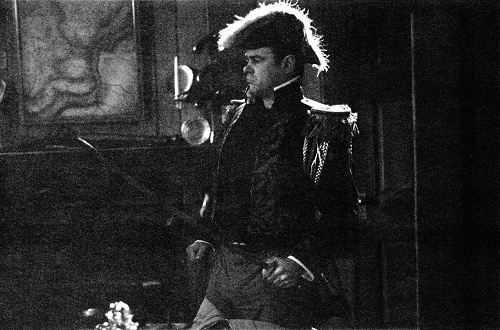 Stantz is in a painstakingly restored period room with a four poster bed, writing table and wardrobe hung with uniforms. His own jumpsuit and backpack lie in a heap beside the bed. He fingers an officer's uniform then tries it on. He steps to a full-length mirror and models it, striking a few heroic poses. He shrugs, sits on the bed, bouncing the mattress and squeezing it. He then lies down full length and tests it, hands behind his head.
STANTZ
He yawns. His eyes droop, blink and finally close. His head lolls sideways, his mouth drops open slightly and he drops off to sleep, exhausted.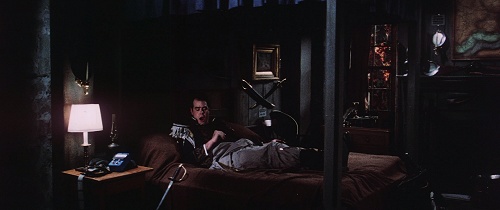 INT. WARDROBE - NIGHT
A uniform sleeve moves slightly. A sabre in its sheath begins to tap lightly against the open doorsash. A phosphorescent light streaks out in between gaps in the clothing, casting patterns over the room.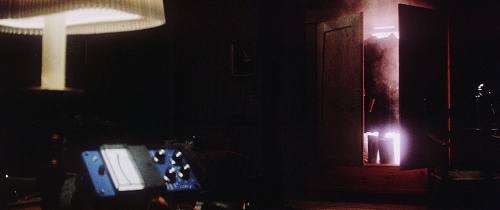 STANTZ PACK AND WANDS
A panel light winks on. The needle on his PKE meter jumps into the red.
STANTZ
He rolls over. From inside the wardrobe a shimmering pink mist rises up and begins to take form on the ceiling.
MIST
The vaguest remnants of a human form take shape. It hovers and shifts as if appraising Stantz.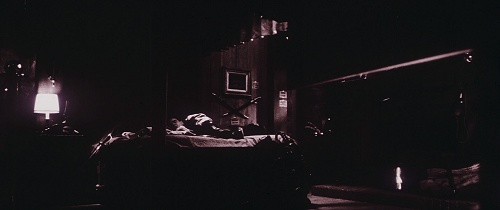 STANTZ
He tosses and rolls onto his back, still deeply asleep.
BED CANOPY
The mist slithers in through the curtains and takes a position above him. It begins to descent slowly.
STANTZ
The mist widens and elongates and sprawls in suspension over his body. He wakes. The apparition is inches above his face. He gasps but can't move, totally transfixed with fear.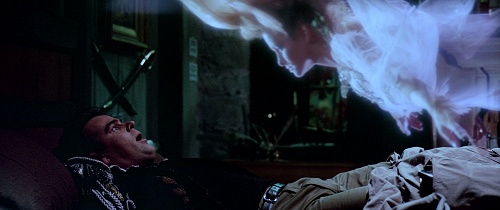 STANTZ' POV
He is face-to-face with a lost soul. It is a beautiful feminine face. It presses in closer. He sucks in his breath. Is he being smothered? The gaunt figure then slides slowly away from his face and down to a spot below his waist.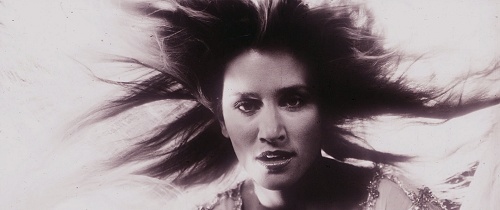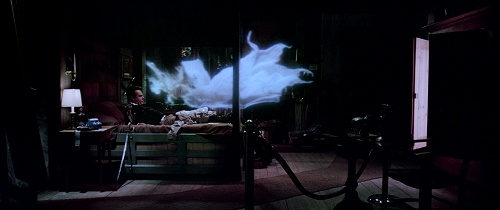 STANTZ
He props himself up on his elbows and looks down. Suddenly the apparition vanishes. Then his belt comes undone as if pulled by an invisible hand and his zipper slowly opens.
CLOSE-UP - STANTZ' FACE
His look changes from fear to confusion to pleasure. he closes his eyes and submits.
INT. BARRACKS CORRIDOR - NIGHT
Winston is smoking a cigarette, ambling down the barracks corridor. He hears voices and walks to the door of the barracks.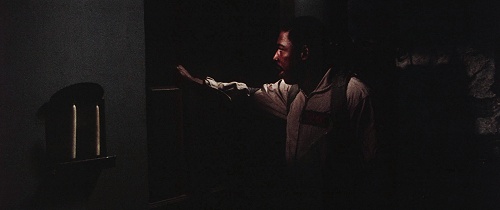 WINSTON
Stantz? You okay in there?
STANTZ
(from inside)
LATER, MAN!!
Winston shrugs and slinks out.

BEHIND THE SCENES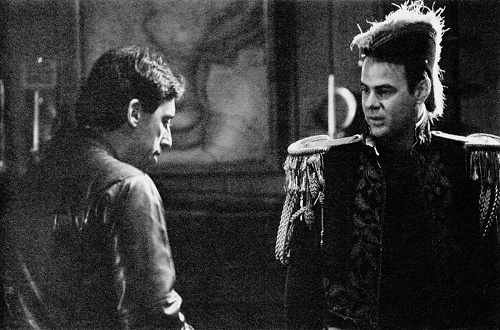 Ivan Reitman directs Dan Aykroyd in the scene.

STORYBOARDS
Below are the 28 storyboards that make up this entire scene, as opposed to the few storyboards seen in the "Making Ghostbusters" book. These images have been provided by "Ownerest", who originally uploaded them to a now-deleted Photobucket gallery, and shared them on the Ghostbusters Fans forum. All images have been cleaned up and fixed by me, Paul Rudoff, and they were brought to my attention by Matthew Ballard. In his forum post, "Ownerest" gave the instruction to "please save, copy, share", so it is assumed that that constitutes permission to do as such here on Spook Central. VIPs can download them all in one zip file here.
Search (Reference Library Only)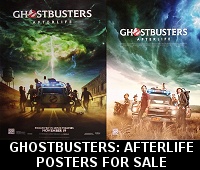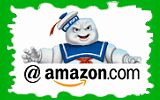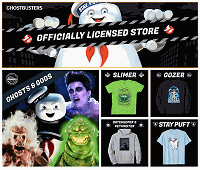 Please be aware that as an Amazon Associate, I earn a very tiny commission from purchases made though the Amazon links on this site.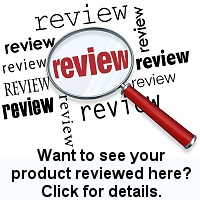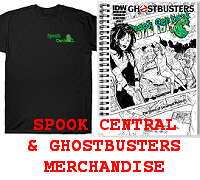 (
MY COMPARISON REVIEW
)
(
AVOID SHIPPINGEASY/STAMPS.COM
)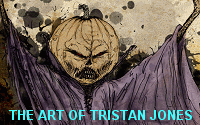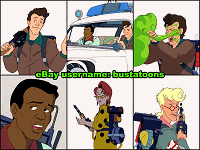 U.S. eBay (Ghostbusters stuff)
U.K. eBay (Ghostbusters stuff)