DELETED SCENES
EXT. RAY'S OCCULT BOOK STORE - DAY (LATER)
It's a small basement shop located on a quaint commercial block in Greenwich Village. The window is crowded with occult artifacts and old books full of arcane metaphysical lore. The TELEPHONE RINGS.
STANTZ
(v.o., answering the phone)
Ray's Occult.
INT. RAY'S OCCULT BOOKS - CONTINUOUS
The shelves are jammed floor to ceiling with books on the paranormal. Ray sits on a barstool behind the counter wearing an old cardigan sweater over a T-shirt. He has on a pair of reading glasses and chews on a battered, reeking pipe. As he talks on the phone he prepares a cup of herb tea for Spengler who is thumbing through an arcane text.
STANTZ
(on the phone)
Yeah ... mmhmm ... What do you need? ... What have I got? I've got alchemy, astrology, apparitions, Bundu Magic Men, demon intercession, U.F.O. abductions, psychic surgery, stigmata, modern miracles, pixie sightings, golden geese, geists, ghosts, I've got it all -- what are you looking for? ... Don't have any. Try the stockyards.
He hangs up.
STANTZ
Some crank. Looking for goat hooves. Come up with anything?
SPENGLER
(referring to the book)
This one's interesting. Berlin, 1939, a flower cart took off by itself and rolled approximately half a kilometer over level ground. Three hundred eyewitnesses.
STANTZ
You might want to check those Duke University mean averaging studies on controlled psychokinesis.
SPENGLER
(going to the stacks)
Good idea.
The bones hanging over the door rattle as Venkman enters the shop.
VENKMAN
Oh, hello, perhaps you could help me. I'm looking for an aerosol love potion I could spray on a certain Penthouse Pet that would make her unconditionally submit to an unusual personal request.
VENKMAN
So, no goat hooves, huh?
STANTZ
(strung)
I knew that voice sounded familiar. What's up? How's it going?
VENKMAN
Nowhere -- fast. Why don't you lock up and buy me a sub?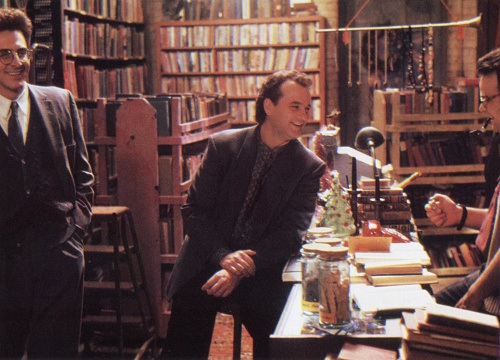 (source: GB2 Lobby Card #3)
STANTZ
(slightly evasive)
Uh, I can't. I'm kind of working on something.
Spengler steps out of the stacks.
VENKMAN
How've you been? How's teaching? I bet those science chicks really dig that big cranium of yours, huh?
SPENGLER
I think they're more interested in my epididymis.
VENKMAN
I don't even want to know where that is.
Venkman steps behind the counter and takes a beer from Ray's mini-fridge.
STANTZ
Oh, your book came in, Venkman. Magical Paths to Fortune and Power.
He hands Venkman the book.
VENKMAN
Great.
(reading the contents)
So what are you guys working on?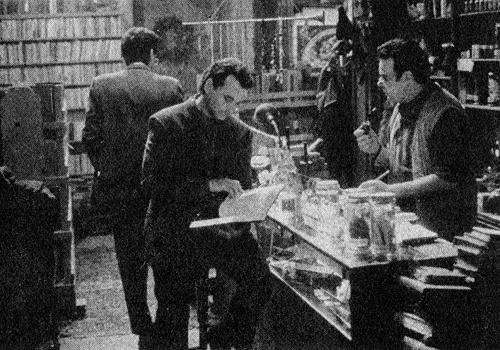 (source: GB2 Puzzles & Mazes Book)
STANTZ
Oh, just checking something for an old friend.
STANTZ
(at a loss)
Who? Just -- someone we know.
He grabs Stantz by both ears and pulls up.
STANTZ
Aaah! Nobody! I can't tell you!
STANTZ
(giving in)
Dana! Dana Barrett!
Venkman lets go of his ears and smiles. Spengler looks at Stantz and shakes his head.
Search (Reference Library Only)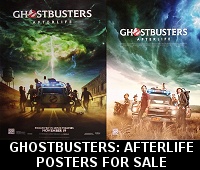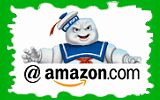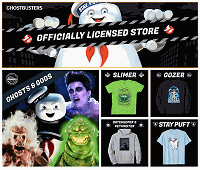 Please be aware that as an Amazon Associate, I earn a very tiny commission from purchases made though the Amazon links on this site.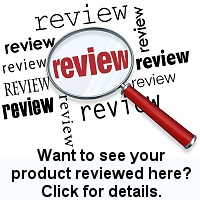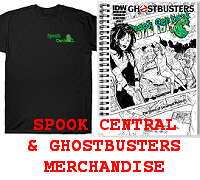 (
MY COMPARISON REVIEW
)
(
AVOID SHIPPINGEASY/STAMPS.COM
)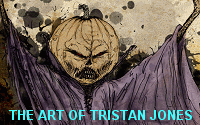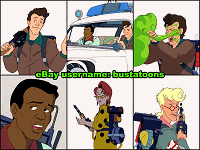 U.S. eBay (Ghostbusters stuff)
U.K. eBay (Ghostbusters stuff)