DELETED SCENES
The later part of this scene, involving the mayor and Hardemeyer, is included on the Ghostbusters II 2014 Blu-ray as two separate deleted scenes. The video named "Peter's Concern" contains the middle part of the conversation (from Peter's "Dracula's brother-in-law" dialog to Ray's "tenth level of hell" dialog). The video named "Jack Buys It" contains the first part of the conversation (Hardemeyer's "clown car" dialog) and the last part of the conversation (from the mayor's "Can you get into that museum?" dialog to Hardemeyer being sucked into the slime). I have no idea why they edited it like this instead of piecing/keeping it together in its proper form. If the Kumbaya singing part were to make itself known, then a fan edit of the entire scene *could* be somewhat possible.

Jack Buys It
(with optional English subtitles)
(A copy has also been uploaded to the
official Ghostbusters YouTube channel
)

Peter's Concern
(with optional English subtitles)
(A copy has also been uploaded to the
official Ghostbusters YouTube channel
)

EXT. MUSEUM THEIR POV - BUILDING
The building is now totally covered in a shell of psycho-reactive slime. CITY WORKMEN and FIREMEN are trying to cut their way in with blowtorches, jackhammers, power tools and the "jaws of life," but they can't even make a dent.
GHOSTBUSTERS
They size up the situation as they don their proton packs.
STANTZ
It looks like a giant Jello mold.
They stride manfully across the street and approach the main entrance to the museum.
STANTZ
(to the Fire Captain)
Okay, give it a rest, Captain. We'll take it from here.
FIRE CAPTAIN
(skeptical)
Be my guest. We been cutting here for three hours. What the hell's going on? You know the Titanic arrived this morning?
VENKMAN
Well, better late than never.
The workmen and firemen put down their tools and fall back as the Ghostbusters draw their particle throwers.
SPENGLER
(monitoring valences)
Full neutronas, maser assist.
They adjust their settings and prepare to fire.
They trigger their throwers and spray the front doors of the building with bolts of proton energy, but it has no effect on the hardened slime.
VENKMAN
(to the firemen)
Okay, who knows "Cumbaya?"
A few of the firemen and workmen tentatively raise their hands. Venkman grabs them and lines them up at the entrance of the museum.
VENKMAN
All right. Nice and sweet --
(starts singing)
Cumbaya, milord, cumbaya --
Stantz, Spengler, Winston and the firemen sing along, reluctantly holding hands and swaying to the music.
ALL
(singing)
Cumbaya, milord, cumbaya, Cumbaya, milord, cumbaya, Oh, Lord, cumbaya.
Stantz inspects the wall of slime with his infra-goggles and finds that they have only managed to open a hole the size of a dime.

(source: Ghostbusters II storybook by Jovial Bob Stine)
STANTZ
Forget it. The Vienna Boys Choir couldn't get through this stuff.
VENKMAN
Good effort. Now what? Should we say supportive, nurturing things to it, Ray?
SPENGLER
It won't work. There's no way we could generate enough positive energy to crack that shell.
STANTZ
I can't believe things have gotten so bad in this city that there's no way back. Sure, it's crowded, it's dirty, it's noisy. And there are too many people who'd just as soon step on your face as look at you. But there've got to be a few sparks of sweet humanity left in this burned-out burg. We just have to mobilize it.
SPENGLER
We need something that everyone can get behind, a symbol --
His eyes fall on ECTO-2's New York State license plate which features a line drawing of the Statue of Liberty.
STANTZ
(he sees it, too)
Something that appeals to the best in each and every one of us --
SPENGLER
Something good --
EXT. THE STREET - NIGHT (SAME TIME)
There is a commotion among the crowd as the Mayor's limousine arrives with a police escort. Jack Hardemeyer steps out followed by the Mayor himself and they cross to the museum entrance.
Hardemeyer, his ASSISTANT and several police BODYGUARDS confront the Ghostbusters.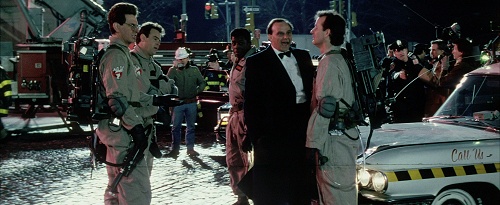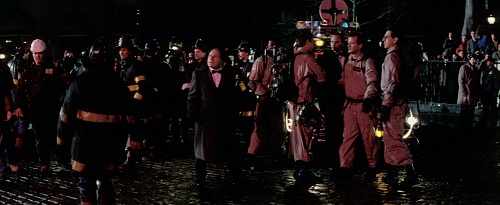 HARDEMEYER
Look, I've had it with you. Get your stuff together, get back in that clown car and get out of here. This is a city matter and everything's under control.
VENKMAN
Oh, you think so? Well, I've got news for you. You've got Dracula's brother-in-law in there and he's got my girlfriend and her kid. Around about midnight tonight, when you're partying uptown, this guy's going to come to life and start doing amateur head transplants. And that's just round one.
MAYOR
Are you telling me there're people trapped in there?
HARDEMEYER
(to his assistant)
This is dynamite. Call A.P., U.P.I., and C.N.N. and get them down here right away. When the police bring this kid out I want them to hand it right to the mayor and I want it all on camera.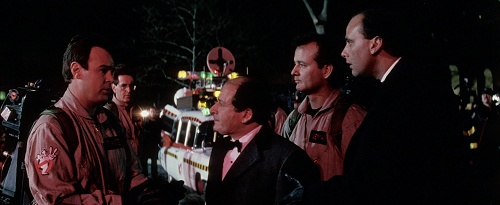 STANTZ
Mr. Mayor, if we don't do something by midnight, you're going to go down in history as the man who let New York get sucked down into the tenth level of hell.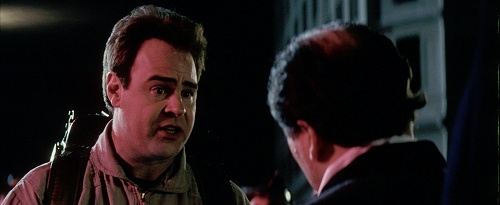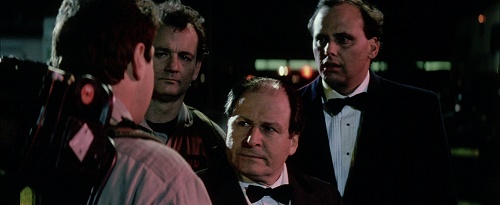 The Mayor stops to consider the situation.
MAYOR
(to the Fire Captain)
Can you get into that museum?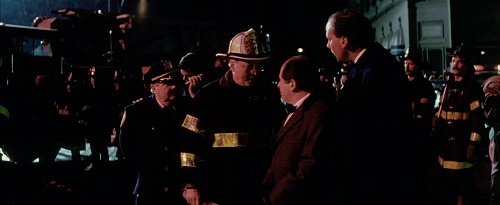 FIRE CAPTAIN
If I had a nuclear warhead, maybe.
The Mayor turns to Venkman.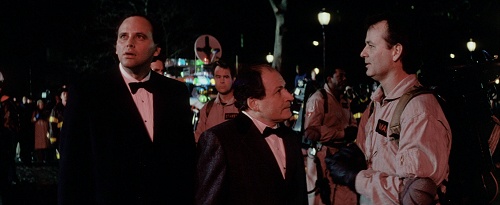 MAYOR
You know why all these things are happening?
VENKMAN
We tried to tell you last night, but Mr. Hard-On over here packed us off to the loony bin.
Hardemeyer flips out.
HARDEMEYER
This is preposterous! You can't seriously believe all this mumbo-jumbo! It's the Twentieth Century, for crying out loud!
(viciously, to Venkman)
Look, mister, I don't know what this stuff is or how you got it all over the museum, but you better get it off and I mean right now!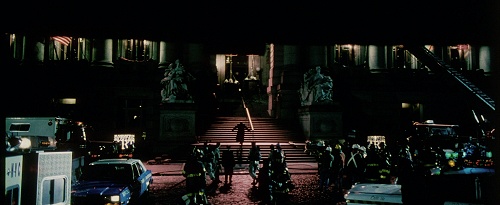 He pounds the wall of slime with his fist, and they all watch in amazement as his fist goes through the wall and he is sucked bodily through the slime curtain. Only his shoes can be seen, embedded in the slime.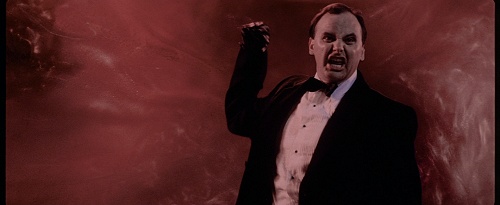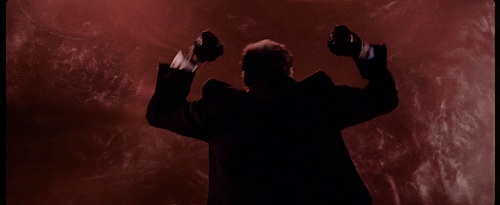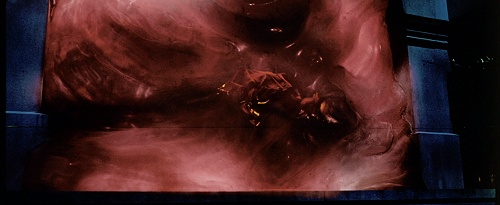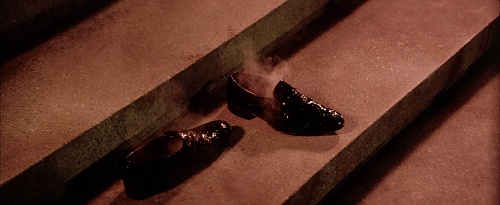 MAYOR
(to Venkman)
Okay, just tell me what you need.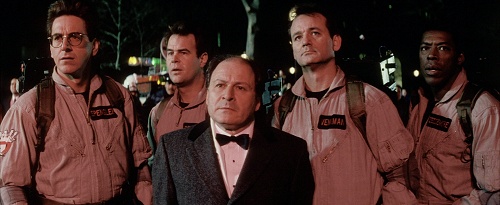 Search (Reference Library Only)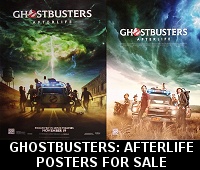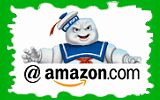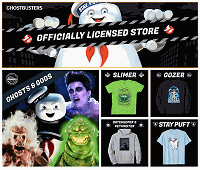 Please be aware that as an Amazon Associate, I earn a very tiny commission from purchases made though the Amazon links on this site.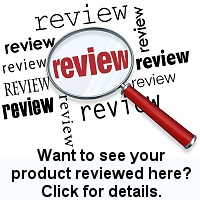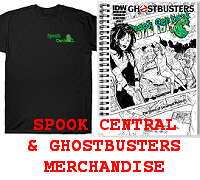 (
MY COMPARISON REVIEW
)
(
AVOID SHIPPINGEASY/STAMPS.COM
)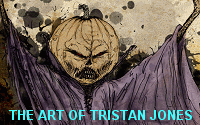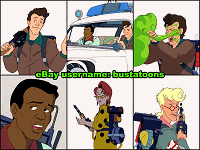 U.S. eBay (Ghostbusters stuff)
U.K. eBay (Ghostbusters stuff)