To help celebrate the 14th anniversary of Spook Central: The Ghostbusters Companion, one of the longest-running Ghostbusters fan sites currently online, I held a prize giveaway from August 1st to August 7th 2010 to honor the momentous occasion. I reached out to a few of my corporate friends, and dug through my personal collection, to gather up a few prizes to give out to fans. The prize giveaways included a gift certificate good for 2 tickets to On Location Tours' "New York TV and Movie Sites" tour of New York City, free custom sticker sheets at StickerYou.com, a copy of TimeLife's The Real Ghostbusters Volume 2 five-disc DVD set, Gamer Graffix's No Ghost Logo and Ghostbusters Text Logo wall graphics, and more!
The contest was a great success. Below is the full list of winners, along with a brief description of what prizes they won. For more information on the prizes, check out the
prize image gallery
. For legal and reference purposes, a copy of the original official rules can be found at the end.
2 tickets to On Location Tours' "New York TV and Movie Sites" tour of New York City (valued at $76 USD)
-- Jack Hensley, Belmar, NJ, USA
1 free custom sticker sheet at StickerYou.com (valued at $6.99 USD each)
-- Christopher Rhea, Hampton, VA, USA
-- Tony Stafford, Dovecot, Liverpool, ENGLAND
-- Dan Mattucci, La Grange Park, IL, USA
-- Nathan Bonner, Springfield, MO, USA
-- Scott Silver, Orem, UT, USA
TimeLife's The Real Ghostbusters Volume 2 five-disc DVD (valued at $39.99 USD)
-- Joshua Minetree, Baltimore, MD, USA
Gamer Graffix's No Ghost Logo 19.5" x 17" Wall Graffix
-- Allan Nicoletti, Croydon, PA, USA
Gamer Graffix's Ghostbusters Text Logo 23" x 3" Wall Graffix
-- Samantha Cornell, Millis, MA, USA
Ghostbusters II Homemade Pog (1.5" in diameter) (this is an item I made in the 1990s)
-- Trey Lansford, Amarillo, TX, USA
Filmation's Ghostbusters #4 comic book
-- David Varner, Rothschild, WI, USA
Spook Central retro logo sticker - custom printed at StickerYou.com
-- Lucas Ackley, West Jordan, UT, USA
-- Matthew Rude, Columbia, IL, USA
-- Gary Tabar, Waynesville, NC, USA
-- Delfin Aponte, Philadelphia, PA, USA
-- Andrew Stewart, Beaufort, SC, USA
-- Michael Sedoti, Reading, PA, USA
-- Adam Anderson, Rochester, MN, USA
-- Mike Sopronyi, Miamisburg, OH, USA
-- Brian Rippee, Concrete, WA, USA
-- Matthew Dusing, Lancaster, OH, USA
Ghostbusters 25th Anniversary sticker - custom printed at StickerYou.com
-- Adam Skinner, Kitchener, ON, CANADA
-- Austyn Brown, Bournemouth, Dorset, ENGLAND
-- Daryl Klinger, Sanford, FL, USA
-- Jeremy Neff, Mooresville, NC, USA
-- Vincent Montenegro, La Quinta, CA, USA
-- Jay Wilson, Louisville, KY, USA
OFFICIAL RULES
NO PURCHASE NECESSARY TO ENTER OR WIN. The "Spook Central 14th Anniversary Prize Giveaway" starts on 8/1/2010 and ends on 8/7/2010. The contest is open only to legal residents of the United States, Canada, and all other countries, 18 years of age or older at time of entry. A vaild e-mail address is required for the contest. Void where prohibited or restricted by law.
Limit one entry per person and/or e-mail address. Any additional entries will be discarded. All information provided by entrants will not be sold, given away, or used for any other purpose than for this contest - though a winners list will be posted after the contest has ended. Winners will be chosen at random using The Hat random name-selection software. Winners will be notified via e-mail at the address provided in their entry, and will be required to reply to that e-mail and verify their information before the prize will be sent to them. If a winner does not reply within three business days, they will forfeit the prize and it will be given to someone else via another random selection.
No prize substitution or cash redemption allowed by a prize winner. If awarded, prizes will be awarded without any warranty of any kind. Odds of winning a prize depends on the total number of eligible Entries received for the Sweepstakes.
All federal, state and local tax liabilities, if any, are the responsibility of the winners. Spook Central/Paul Rudoff shall not be responsible or liable for entries that are entered by other than human means (such as by an automated computer program or any non-human mechanism, entity, or device), in excess of the stated limit, or for entries that are late, forged, destroyed, lost, misplaced, stolen, misdirected, tampered with, incomplete, deleted, damaged, garbled, or otherwise not in compliance with the official rules, and all such entries will be disqualified.
By entering the Sweepstakes, each entrant agrees: (i) to be bound by these official rules and by all applicable laws and decisions of Spook Central/Paul Rudoff which shall be binding and final; (ii) to waive all of his/her rights to bring any claim, action, or proceeding against Spook Central/Paul Rudoff in connection with the Giveaway.
No feedback yet
Leave a comment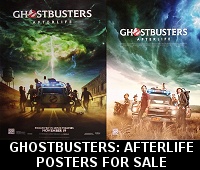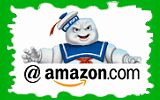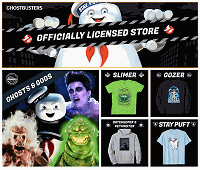 Please be aware that as an Amazon Associate, I earn a very tiny commission from purchases made though the Amazon links on this site.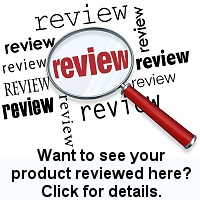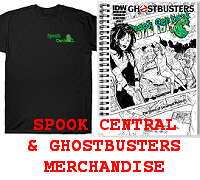 (
MY COMPARISON REVIEW
)
(
AVOID SHIPPINGEASY/STAMPS.COM
)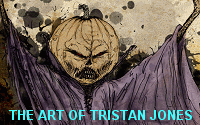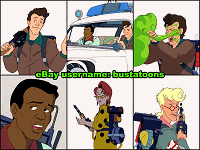 U.S. eBay (Ghostbusters stuff)
U.K. eBay (Ghostbusters stuff)