Ghostbusters: Sanctum of Slime
is available now for all systems worldwide, except for the Playstation 3 in Europe, where it will come out on March 30th (as per
Atari's Twitter post
). If you're on the Xbox or PlayStation 3, you can buy the game through the marketplace interface of your console. You can buy and download the PC version from
Amazon
or
Steam
. I recommend that you purchase it from Amazon, as Spook Central gets a small commission for sales made there - and chances are you already have an an Amazon account, so you're already good to go.
However, please be aware that
THE PC VERSION HAS NO ONLINE CO-OP PLAY
; local co-op only - as per reports at the
Atari
and
Steam
forums. I have not seen this for myself yet, because I've been too busy writing coverage for the game to actually download and install it, but multiple reports can't be wrong. So, AGAIN, PC gamers get screwed! We had no online play in Ghostbusters: The Video Game, while the consoles had it; and now again we lose it while the consoles get the glory. Now I *KNOW* that Atari hates PC gamers. Adding insult to injury, the PC version is the same price as the console versions, so we get LESS GAME FOR THE SAME PRICE! (From what I've been told, when you convert Xbox Live Arcade and PlayStation Network currency to dollars, the game is selling for $10 on the consoles.) Here are the co-op stats reported by
Co-Optimus
:
Co-Op Features of Ghostbusters: Sanctum of Slime (PC)
Local Co-Op:

Yes

Number of Players Offline:
4 Players
Online Co-Op:

No

Number of Players Online:
0 Players
LAN or System Link:

No

Number of Players via LAN or System link:
0 Players
Splitscreen:

No

Simultaneous Local and Online Co-Op:

No

Number of Players Online with Local:
0 Players
Drop-In / Drop-Out:

No

Co-Op Specific Content:

No

Single player content available in Co-Op:

Yes
And if that's not enough, here's a snippet from
IGN's review
, which makes it quite clear that PC gamers are getting the short end of the stick... and you DON'T want to know where that stick is being shoved:
Ghostbusters: Sanctum of Slime is all about multiplayer, but the PC version is gimped when compared to the PlayStation 3 or Xbox 360 downloads. Over on the consoles, players have online multiplayer. On the PC, you can only play locally. That sucks, but the mouse aiming is far more precise than a controller's joystick so I guess the PC gets that. Even the local multiplayer is far from perfect in Ghostbusters: Sanctum of Slime. When I was playing with a group of IGN editors and someone finally had enough of Chapter 10's garbage and put down the controller, the remaining players either had to find a replacement or restart the level. We couldn't just turn off the controller and have the computer jump in.
Would you like to see the game bootup and some online play in action on the PS3? Then
check out this video
uploaded by YouTube user SmartPerson2011. PC gamers, it's okay to cry.
If you still want to play the PC version - and for me, that's my only choice, unfortunately - here's what you need to run it (info from Atari's PC mini-site). You'll notice that it only says that an internet connection is required for online activation, but nothing about it being needed for gameplay - as there is no online play on the PC.
PC MINIMUM SYSTEM REQUIREMENTS

• OS: Windows XP SP2, Vista SP2, 7
• CPU: Intel Core 2 Duo E4300 or AMD Athlon X2 4400+
• RAM: 1 GB
• Video: ATI Radeon HD 2600 or NVIDIA GeForce 8600 or faster*
• Sound: DirectX 9.0c-compatible
• HD: 500MB free
• Peripherals: Keyboard + 3 button mouse, Microsoft Xbox 360 Controller for PC, Microsoft Xbox 360 Wireless Controller for Windows, Logitech Gamepad F310/F510/F710**
• Other: Internet Connection required for online activation

* Video cards that do not meet or exceed the performance of these cards, such as the Intel G43/G45 Integrated, are not supported.
** DirectInput Gamepads, such as the Logitech Rumblepad 2, are not supported.
The version of the game sold on Steam includes 12 "Steam Achievements". The version of the game sold on the Atari website (and presumably every place else) does NOT include Achievements (that area on the main menu is blank). Almost all of the Steam Achievements, noted with the icons and titles below (provided by the Steam site), are the same as
those on the Xbox
, so they unlock the same as well. One achievement is different: "Full House" on the Xbox was replaced with "Driver's License" on the PC, the goal of which is to "finish a vehicle level". The reason for the change is because "Full House" is an online achievement, and the PC version doesn't have any online play. Also, some of the achievement icons are different. I think Steam has the correct icons since the Xbox icons were put up a month or so ago.
| | | | | | |
| --- | --- | --- | --- | --- | --- |
| Rookies | Bustin' Makes Me Feel Good | Nice Thinking, Ray | Hero | Speed Demon | Story Teller |
| Team Of Four | Rockstar | Color Blind | Driver's License | Rush Hours Revenge | Don't Touch The Car |
When Ghostbusters: The Video Game came out almost two years ago, PlayStation 3 owners were also given various goodies to buy for their avatars. Xbox 360 owners who felt left out in the cold can rejoice as some Ghostbusters: Sanctum of Slime items are now available for your Xbox avatar. There's an Ecto-4WD remote toy (320 points), a GB Trucker hat (80 points), a Stay-Puft pet (320 points), a Slimer pet (320 points), and a GB Jumpsuit (240 points). More information and pictures can be found at
Proton Charging
and
Ghostbusters News
. Proton Charging also
posted a video to Facebook
showing the PS3 demo booting up and then showing the Xbox goodies in the marketplace.
If you'd like to read a little more about the game, check out
David Williams's Dev Diary on the story over on the PlayStation Blog
,
Ghostbusters Wiki's interview with writer Tom Waltz
, and
Goozer Nation's interview with producer Jonathan Moses
.
No feedback yet
Leave a comment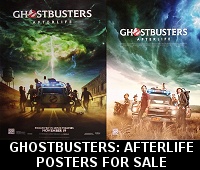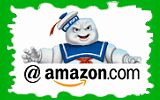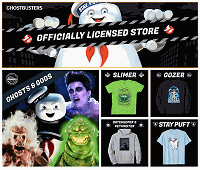 Please be aware that as an Amazon Associate, I earn a very tiny commission from purchases made though the Amazon links on this site.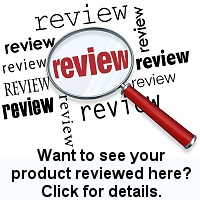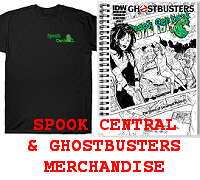 (
MY COMPARISON REVIEW
)
(
AVOID SHIPPINGEASY/STAMPS.COM
)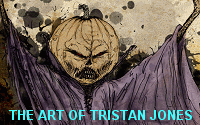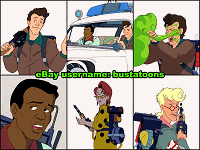 U.S. eBay (Ghostbusters stuff)
U.K. eBay (Ghostbusters stuff)