Yesterday my family and I went into the City to celebrate my parent's 38th wedding anniversary. We visited Times Square and Rockefeller Center, and I figured it would be a good opportunity to take some photos of the Ghostbusters spots at those locations - especially since most of them were unknown to me when I last visited on April 22, 2003. Sadly, between the overcrowding and the set-up for New Years Eve, I couldn't take the exact photos I wanted. I did manage to get a few shots, which have been added to the
Times Square
and
Rockefeller Center
pages.
We started off at the Hard Rock Cafe in Times Square, which was the wresting-themed WWE New York back in 2003.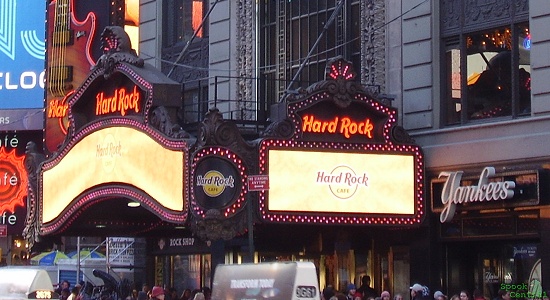 All over Times Square (and to a lesser degree, Rockefeller Center) were panhandlers dressed as costumed characters. This was the first time I've seen them here in New York. I knew they had them out in California by Graumman's Chinese Theater (as noted in the 2007 documentary
Confessions Of A Superhero
), but I thought they were "exclusive" to the west coast. I tried to avoid them, though I did take a photo of my mother and sister with "Bugs Bunny" (whom we did not give money to), and I snapped this photo of an Alien hanging out with some Predators. Don't be surprised if I recycle this image come July 4th :-)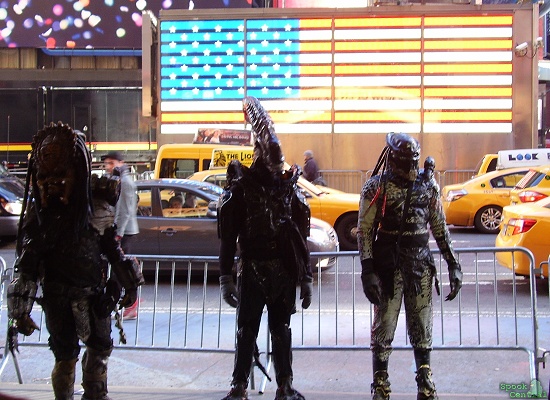 With preparations already underway for New Year's Eve, I couldn't stand in the island across the street to snap a photo of where Ray Parker Jr. and the boys danced in the music video. The best I could do was the photo on the right (a music video shot is on the left for comparison).
They already had the ball's stand and the "2014" in place, but no ball.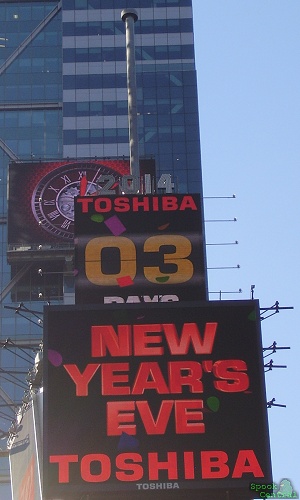 We stopped inside Planet Hollywood, which drastically scaled back their business since I was last there 10 years ago. It went from having multiple floors with an entrance right on the main strip, to being a small room on the second floor with the entrance on a side road. Sadly, all of
their Ghostbusters stuff
is long gone :-( The photo below, pretty much, shows you the entirety of Planet Hollywood. Yes, it's *that* small!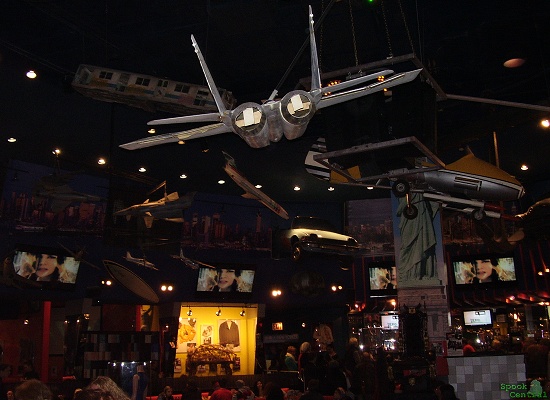 Next we hit McDonald's, which is where we had lunch. What, you thought I could afford the prices at Hard Rock Cafe and Planet Hollywood?!? I could swear that when I was there 10 years they were MUCH bigger than they are now. Although they have two floors, they're very tiny. It didn't help that so many people were trying to cram into that small space. We managed to find a table... right next to the men's room! Yeah, not exactly the best seat in the house :-) Anyway, this marked the first of the Ghostbusters spots on our visit. Below is the movie and real-life comparison.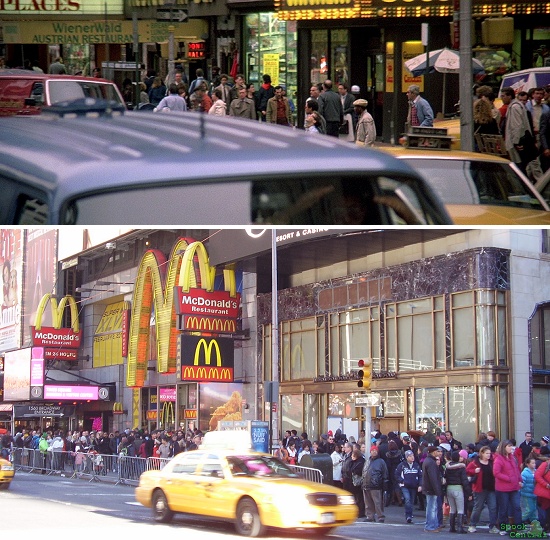 Like Louis, I walked across the street and took a photo of the George M. Cohan statue. All of that scaffolding in the background is where Ryan Seacrest will stand in a few days on New Year's Eve.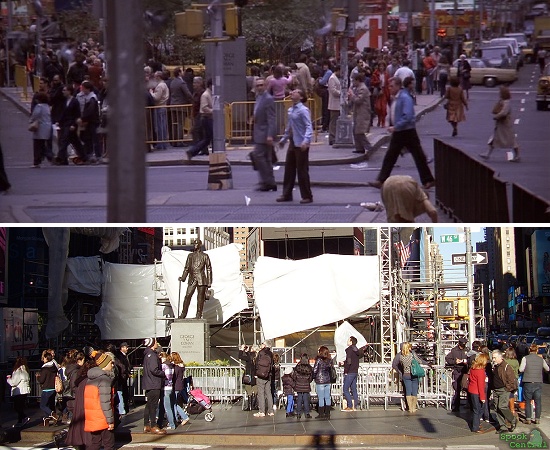 I walked across the street to the old Movieland theater which was haunted in Ghostbusters II. Last I knew it was the Roxy Delicatessen. Imagine my surprise to find that it's now a Radio Shack.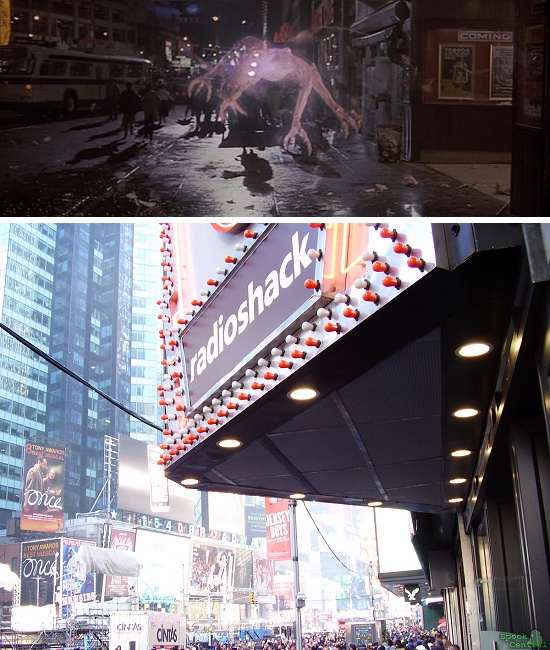 After Times Square we walked a few blocks to Rockefeller Center. On the way I stopped by the McGraw-Hill Building. Sadly, the hot dog vendor wasn't there anymore. I guess a certain green blob scared him away.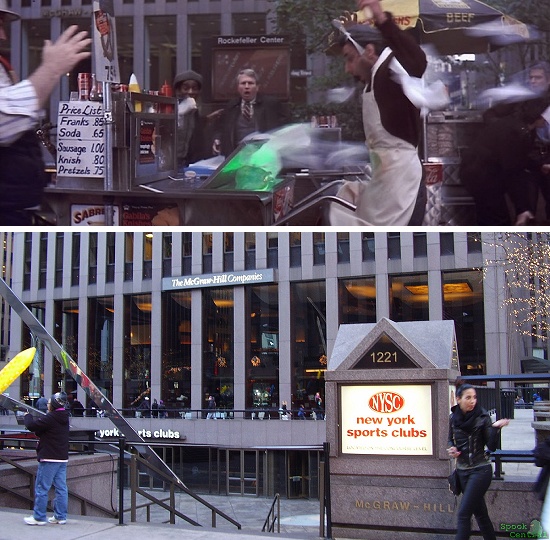 One of our main goals of going into the City and to Rockefeller Center was to go to the
Radio City Sweets & Gifts store
to re-buy some of the Christmas Spectacular souvenirs that Hurricane Sandy destroyed. (We saw the show in early November 2009 when I won free tickets; we couldn't afford to buy tickets for this year's show.)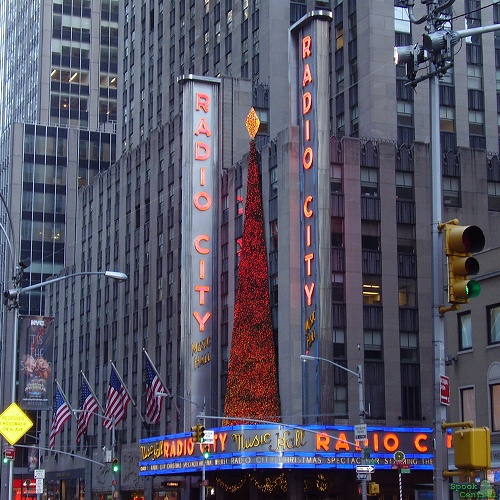 Afterwards, we went across the street to 30 Rock - but first I went to the end of the block to catch a glimpse of the Ecto-1 as it passed St. Patrick's Cathedral (currently under renovations) and Saks Fifth Avenue. Sorry, I missed it.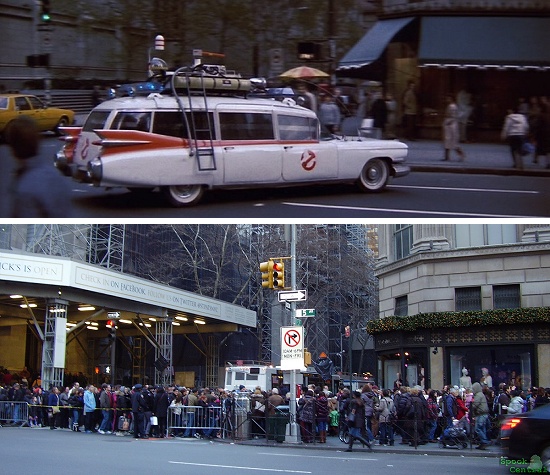 Then I went back to 30 Rock to see the world-famous Christmas tree and the Prometheus statue that the guys ran past in the first film. I muscled my way through the sea of humanity to get what I *thought* was a
great shot of the tree and statue
. It looked fantastic in my digital camera's little viewfinder, but when I got home and looked at it on the computer, my heart sank when I saw that it was blurry. Oh well, here's a comparison with a close-up of the statue I took.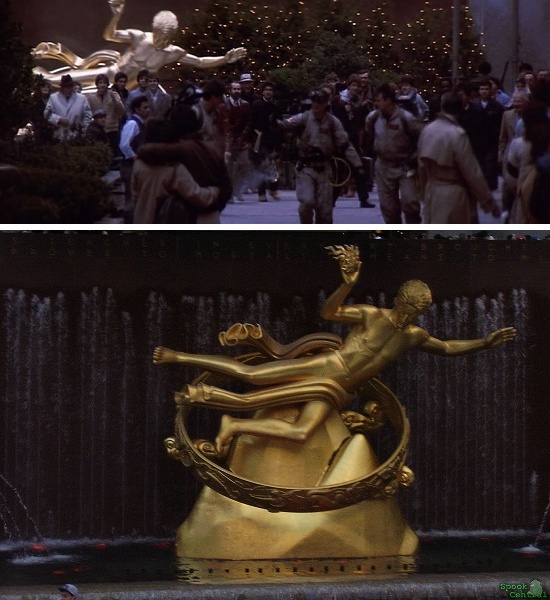 I made my way back to 30 Rock to meet up with my family at the
NBC Experience store
. I would have visited Liz Lemon, but she doesn't work there anymore. We picked up a few small trinkets, but most everything was overpriced. Case in point: A single Sharpie marker with the "Late Night with Jimmy Fallon" logo on it was priced at $3 (I can buy a whole pack at Staples for that price), and a single pen with the "Psych" logo that looks *exactly* like the same ones I get for free from the bank was priced at $5. I would have bought a Grimm t-shirt, but they were $26 and up, and I don't feel any t-shirt is worth more than $20. I didn't take any photos inside (they were crowded), so here's a photo of the NBC Studios marquee that you've probably seen on classic episodes of Saturday Night Live back when the Not-Ready-For-Primetime Players were the stars.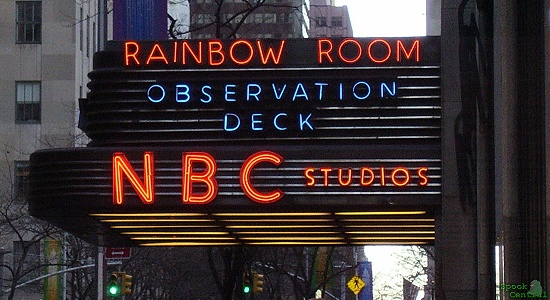 After that we hailed a cab to take us back to Penn Station to put an end to the evening. Although we all had an enjoyable time, New York City now joins the mall, Target, and Walmart on my list of places I won't visit between Thanksgiving and New Years Day. I seriously underestimated how crowded it would be. I thought that being three days after Christmas, nobody would still be interested in visiting the tree at Rockefeller Center. Boy was I wrong! I also didn't think they'd be setting up for New Years more than a day before the 31st. Again, I thought wrong.
With this blog post, I now close out 2013. It started off with a post I couldn't even make myself (I had to have fellow staffer Matthew Jordan post it for me)
detailing Ghostbusters items destroyed by Hurricane Sandy
(and the final days of getting stuff out of the old house), and it's ending with this much happier post about my family's trip to New York City. What a difference 365 days make.
No feedback yet
Leave a comment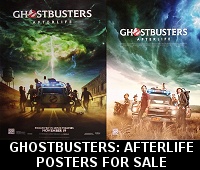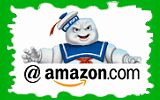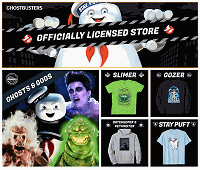 Please be aware that as an Amazon Associate, I earn a very tiny commission from purchases made though the Amazon links on this site.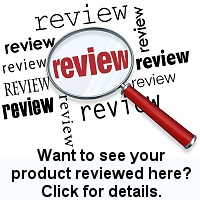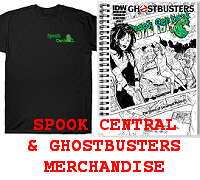 (
MY COMPARISON REVIEW
)
(
AVOID SHIPPINGEASY/STAMPS.COM
)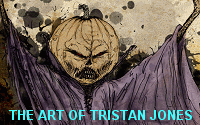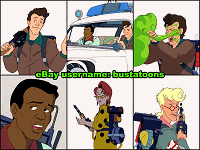 U.S. eBay (Ghostbusters stuff)
U.K. eBay (Ghostbusters stuff)