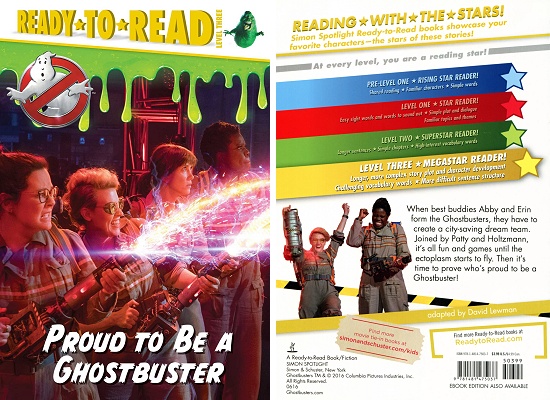 The movie comes out on July 15th, but all of Simon Spotlight's books based on it are due for release on June 14th, a full month earlier. I opted to read and review the books now, even though that, obviously, spoils the movie for me. I have tried my best to make this review as spoiler-free as possible. If you're interested in buying this book, I would suggest either buying it now and filing it away until after you see the movie, or wait until July and buy it after seeing the movie. The point being: See the movie first, THEN read the book! (Also, images were quickly scanned in by me and any crookedness is not meant to reflect the actual product.)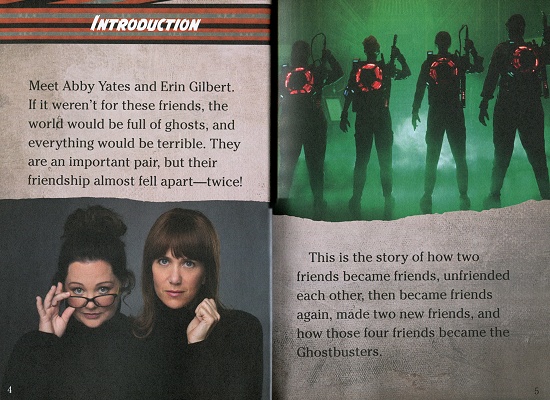 June 14th sees the release of
Proud To Be A Ghostbuster
by David Lewman, a children's book based on the new Ghostbusters movie. It's part of the
Ready-to-Read series
, classified at Level Three/Megastar Reader, which indicates that it features a "larger, more complex story plot and character development; challenging vocabulary words, and a more difficult sentence structure". The 6"x9" paperback tome is printed with a large font on plain paper stock and is suitable for the 6-8 year old age range (school grades 1-3), so that made for a light and fun breeze through the 40 pages. Released by the Simon and Schuster imprint,
Simon Spotlight
, this book carries a list price of $3.99, but you can always find it
a little cheaper at Amazon
, where an eBook version is also available.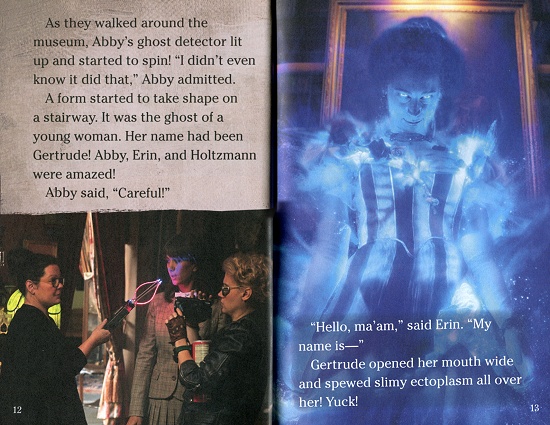 Over six chapters,
Proud To Be A Ghostbuster
encapsulates the story of the movie in words and pictures more suitable for younger kids than the junior and adult novelizations from Simon or Tor. Rather than recall the movie in detail, this adaptation focuses more on the friendship between Erin Gilbert (Kristen Wiig) and Abby Yates (Melissa McCarthy), and how it plays out through the course of the Ghostbusters' story. As expected, a lot of story elements and characters are left out, such as the
mayor and mayor's aide
. There is a positive portrayal of friendship and of being there for each other.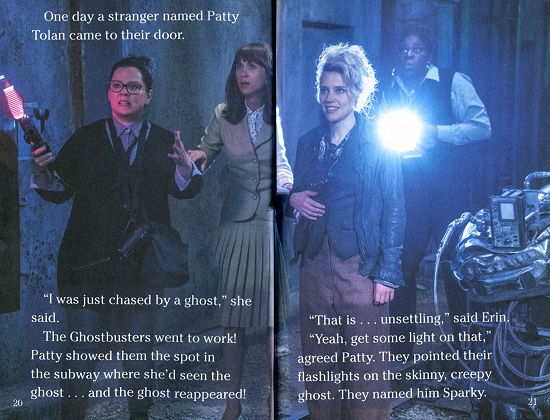 One thing I've noticed about the book is that Jillian Holtzmann is never referred to solely by her first name as the other three Busters are. For example, "Abby, Erin, and Holtzmann were amazed!" Another example is found on the back cover synopsis (see image above). Kinda weird. Speaking of names, Kevin's last name is never given. Until we recently
spotted a promo photo of him holding up his headshots
, we never knew it was "Beckman" because it was never included in any of the press materials so far. Since the last names of all of the ladies are given in the book, I would have expected for his to be, too.
Overall, a nice little book that could be considered the
junior
junior novelization. I would recommend
Proud To Be A Ghostbuster
for little kids who are not ready to read the movie novelizations by Stacia Deutsch (Simon) and Nancy Holder (Tor). Adults would, likely, be better served by the Tor book.
No feedback yet
Leave a comment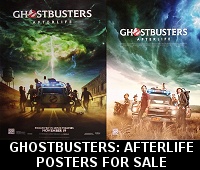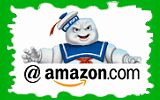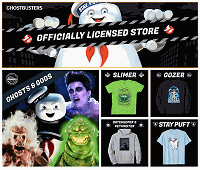 Please be aware that as an Amazon Associate, I earn a very tiny commission from purchases made though the Amazon links on this site.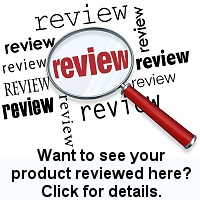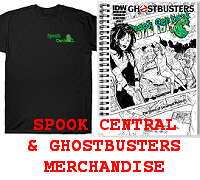 (
MY COMPARISON REVIEW
)
(
AVOID SHIPPINGEASY/STAMPS.COM
)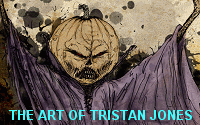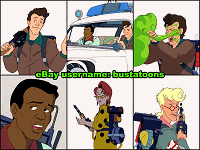 U.S. eBay (Ghostbusters stuff)
U.K. eBay (Ghostbusters stuff)