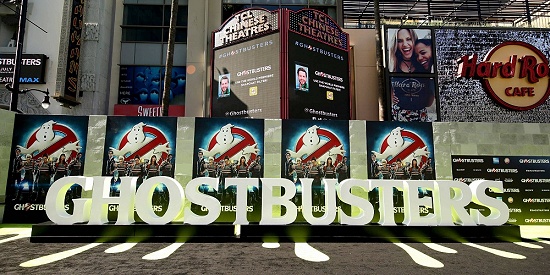 First and foremost, I would like to explain about the lack of new content. You may have noticed that there hasn't been many new blog posts here on Spook Central or on
The Corner Penthouse
. It's not for lack of having new stuff to post, that I assure you. I actually have several reviews planned for both sites: Real Ghostbusters Volumes 6-10 DVDs and Lego Dimensions Ghostbusters 2016 Story Pack for Spook Central; other Lego Dimensions stuff and Return of the Living Dead 3 & CHUD 2 Blu-rays for The Corner Penthouse; plus a few other things. I was hoping to post all of this stuff over the past few months, but things have been a nightmare in my real-life, and it recently got far worse. I want to have it all posted throughout February, but it would be foolish of me to commit to any specific dates at this time. I also have to do a computer upgrade, and Raffaele and I want to upgrade the blog and video software used on Spook Central. That will not just require time to do, but also time and effort to deal with any problems that result from these upgrades/changes. Now with that bit of business out of the way...
Last year, Sony released an official parody remake of
Ghostbusters
that was, confusingly, titled
Ghostbusters
.
Ghostbusters 2016: Answer The Call - The Official Ghostbusters Parody
would be a more appropriate name, if Sony wants to keep tacking on subtitles to make the name stupider and stupider. Some people love the movie, a
lot
of people hate it, and some people dislike but tolerate it (like me). Right now, the people in the first camp will be pissed at me for calling it a parody, but that's what it is. One thing that lampoons another thing is called a parody. It's like how Jim Abrahams and David & Jerry Zucker made an official parody remake of the film
Zero Hour!
, which they titled
Airplane!
. Not that Paul Feig's work can even hold a candle to that of Abrahams and the Zuckers, but in terms of being a parody and a remake, they're comparable.
I was granted access to
Sony's EPK.tv press site
so that I could download and share all of the assets with my readers. I have already done that at the Ghostbusters Wiki, where I am also an admin, and now it's time that I share them here on Spook Central, as well. All of the high-resolution images have already been uploaded and preserved at the Wiki, where you can find them on the
Advertising
and
Promotional Events
pages.
As for the videos, I have reluctantly uploaded them to my ScrewYouTube account so that they can also be added to the Wiki. I tend to avoid using ScrewYouTube because of all of the BS video takedowns. They closed my old account 10 years ago due to three bogus copyright claims by parties who claimed they owned videos that they didn't (unless I missed the memo where Viacom bought Ghostbusters from Sony). As of right now, one video below has an appeal pending on it because ScrewYouTube automatically flagged and blocked it worldwide due to copyrights. The first appeal was apparently denied (I was never notified) by "Sony Pictures Movies & Shows", even though as a member of the press with an official account on Sony's EPK.tv press site, Sony gave me permission to download the video expressly for the purpose of redistributing it elsewhere for my readers to view. Currently, the "viewing restrictions associated with the appealed claim(s) are suspended until your appeal is resolved. The copyright owner can respond to your appeal (they have until Feb. 20, 2017) by either releasing their claim, or filing a copyright takedown notification to remove your video. If they decide to remove your video, you'll receive a copyright strike."
I will not embed all of the videos because that will, likely, crash your browser. I know that it will crash mine. So, I'm just going to put up a nice, organized, list of links and call it a day. Videos were uploaded as Sony provided them, so audio volumes were not corrected.
As a reminder, the theatrical cut of the film will premiere TONIGHT at 9:00 pm on the Starz cable channel here in the U.S.
BEHIND THE SCENES/PRESS KIT PACKAGE SOUNDBYTES
•
Chris Hemsworth
•
Ivan Reitman
•
Kate McKinnon
•
Kristen Wiig
•
Leslie Jones
•
Melissa McCarthy
•
Paul Feig
(
APPEAL PENDING
)
PRESS JUNKET SOUNDBYTES
•
Kate McKinnon & Leslie Jones
•
Melissa McCarthy
•
Paul Feig
TRAILER FAN EVENT (March 2, 2016)
•
Sizzle Reel
SINGAPORE GUINNESS WORLD RECORD EVENT (June 12, 2016)
•
Featurette
•
Melissa McCarthy
•
Paul Feig
•
Rishi Nath
•
B-Roll
SINGAPORE PRESS CONFERENCE (June 13, 2016)
•
Press Conference Soundbyte #1
•
Press Conference Soundbyte #2
•
Clip #1 On First Collaboration
•
Clip #2 On Collaborative Shorthand
•
Clip #3 On Pride And Excitement For Project
•
Clip #4 On Leslie Jones And Kate Mckinnon
•
Clip #5 On Chris Hemsworth
•
Clip #6 On Cameos And Easter Eggs
•
Clip #7 On Big Action And Scope
•
Clip #8 On Appreciation For Original
LOS ANGELES WORLD PREMIERE (July 9, 2016)
•
Sizzle Reel
•
Clip #00 Info Slate
•
Clip #01 Main Cast
•
Clip #02 Cecily Strong
•
Clip #03 Andy Garcia
•
Clip #04 Dan Aykroyd
•
Clip #05 Annie Potts
•
Clip #06 Ernie Hudson
•
Clip #07 Zach Woods
•
Clip #08 Ivan Reitman
•
Clip #09 Kevin Smith
•
Clip #10 Ray Parker Jr
•
Clip #11 Ray Parker Jr and Ernie Hudson
•
Clip #12 Pete Wentz and Andy Hurley of Fall Out Boy
•
Clip #13 B-Roll
And that's all I have to say about that.
2 comments
Thank you for being a Ghostbusters fan site that doesn't instantly get an erection for anything with a no ghost logo on it. If everything Ghostbusters is amazing then in turn nothing is amazing. Quality counts people!
Jan. 30, 2017 @ 14:35
Yeah, the existence of this site is as much a flash in the pan as the original Ghostbusters movie was. This site is 1000% awesome.
Jan. 31, 2017 @ 01:20
Leave a comment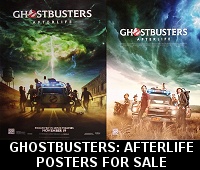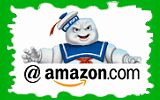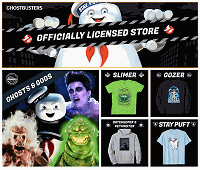 Please be aware that as an Amazon Associate, I earn a very tiny commission from purchases made though the Amazon links on this site.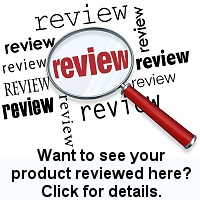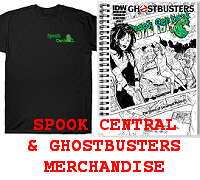 (
MY COMPARISON REVIEW
)
(
AVOID SHIPPINGEASY/STAMPS.COM
)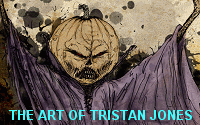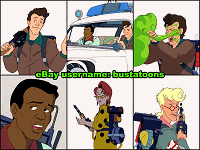 U.S. eBay (Ghostbusters stuff)
U.K. eBay (Ghostbusters stuff)