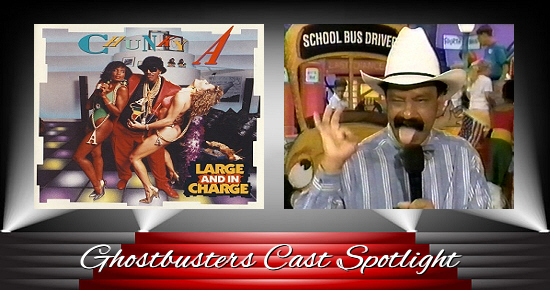 Welcome to Spook Central's special "Summer of Spotlight" event. Throughout the Summer, I'll be posting Ghostbusters Cast Spotlight entries every Wednesday at Noon (Eastern).
Click here to view the current schedule
. Each entry in this series will showcase a cast member of the Ghostbusters franchise - Ghostbusters 1 & 2, The Real Ghostbusters, Slimer!, Extreme Ghostbusters, Ghostbusters: The Video Game, and maybe even Ghostbusters 2016 - in a role that you may not be familiar with. Maybe it will be from a long-forgotten movie, a television appearance before they were a Buster, or some really weird bit part that I'm sure they no longer include on their resume! There is a
HUGE SPOILER WARNING
if you read this article, as I am highly likely to go into plot details.
Golden Throats
was an album released in 1988 by Rhino Records featuring songs "sung" by celebrities you'd think would know better! Featuring "Mr. Tambourine Man" by Star Trek's William Shatner, "Proud Mary" by his Trek co-star Leonard Nimoy, "Try A Little Tenderness" by Dragnet's Jack Webb, and more. Needless to say, it was not an album showcasting these "artists" at their best. Today, I will look at three members of the Ghostbusters franchise who, for better or worse, decided to put their voice to tape in a little needle drop I like to call, "The Golden Throats of Ghostbusters".
Arsenio Hall may be best known for his legendary 1990s talk show and for his roles opposite Eddie Murphy in
Coming To America
and
Harlem Nights
, but to us Ghostheads he will always be known as the first voice of Winston Zeddemore in
The Real Ghostbusters
. A few years after leaving the show, as his popularity was at its peak, he decided to venture into the field of music. However, instead of recording under his own name, he invented an alter ego for himself. Enter Chunkton Arthur Hall, Arsenio's "little brother", better known to his homies as Chunky A. Chunky A released an album in 1989 entitled "Large And In Charge", which he promoted with appearances on his brother's show, as well as music videos for
"Owwww!"
and
"Sorry"
. Below is a small selection of tracks from the album, including the lead hit "Owww!" (which heavily samples Cameo's "Word Up!"), the title track, "Ho Is Lazy" (a parody of Fine Young Cannibals' "She Drives Me Crazy"), and "Dope, The Big Lie" (an anti-drug song featuring cameos by Paula Abdul, Wil Wheaton, and Arsenio himself). You can
buy the CD at Amazon
.

Book 1 ~ 2 ~ 3 ~ 4 ~ Rear ~ Disc
Chunky A -- Large And In Charge (1989)

Owwww! (5:32)
Your browser does not support the audio tag.

Large And In Charge (5:02)
Your browser does not support the audio tag.

Ho Is Lazy (4:25)
Your browser does not support the audio tag.

Dope, The Big Lie (4:19)
Your browser does not support the audio tag.

Copyright © 1989 MCA Records, Inc.
All Rights Reserved.
Cheech Marin, known worldwide as one half of the stoner comedy duo Cheech & Chong, had a small cameo in
Ghostbusters II
as the Dock Supervisor who saw the arriving Titanic and proclaimed, "Better late than never" (a line
originally assigned to Peter outside the museum
). In 1993, he appeared on Brazilian entertainer Xuxa Meneghel's self-titled children's show,
Xuxa
, which ran in syndication in the United States during the 1993-1994 season. It was based on her similar popular children's series that was televised in Brazil and Latin America. A few VHS tapes were released, including
Xuxa Celebration! With Cheech Marin
from which the clips below of Cheech singing "My Name Is Cheech, The School Bus Driver" came from. The song appears on the
CD of the same name
, but is also
available by itself as an MP3
. Both
album
and
MP3
are also available in Spanish, too.

Rick Moranis, Louis Tully in both Ghostbusters films, retired from acting in the late 1990s to devote time to his family. That didn't mean that he completely stayed away from the spotlight. In 2005, he released the comedy album "The Agoraphobic Cowboy"; available on CD in a
regular edition
and a
Collector's Edition
. Below are a few selections from it, including "I Ain't Goin' Nowhere", a parody of
Johnny Cash's "I've Been Everywhere"
. He followed it up with
My Mother's Brisket & Other Love Songs
in 2013.

Liner1 ~ Liner2 ~ Rear ~ Disc
The Agoraphobic Cowboy (2005)

Nine More Gallons (2:48)
Your browser does not support the audio tag.

I Ain't Goin' Nowhere (2:15)
Your browser does not support the audio tag.

Oh So Bucco (2:49)
Your browser does not support the audio tag.

SOS (4:08)
Your browser does not support the audio tag.

Copyright © 2005 Rick Moranis. All Rights Reserved.
No feedback yet
Leave a comment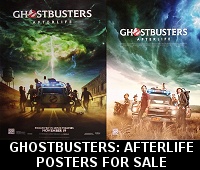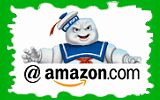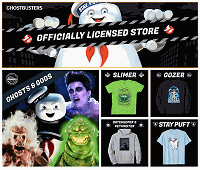 Please be aware that as an Amazon Associate, I earn a very tiny commission from purchases made though the Amazon links on this site.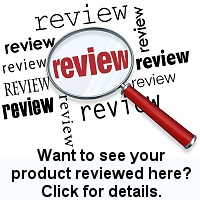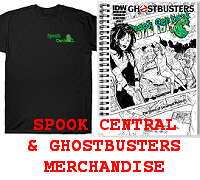 (
MY COMPARISON REVIEW
)
(
AVOID SHIPPINGEASY/STAMPS.COM
)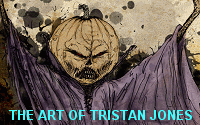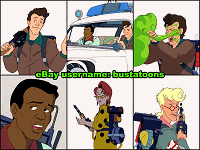 U.S. eBay (Ghostbusters stuff)
U.K. eBay (Ghostbusters stuff)