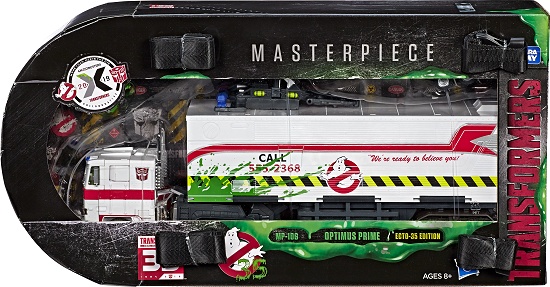 The kind folks at Hasbro sent me the upcoming
Transformers x Ghostbusters MP-10G Optimus Prime Ecto-35 Edition
figure. Let's take a closer look at it...
2019 is not only the 35th anniversary of Ghostbusters, but also of Transformers. In honor of that, both iconic franchises have teamed-up this Summer in the
Transformers/Ghostbusters: Ghosts of Cybertron
comic series from IDW. That series spawned the Ectomobile-transforming
Transformers' Ectotron figure
. Now, Hasbro has brought the Autobot leader, Optimus Prime, to life with a Ghostbusters-inspired deco as the
MP-10G Optimus Prime Ecto-35
.
The Ecto-35 Optimus Prime has his own little backstory, so here's the official copy to share that tale with you.
Worlds collide in this Transformers-Ghostbusters mash-up pack as the iconic Ecto-1 deco from the 1984 Ghostbusters movie now dawns an iconic Transformers robot - the MP-10G Optimus Prime Ecto-35 Edition! He ain't afraid of no ghosts. This Paranormal Investigations Consultant believes freedom is the right of all sentient beings...except ghosts. He's ready to strap on a Proton Pack and help bust some ghosts!
Now before we get to him, let's take a closer look at the packaging.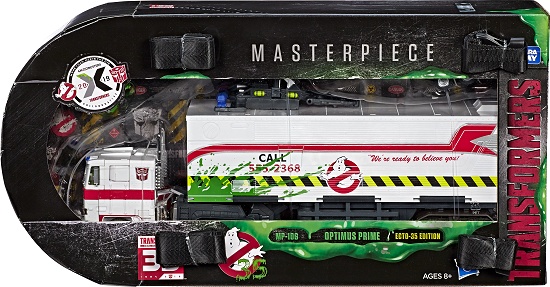 The front of the box shows the mighty Optimus through the large window. You'll notice that there are straps bundled-up on the front of the box, which seems oddly rounded on the left side. There's a reason for both of that. Unroll those straps and you'll be able to actually WEAR the box. When you do, you'll look like you're wearing a Transformers Proton Pack, thanks to the design on the back.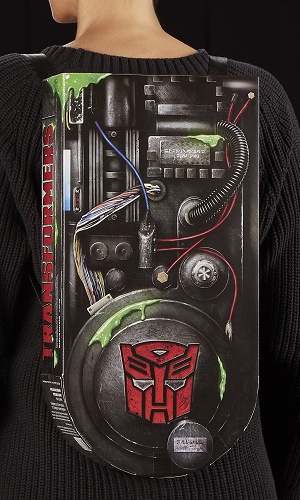 It's so cool that they thought to use the packaging for something other than selling the item in. It's also good for the environment because you won't be throwing it away.
Once you open it up, you'll find Optimus and all of his accessories.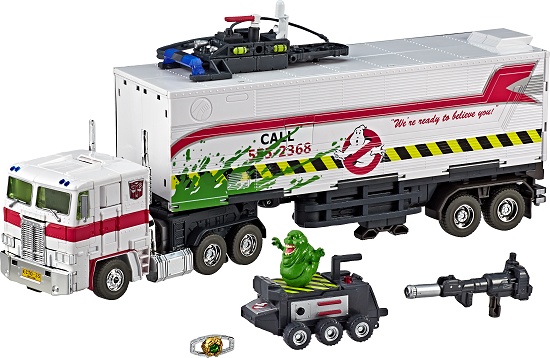 Optimus' iconic paint job has been switched to white with a red stripe to match the Ecto-1's iconic white coloring. His trailer, which has also been turned white, is decked out with yellow and black caution striping adjacent to a long red stripe that ends with a tail fin like the Ghostbusters' ride. Emblazoned across the side (and back) of the trailer are more Ghostbusters elements: their 555-2368 phone number, the classic No Ghost logo, and the "We're Ready To Believe You" slogan in scripted text. It looks like Slimer's been giving Optimus a little trouble as there's a splash of slime on the trailer as well. On top of the trailer is a roof rack similar to the one that sits atop the Ectomobile, although this one transforms into Optimus' Proton Pack.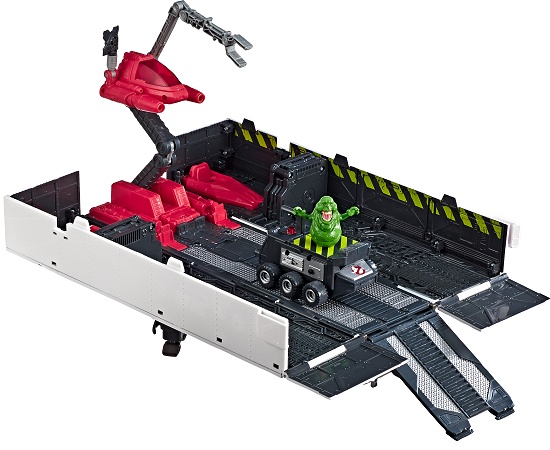 The Ecto-deco'd trailer can be converted into an "Ecto-Base", including an "Ecto Maintenance Deck". Joining Optimus is Slimer, as well as the Roller mini-vehicle, which can be turned in to a Ghost Trap through the use of an add-on piece. Optimus' Proton Wand-esque blaster, and the Matrix of Leadership (from
Transformers: The Movie
) are also in the package, along with the instructions to transform Optimus from a truck into a robot in 26 steps.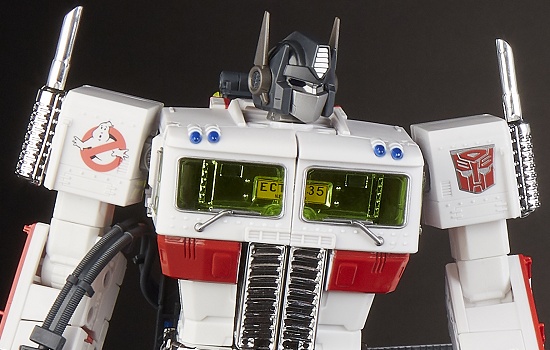 Optimus Prime stands at 9.5 inches tall in his robot mode, and he looks FANTASTIC! He's got the No Ghost and Autobot logos "tattooed" on his shoulders, and the New York "Ecto-35" license plate shines through his chest windows like a badge. He towers over Ectotron, which a leader of his stature should.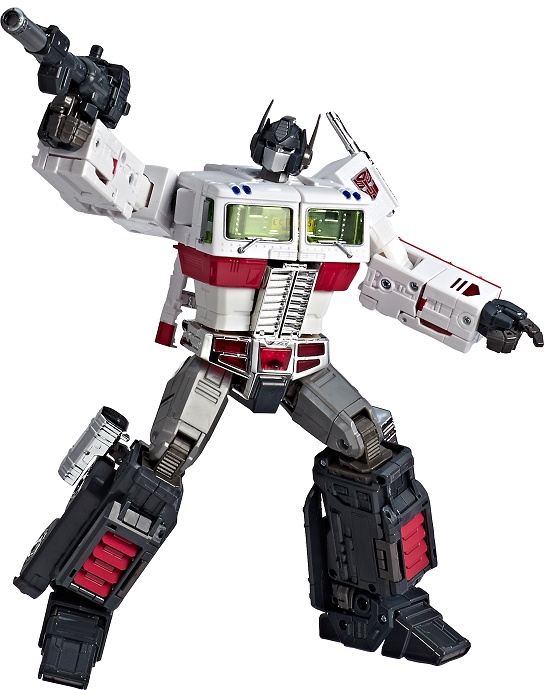 In its normal form, the Roller mini-vehicle looks like a small ATV, like the type the Ghostbusters would send on its own to explore the moon since it has their logo on its hood.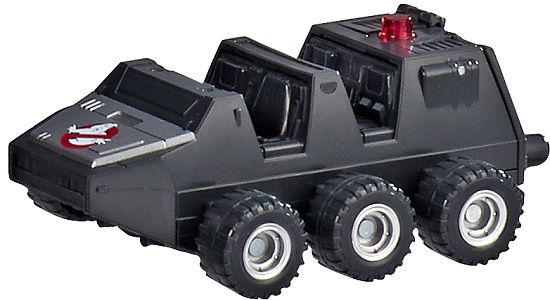 Once you put the attachment onto it, it changes into a ghost trap. There's a little peg on top which Slimer can sit upon.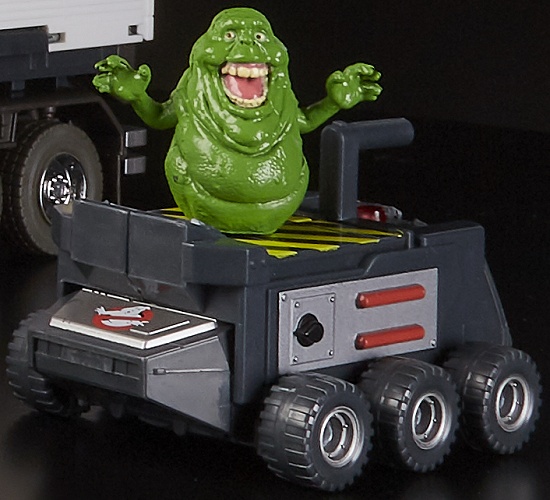 Finally, here's a nice close-up of the Matrix of Leadership.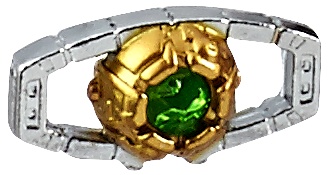 If you want a
Transformers x Ghostbusters MP-10G Optimus Prime Ecto-35 Edition
figure, you can buy it from the Hasbro booth at San Diego Comic-Con (July 18-21, 2019) for $149.99. If you miss that opportunity, I've heard that you'll get another chance to pick one up at Fan Expo Canada (August 22-25, 2019).
This item was provided by Hasbro for review on this site. More, larger photos can be found on the
Spook Central Facebook page
. On a related note, check out
my review of the Bumblebee Blu-ray/DVD combo pack
on The Corner Penthouse.
No feedback yet
Leave a comment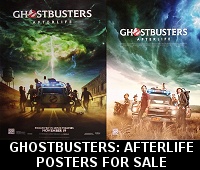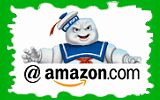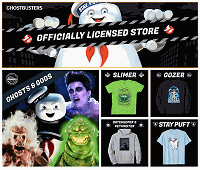 Please be aware that as an Amazon Associate, I earn a very tiny commission from purchases made though the Amazon links on this site.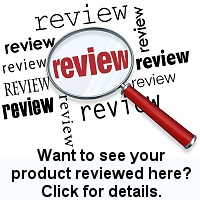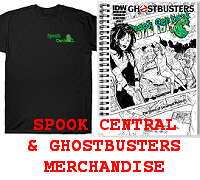 (
MY COMPARISON REVIEW
)
(
AVOID SHIPPINGEASY/STAMPS.COM
)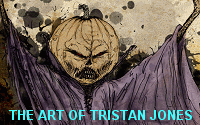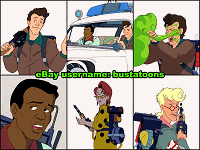 U.S. eBay (Ghostbusters stuff)
U.K. eBay (Ghostbusters stuff)