In honor of the respective 35th & 30th anniversaries of the original Ghostbusters movies, every Sunday - henceforth dubbed Shot on Site Sundays - at Noon (Eastern) for the next several weeks (
schedule here
), I will go through the original two movies from start to finish, showing and telling you where everything was filmed in Manhattan, New York and Los Angeles, California. This will be part filming locations rundown, part behind the scenes exploration, and part "Making Ghostbusters". All parts are available here in reverse order:
Ghostbusters
and
Ghostbusters II
. I will be utilizing the home video cuts of both movies, which can be found on the
2014 Blu-ray Double Feature
, as well as the recently-released
5-Disc 4K UHD & Blu-ray with Bonus Disc Set
. With that in mind,
SPOILER WARNING
if you read any further... though I suspect that if you're at Spook Central, you've already seen both movies a million times over.
The majority of real world New York photos were taken by Alex Newborn in July 2014 and Lars Karlsen in July 2018, and are being used with permission. The enlargements for these photos, and for the movie framegrabs, can be found on the various
Filming Locations pages
elsewhere on Spook Central. Other images are credited where known. Locations were identified by various people and sources over the past 35 years. Those that are not common knowledge are credited on the specific Filming Locations pages (see previous link). The title graphic seen at the top was created by Lars Karlsen, based on an idea by Paul Rudoff. It can be enlarged for a better look at its beauty. Now that that's out of the way, we've got movie sign...
We return to Peter's apartment, where he will give Oscar "the talk" as they watch some Laura Antonelli tapes.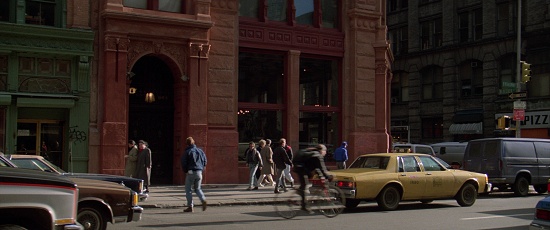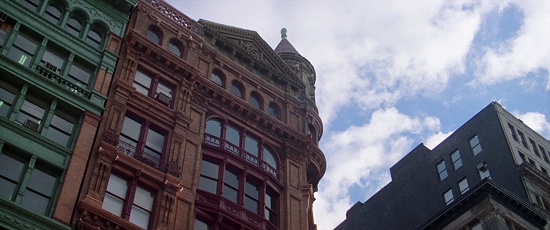 We finally get to see the exterior of Peter's apartment building, which is at
644 Broadway
in New York.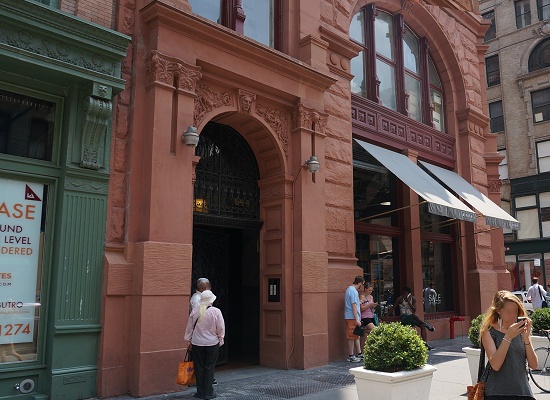 (July 2014, credit: Alex Newborn)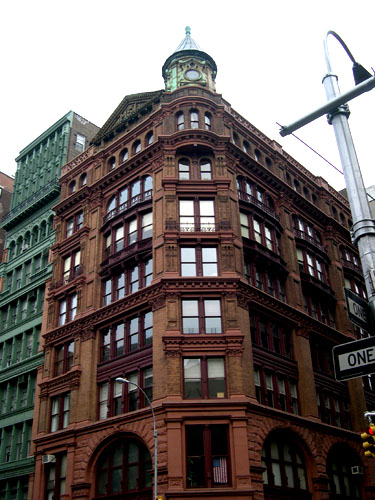 (March 2004, credit: Chris Buchner)
Ivan Reitman strolls by the firehouse (in New York)...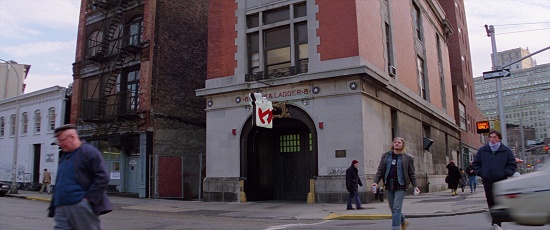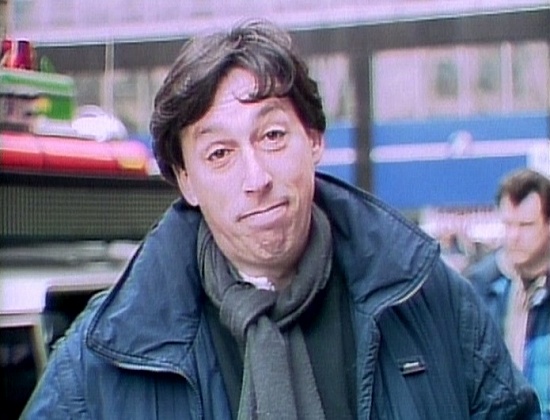 (source: GB2 Electronic Press Kit)
...while Janine is inside (in California) closing up shop.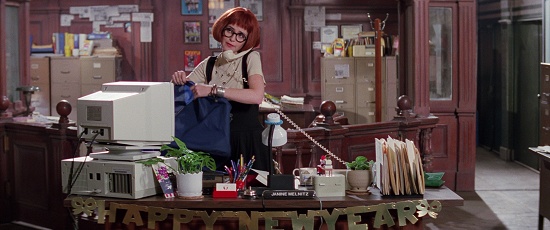 This scene was
originally much longer
. After Janine says that she's "closing up", she went off screen while Louis enterered wearing a Proton Pack with a "rearview mirror" on a headband. His goal was to zap Slimer, which was originally a running gag throughout the film. He caught sight of him in the mirror, the close-up shot was used during the end credits on Slimer's credit card, and let loose with a stream of proton fire. Janine re-enters and is nearly fried in the process.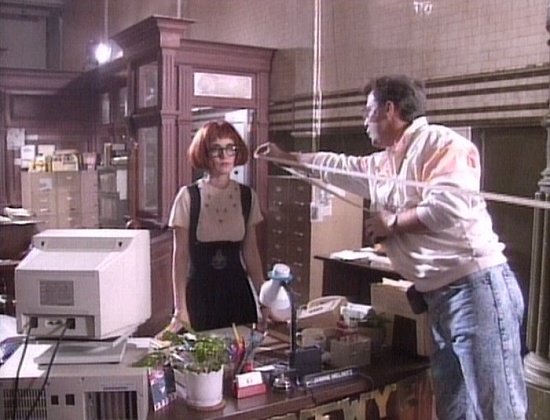 (source: GB2 Electronic Press Kit)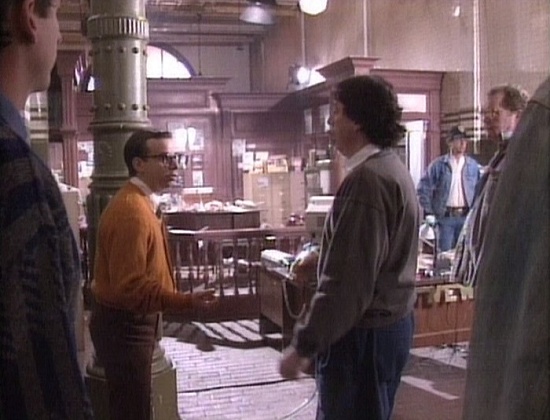 (source: GB2 Electronic Press Kit)
Louis makes a date with Janine who, under the influence of the Makoveris Lotsabucks, is no longer aware that she's really interested in Egon and not this creep. Romance is in the air, as later that evening Peter and Dana go out for a romantic dinner. (Side note: I'm skipping over the scene of Egon and Ray analyzing photos of the Vigo painting. Although it looks like the Los Angeles firehouse, it would have been unsafe to do a fire gag there, so it must have been filmed on a soundstage.)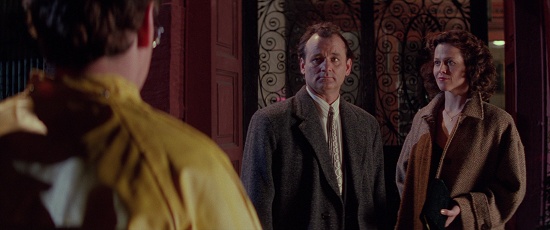 Of course, that's still
644 Broadway
in New York.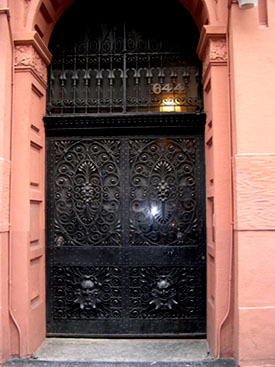 (March 2004, credit: Chris Buchner)
Egon, Ray, and Winston explore the abandoned subway tunnels, where they find a spectral locomotive that rockets through Winston.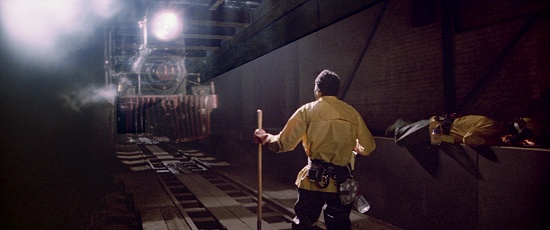 This scene was filmed in
a nightclub called "Tunnel"
, which was located at 220 12th Avenue in the Terminal Warehouse Company's Central Stores Building. When the building was first constructed in 1890, massive arches on the 11th and 12th Avenue ends admitted freight trains as spurs from the tracks running down the center of 11th Avenue, and coming in from shoreside on 12th Avenue. The nightclub operated from 1986 to 2001. Sadly, no photos have been found to provide photographic evidence of the area where the movie was filmed. I suspect this is because that area was never open to the general public.
Their quest for the holy grail...I mean the river of slime, is fruitful when they stumble upon the old Van Horne pneumatic transit station. Without needing a Metrocard, they take a ride on the turbulent river rapids.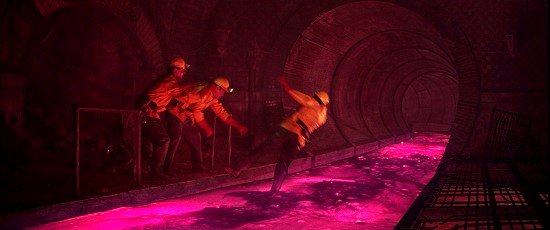 I don't think I need to tell you that this was filmed on a soundstage in California. Oh, you really thought there was a river of slime running under Manhattan?!? Well, sorry to shatter that illusion for you.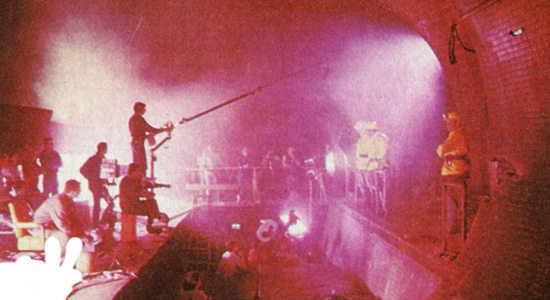 (source: GB2 Topps Trading Card #84)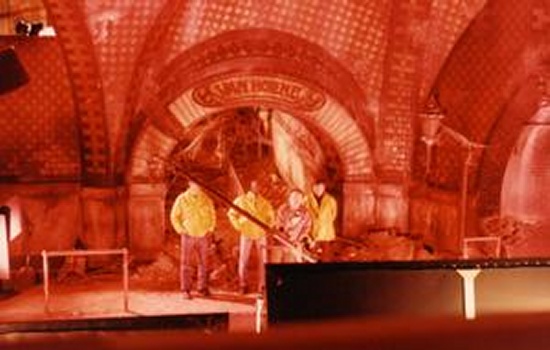 (source: Randy Severino)
Harold, Dan, and Ernie practice the stunt part of the scene. Notice that Harold and Dan are not in their final wardrobe.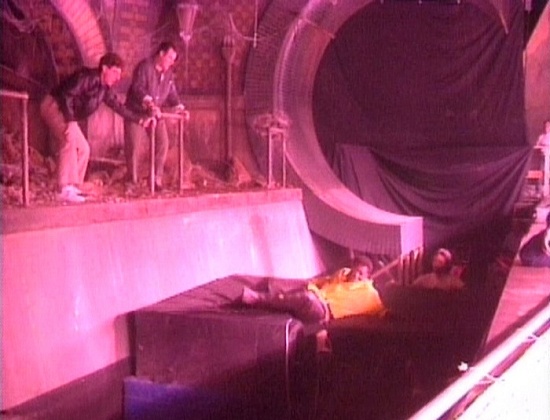 (source: GB2 Electronic Press Kit)
Dana and Peter share a romantic dinner together at Armand's restaurant.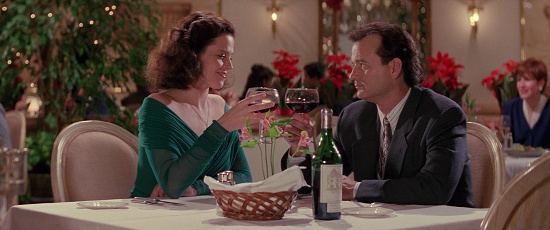 Armand's was
Val's restaurant
at 10130 Riverside Drive in Toluca Lake, California. If you want to see more of Val's, both inside and outside, check out the TV movie
Moving Target (1988)
starring Jason Bateman. You won't be able to see much of anything there now because the place is currently a Trader Joe's food market.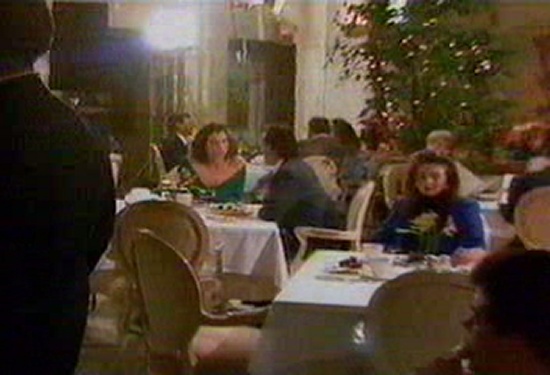 (source: Entertainment Tonight)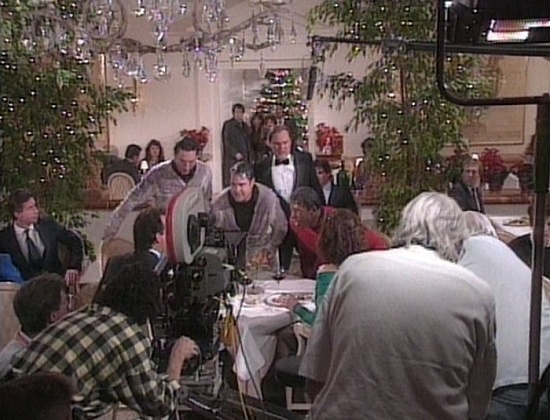 (source: GB2 Electronic Press Kit)
The river of slime doesn't let out into the Hudson River. No, it goes directly to the Manhattan Museum of Art!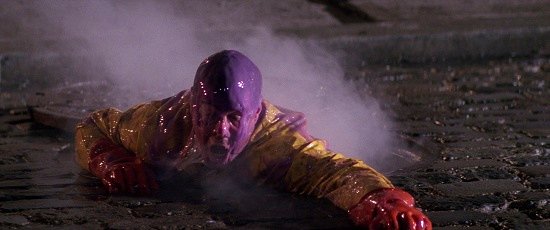 Naturally, we're back in front of the Customs House in lower Manhattan. After covering them with lots of slime, Ivan had Harold, Dan, and Ernie cram themselves into a small utility manhole in front of the building. The scene had to be filmed more than once due to camera manfunctions.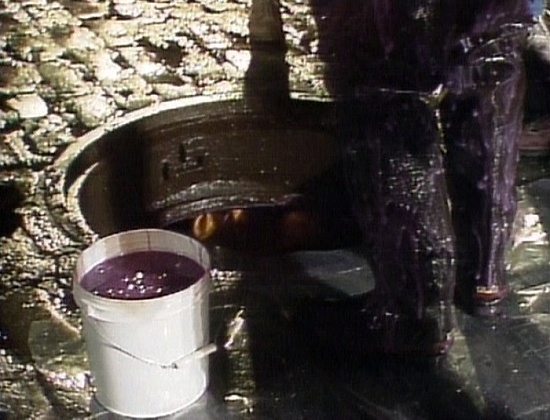 (source: GB2 Electronic Press Kit)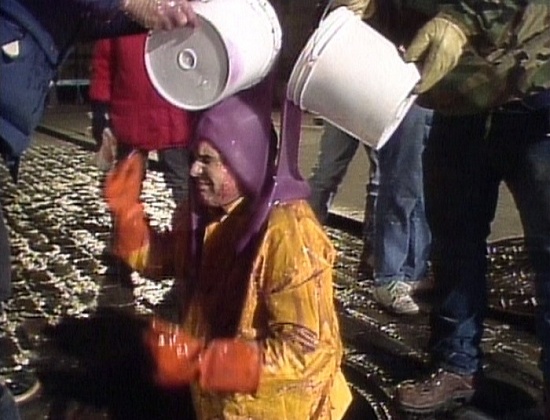 (source: GB2 Electronic Press Kit)
After Egon, Ray, and Winston duke it in front of the museum, they strip down to their long johns and race to Armand's to tell Peter about their great discovery. The maître d', not too pleased with the unwanted guests, calls the cops. Proving that this is a movie, and not real-life, they show up instantly. Instead of bringing the Ghostbusters to the precinct, they take them to Gracie Mansion to meet with the mayor.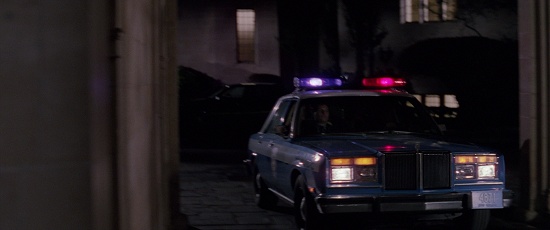 While Gracie Mansion is, indeed, the New York City mayorial residence, the "Gracie Mansion" seen in the film is not the real one. Heck, it's not even in the same state! It IS a mansion, though. It's the
Greystone Mansion & Park
at 905 Loma Vista Drive in Beverly Hills, California. Bill, Harold, and Ivan were previously at this location for a scene in
Stripes
, which also was meant to represent a location somewhere far away.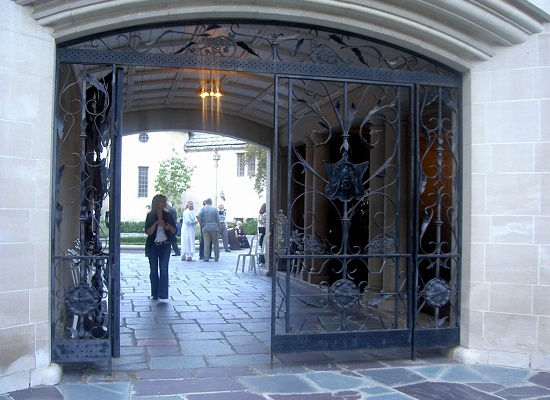 (July 2006, credit: Flickr user 'Pleasure Palate')
Inside, they warn the mayor that the citizens' bad vibes are causing the slime levels to rise. We would later find out that it was the early onset of global warming. Eventually it will engulf the entire city, resulting in Times Square slimed...Slime Square!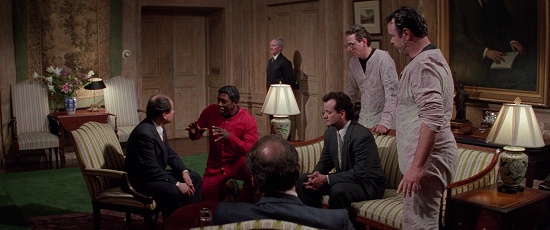 You probably think that this interior is filmed somewhere else, and in this case, you'd be wrong. They're still at the Greystone Mansion, chatting it up in the Drawing Room. In the movie, curtains were used to hide two doorways on opposite sides of the room, as well as the huge three-frame window that's on the wall between the two doorways. The Greystone park and grounds are open to the public and admission is free, though the mansion interiors are not open to the public, unless you pay to have a wedding or special event held there.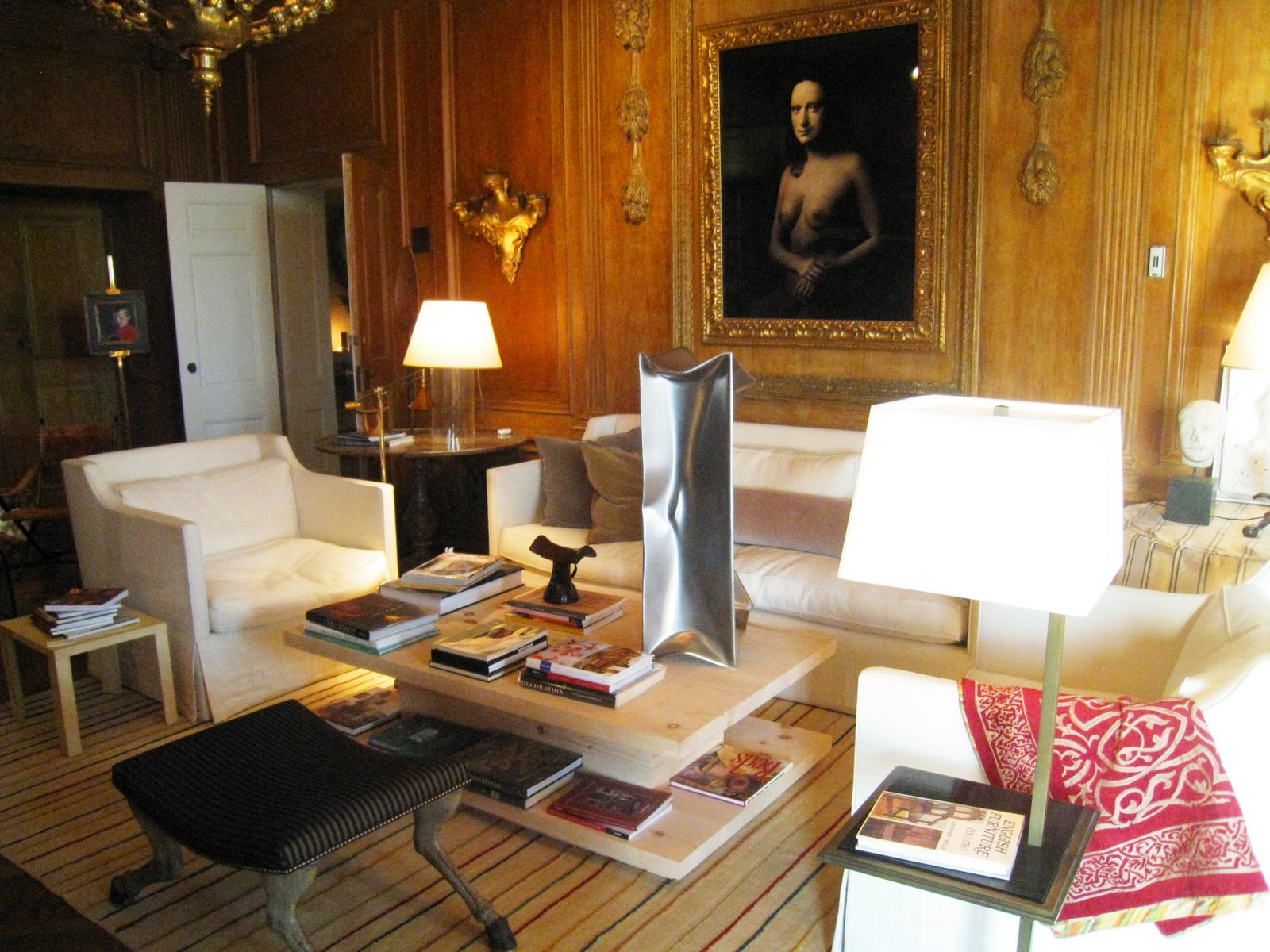 (December 2008, credit: Coco of CocoCozy.com)
Does the mayor call up Al Gore to help solve the problem, or does Jack Hardemeyer have other plans for them? Find out next week - same ghost time, same ghost channel - when we continue our look at the filming locations from
Ghostbusters II
.
No feedback yet
Leave a comment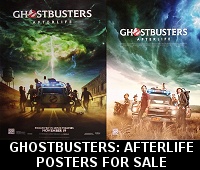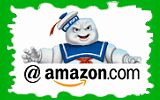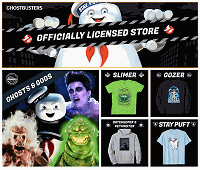 Please be aware that as an Amazon Associate, I earn a very tiny commission from purchases made though the Amazon links on this site.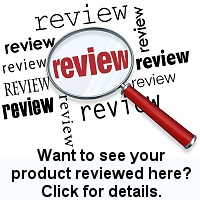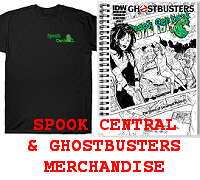 (
MY COMPARISON REVIEW
)
(
AVOID SHIPPINGEASY/STAMPS.COM
)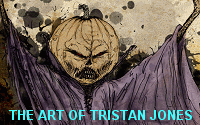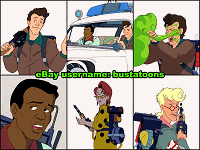 U.S. eBay (Ghostbusters stuff)
U.K. eBay (Ghostbusters stuff)