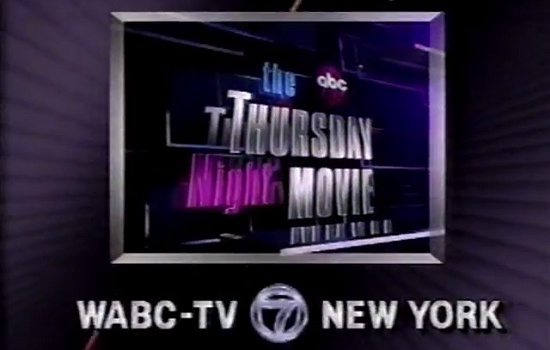 Happy Ghostbusters Day! What, you never heard of Ghostbusters Day? Don't feel bad. Prior to 2016, it never existed. June 8th - the day
Ghostbusters
was released in 1984 - officially became
"Ghostbusters Day" in 2016
as part of the promotion for that thing Paul Feig made. I don't really pay much attention to "Ghostbusters Day" because it's really just a marketing thing, but I figured I'd mark the day by taking us back 33 years to September 24, 1987 - the day that
Ghostbusters
made its network television premiere on the American Broadcasting Company. So, hop in your Delorean, your Wayback Machine, your Tardis, your phone booth, your hot tub, or whatever your favorite time travel device is, and join me for a viewing of
Ghostbusters
that you will NEVER see anywhere these days...
The home entertainment landscape was a wildly different thing back in the 1980s. These days, it's common for a movie to hit theaters, then be available for streaming purchase two months later, physical disc purchase in three months, premium cable viewing in six months, and basic cable or network viewing in a year or two. Back in the 1980s, after a movie would be initially released to theaters, there was a much longer wait time before the eventual home video, premium cable, and network television releases. The network television debut would generally occur three years after the theatrical release, which is the case for
Ghostbusters
.
Fellow Long Islander Paul Casella recorded ABC's premiere broadcast of
Ghostbusters
on Thursday September 24, 1987 at 9:00 PM Eastern as the season premiere of the "ABC Thursday Night Movie" series. The movie ran, with commercials, until 11:07 PM. Paul provided me with a copy of his recording from WABC New York, which is my local ABC station, too. That means that this presentation was, quite likely, my first exposure to the movie (after having been hooked by The Real Ghostbusters).
You can watch the streaming copy below, or download the
original 10GB 16:9 pillarboxed 1920x1080 file
at the
Internet Archive
. Besides reformatting it back into 4:3, and maximizing the volume level, I trimmed off the beginning and end, as well as edited out the partial commercial from the first commercial break. In the original file, the commercial breaks can be found at 27:39, 37:28, 46:21, 58:00, 1:08:09, 1:19:03, and 1:31:21. A DVD-resolution copy of my edit is
available in MKV format
(4.25GB), with chapter marks at the commercial break spots. This comes from the DVD-R that I made for myself.

So, how many changes did you notice? How many times was someone cut out of the picture? I bet you appreciate your
DVD
,
Blu-ray
, and
4K
copies that much more now, don't you?
ABC would use this same "Edited For Television" cut a year and a half later when they
re-aired the movie on January 29, 1989
. Spook Central did a
20th anniversary live online streaming
of that broadcast on that exact day back in 2009. My VHS copy of the 1989 broadcast is more complete than Paul's recording of the 1987 broadcast because the VCR was never paused for commercials, though both of our recordings are missing the end credits. Until I have the time and equipment to do a re-transfer from VHS, this 1987 recording is the best quality copy of the original 1.33:1 (4:3) pan-and-scan Edited For Television version of the film.
If you'd like to see a little bit of what you're missing, Alex Newborn
uploaded a video
containing the complete intro promo (frankensteined from three different recordings) and a detailed list of alterations. I have also added a copy of the promo to the
Ghostbusters Multimedia page
for permanent archiving. For a more complete and detailed list of changes, check out
the MovieCensorship.com report
. RetroTVnstuff has a video containing
all of the commercials from the broadcast
.
As I previous stated, you will NEVER see this version of the movie anywhere anymore. Although Sony still has a copy of the master - they used it for the "Alternate Takes" on the 2014 Blu-ray - they haven't chosen to follow the lead of Arrow Films, who included the complete 4:3 Edited-For-Television version of
Robocop
on their
2-Disc Collector's Edition Blu-ray
. Maybe we can get the complete 4:3 Edited-For-Television version of
Ghostbusters
on the inevitable new 4K/Blu-ray in 2024. The Workprint version, used for the deleted scenes on the 1999 DVD, would be nice to have in its complete form, too. Just putting that suggestion out there for you, Sony :-)
You won't even see this version on TV these days. The
current Edited For Television version
is vastly different. It's in the wider 1.78:1 aspect ratio, so not as much of the image has to be cut off on the sides anymore, and very few shots are artificially panned. That's just a benefit of the change in TV aspect ratios from 4:3 to 16:9. What is much more interesting is the difference in edits between both versions. It shows just how society values have changed in 30 years, and how much they haven't.
2 comments
Comment
from:
Alex Newborn
[Visitor]
I did a breakdown of all the changes, including forced pans and fades in/out from black for commercials, but it got a copyright claim on YouTube. In the hope that it eventually works again someday, here's the unlisted link: https://youtu.be/SoEakhkTJyA
Jun. 9, 2020 @ 15:27
That's a great video, Alex. I just added it to the article. I have also added a copy of the promo to the Ghostbusters Multimedia page for permanent archiving. - Paul
Jun. 9, 2020 @ 19:22
Leave a comment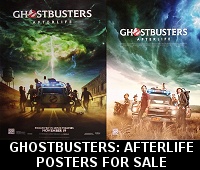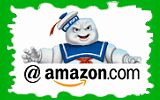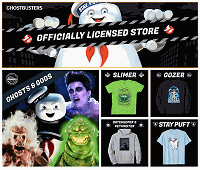 Please be aware that as an Amazon Associate, I earn a very tiny commission from purchases made though the Amazon links on this site.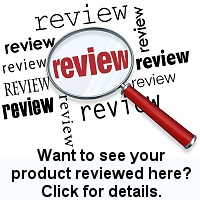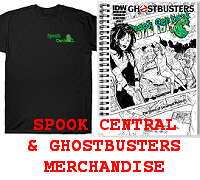 (
MY COMPARISON REVIEW
)
(
AVOID SHIPPINGEASY/STAMPS.COM
)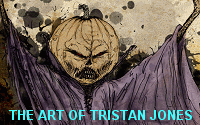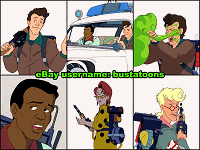 U.S. eBay (Ghostbusters stuff)
U.K. eBay (Ghostbusters stuff)