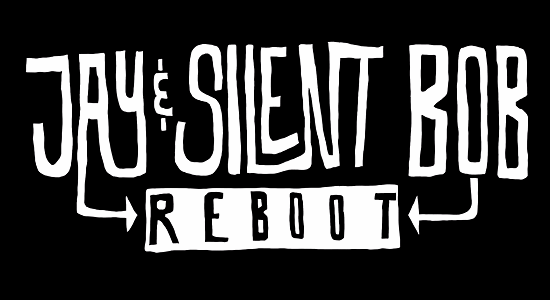 Most Ghostbusters references are short bits that can best be encapsulated with a small video clip, as evidenced by
Spook Central's collection of Ghostbusters reference videos on Critical Commons
. However, sometimes there's a reference for which a small clip won't do it justice. It is for these types of references that I have this reoccurring feature here at Spook Central, the Ghostbusters Reference Review.
Jay & Silent Bob Reboot
(2019) (available on
Blu-ray
and
DVD
) is the latest film in Kevin James'... I mean Kevin Smith's ViewAskewniverse. It follows the titular characters, again played by Jason Mewes and Smith himself, as they travel to Hollywood to sabotage a
Bluntman and Chronic
reboot from being filmed at the Chronic-Con convention. If you're familiar with any of the previous ViewAskewniverse films, you know what to expect from this film. It's 105 minutes of crude and raunchy silliness from cinema's most famous stoners since Cheech and Chong. It's "high" art, but it's certainly not high art.
When the guys and their "familar" female companions arrive at Chronic-Con, they are surprised by how big of an affair it is. There are a wide variety of people dressed, not only as Bluntman and Chronic, but as Jay and Silent Bob, as well. As the movie heads inside the convention center, we see a familar silhouette.
(click to enlarge)
Yes, it's a "Silent Bob Ghostbuster". We get a better look at his Proton Pack when Jay and Bob are talking to the girls, but we never see his face.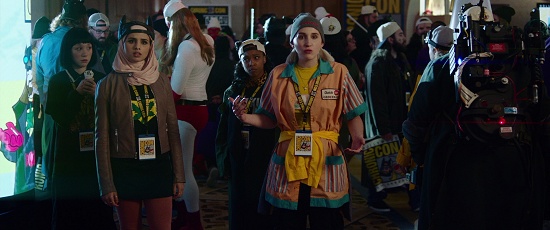 (click to enlarge)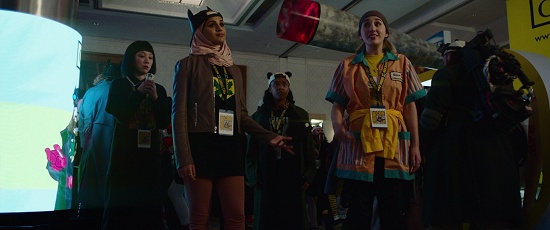 (click to enlarge)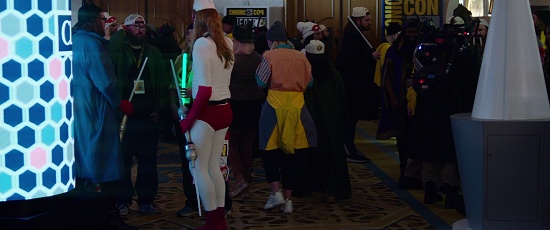 (click to enlarge)
There is one final appearance by the "Silent Bob Ghostbuster" during the end credits, in the background of the Karrueche Tran credit shot.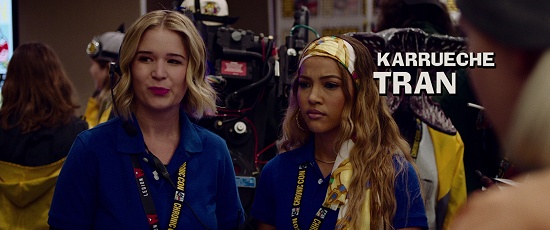 (click to enlarge)
Interesting, this is, kinda, sorta, an officially-licensed Ghostbusters reference. Towards the end of the end credits, one can spy this copyright credit: "Sony Pictures Consumer Products Inc., Ghostbuster Films". I take this to mean that the filmmakers had to get permission fron Sony to show the Proton Pack in the film.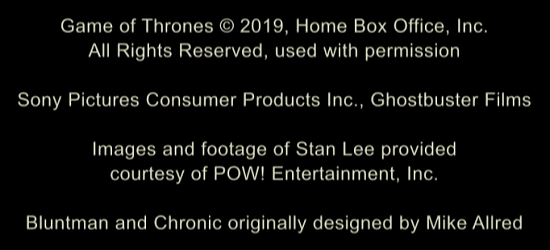 There is also a special celebrity guest from
Ghostbusters
(2016) at the Chronic-Con convention. I won't ruin the surprise by telling you who it is - you can view the scene below - but I will say that I found this person to be far funnier in this 80 second appearance than I did in the entire 2016 film. I should warn you that the clip is from a R rated film, and it contains crude humor of a sexual nature. Oh, and yes, there is a Twinkies stand in the background. I'm sure that was an unintentional connection :-)

Jay & Silent Bob Reboot
is available on
Blu-ray
and
DVD
. Definitely recommended if you're familiar with the film series and enjoy this type of stupid fun naughty humor.
---
For the complete list of Spook Central's Ghostbusters Reference Review posts from years past,
check out the References category
.
1 comment
I am the Silent Bob Ghostbuster in those scenes in Reboot. I spent a week in New Orleans on set with my wife (the Jay Ghostbuster) and our friends filming the Chronic Con scenes.
Sep. 13, 2022 @ 19:19
Leave a comment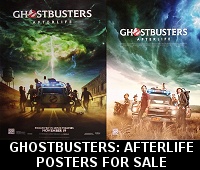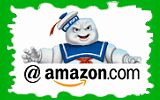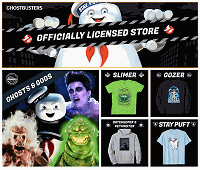 Please be aware that as an Amazon Associate, I earn a very tiny commission from purchases made though the Amazon links on this site.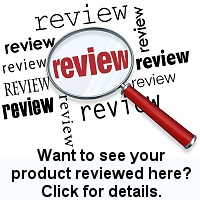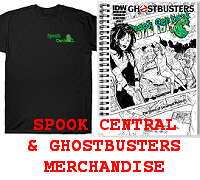 (
MY COMPARISON REVIEW
)
(
AVOID SHIPPINGEASY/STAMPS.COM
)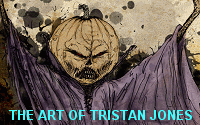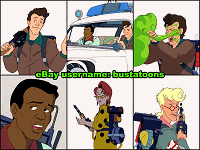 U.S. eBay (Ghostbusters stuff)
U.K. eBay (Ghostbusters stuff)