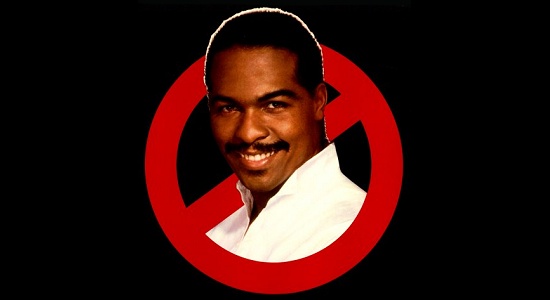 Last year, I
wrote an article about Unused Ghostbusters Theme Songs
. At the time, we thought we had found the long-rumored "Ghostbusters" theme song from the duo of Glenn Hughes and Pat Thrall. It turned out to not be their version, and we all thought that the Hughes/Thrall song was lost to time.
Well, I'm happy to report that it has been found! Read on to find out more...
The song was recently
posted to SoundCloud
by none other than Pat Thrall himself. This is what he had to say about it.
This is the demo Hughes/Thrall and Peter Aykroyd pitched for the movie. It was declined. There has a been a version posted on YouTube claiming to be the HT demo but it wasn't. Here for the first time it is finally posted. The guy that mixed it had been awake for a week on cocaine. It is one of the worst mixes ever.
So now, without any further ado, let's give a listen to the 3:22-long track.
Hughes/Thrall - Ghostbusters (Demo, 1983)
Here are the lyrics, as transcribed by
Jim Maritato
.
Intro:
Ohh eee ohh ee ohh [X4]

Verse 1:
An apparition walks through your wall
He lives in the kitchen but he died in the hall
Who do you talk to? Who can you call?
Ghostbusters will take care of it all!

Chorus 1:
Ghostbusters!
[We believe you!]
Ghostbusters!
[These spooks will leave you!]
Ghostbust-ers!
[We trap and we put them away]
Ohh we-ohh we-ohh [x2]

Verse 2:
Could be a demon or a bump in the night
You're not dreamin' - we're gonna set things right
Don't let a psychic just read your tea
You want a man with a sidekick...Or a man like me!?

Chorus 2:
Ghostbusters!
[We believe you!]
Ghostbusters!
[Those spooks will leave you]
Ghostbust-ers!
[Leave it to us]
Ghostbust-ers!
[We trap and we put them away]
Ohh we-ohh we-ohh [x2]

Breakdown (Ghostbuster Chorus to the Ghosts):
You're gone now and it's time to throw you out.
We don't care if you used to own this house.
We don't care if you used to live here once.
We don't care if this used to be your room.

Verse 3:
Are you living in your world, or like living in mine
Can't live in both worlds...make up your mind
We're coming to getcha - Don't be afraid
Well I getcha you betcha - We know the tricks of the trade!

Chorus 3:
Ghostbusters!
[We believe you]
Ghostbusters!
[These spooks will leave you]
Ghostbusters!
No trouble at all!

Outro:
Remember!
Remember!
Although the song wasn't used in the film, it was actually a big boon to the career of the Hughes/Thrall band.
The launching pad for Hughes/Thrall part II was, surprisingly enough, 'Ghostbusters'. The two had been asked to write some songs for the film and took the opportunity to apply themselves to something not directly related to the Hughes/Thrall band in order to get some momentum going. It worked, and although the material was turned down at the last minute in favour of Ray Parker's more 'poppy' offer, Glenn and Pat threw themselves into each other's musical arms with relish, writing and rehearsing some incredibly strong material which would form the basis of their long-awaited vinyl return. With a new, more efficient management secured and all sorts of tour proposals being considered (even a spot on 1984's Donington bill looked likely) it seemed, once again, as if Glenn's sparkling talent would be unleashed. - Kerrang magazine, Feb. 1985
Plans were made recently for a reformed Trapeze consisting of Mel Galley, Don Airey, Ted McKenna and of course Glenn . So what happened? Back in 1983 Glenn and Pat Thrall renewed their partnership to work on some material for a movie called Ghostbusters (the title given at the time was 'Ghost Business'). The stuff was rejected at the last minute in favour of something more commercial (I suppose nobody can argue with that given the title song's success!), but Hughes/Thrall decided to take up the threads of their group and began work on a second album early in 1984. - Darker Than Blue: The Deep Purple Appreciation Society Magazine, Issue 31, June 1985
It's so great that we finally got to hear this this version. This now makes THREE unused theme songs that have become known. I wonder how many more are out there.
[UPDATE - 6/24/2021]
Ghostbusters News reports
that a reworked rendition of the Hughes/Thrall unused theme song appears on the
soundtrack album
of the 1987 Dan Aykroyd/Tom Hanks film
Dragnet
. The track "Dance or Die", which is performed by Peter Aykroyd and Pat Thrall (the
audio CD release
mistakenly gives credit to Dan Aykroyd), and was also produced by the duo, is the track in question. Here, take a listen...
Peter Aykroyd and Pat Thrall - Dance or Die (Dragnet soundtrack) (1987)
There is no mistaking those drums :-)
Thanks to Larry Lee Moniz for the
Youtube upload
of the song from which this MP3 was ripped.
No feedback yet
Leave a comment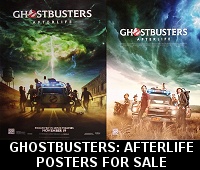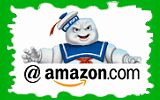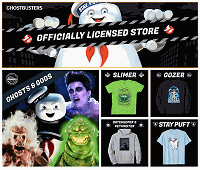 Please be aware that as an Amazon Associate, I earn a very tiny commission from purchases made though the Amazon links on this site.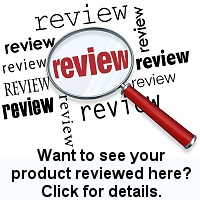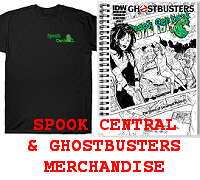 (
MY COMPARISON REVIEW
)
(
AVOID SHIPPINGEASY/STAMPS.COM
)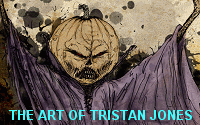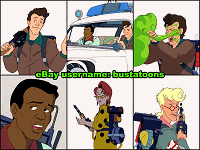 U.S. eBay (Ghostbusters stuff)
U.K. eBay (Ghostbusters stuff)