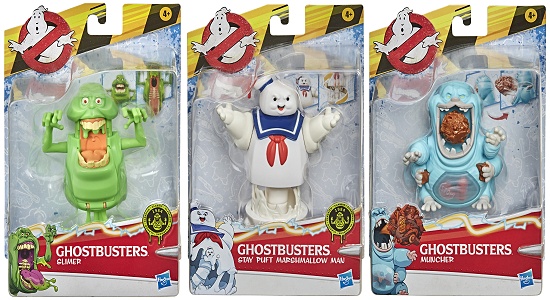 One of the most memorable series in the original Kenner toyline of the 1980s were the
Fright Features
(and later the
Super Fright Features
). While I don't know if Hasbro will bring them back as part of their
Kenner Classics line
, they have brought back Fright Features as part of a new series of figures. The first wave consists of six human figures based on the classic 1984 film:
Peter Venkman (with Terror Dog)
,
Peter Venkman (with Muncher)
,
Winston Zeddemore (with Slimer)
,
Winston Zeddemore (with Yellow Ghost)
,
Ray Stantz
, and
Egon Spengler
. Sadly, the humans themselves are just standard Kenner-style figures with no "Fright Feature" abilities. It's the miniature companion ghosts that have the "fright feature".
However, Hasbro also released three full-size ghost figures which DO have a Fright Feature:
Slimer
,
Stay Puft Marshmallow Man
, and
Muncher
. Read on to find out more about them...
The official description for this product is:
GHOSTBUSTERS FRIGHT FEATURE GHOSTS
(Ages 4 and Up / Approx. Retail Price: $9.99 / Available: Fall 2021)
Fright Features are back and better than ever with the GHOSTBUSTERS Fright Features Ghosts from Hasbro! Once activated, these ghosts will stretch, spook, and cause a fright! Kids can imagine the spine-tingling frights faced by Ghostbusters old and new! Additional figures include Muncher, Slimer, and Stay Puft (each sold separately).
I had my first chance to see these frightful figures back in February 2020 at
Hasbro's Toy Fair event
.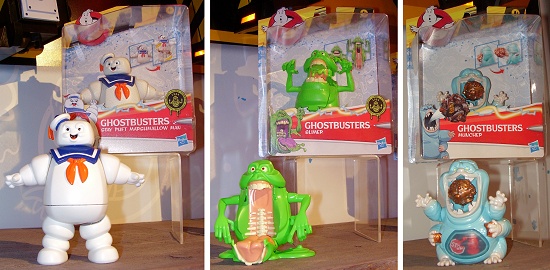 The three figures are presented in the standard Afterlife colorful Ecto-1/Caution Stripe packaging. Slimer is approx. 5" tall (from base to top of head) when extended. Stay Puft is approx. 6" tall when extended. Muncher is approx. 4" tall. Let's take a quick look at each one.
SLIMER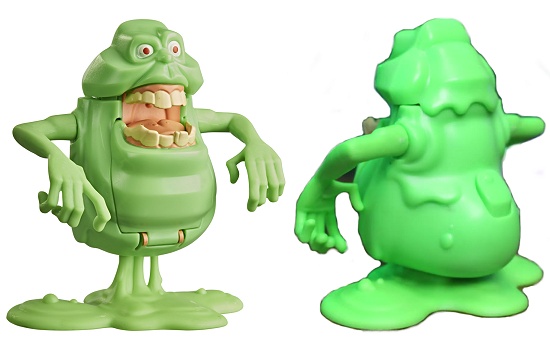 •
Official Description:
Floating, green, and made of Ecto-plasm, Slimer is a slimy thorn in the sides of the Ghostbusters!
•
Fright Feature:
Press the button on the back to cause his arms to raise, his jaw to drop, and his tongue to roll out like something out of a
Tex Avery cartoon
. This feature is very similar to
X-Cop from the classic Kenner line
.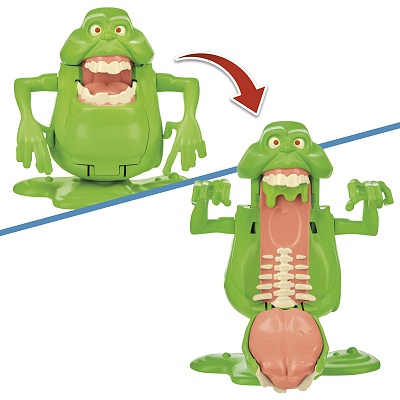 STAY PUFT MARSHMALLOW MAN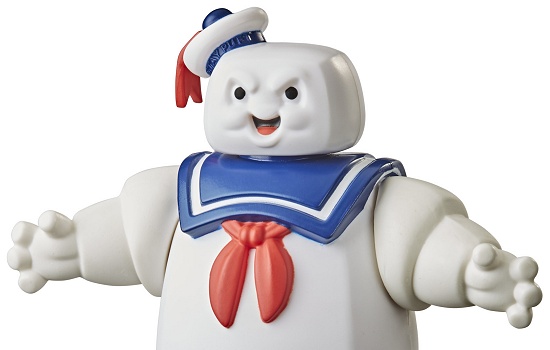 •
Official Description:
A skyscraper-sized specter, the Stay Puft Marshmallow Man is big, sticky, and anything but sweet.
•
Fright Feature:
Squeeze his legs, causing his arms to raise and his torso to twist open, exposing his marshmallowy Mini-Puft innards.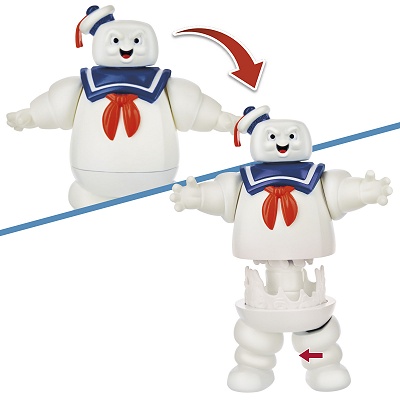 MUNCHER
•
Official Description:
A blue ghost with a taste for anything metallic, Muncher loves making mischief!
•
Fright Feature:
Push his top arms back to cause the metal ball he's eating to protrude outward. Push each of the two buttons on his back to push out the stop sign and fire hydrant in his stomach.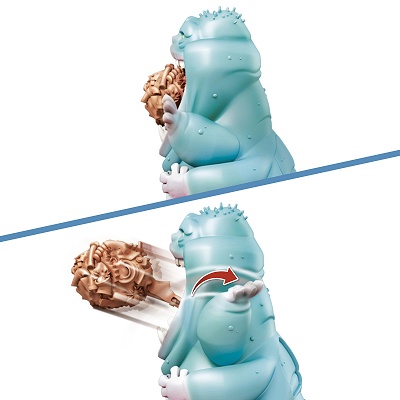 Here is a short, silent promotional video Hasbro made showing off Muncher's two fright features.
The
Ghostbusters Fright Feature Ghosts
carries a MSRP of $10.99 per figure and are available from a wide variety of retailers. Here are links for Amazon, from which Spook Central will earn a small commission:
Slimer
,
Stay Puft Marshmallow Man
, and
Muncher
.
Images scanned and/or photographed by me or provided by Hasbro. This item has been provided by Hasbro for review on this site. For addition information, check out the
Ghostbusters News review
.
No feedback yet
Leave a comment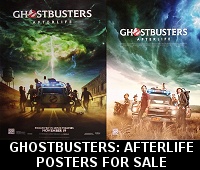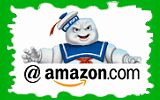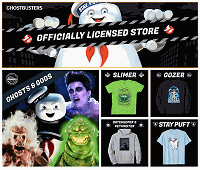 Please be aware that as an Amazon Associate, I earn a very tiny commission from purchases made though the Amazon links on this site.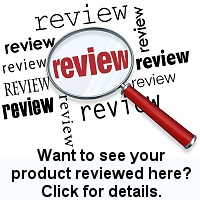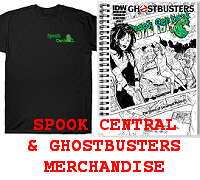 (
MY COMPARISON REVIEW
)
(
AVOID SHIPPINGEASY/STAMPS.COM
)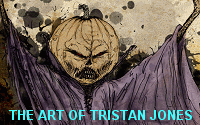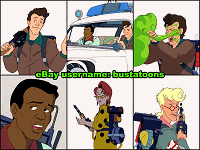 U.S. eBay (Ghostbusters stuff)
U.K. eBay (Ghostbusters stuff)