The first trailer, officially called a "Teaser Trailer", for the new Ghostbusters movie came out today. The film has been titled
Ghostbusters: Frozen Empire
in the United States,
Ghostbusters: Frozen City
in Sweden,
Ghostbusters: Arendelle
in the Disneyverse, and
Ghostbusters: Frozen Summer
in Japan. I'm sure there will be a few more alternate titles in other countries, likely all with "Frozen" in them, which will make
this guy
very proud. I'm going to share my thoughts on the teaser trailer in a sort-of running commentary form, though I won't go over every single shot. BE FOREWARNED: THERE MAY BE SOME MINOR PLOT SPOILERS IF YOU KEEP READING, though at this early stage, I doubt that I will be able to infer very much from what little we know so far.
Before I get to the teaser, let's read the official plot synopsis that was posted in the video's description on YouTube.
In Ghostbusters: Frozen Empire, the Spengler family returns to where it all started - the iconic New York City firehouse - to team up with the original Ghostbusters, who've developed a top-secret research lab to take busting ghosts to the next level. But when the discovery of an ancient artifact unleashes an evil force, Ghostbusters new and old must join forces to protect their home and save the world from a second Ice Age.
The film was directed by Gil Kenan, who also handled writing duties with Jason Reitman, the director of
Afterlife
. The official cast list, as per the video description, is Paul Rudd (Gary Grooberson), Carrie Coon (Callie Spengler), Finn Wolfhard (Trevor Spengler), Mckenna Grace (Phoebe Spengler), Kumail Nanjiani (unknown), Patton Oswalt (possibly Hubert), Celeste O'Connor (Lucky Domingo), Logan Kim (Podcast), Dan Aykroyd (Ray Stantz), Ernie Hudson (Winston Zeddemore), and Annie Potts (Janine Melnitz). Although not on the official list, as will be seen shortly, Bill Murray returns as Peter Venkman. Emily Alyn Lind and James Acaster are also said to be in the film, though they are not yet on the official cast list and the characters they play are not known at this time.
Okay, it looks like there's been enough talk.
It's time for the main event
... The trailer is embedded below, so feel free to watch it before reading on. Also, click on all framegrabs for the original 1920x800 images.
The teaser opens to the funky pop tones of
Bananarama's 1983 hit "Cruel Summer"
. While
The Lovin Spoonful's "Summer in the City"
would have been another good thematic song choice, there are two reasons why I think the Bananarama song works better. One, it's a 1980s pop song that came out a year before the original film. Two,
the original music video
features the trio of ladies cavorting around New York City, where this new film is set.
The very first shot, after the Sony and Columbia Picture logos, is
Lady Liberty
herself.
The first half of the teaser features lots of footage that the second unit crew
filmed all around New York City this past June
. That includes a shot of a woman riding a
Manhattan City Bank
rent-a-bike, a nod to the real New York City's
Citi Bike bike sharing service
.
A row of parked Manhattan City Bank bicycles were part of a car stunt performed around City Hall on June 4th.
As scenes play of New Yorkers sweating it out in the hot Summer sun, a radio weatherman proclaims that "it's going to be another hot one out there. There are heat alerts in effect for New Jersey. Feeling like 100 degrees." I don't know why he's talking about New Jersey, when we're seeing New York. Perhaps it's a mistake by the teaser editor. The shot of the kids playing in the fire hydrant was filmed at the
corner of Eldridge and Broome Streets
on June 10th and 11th.
Next, we hop from Manhattan Island to the
fish-shaped Long Island
(
YAY!
), where we find people enjoying the sun and surf at Coney Island, which is a peninsular neighborhood in the borough of Brooklyn. These scenes, which were filmed on June 5th and 6th, opens with a shot of the iconic
"Wonder Wheel" Ferris wheel
.
While beach-goers frolic on the land, the Wonder Wheel grinds to a halt, as does the song. Uh-oh! Off in the distance, over the Atlantic Ocean, a large cloud mass has formed. Could it be
the fog
? Could it be
the mist
? Could it be an
alien
or satellite
crash landing
?
The clouds start to ascend upon the beach.
Without warning, shards of ice start shooting up from the ground, sending everyone fleeing in panic.
Ice starts to form on the Wonder Wheel.
A bolt of lighting seemingly hits
One World Trade Center
(aka the Freedom Tower) in Manhattan.
Around the city, citizens look on in fear as dark ominous clouds envelope the city. Ice Spikes rise up out of the ground, impaling a taxicab.
That cab was actually on an elevated stand during the June 10th and 11th filming at Eldridge and Broome Streets.
No place in New York is safe, not even an old firehouse. Three familiar piano keys are heard.
If this deep freeze reaches the Long Island counties of Nassau and Suffolk, I'm in trouble! Who am I going to call?
Maybe the nice folks in this spiffy white ambulance/hearse. (This shot was filmed in front of the Five Points Academy at
148 Lafayette Street
on June 12th and 13th.)
"THIS SPRING" appears on screen, while the skyline of New York fades in behind it. We then get our first look at our returning heroes, starting with Phoebe, who is standing next to a pole inside a frost-covered firehouse.
Patton Oswalt's voice intones, "For the first time in New York history, people froze to death in the middle of July." It should be noted that the Youtube transcription gives his character name as "Hubert". I think this transcription was provided by Sony to Youtube. It certainly isn't auto-generated, because no where in the video is that name spoken.
Roll call continues with Trevor and Lucky, who are joined by a new nerdy-looking character portrayed by James Acaster.
We get a first-hand look at someone who "froze to death". That being some dude wearing an eye-patch in a scene that appears to be set sometime in the far past. Nothing in this shot looks modern.
"Hot Mom" Callie is back.
As is Podcast - God, I hope his real name is finally revealed - seen here wearing his best vintage 1980s thrift store find. Love it!
Phoebe asks, "What is it?". A new character played by Kumail Nanjiani looks around the room.
The trio are joined in this library by Ray Stantz, who says that this bitter freeze is "The Death Chill". Not to be confused with
The Big Chill
, available on
physical disc
and
streaming
by Sony Pictures Home Entertainment. Ray appears to be wearing a jacket similar to the one he wore in the original film when the guys interview Dana at the firehouse.
After some more smoky shenanigans, we see THE GROOB! Yes, Paul Rudd is back. No, not
the dead one
, though this movie would be a fitting place for the original Paul Rudd to make his comeback. The two Paul Rudds are not related to each other. Nor are they related to myself, Paul Rudoff, or to animator
Paul Rudish
.
Ray continues to tell us about The Death Chill. As he says that it has "the power to kill by fear itself", we see returning OGB's Winston Zeddemore...
...and Peter Venkman, both suited up in the firehouse garage bay.
As an example of "fear itself", we don't see a
tiny little creature
, but rather the lions outside the
New York Public Library
coming to life and growling at a bystander, who is believed to be Ray. (He's wearing the same blue jacket as Ray in the other scenes.) This is reminiscent of a scene from The Real Ghostbusters episode "
Mrs. Roger's Neighborhood
".
The front doors are blown off the firehouse as two Ghostbusters stand ready. There are some modifications to the pack that the Buster on the right is wearing, such as the addition of caution striping and a modified yellow bumper. (You can see these "new" packs better in
this video of EmMORElition's visit to the UK set
to play
the Rise of the Ghost Lord VR game
a few months ago.) The Buster on the left appears to be holding a new gadget.
Ray continues describing the effects of The Death Chill. Once
under its spell
, "your veins turn to rivers of ice". As he says this, we see that the Ice Spikes have invaded sacred ground: the Ghostbusters Firehouse.
It has Gary, Callie, and Trevor trapped against a column.
Downstairs, all of this frigid cold is breaking apart the wall holding the containment unit in place. That can't be good.
Another shot of Lucky -love her- in some red-lit laboratory of some sort, followed by some alien-looking hands attaching its horns. At this moment, Ray says "...your bones crack..." (I originally thought it was a creature sheathing a sword, possibly made out of human bones, but others have told me it's definitely horns. Either way, it's definitely not human.)
We get a better look at James Acaster's character wearing a red parka/jacket with a nametag on it; though it's not readable. (I have more info on the jacket at the end of this breakdown.)
A nice shot of Callie, Phoebe, and Gary all suited up. It's really great to have the Hot Mom be part of the action, and perhaps taking a bit of a leadership role. She's certainly front and center in this shot.
Now we actually see Patton's character, likely named Hubert, appearing on-screen. He closes the gate on an elevator that Ray, Phoebe, and Trevor are also inside of. They are wearing the same clothes from the earlier library scene, so this shot clearly is from the same scene as that one. Perhaps Hubert is a librarian or historian. Maybe he works at the New York Public Library?
Kumail's character opens a hidden door inside a kitchen pantry. Lucky and Trevor are behind him. What little we see of this hidden room shows some medieval weaponry, I think, hanging on the wall.
Ray finishes his description of The Death Chill, "...and the last thing you see is your own tear ducts freezing up." Sure enough, we see Lucky starting to freeze up, scared for her life.
Close-up on her eye as it freezes over. Someone quickly defrost that girl! We need her for the sequel's sequel.
In a completely different scene, taking place either in an apartment or the firehouse upstairs, Gary questions, "Like literally scared to death?"
Back in the library scene, Hubert (Patton) jokingly says, "That's so cool!" I certainly hope that in the final film, his glib reaction is to something completely different. I'd hate to think that's how he really feels about someone freezing to death.
A closeup of a Neutrona Wand being switched on. Trevor fires at something. Yay, finally some "ghostbusting" in this teaser.
Cue the title. The logo gets frostbite.
A mysterious tall creature with glowing blue eyes, claws, and horns emerges from the freezing fog.
I'm guessing this is our new baddie. How nice to have a NEW ORIGINAL baddie. Theatrically, there hasn't been one of those since 1989. I can't really make out who this new baddie is, but I
have my suspicions
...
The teaser concludes with the Spengler-Grooberson family up on the firehouse roof wearing bright red Ghostbusters parkas - specifically, modified versions of
Wuxly's Sabertooth II Vegan Parka
, which
retails for $1,300 USD
- with equipment at the ready as the air chills around them. Trevor and Gary have their Neutrona Wands drawn, Callie has Ecto Goggles atop her head, while Phoebe has her PKE Meter out. Gary lets out a hearty laugh. I think I know who will be Santa Claus at this year's Ghostbusters office party. Given the weather, Christmas may actually happen in July!
The teaser ends with "EXCLUSIVELY IN THEATERS - COMING SOON".
Currently
, "soon" is March 29, 2024. We are also informed that the film will be shown in Premium Formats and IMAX.
WOW! What a teaser. The movie looks like it's gonna be a blast, and may end up being the best Ghostbusters film since the first one. It doesn't look like it's gonna get bogged down in fan service, like
Afterlife
. With the main characters already introduced, it doesn't have the hassle of doing too much in the way of introductions. It rightly sets the story back in New York, and best of all, it introduces a new villain! We don't have to sit through another rehash of the logo ghost, Gozer, Terror Dogs, and other stuff that's come before. I'm sure there will be a wink and a nod here and there, which is fine, but this looks like we'll get more "new" stuff than before. I know Matt will be
very
happy about that. So will the folks at Hasbro, as it means more toys and collectibles to make.
The only thing I'm really not thrilled with is that title.
Frozen Empire
? Is that really the best you could have come up with, Jason and Gil? Is Jay-Z and Alicia Keys going to be on the soundtrack with a
"Frozen Empire State of Mind" remix
? I still think
Ghostbusters: Hell Frozen Over
would have been a better title...and looking at the villain, maybe not that inappropriate, either.
VIP BONUS FEATURE
- The
full 79-image set of screenshots
.
SUPER BONUS FEATURE
- The high-quality download of the Teaser Trailer.
One of the benefits to having access to Sony's press site is that I can download the high-quality version of things, instead of the crappy re-compressed version that gets strewn across the internet. I have uploaded to
the Internet Archive
the
1920x1080 MOV 2.4GB file
of the teaser trailer. (If you enjoy that the Internet Archive allows me to freely upload large video files like this for you to freely download,
please donate to them
.) The file contains these specs:
• Video: APCH 1920x1080 24fps 157853kbps [V: Core Media Data Handler (prores, yuv422p10le, 1920x1080, 157853 kb/s)]
• Audio: PCM 48000Hz stereo 2304kbps [A: Core Media Data Handler (pcm_s24le, 48000 Hz, 2 channels, s24, 2304 kb/s)]
2 comments
That's not just any roof, they're on top of the firehouse! At least, the surrounding buildings seem to match, so I'm pretty sure that's where they are
Nov. 16, 2023 @ 21:00
Leave a comment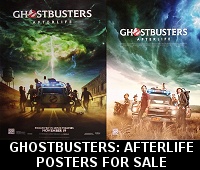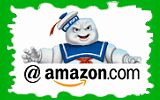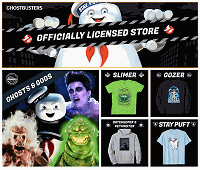 Please be aware that as an Amazon Associate, I earn a very tiny commission from purchases made though the Amazon links on this site.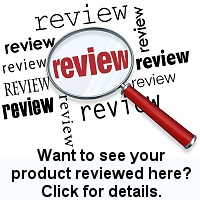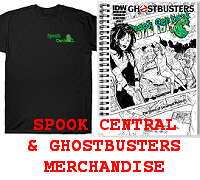 (
MY COMPARISON REVIEW
)
(
AVOID SHIPPINGEASY/STAMPS.COM
)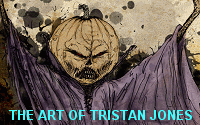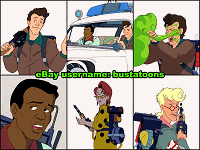 U.S. eBay (Ghostbusters stuff)
U.K. eBay (Ghostbusters stuff)