FOR IMMEDIATE RELEASE
Who ya gonna call?
"The Real Ghostbusters!"
The Real Ghostbusters: Creatures of the Night, Spooky Spirits and Slimefighters from the long-running children's series based on the "Ghostbusters" movies arrive on DVD February 28, 2006
Culver City, Calif. - If you're bothered by ghosts and goblins or simply looking to enjoy hours of fun and laughter, you know who to call – The Ghostbusters. Evil spirits don't stand a ghost of a chance once our intrepid heroes are on the case! And on February 28, 2006 Sony Pictures Home Entertainment will release three volumes of the animated series "The Real Ghostbusters" on DVD. Each volume contains three episodes and a special bonus episode. Value priced at $9.95 SLP, these DVDs can be enjoyed by children and fans of all ages!
"The Real Ghostbusters"
is based on the two hit motion pictures that helped define the '80s and features the voice talents of
Arsenio Hall
("The Arsenio Hall Show"
Coming to America
),
Dave Coulier
("Full House," "America's Funniest People") and
Lorenzo Music
("Garfield," "Darkwing Duck"). In these latest episodes, the Ghostbusters -- Winston, Egon, Peter and Ray -– and their sidekick, Slimer, encounter an array of otherworldly creatures, including goblins, The Sandman and the famous Stay Puft Marshmallow Man – all of which adds up to hours of fun for longtime fans and newcomers as well.
Originally airing on ABC and later in syndication, "The Real Ghostbusters" had a five-year run (Sept. 1986 to Jan. 1991) during which time it gathered a loyal fan base. Among other honors, "The Real Ghostbusters" received a Young Artist Award for the "Best Animation Series" in 1989.
Episode Synopsis
Creatures of the Night
"Night Game"
Play ball! Rather grab a bat than a proton gun when an old Indian legend involves Winston in a baseball game of good vs. evil for the fate of one human soul? Question is, which human's soul are they fighting for?
"Bird of Kildarby"
The Ghostbusters try to bust some ghosts in a castle in Manhattan, but the ghosts send a giant and deadly bird after them.
"Lost and Foundry"
A ghost becomes a part of a new steel, leading to abnormal experiences throughout the city.
"Killerwatt" (Bonus episode)
A ghost named Killerwatt has taken over the power plant, leaving New York City powerless.
Spooky Spirits
"Ghostbuster of the Year"
The guys are in a state of competition for the title of Ghostbuster of the Year and getting on the Spooks Illustrated cover.
"Revenge of Murray and the Mantis"
He was thought to have been destroyed during the Gozer incident, but now.... the mascot of Stay Puft Marshmallows returns from the dead to battle Murray the Mantis!
"Drool, the Dog Faced Goblin"
The Ghostbusters are ready to catch a harmless goblin at a circus at the Poconos, but there is something else to worry about.
"Mr. Sandman, Dream Me a Dream" (Bonus)
The Sandman arrives in New York and attempts to put everyone to sleep for five hundred years. And with every person put to sleep, their dreams become real. Can the Ghostbusters stop the Sandman or will they fall asleep with the rest of the city?
Slimefighters
"Adventures in Slime and Space"
One of Egon's contraptions has a bad effect on Slimer, making millions of little versions of the green ghost.
"They Call Me Mister Slimer"
Slimer tries to earn money by becoming a bodyguard for a kid that gets pushed around by bullies.
"Victor the Happy Ghost"
The Ghostbusters come across a seemingly harmless ghost and decide against locking him away in the containment unit. However, Slimer finds out this ghost turns into a nasty demon behind the Ghostbusters' backs.
"Slimer, Come Home" (Bonus)
After Peter yells at Slimer for eating Winston's birthday cake, Slimer runs away and gets mixed up with some very mean Poltergeists.
DVD SPECS
* Digitally Mastered Audio & Video
* Full Screen Presentation
* QuickStart Continuous "Play" Feature
PRODUCT SPECS
Creatures of the Night
Not Rated
Color / Closed-Captioned
DVD Order Date: 1/26/06
DVD Catalog # 13797
Running Time: 89 minutes
DVD SLP: $9.98
Spooky Spirits
Not Rated
Color / Closed-Captioned
DVD Order Date: 1/26/06
DVD Catalog # 13798
Running Time: 89 minutes
DVD SLP: $9.98
Slimefighters
Not Rated
Color / Closed-Captioned
DVD Order Date: 1/26/06
DVD Catalog # 13799
Running Time: 89 minutes
DVD SLP: $9.98
Sony Pictures Home Entertainment is a Sony Pictures Entertainment Company. Sony Pictures Entertainment (SPE) is a division of Sony Corporation of America (SCA), a subsidiary of Tokyo-based Sony Corporation. SPE's global operations encompass motion picture production and distribution, television production and distribution, worldwide channel investments, home video acquisition and distribution, operation of studio facilities, development of new entertainment products, services and technologies, and distribution of filmed entertainment in 67 countries. Sony Pictures Entertainment can be found on the World Wide Web at http://www.spe.sony.com.
No feedback yet
Leave a comment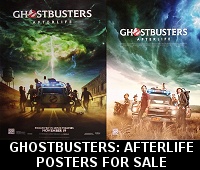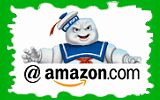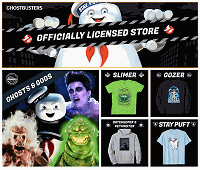 Please be aware that as an Amazon Associate, I earn a very tiny commission from purchases made though the Amazon links on this site.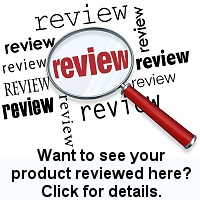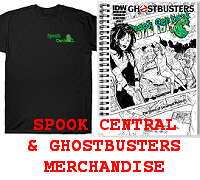 (
MY COMPARISON REVIEW
)
(
AVOID SHIPPINGEASY/STAMPS.COM
)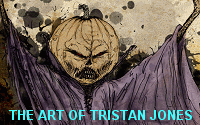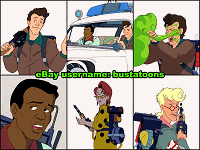 U.S. eBay (Ghostbusters stuff)
U.K. eBay (Ghostbusters stuff)