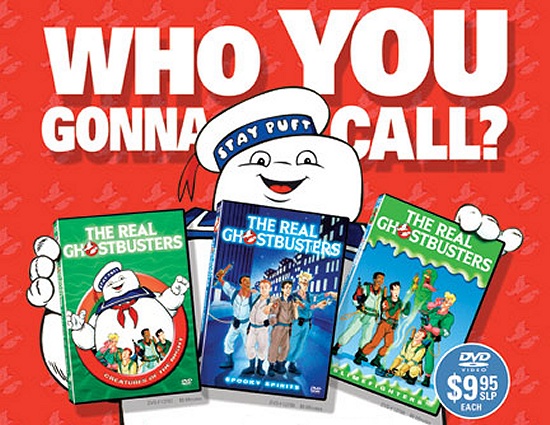 (click to enlarge)
I just received the three Real Ghostbusters DVDs in the mail today that I ordered last week. If you don't already have them, and you can't find them in your local stores, pick them up right now from Amazon.com:
Creatures of the Night
,
Spooky Spirits
and
Slimefighters
.
I took a quick look at them, as I do with all of my DVDs when I get them. I like to ensure that they play well and have no immediately noticeable defects. Plus I wanted to check out a few things in particular with these DVDs. I haven't had a chance to watch them completely, but I saw enough to make some notes. Read on to find out more...
Before I begin with my notes, let me make one thing perfectly clear: These DVDs are budget releases designed for the kiddie market. Hence the $9.95 SLP, the "Quick Start" feature (see the "Quick Start - Starts Automatically!" sticker on the
outside wrapping
), the plain menus, and the lack of bonus materials. If you can keep this in mind, then you won't be entirely disappointed.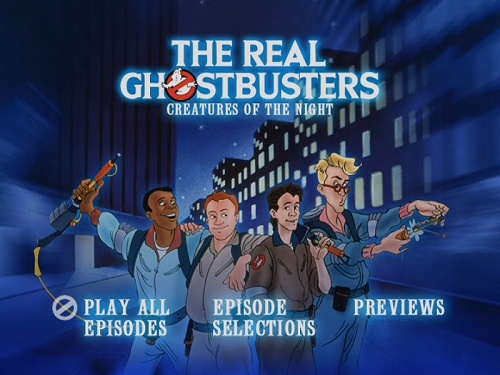 I was hoping that they would have used multiple audio to provide both versions of "Bird Of Kildarby" (Home Video and TV), "Slimer, Come Home" (original and redubbed voice casts), and "Mr. Sandman, Dream Me A Dream" (original and redubbed voice casts). Since they are budget kiddie releases, this is obviously not the case. The DVDs each contain just one stereo English audio track. There aren't even alternate languages (for those folks who don't understand English). I know that alternate language tracks exist, but obviously Sony did not want to make the extra effort to use them.
So, in terms of the episodes that have alternate versions, this is what is on the DVDs:
•
"Slimer, Come Home"
- Original voice cast, with Lorenzo Music as Peter and Laura Summer as Janine.
•
"Mr. Sandman, Dream Me A Dream"
- Original voice cast, with Lorenzo Music as Peter and Laura Summer as Janine.
•
"Bird of Kildarby"
- TV Version with background music instead of Tahiti song at end of car chase scene.
Since Dave Coulier would have only been in the redubbed versions of those first two episodes, this means that he does not appear in any of the episodes on the discs. The
press release
is misleading, if not outright lying.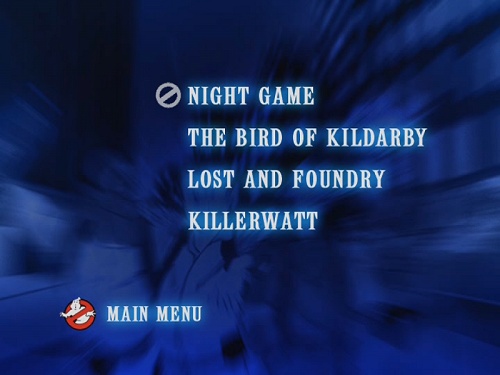 However, it's not all bad. At least the episodes are not edited. I compared the original 1980s VHS releases with the same episodes on the DVDs and the runtimes were the same. Here are the DVD runtimes.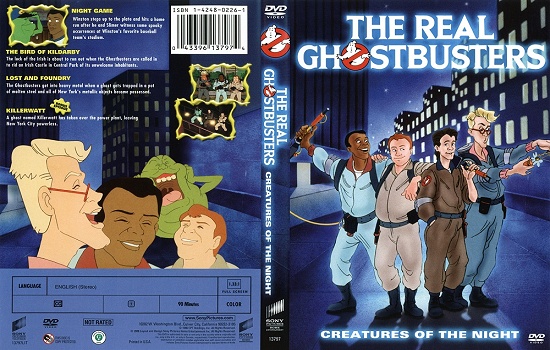 (click to enlarge)
Creatures of the Night
(Vol. 1)
Night Game (21:54)
Bird of Kildarby (21:56)
Lost and Foundry (21:56)
Killerwatt (23:44)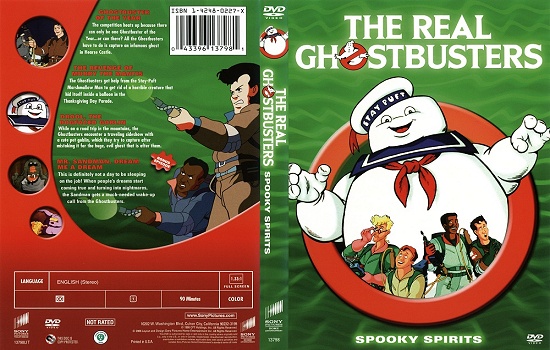 (click to enlarge)
Spooky Spirits
(Vol. 2)
Ghostbuster of the Year (21:55)
Revenge of Murray and the Mantis (21:54)
Drool, the Dog Faced Goblin (21:56)
Mr. Sandman, Dream Me a Dream (23:44)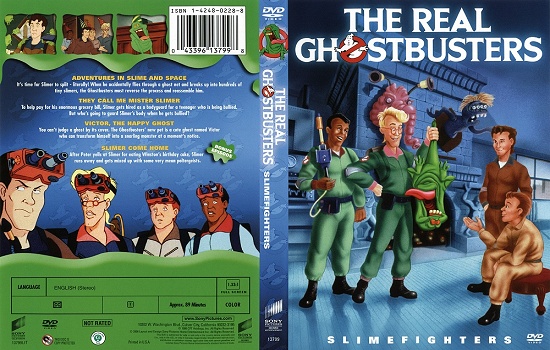 (click to enlarge)
Slimefighters
(Vol. 3)
Adventures in Slime and Space (21:53)
They Call Me Mister Slimer (21:54)
Victor the Happy Ghost (21:56)
Slimer, Come Home (23:41)
It took these DVDs for me to realize that the syndicated episodes run two minutes shorter than the network episodes. The fourth episode on each DVD is a network episode, while the other three are syndicated episodes.
Each episode is complete with it's own beginning title sequence and end credits, which is a lot more than can be said for a lot of TV on DVD releases these days (the
SpongeBob SquarePants
&
Tales From The Crypt
season sets, for example). I did notice that the first part of the horn riff on the episode title of "Slimer Come Home" is missing. More of an error, than anything intentional, I think.
Plus, Sony did put in a little effort by adding chapters in each episode, and in sensible places too. They are at: the very start of the episode (naturally), the episode title, the middle commercial break spot, the end credits. Considering they didn't have chapters in the two RGB episodes on the re-released
Ghostbusters II
DVD (box set and presumably individually too), I applaud Sony on the improvement.
There is one minor alteration to the episodes, but I knew that they were going to do this (as they did it in the episodes on the
Ghostbusters II
DVD). At the very end of each episode (after the original DIC logo) they replaced the old "Columbia Pictures Television - A Unit Of The Coca-Cola Company" logo with the more-recent "Columbia - Columbia Pictures Television - A Sony Pictures Entertainment Company" logo. I can certainly understand why they did it (as they are no longer owned by Coca-Cola), but they could have used a similar logo without the Coca-Cola text. Surely they have old non-Coke logos from circa 1986 in their vaults. At the very least they should have kept the old logo audio and just replaced the still image. It's rather jarring the way the end credit song just cuts off when the new logo starts. Interestingly enough, on the old 1980s VHS tapes, the tape with Murray/Drool/GB Of The Year has no CPT logo at the end of each ep (each ends after the DIC logo).
Previews/trailers are shown on boot-up of each DVD, but they can be skipped by pressing the Menu button on your remote. Most, if not all, studios do this on their DVDs. Disney is a prime example. So this is nothing to bitch about, but I thought it was worth mentioning anyway because I'd hardly call it "Quick Start" if kids have to sit through 5 minutes of trailers
and
FBI warning screens before the episodes actually start.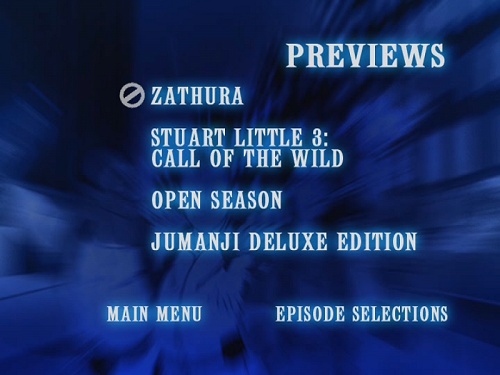 The quality of the episodes looks good, though I didn't do any side-by-side, screen capture, or recording comparisons of the video or audio. However, I did notice that the "Bird of Kildarby" picture quality looks darker than the original.
There were two things that I thought were errors, but I checked them with my tapes, and they are found in them as well.
(1) When "They Call Me Mister Slimer" comes back from the second commercial break spot (at 10:38, start of chapter 3), the first part of Winston's line appears to be cut out, leaving: "...like it. Slimer's been gone too long." It would appear that "I don't" was cut out. However, I checked my only other copy of this episode (what I taped from the Fox Family Channel), and it was exactly like that too. So perhaps this is an episode goof, or perhaps his line started on the No Ghost logo commercial bumper (remember those?) and no one at Columbia thought to fix it so it can still be heard when the bumper is cut out. If anyone has an original syndicated taping of this episode, complete with bumper, I'd like to know what your copy has.
(2) Near the start of "Slimer Come Home," while the guys are in the car, Egon's lines (at 1:32) sound slowed-down. I checked my slightly sped-up Fox Family Channel copy, and the redubbed version from ABC (since Egon's lines weren't redubbed it's a good source), and it appears that the original is this way too. Either Maurice LaMarche was having an "off day" when he recorded the lines or someone messed it up in post production, but it appears that's normal audio for this episode. It just took the DVD for me to notice it.
I think that about covers it.
Also, while I was gathering multimedia from the Sony Pictures Home Entertainment (SPHE) Publicity website, I noticed something strange. The logo used in the title on the case front is deformed. The eyes, the nose, the hands... it's a mess. The real thing is on the right for comparison.
At first I thought it was the same deformed logo used in the
Manhattan Madness bootleg DVD
. No, that one's still worse than this. I can't imagine that Sony would mess up like this when I'm sure that the logo art is in their vaults. Really sad.
Anyway, all of the screenshots I did, and additional images provided by Sony, can be obtained in
this zip file
. The DVDs can be purchased from Amazon using these links:
Creatures of the Night
,
Spooky Spirits
and
Slimefighters
. They're not the greatest, but until Sony decides to release the complete series onto DVD, these are better than nothing.
4 comments
Hey there dude! I have a copy of They Call Me MISTER Slimer taped off the Jetix network in the UK from 2004, the beginning of Winston's line "I don't" is included after the commercial break, if that's any interest to you?
May. 1, 2008 @ 11:19
Steve
Thanks for the comment about Winston's line.
– Paul
May. 5, 2008 @ 19:17
Comment
from:
Patrick Butler
[Visitor]
Does the episodes have their original title cards included?
Sep. 6, 2018 @ 13:55
YES, "Killerwatt" has its title card on the "Creatures of the Night" DVD. (All eps on the 3 DVDs have title cards, otherwise I would have made a note about it.) The series music version of "The Bird of Kildarby" is on there, too. So, if you're a completist, you'll want to pick up a copy to go along with the TimeLife set (which has the Tahiti music version of "Kildarby" and, of course, no title card for "Killerwatt"). I updated my page for the TimeLife set to note all of this. I have no idea why I didn't earlier. I guess I just never noticed since the TimeLife set kinda made the 3 Sony DVDs (otherwise) irrelevant :-) - Paul
Sep. 7, 2018 @ 15:43
Leave a comment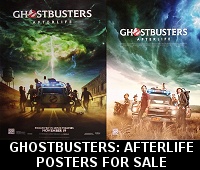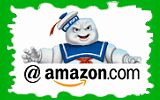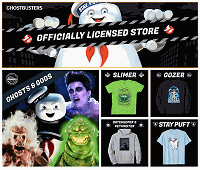 Please be aware that as an Amazon Associate, I earn a very tiny commission from purchases made though the Amazon links on this site.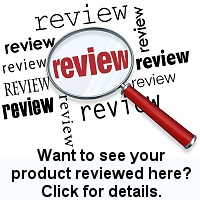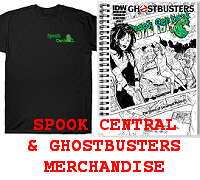 (
MY COMPARISON REVIEW
)
(
AVOID SHIPPINGEASY/STAMPS.COM
)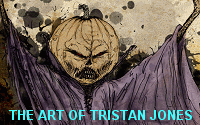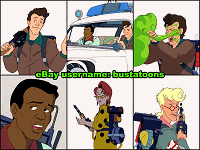 U.S. eBay (Ghostbusters stuff)
U.K. eBay (Ghostbusters stuff)