'GHOSTBUSTERS: THE VIDEO GAME' ON PSP (PlayStationPortable) systems SLIMES ITS WAY INTO NORTH AMERICAN RETAILERS
- Get Ready to Bust Some Ghosts On the Go This Holiday Season on PSP system and PSPgo system -
NEW YORK, NY ­ November 3, 2009 ­ Atari, Inc., one of the world's most recognized videogame publishers, announced today that this summer's best-selling, Ghostbusters: The Video Game is now available at retailers across North America on the PSP (PlayStation Portable) systems (including the PSPgo system). After selling into retail more than one million units across North America in its first month, fans of the summer blockbuster title can now grab their proton packs, blast and wrangle ghosts on a 16x9 widescreen while on the run! Ghostbusters: The Video Game was released on June, 16, 2009 and quickly became one of the hottest video games of the year.
Ghostbusters: The Video Game, based on the smash hit motion picture franchise, is penned by original Ghostbusters writers and stars Harold Ramis and Dan Aykroyd and reunites many of the original cast members to recapture the unique blend of humor and fright that established Ghostbusters as a pop culture sensation. In collaboration with Sony Pictures Consumer Products and acclaimed development studios Terminal Reality and RedFly Studios, Atari published this completely all-new chapter of the blockbuster Ghostbusters saga to advanced gaming platforms to coincide with the 25th Anniversary celebration of the film's original theatrical release.
Ghostbusters: The Video Game on the PSP systems offers the ability to switch between four equipment sets to access eight unique proton pack functions and use gadgets like the PKE Meter and Paragoggles to scan and analyze targets. Get pulled into the world of the paranormal, unleash your blast stream and tear it up on the go. Ghostbusters: The Video Game for PSP system is rated E10 and is currently available for the recommended retail price of $29.99.
A great holiday gift, Ghostbusters: The Video Game is also currently available at retailers across North America for reduced prices on most consoles including the Xbox 360 video game and entertainment system from Microsoft ($39.99), Windows PC ($19.99), PlayStation3 computer entertainment system ($39.99) and Wii ($29.99). The PlayStation2 computer entertainment system ($19.99), and Nintendo DS ($19.99) are also available for the holiday season. Set two years after Ghostbusters 2, with Manhattan once again overrun by ghosts and supernatural forces, the game also features performances from fan favorites such as William Atherton (Walter Peck), Annie Potts (Janine Melnitz) and Brian Doyle-Murray (lending his voice as Mayor Jock Mulligan).
For more information, be sure to visit the official Ghostbusters(TM): The Video Game website located at: www.ghostbustersgame.com.
About the Game
When Manhattan is once again overrun by ghosts and other supernatural creatures, players will take on the role of a new recruit joining the famous Ghostbusters team. Developed by acclaimed studio Terminal Reality, Ghostbusters: The Video Game will make its debut on the PLAYSTATION®3 computer entertainment system, Xbox 360® video game and entertainment system from Microsoft and Windows PC.The PlayStation®2 computer entertainment system version and the Wii version are being developed by Red Fly Studios, and the Nintendo DS™ version, in which the player takes the role of one of the Ghostbusters themselves, is developed by Zen Studios. The PLAYSTATION 3, Xbox 360, Wii, and PC versions of the game are developed using Terminal Reality's phenomenal proprietary Infernal Engine technology.
About the Film
Ghostbusters, released in 1984, is one of Columbia Pictures' highest grossing films, spawning a hit sequel in 1989 and three successful animated television shows. Ghostbusters and its sequel grossed over $500 million world-wide. Ghostbusters and Ghostbusters II, written by Dan Aykroyd and Harold Ramis, produced and directed by Ivan Reitman, starred Bill Murray, Dan Aykroyd, Harold Ramis and Ernie Hudson as ghost hunters for hire, cleaning up Manhattan's buildings of slime-spewing spooks.
About Sony Pictures Consumer Products Inc.
Sony Pictures Consumer Products Inc. (SPCP) is a division of Sony Pictures Entertainment Inc. (SPE) based in Los Angeles which handles the merchandising and branding efforts for some of the most recognized properties in film and television.
Sony Pictures Entertainment (SPE) is a subsidiary of Sony Corporation of America (SCA), a subsidiary of Tokyo-based Sony Corporation. SPE's global operations encompass motion picture production and distribution; television production and distribution; digital content creation and distribution; worldwide channel investments; home entertainment acquisition and distribution, operation of studio facilities; development of new entertainment products, services and technologies; and distribution of filmed entertainment in more than 130 countries. Sony Pictures Entertainment can be found on the World Wide Web at http://www.sonypictures.com.
About Infogrames Entertainment and Atari
The Infogrames group, including the Atari brand and the massively multiplayer online game company Cryptic Studios, is a global producer, publisher and distributor of interactive entertainment software for all market segments and all interactive game platforms including consoles from Microsoft, Nintendo and Sony, advanced smartphones, Personal Computers, web and online. Its games are sold in more than 60 countries through an international distribution network and direct to consumers via www.atari.com.
Atari's extensive catalogue of popular games is based on original franchises (Test Drive, Alone in the Dark, V-Rally, My Horse & Me, Backyard Sports franchise, Total Annihilation, Outcast etc.), Cryptic Studios titles (StarTrek Online, Champions Online), publishing properties (Ghostbusters, The Chronicles of Riddick, The Witcher, Race Pro etc.), international licenses (Dragon Ball Z, Dungeons & Dragons, Jamie Oliver etc.) and classic games covering the entire history of the video game industry (Pong, Missile Command, Asteroids etc).
© 2009 Atari Europe SASU. All rights reserved.
Atari word mark and logo are trademarks owned by Atari Interactive, Inc.
"GHOSTBUSTERS", The Video Game: © 2009 Columbia Pictures Industries, Inc. "GHOSTBUSTERS" with the "GHOST DESIGN" is a registered trademark of Columbia Pictures Industries, Inc. "GHOSTBUSTERS", and "GHOSTBUSTERS 2" movies: © 1984, © 1989 Columbia Pictures Industries, Inc. Game Software excluding Columbia Pictures Elements: © 2009 Atari, Inc. All rights reserved. All other trademarks are property of their respective owners.
Microsoft, Xbox, Xbox 360, Xbox LIVE, and the Xbox logos are trademarks of the Microsoft group of companies.
"PlayStation" and the "PS" Family logo are registered trademarks of Sony Computer Entertainment Inc. The PlayStation Network Logo is a service mark of Sony Computer Entertainment Inc.
Wii and Nintendo DS are trademarks of Nintendo. © 2006 Nintendo.
Windows and the Windows Vista start button are either registered trademarks or trademarks of Microsoft Corporation in the United States and/or other countries and are used under license from owner.
# # #
No feedback yet
Leave a comment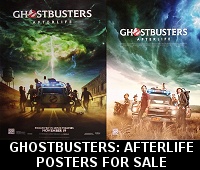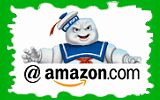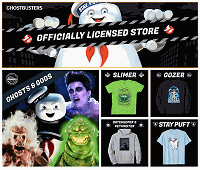 Please be aware that as an Amazon Associate, I earn a very tiny commission from purchases made though the Amazon links on this site.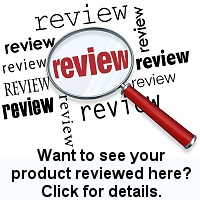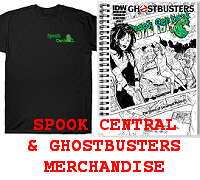 (
MY COMPARISON REVIEW
)
(
AVOID SHIPPINGEASY/STAMPS.COM
)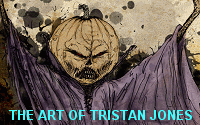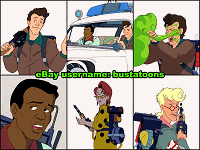 U.S. eBay (Ghostbusters stuff)
U.K. eBay (Ghostbusters stuff)