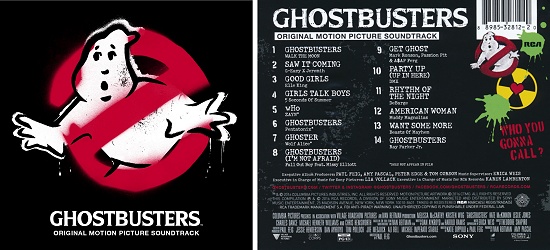 This is a first. I've never reviewed music on Spook Central before.
Blu-rays and DVDs
,
video games
,
books
, even
marshmallows
...but never music. Bearing in mind that I don't have any degrees in music, and have never worked for Rolling Stone or Billboard, I am going to apologize in advance if I don't use musical terms correctly, or don't comment on things that a music critic would. I'm writing this completely from the viewpoint of a consumer with
a very eclectic music collection
, who also happens to be a Ghostbusters fan :-)
I want to also note that, as with all of the other new movie merchandise, I am reviewing the soundtrack album strictly on its own merits, and not in relation to
the movie itself
(though I reference the movie here and there).
Okay, I think that wraps up all of the pre-flight announcements, so let's get right to it...
The first thing you'll notice is the beautiful graffiti-style No Ghost logo on the cover, which is infinitely better than the graffiti logo than appears in the movie. The album packaging was
art directed, designed, and illustrated
by
Annie Stoll
, so you have her to thank for this wickedly awesome variation on our beloved logo. It's a crime if Sony doesn't slap this thing on t-shirts and full-size posters.
The logo is in keeping with Annie's punk/street art motif for the album. The back of the liner "booklet" has "Who Ya Gonna Call?" stenciled in red paint, and that "booklet" opens up as a small poster, with the liner notes on one side, and a collage of artwork on the other. A painted logo is surrounded by one small photo of the movie cast (the only movie photo used), drawings and blueprints of the Ecto-1, the nuclear love logo, Stay Puft, and a reverse of the "Who Ya Gonna Call?" stencil, with the whole thing seemingly held together by literal duct tape. The rough look brings it all together. I want to say that the "anti-authority" nature of the packaging is meant to contrast the "manufactured in a boardroom" nature of the movie, but I'm probably reading too much into things.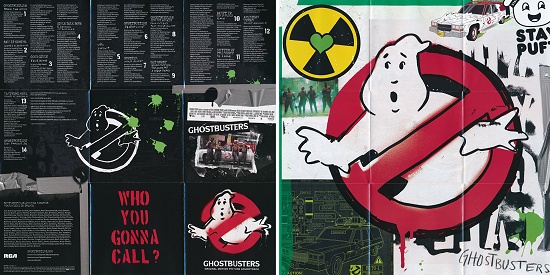 The graffiti logo adorns the face of the disc, under which is a collage of warning signs. You may recognize some of these from their use as stickers with
the mini proton pack replica
.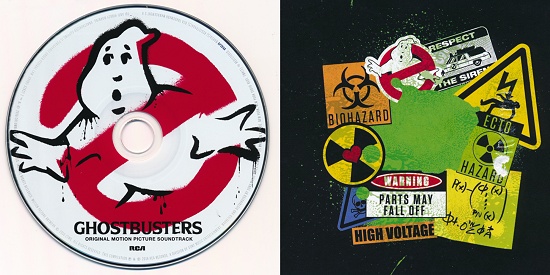 My only issue with the packaging stems from something that was done at the manufacturing plant where the disc and packaging were assembled. My copies of both the soundtrack and score albums have a security sticker placed on the rear paper artwork, instead of being affixed to the plastic case itself. This made it impossible to remove without damaging the artwork itself (see "Ecto Hazard" in the scan above). I don't know if all copies of both albums were done like this. Maybe you'll get lucky and won't have this problem. Ironically, both albums were sent through the mail and not bought in a brick-and-mortar store, so there was no need for a security sticker at all.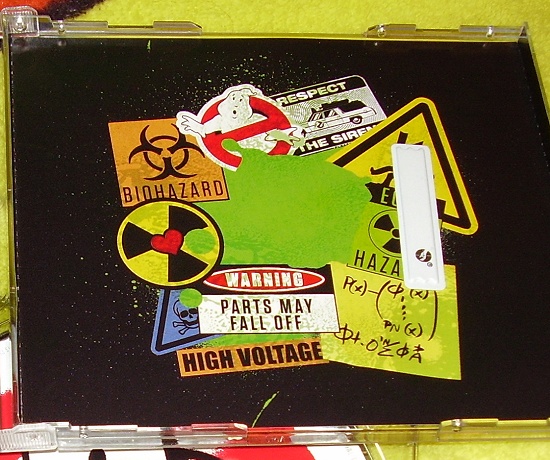 Okay, time to take off the art critic hat and put on the music critic hat. I should probably let it be known that I have never heard of most of the musical artists, so I'm basing my opinions on just what they provided for the album. There are 14 tracks on the album, constituting 46 minutes and 15 seconds of music.
Rather than embed every song nad have this page be slow to load, click on the song titles to play the video over the page.
---
1. Ghostbusters – performed by Walk The Moon (3:44)
- A great cover of the Ray Parker Jr. classic with a very creepy opening. This should have been released as the theme song for the movie. Nothing too wildly different, but different enough to be their own thing.
2. Saw It Coming - performed by G-Eazy feat. Jeremih (3:29)
- Rap with an R&B feel. I don't usually like much of the rap songs made these days - my rap tastes tend to be more towards 1980's stuff - but I liked this one. It has a nice beat with rapping that flows slow enough that I could actually understand what was being said. The chorus, which incorporates "who you gonna call", is catchy. A great tune to dance to.
The official music video is linked above. It features G-Eazy, whom I was really surprised to find was not black, rapping in an indoor flea market, for whatever reason. There's a fortune teller, ala Haunted Mansion, with a cute girl; while Jeremih is rapping by himself in a smokey setting. I like the make-up effects (looks physical), reminiscent of Michael Jackson's Thriller" music video, and DAMN would that female Ghostbuster sell action figures :-)
3. Good Girls - performed by Elle King (2:59)
- A kick-ass, sexy, female rock song, ala
Joan Jett
, with scratchy
EG Daily-like
vocals and a hard-rocking guitar. Now I want to know what Elle does that the good girls don't :-)
The official music video is linked above. Not sure where a laundromat comes into play with Ghostbusters, but it's a fun video that incorporates footage from the movie.
4. Girls Talk Boys - performed by 5 Seconds of Summer (3:36)
- Kinda reminds me of an '80s pop song. To explain the strange title, it's boys singing about what girls talk about when they talk about boys. Yeah, not sensing the Ghostbusters connection, either. It's nice to listen to, but I don't think this one will stick in my head.
The official music video is linked above, which has more to do with Ghostbusters than the song itself. Yes, it's an all-male remake of the all-female Ghostbusters. The irony is killing me. I love that it plays like the sweded version of Ghostbusters from
Be Kind Rewind
. Oh, and where can I get a copy of Ghostbusters 2016 on VHS?
5. wHo - performed by Zayn (2:54)
- In this tune, which does not appear in the film, Zayn Malik, formerly of the boy band One Direction, turns the Ghostbusters catchphrase into a love song. "Who you gonna call when you need somebody?", he sings to out to a girl (or another guy). A little repetitive, but I gotta give him credit for making a "Ghostbusters love song" :-)
6. Ghostbusters - performed by Pentatonix (2:52)
- An acapella version of the Ray Parker Jr. classic that, while it would never be the film's main theme, is one of the best covers I've ever heard. The album is worth buying for this song alone. Such a shame that it's not used in the movie. Pentatonix reminds me of the group
Rockapella
. I wonder
where in the world
those guys are now.
7. Ghoster - performed by Wolf Alice (2:30)
- The third track on the album that does not appear in the film, it's hard rock and not really to my liking, but Ellie Rowsell's vocals are pleasant to listen to. With spooky lyrics like, "I fought demons in my head", it would have worked well in the movie.
8. Ghostbusters (I'm Not Afraid) - performed by Fall Out Boy feat. Missy Elliott (3:05)
- The infamous track that, supposedly, was going to be the movie's theme song, but after the harsh reception it received by nearly
everyone
(even those who love the film), I think they decided to let it fall by the wayside. Simply put, it's an overproduced mess. The audio engineer/producer who mixed it should never be allowed near a mixing board ever again. I don't fault Fall Out Boy or Missy Elliott, as I hear potential for them to do better, if they had better material to work with. So, yeah, I guess it kind of represents the movie perfectly :-)
9. Get Ghost - performed by Mark Ronson, Passion Pit & A$AP Ferg (3:36)
- How ironic that the Fall Out Boy/Missy Elliott track is immediately followed by a track that shows how the Ray Parker Jr. theme could be mixed well into a new song. It has a disco/dance feel to me. With more retro-sounding beats and instruments, I can easily picture The Trammps singing it. I like the feel of this one, though I wasn't too fond of the rap part.
10. Party Up (Up In Here) - performed by DMX (4:31)
- Previously released in 2000, this hard-partying rap song is
highly inappropriate
for Ghostbusters. It
contains MANY profane lyrics
, such as "suck my dick", which although censored, are still understandable. Remember that the film was written with little kids in mind - in spite of the queef and middle finger jokes - and this is definitely NOT a song little kids should listen to. Yeah, it was used in the film, but that doesn't mean that it should be on the soundtrack. No Little Children's cover of "Ghostbusters", which was used in the film's end credits, but is left off of this album, should have been included in its place.
The official music video from 16 years ago is linked above, which depicts DMX caught up in a case of mistaken identity at a bank holdup.
11. Rhythm of the Night - performed by DeBarge (3:50)
- Previously released in 1985, it's a fun Dance/Calypso classic from around the time of the original movie's release. Jillian Holtzmann lip syncs and dances to the song in her lab, which is a fun moment, even though it felt out of place in the movie. If you like fun, 1980s music, as I do, you'll like this track - though if that's the case, you already know the song.
The official music video from 31 years ago is linked above, which depicts the DeBarge family cruisin' on the town.
12. American Woman - performed by Muddy Magnolias (3:01)
- Previously released in 2015, I thought this was going to be a cover of the Lenny Kravitz hit of the same name, itself a cover of original by The Guess Who, but it's not. I didn't even know that this was a previously released song, as I never heard of it or the artist. This isn't a song, it's a chant. Think of
Queen's "We Will Rock You"
, but with a female empowerment theme and not as catchy. About two minutes in, a hard guitar comes out of nowhere, and it degenerates into a whole bunch of yelling and loudness. It also feels out of place on a Ghostbusters album.
13. Want Some More - performed by Beasts Of Mayhem (2:03)
- After those three previously released tracks, we get this original metal song performed by the movie's fictional band. It's not my style, but if you like metal you may like this.
14. Ghostbusters - performed by Ray Parker, Jr. (2010 re-recording) (4:05)
- A new 2010 recording (according to copyright date given in the liner notes) by the original artist. You can tell that it's not the original 1984 recording because Ray's voice sounds different. Obviously, it has aged, and it does not sound as good as it did 26 years earlier. Not his fault. Time is a bitch. I actually would have preferred that he had recorded a completely new song for the movie, but I guess it could be said that at least we're not getting the same exact song we already have on the original film's soundtrack. Maybe there was a legal reason why the original recording could not be used. I don't know.
---
Ever since it was announced that he would be in the film, I was expecting a track from Ozzy Osbourne, but since he only cameos and doesn't perform, I can't say that I'm surprised that his presence isn't felt on the album. I am surprised that there are three songs used in the film that aren't on the soundtrack:
- "Low Then High" - performed by Beasts of Mayhem
- "End Of The World (Party One More Time)" - performed by The PlaceMints feat. Kierra Gray
- "Ghostbusters" - performed by No Small Children
The first song was written exclusively for the film, and is performed by the film's fictional metal band, which makes its exclusion rather odd.
NOT ON SOUNDTRACK:
End of the World (Party One More Time) - performed by The PlaceMints feat. Kierra Gray (3:56)
- Thank God this audio abomination was left off the soundtrack. It makes the Fall Out Boy/Missy Elliott track seem good. I have no remembrance of where this piece of sh...music was used in the film, and I have no desire to find it.
NOT ON SOUNDTRACK:
Ghostbusters - performed by No Small Children (2:38)
- Used in the end credits of film, this
should
have been included on the album. It's a great cover, and it's not like there wasn't, already, an overabundance of "Ghostbusters" covers on the album. I can only guess that legal reasons are to blame here. Just because it's been left off the album, doesn't mean that you can't own a copy - and it will
only cost you a mere U.S. Dollar
. It's a bargain at twice the price!
Overall, I did not like this album as much as the soundtracks for the original two Ghostbusters films. Maybe I got lucky, and those two albums just happened to have the right collection of songs on them for my tastes. Your tastes may be different than mine, and that's fine. I would only recommend this album, as a whole, for the
physical
version, due to the awesome artwork. You can buy it on
Compact Disc
or
Vinyl
at Amazon. That said, you can also buy the
individual MP3s at Amazon
, so if you don't want Annie's amazing art, you can just buy the songs that interest you - and there are some good ones here, as I hope I pointed out. (MP3s for tracks 10, 11, 12 are only available with a full album purchase, but since they have all been previously released, I'm sure you can pick them up individually from other albums on Amazon.)
2 comments
Umm, you are aware that the Lenny Kravitz version of "American Woman" is itself a cover of the original (and superior) song by The Guess Who, right?
Aug. 2, 2016 @ 06:16
If I did know that, I obviously forgot. So, thanks for reminding me/letting me know. I updated the review to mention that. Cheers! - Paul
Aug. 2, 2016 @ 21:00
Leave a comment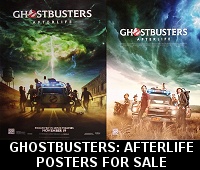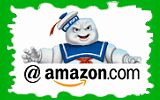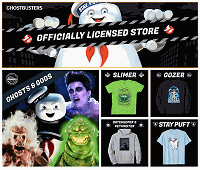 Please be aware that as an Amazon Associate, I earn a very tiny commission from purchases made though the Amazon links on this site.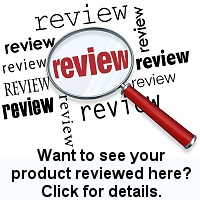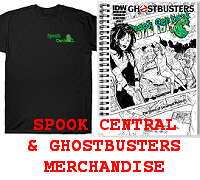 (
MY COMPARISON REVIEW
)
(
AVOID SHIPPINGEASY/STAMPS.COM
)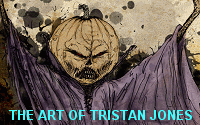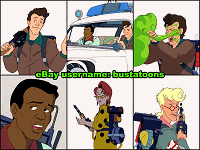 U.S. eBay (Ghostbusters stuff)
U.K. eBay (Ghostbusters stuff)