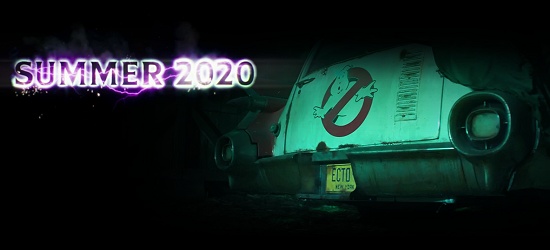 What a way to start off the new year. Yesterday, it was announced that a new live-action Ghostbusters film was in the works, and today we got a teaser trailer for it. What's this all about? Read on to find out...
As first
reported by Entertainment Weekly
, and confirmed by
Ghost Corps
, Ivan's son Jason Reitman - a
well-respected filmmaker
in his own right - is set to direct a new live-action Ghostbusters film slated for release in Summer 2020. The film, set in the original universe, was "discreetly" written by Reitman and
Gil Kenan
(director of
Monster House
and
City of Ember
with Bill Murray), with shooting set to begin "in a few months". Ivan Reitman, who directed the original two Ghostbusters films, will act as producer on the project, even though it was last reported by his very own son that he thinks the Ghostbusters "are full of crap and that's why [they] went out of business".
As a veteran of
decades of "Ghostbusters 3 news"
, I would not have believed this without the official confirmation.
There is no official word on whether or not we'll see any of the original actors return, but it's been
reported by The Hollywood Reporter
that Reitman is looking for four teenagers to star in the film, two males and two females. It was also mentioned that the film will feature a "passing of the torch" with regards to the franchise, which gives me
Extreme Ghostbusters
vibes - and that's a good thing, as long as they leave out the political correctness. Maybe that storyline will be enough to convince Sony to
finally
release the 1997 animated series on DVD. It's the only piece of Ghostbusters media that has yet to get a physical disc release.
Proving that he is the Reitman (get it?) for the job, Jason stated that this film will be a direct sequel to the original two Ghostbusters films and will not be connected to Paul Feig's 2016 reboot.
I wanted to make a movie for all the other fans. This is the next chapter in the original franchise. It is not a reboot. What happened in the '80s happened in the '80s, and this is set in the present day.
The new film doesn't have a title - it's said to have been written under the secret codename of "Rust City" - and I'm hesitant to call it
Ghostbusters III
, so right now I'm calling it
Ghostbusters 2020
. That, actually,
would
make a good title for it, especially if the story has something to do with "visions" or "hindsight" or maybe time travel. Sony is promoting it with the hashtag #GB20, which I don't understand. Did I miss the third through nineteenth films in the series? As long as they don't just call it simply
Ghostbusters
again, I'll be happy.
The Entertainment Weekly article also confirmed that an animated Ghostbusters film is also being developed, by a different creative team, but will come out following Jason Reitman's live-action project. Whether or not that actually happens waits to be seen, as that's not been officially confirmed as of yet. I do hope that it happens, especially if it's a big screen
The Real Ghostbusters
adventure with the original voice cast and Straczynski involved.
Showing that Sony wants to go full-force on this, and make up for a lot of the ill-will they earned with the 2016 film, they released a 52-second teaser trailer today. This is 100% official, as found on the
main page of Ghostbusters.com
, the
official Ghostbusters Youtube channel
, and the
official Ghostbusters Facebook page
. You can also find it on the
Ghostbusters News YouTube
and grab the 16MB original (
use this downloader
) from
Entertainment Weekly's Brightcove
and
Hollywood Reporter's Brightcove
.
Let's take a quick look at the teaser, which is said to have been shot by Jason Reitman. You can click on all of the images (except for the last two) for the original full-size uncropped images.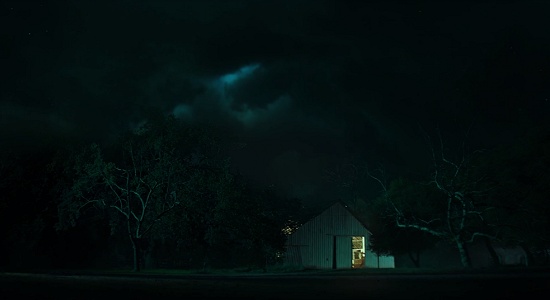 We open on a quiet night outside a barn in the middle of nowhere. Someone inside is tinkering on a machine. Could this be Ray? He was a tinkerer, and his family owned a farm
in the animated series
.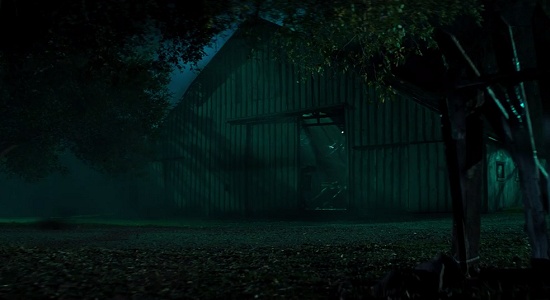 As we get closer, we hear some of Elmer Bernstein's haunting score from the original movie. It's hard to see in my still image, and can even be missed while watching the video, but there appears to be some strands of ectoplasm dangling from the broken remnants of a fence on the right.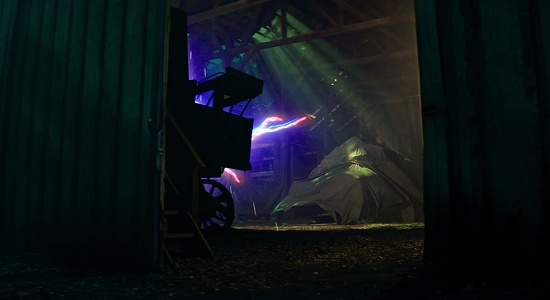 Just outside the barn doors, the device finally powers up, illuminating the barn with the electronic light show from a proton pack. That may be Oscar's baby buggy there on the left of the opening, though my first thought was that it's an old horse-drawn carriage, which would not look out of place in a barn.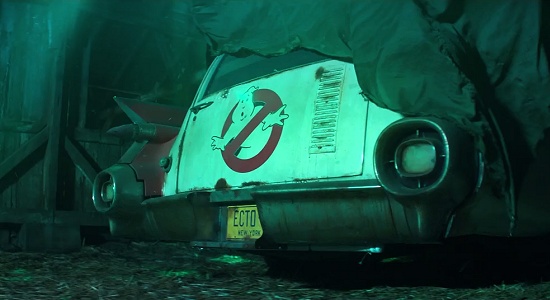 We come inside the barn as the wind lifts the tarp covering another familiar machine - the rusting back end of the original Ecto-1. We are left to wonder why this once glorious vehicle has been left to gather dust in the middle of nowhere. Someone get Keith Hargrove on the phone; the old gal needs
another restoration
.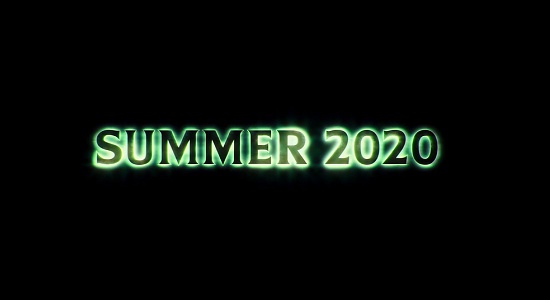 Cut to the release date: SUMMER 2020. It sparks off electricity ala a proton stream. The teaser ends with a copyright to CTMG, which stands for Columbia TriStar Marketing Group.
And there you have it. Jason Reitman did in 52 seconds what Paul Feig couldn't do in two hours. He got Ghostbusters fans to love Ghostbusters again.
Do keep in mind that there is no guarantee that this teaser will have anything to do with the finished film. It could simply be a way for Sony to show that they plan to put things on the right track this time. Nothing more, nothing less. So, although I speculated a little bit, let's not look at this teaser in a super-serious manner. Just take it for what it is: a sign of good things to come.
Stay tuned to Spook Central for more details as they arise. It looks like, for the first time in 22 years (putting aside the video game in 2009, which got shoe-horned in), I'm gonna have a new piece of media (movie or tv show) to start covering on the back-end pages of this site. I think that old "Ghostbusters 3" section is gonna be replaced with this new hotness.
Special thanks to the
Ghostbusters Wiki Facebook
for the header image.
No feedback yet
Leave a comment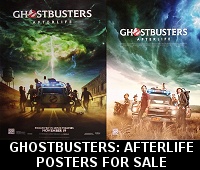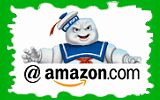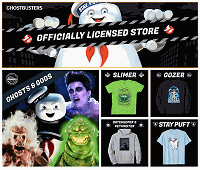 Please be aware that as an Amazon Associate, I earn a very tiny commission from purchases made though the Amazon links on this site.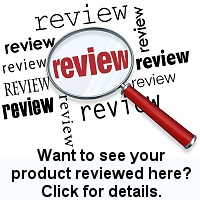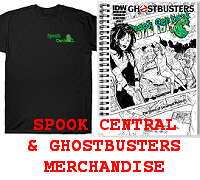 (
MY COMPARISON REVIEW
)
(
AVOID SHIPPINGEASY/STAMPS.COM
)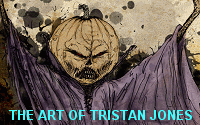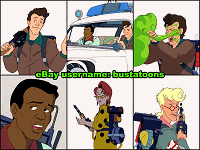 U.S. eBay (Ghostbusters stuff)
U.K. eBay (Ghostbusters stuff)