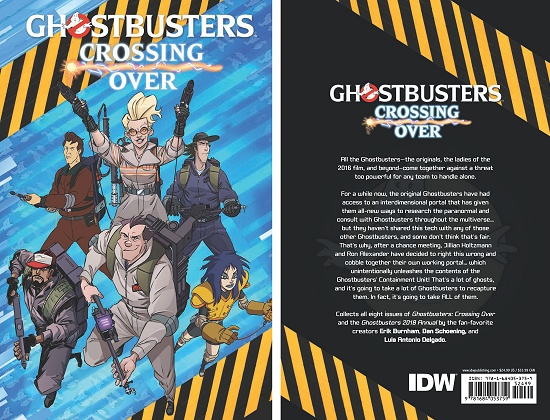 IDW released the
Ghostbusters: Crossing Over trade paperback
this past January. It was yet another look at how the female Ghostbusters from the
2016 film
would fare in the hands of a more capable writer (one who isn't Paul Feig), after the
Ghostbusters 101
and
Answer The Call
trade paperbacks.
Crossing Over
, which collects material from
Ghostbusters Annual 2018
(Chapter 1, Samhain-esque story) and
Crossing Over
issues #1-8 (the remaining chapters), actually includes a plethora of proficient paranormal professionals. Does that open up the prospect for an interesting story? Read on to find out...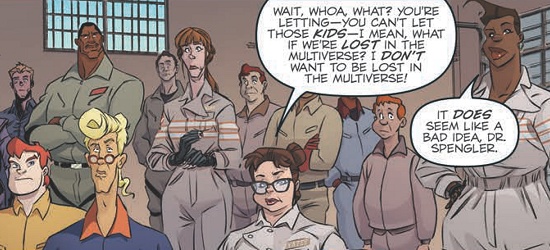 The story "Crossing Over" was written by Erik Burnham, with art by Dan Schoening, and colors by Luis Antonio Delgado. Lettering on the 244-page book was done by Neil Uyetake, Robbie Robbins, and Tom B. Long. Let's take roll call to see who's starring in this crazy thing.
PRIME GHOSTBUSTERS (Prime Dimension) - Dr. Peter Venkman, Dr. Ray Stantz, Dr. Egon Spengler, Winston Zeddemore
The original Ghostbusters of the Prime Dimension, who defeated Gozer by crossing the streams - seeding the multiverse with their memories and methodology, and creating Ghostbuster teams across the interdimensional landscape.
CHICAGO GHOSTBUSTERS (Prime Dimension) - Ron Alexander, Rookie, Dani Shpak, Lou Kamaka
The first franchisee of Ghostbusters, Inc. Headquartered in the Windy City.
NEW GHOSTBUSTERS (Prime Dimension) - Janine Melnitz, Melanie Ortiz, Kylie Griffin
An FBI Agent, a researcher, and administrative head of the Ghostbusters, who first banded together when the Prime Ghostbusters were kidnapped by a demonic force.
GHOSTBUSTERS 101 CADETS (Prime Dimension) - Garrett Parker, Cait Banner, Zoe Zawadzki, Evan Torres
Students of Ray Stantz. Interns. They don't get to touch particle accelerators!
ANSWER THE CALL GHOSTBUSTERS (Dimension 80-C) - Dr. Abby Yates, Dr. Erin Gilbert, Dr. Jillian Holtzmann, Patty Tolan, Kevin Beckman
Three scientists, a historian/MTA worker, and a would-be actor/would-be office manager, united to stop the apocalypse put in motion by a deranged loner.
REAL GHOSTBUSTERS (Dimension 68-R) - Egon Spengler, Winston Zeddemore, Ray Stantz, Peter Venkman
The first group of otherdimensional Ghostbusters met by the Prime team, they are similar but very different.
EXTREME GHOSTBUSTERS (Dimension 68-E) - Eduardo Rivera, Kylie Griffin, Garrett Miller, Roland Jackson
A team of young Ghostbusters mentored by the Egon Spengler of their dimension.
SANCTUM OF SLIME GHOSTBUSTERS (Dimension 50-S) - Samuel Hazer, Alan Crendall, Bridget Gibbons, Gabriel Sitter
A team from an alternate future where the Ghostbusters are older, grayer, and need a little extra help.
SUPPORT STAFF - Walter Peck, Jenny Moran, Kevin Tanaka
Those who aid the Ghostbusters' cause - or in Peck's case, oversee it.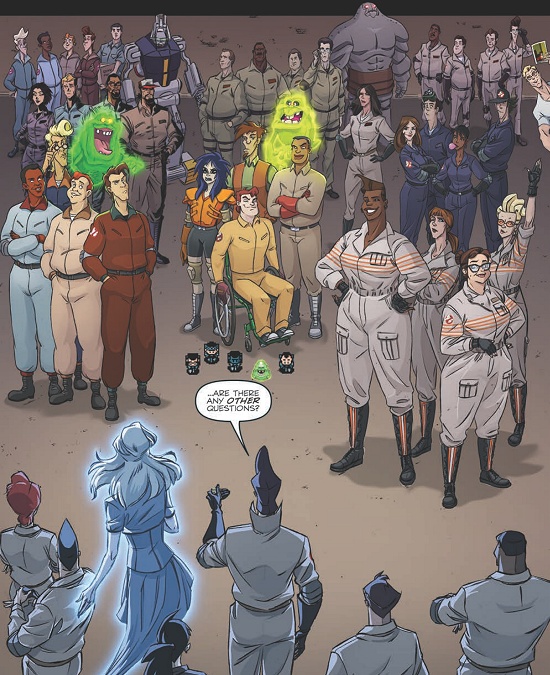 The story opens with a scene reminiscent of the first episode of
Extreme Ghostbusters
, where we find some workers in an underground tunnel who accidentally unleash the bad guy, an unnamed pumpkin-headed being that usually comes out for the festival of Samhain. Eventually, the Ghostbusters track the entity down to Liberty Island, where they are overwhelmed by a gaggle of ghosts that it brought forth. Many of these ghosts will be familiar to Ghostheads, as you'll see a lot from The Real Ghostbusters series and toyline (and even Skelevision from the Filmation crew); a few of the many Easter eggs artist Dan Schoening has thrown in (as is usual for him). With the odds against them, Egon opens several portals to call for backup. The call is answered by the teams listed above, as well as several others. Defeating these creatures is only the start of the troubles that lie ahead.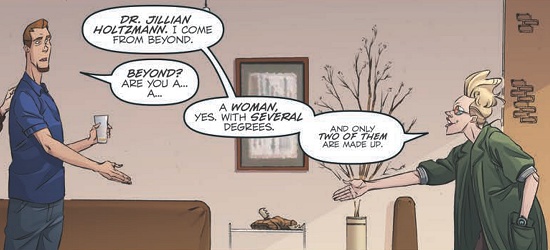 The other Ghostbusters teams don't like that the originals haven't shared their portal technology with them. That's why Jillian Holtzmann and Ron Alexander cobble together their own working portal, which unintentionally unleashes the contents of the containment unit! All of the Ghostbusters need to work together and traverse different universes to recapture the escaped specters before their missing energy causes the containment unit to become completely unstable and explode.

Let's do a quick rundown of the team-ups. For reference, here are the meanings behind the initializations: RGB = Real Ghostbusters, EGB = Extreme Ghostbusters, SOS = Sanctum of Slime, ATC = Answer the Call/2016, GVG = Greenwich Village Ghostbusters. Those without a notation are from the Prime dimension (the comic series' regular characters).
Comic Strip Dimension - Jillian Holtzmann (ATC), Bridget Gibbons (SOS), Peter Venkman, Melanie Ortiz, Roland Jackson (EGB), Egon Spengler (RGB).
Black & White Factory Dimension - Alan Crendall (SOS), Egon Spengler, Winston Zeddemore, Abby Yates (ATC), Eduardo Rivera (EGB), and Winston Zeddemore (RGB).
Sleepy Hollow Dimension - Samuel Hazer (SOS), Peter Venkman (RGB), Kylie Griffin (EGB), Erin Gilbert (ATC), Kylie Griffin, and Ray Stantz.
Chinatown Dimension - Mike the Golem (GVG), Robo-Buster (RGB/GVG), New Ghostbusters II Video Game Sprites.
Prime Dimension (Home Base) - Evan Torres, Zoe Zawadzki, Garrett Parker, Cait Banner, and Egon Spengler (EGB).
Other characters show up, but aren't part of the mission and could be considered cameos at best. Jillian Holtzmann is the 2016 team member who appears most. I think Erik Burnham finds her the most fun of all 2016 characters to write for. Not surprisingly, as the others have very little personality compared to her. She's like the fun little prize at the bottom of the crappy box of cereal known as
Ghostbusters
(2016). Kevin Beckman's head pops up several times in various panels as part of a new Easter egg added to the trade paperback by artist Dan Schoening. His artwork is always a treat. Below is a comparison of a panel from the original issue #8 and the trade paperback version (words have been removed to avoid spoilers). Kevin's head is in the middle of the panel, inside in the display case. If you need help finding Kevin's head in the rest of the book, a
list was published on the Ghostbusters Wiki
.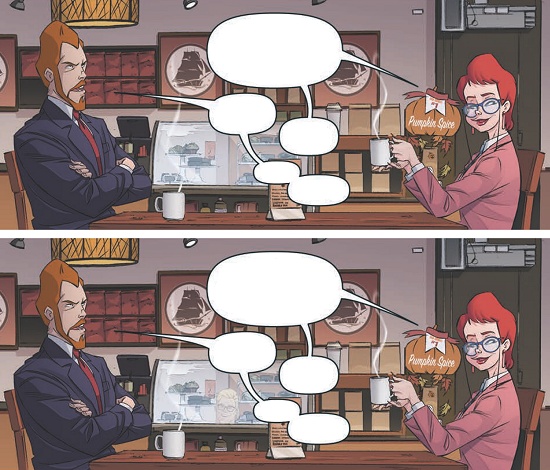 The story by Burnham is good, but DAMN, does it feel like it goes on for WAY too long. I certainly didn't feel like I breezed through the 244 pages. I think it actually took me about five to six continuous hours to read through it all. That's not to say that it was boring. There were several dialog exchanges I loved, and Jillian Holtzmann has never had a better person to put words in her mouth. A lot of the story that referred to past characters and events left me puzzled because I am YEARS behind on my comic reading. Aside from recent trade paperbacks, I last left off at the start of the now-defunct ongoing series. Eventually I *DO* plan to catch up, and review all of the old trade paperbacks collections in the process, but when is there ever time for that?!?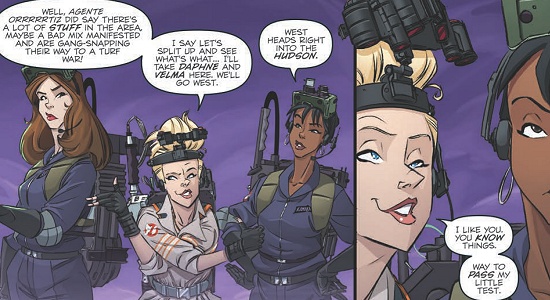 So, it was a good read, but also a LONG read!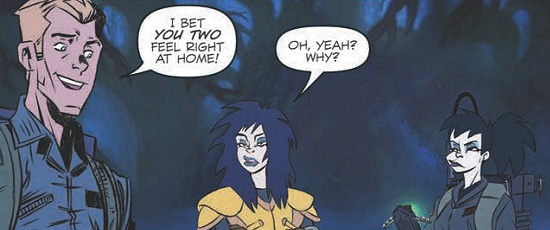 At the start and end of each "issue" is the regular Cover A and alternate Cover B art from that issue's original release. Included at the back of the book are eight pages of Ghostbusters Inc. Departmental Memos from Janine to Peck about each team of Ghostbusters, followed by eight pages of variant cover artwork from the various issues.
(click to enlarge)
I do have to wonder why the World Trade Center/Twin Towers appear in the Prime dimension (on page 36). I can only assume that 9/11 didn't happen in the comic's universe.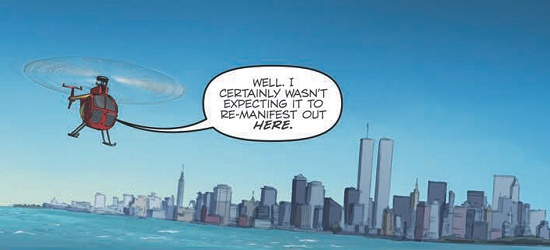 As long as you prepare for a several hour marathon reading session, or you tackle it in smaller sessions, the
Ghostbusters: Crossing Over trade paperback
is highly recommended.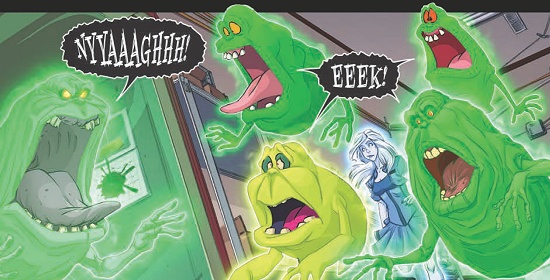 No feedback yet
Leave a comment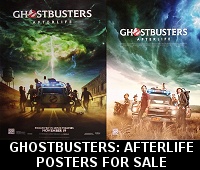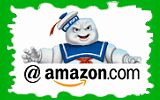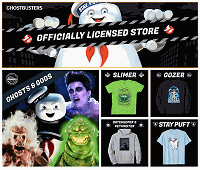 Please be aware that as an Amazon Associate, I earn a very tiny commission from purchases made though the Amazon links on this site.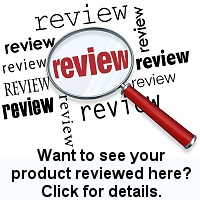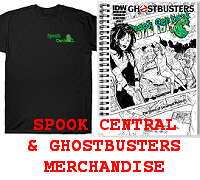 (
MY COMPARISON REVIEW
)
(
AVOID SHIPPINGEASY/STAMPS.COM
)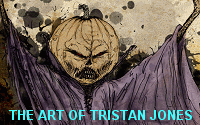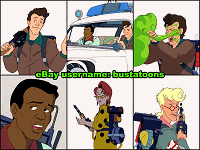 U.S. eBay (Ghostbusters stuff)
U.K. eBay (Ghostbusters stuff)