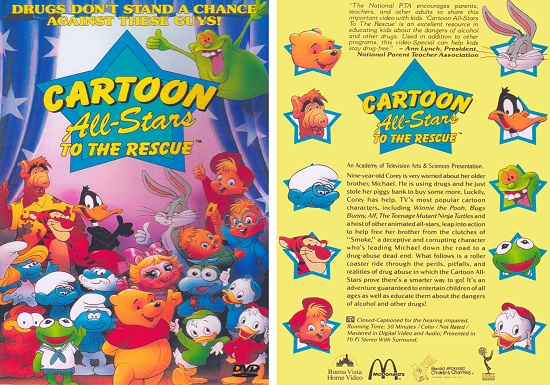 Cartoon All-Stars To The Rescue
was a half-hour animated drug prevention special starring many of the popular cartoon characters from American Saturday morning television shows, which was simulcast on April 21, 1990 on all three major American television networks (ABC, NBC, and CBS), most
independent stations
, as well as cable networks Nickelodeon and USA.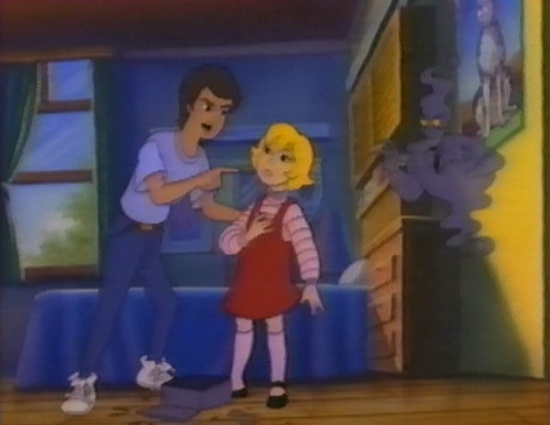 Corey (voice of Lindsay Parker), is worried about her older brother Michael (voice of Jason Marsden, who would later voice Garrett in Extreme Ghostbusters) because he's started acting differently. When her piggy bank goes missing, her cartoon tie-in toys come to life to help her find it. After discovering it in Michael's room, along with his stash of drugs, the various cartoon characters proceed to band together and take him on a fantasy journey to teach him the risks and consequences a life of drug-use can bring. The villain of the story, besides the drugs, is Smoke (voice of George C. Scott), an anthropomorphic cloud of smoke with a mafioso-like appearance and personality.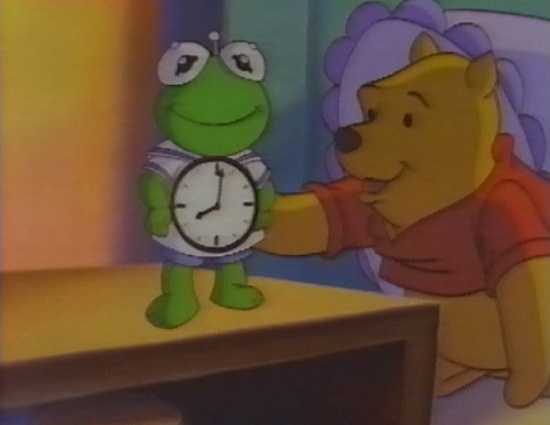 How the characters appear and whether they are real or not is inconsistent. The Smurfs come out of a comic book; ALF pops out of a framed photo; Garfield is a lamp; The Chipmunks live in a record album sleeve; Winnie the Pooh is a plush doll; Kermit is an alarm clock; Slimer materializes through the wall; Bugs Bunny appears in an alley dressed as a cop; Michaelangelo of the Ninja Turtles shows up in a sewer; Miss Piggy and Gonzo are on a rollercoaster in Michael's imagination; triplets Huey, Dewey, and Louie are in the park; Tigger is also there when they all start to sing; and finally, Daffy Duck is a carnival psychic. So, we have some characters who were inanimate objects brought to life, others who are clearly imaginary, and some who seem to be real. I firmly believe that all of the events are part of a drug-fueled "trip" that the main character, Michael, is on.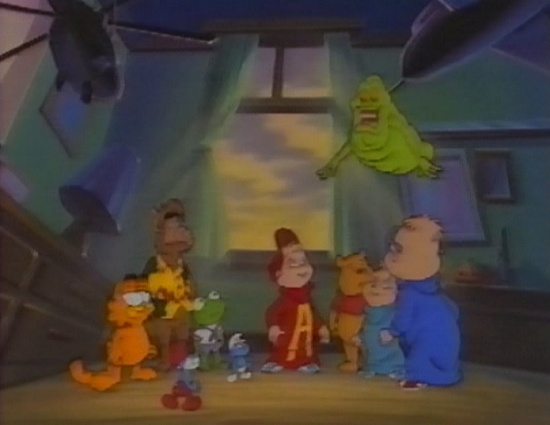 Slimer has a very brief appearance, with a total appearance time of less than one minute. He could have easily been written out without affecting the plot one bit. He materializes in Corey's room, eats her fruit-shaped lamp (which gives him the ability to shine light from his mouth), and illuminates the missing piggy bank on her dresser. He then agrees to Alvin's plan to help Michael, yet he stays behind in the house. He is not seen again until the end, when all of the characters go into a poster hanging on the wall. Yes, characters who popped out of a comic book, were previously a lamp, alarm clock, or plush doll, are now joining each other in this poster that, obviously, none of them were in before. Honestly, the only way the whole special makes sense is if you're high.
Obviously, the anti-drug message is misguided, but if you can look beyond that, it's pretty freakin' cool that characters from TEN different franchises did a crossover together. Of course, it's not an in-canon crossover, but it's still cool. Even cooler is that all of the characters are voiced by their original voice actors! So we get Frank Welker as Slimer, Lorenzo Music as Garfield, Paul Fusco as ALF, etc. It should be noted that this was the first time Bugs Bunny and Daffy Duck were voiced by someone other than Mel Blanc, who died shortly before production began. Jeff Bergman would continue to voice Bugs and Daffy in several subsequent productions.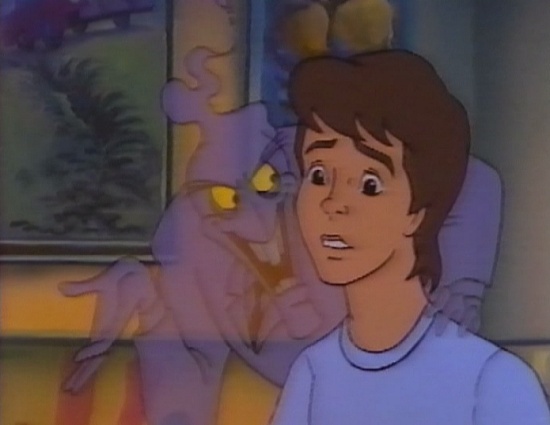 Smoke is the first of only two voice acting roles that George C. Scott did. (The other being McLeach in
The Rescuers Down Under
(1990).) The character is not named in the special itself, but his name is given in quotation marks on the back of the VHS case, as if they weren't 100% sure that was the name. Smoke is the living embodiment of Marijuana smoke, though he seems more like cigarette smoke to me. I'd like to think that Marijuana smoke is green and talks with a Jamaican accent. Smurfette appears on the poster art, but does not appear in the special itself. Conversely, Michelangelo appears in the special, but not on the poster. I'm sure that the poster was drawn up before the special was finalized, as work was done very quickly. Wang Film Productions, the overseas animation studio, had to complete the animation in only six weeks. Animation for a 22-minute TV production typically takes 12 to 16 weeks.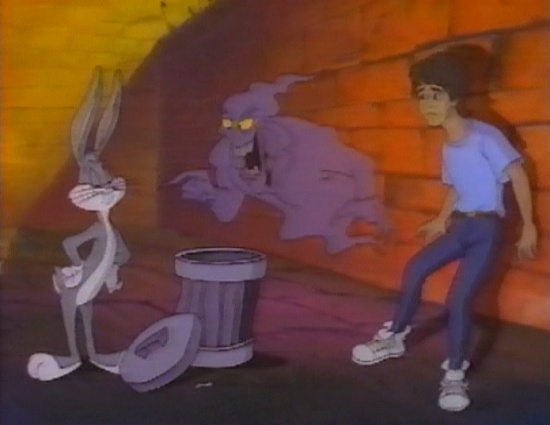 It's interesting to note that Warner Bros. gave them Bugs Bunny, but Disney wouldn't give up Mickey Mouse, or even Donald Duck. Instead, we got his nephews, who are pretty much third-rate characters in the Disney library. Of course, Mickey appeared alongside Bugs in
Who Framed Roger Rabbit
two years earlier.
Cartoon All-Stars To The Rescue
is kinda like a Saturday Morning Cartoon version of that film, which also featured characters from many different franchises appearing together in the same universe. It's also the precursor to
Toy Story
, with the notion of toys and lamps coming to life. That's not the only Disney influences to be found here. The song "Wonderful Ways To Say No" was written by composers Howard Ashman and Alan Menken, best known for their musical contributions to
Disney's The Little Mermaid
and
Beauty and the Beast
. A happy, peppy version of the song appears when the All-Stars try to convince Michael to "just say no", and a somber reprise is sung during the end credits. Man, I gotta tell you, hearing Tigger and Winnie the Pooh sing, "You'll even outgrow us one day; Forget that you know us, you may", always brings a tear to my eye. Way to end the show on such a down note.
PATREON EXCLUSIVE BONUS FEATURE
-
Cartoon All-Stars - "Wonderful Ways to Say No" MP3s
.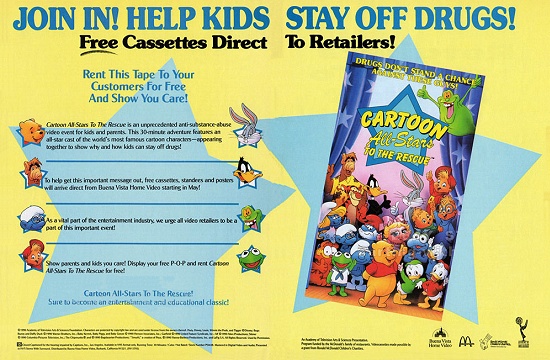 (VHS Rental Trade Ad)
For a long time, it was reported that the special was never rerun because Garfield was used without the permission of his creator, Jim Davis. Garfield and Friends (1988) writer Mark Evanier stated that Davis approved of Garfield's appearance, but the special could only be shown for a limited time as part of the agreement. The licensing agreement for the characters allowed for one
VHS videocassette release
by Buena Vista Home Entertainment (Disney), but it was only available for free rental, not for sale. Video stores were given a poster featuring the VHS cover art (you can
buy a 11"x17" reproduction
) to display in their windows or on their walls to advertise that they had the tape available for free rental, hence the "Rent It Here FREE!" banner in the upper left corner of the poster. I saw the special when it aired back in April 1990 and secured one of the rental VHS tapes from the "previously viewed" section of the video store that used to be in my town. I still have that tape, and will never sell it.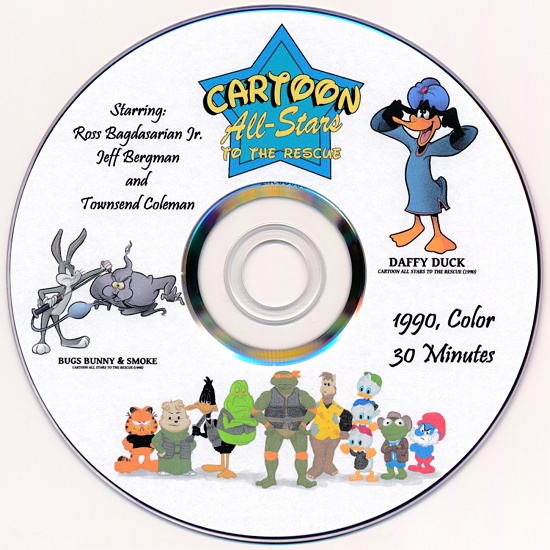 (Monsterland Media Bootleg DVD)
TJ from
Monsterland Media
also has a copy of the rental VHS, which he transferred to
a DVD that he's selling
for $17.99 (with free U.S. shipping and no sales tax). He transferred the entire contents of the VHS to the DVD, which runs for 31:34 with 6 chapters, placed every five minutes. There is a menu with chapter index, and the video is presented in the original 1.33:1 (4:3) aspect ratio.
00:00 - Buena Vista Home Video Logo.
00:09 - Ronald McDonald's Children Charities PSA.
01:10 - Show Logo/Title Screen, George & Barbara Bush Intro, Program.
29:10 - Ronald McDonald's Children Charities PSA.
30:11 - Show Logo, Drug Help Contact Info, VHS Credits.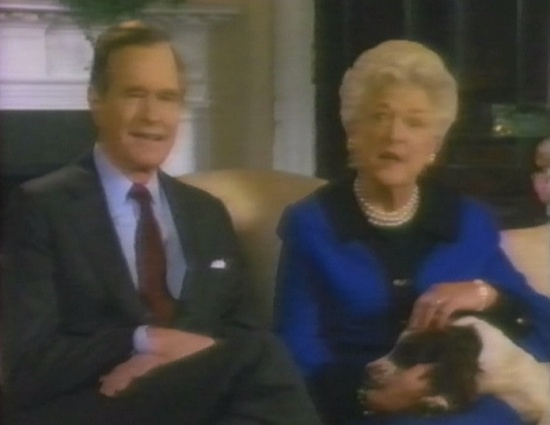 The intro featuring then-U.S. President George Bush and his wife Barbara, is part of the program, as it was shown when the special had its only U.S. television broadcast, which I had watched and taped almost 30 years ago. (In foreign markets, introductions with politicians from those countries was shown instead.) The logo that appears before it is the only title screen there is. The two Ronald McDonald's Children Charities PSAs are the same ("Love Lifted Me"), and are there because McDonald's funded the program. Hey, at least they didn't add Mac from
Mac & Me
as one of the All-Stars :-)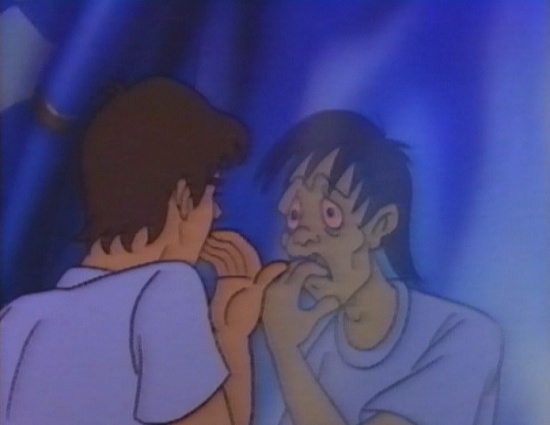 The quality is not the greatest. The picture is soft due to being a VHS transfer, colors are a bit on the drab side, and they bleed. There are MANY minor audio hiccups throughout; like one every few minutes. If you edit them out (as I did on the song MP3s), the audio plays fine, which means that it's really the audio stopping for a second for some reason. All framegrabs in this review were taken directly from the DVD, so you can judge the quality for yourself. Go to the
Ghostbusters Wiki
for the full set of framegrabs at original size. The point of the DVD is to have a great copy to own, and sadly, without some fixes, this isn't that. I'm no DVD authoring expert, but I'm sure that I can make a better copy transferring from my rental VHS copy. The whole reason I bought this DVD from TJ was to save myself the trouble of (eventually) doing that. At least TJ's DVD case artwork is a high quality reproduction of the original rental VHS artwork. So, there's that.
If you just want to watch the special, there are multiple uploads of it on YouTube. Below is a curated list of the best. Do note that both foreign language dubs feature the song in English with foreign subtitles on top, but the rest of the audio is in the stated language.
•
Entire English Tape
(32:02, 1280x720, stretched into a 16:9 frame, 22-seconds of screens at start) (uploaded by ACME Holidays & Specials)
•
Entire English Tape
(32:22, 322x240, left audio only, very poor video quality) (uploaded by Ryan Willey)
•
Spanish TV Broadcast
(29:15, 640x480, Spanish title and president in place of Bushes, TV channel logo in corner) (uploaded by Films Perdidos)
•
Spanish TV Broadcast
(29:31, 640x480, Spanish title and president in place of Bushes, uploader watermark in corner) (uploaded by Ivatad Addictions Valencia)
•
German Dub
(25:26, 1280x720, pillarboxed into a 16:9 frame, no intro, no end credits) (uploaded by Judge Daring)
•
English Fan Commentary
(32:45) (uploaded by NinjaHELL! Productions)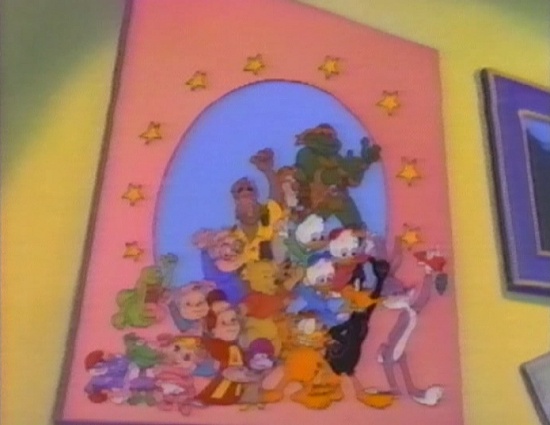 So, in closing, if you want to watch this cool, but quite dated special, the
Rental VHS
,
bootleg DVD
, and YouTube are your only options. You can also buy a reproduction of the
11"x17" rental poster
. The rental VHS is the only official home video release the special will ever get. The licensing for the characters, obviously, only stipulated limited "one time" use. If The Academy of Television Arts & Sciences Foundation, which owns the show, thought that there was any interest in releasing it commercially on DVD, I'm sure that they would have to re-license the characters. I suspect that that would be cost prohibitive at this point, though if we wait just a little bit longer, all of the characters will eventually be owned by Disney.
1 comment
Comment
from:
PEDRO FERREIRA
[Visitor]
"but Disney wouldn't give up Mickey Mouse, or even Donald Duck. Instead, we got his nephews, who are pretty much third-rate characters in the Disney library." You forget DuckTales, they were very popular.
Aug. 10, 2020 @ 09:46
Leave a comment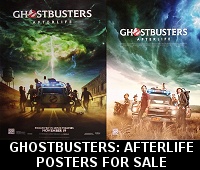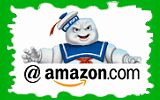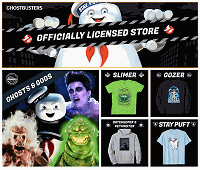 Please be aware that as an Amazon Associate, I earn a very tiny commission from purchases made though the Amazon links on this site.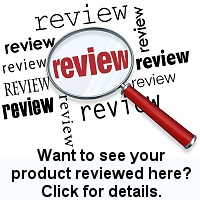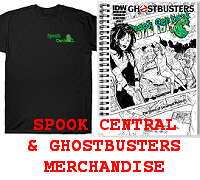 (
MY COMPARISON REVIEW
)
(
AVOID SHIPPINGEASY/STAMPS.COM
)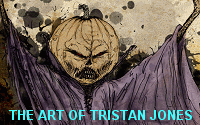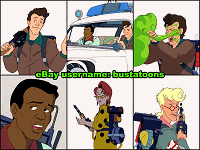 U.S. eBay (Ghostbusters stuff)
U.K. eBay (Ghostbusters stuff)