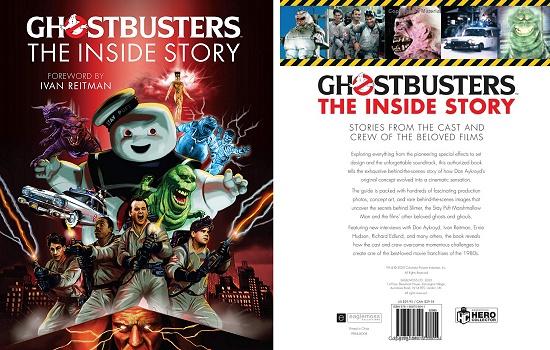 Eaglemoss, via their Hero Collector imprint, recently released
"Ghostbusters: The Inside Story" by Matt McAllister
. You might be wondering why you need this book if you already have "Making Ghostbusters" and "Ghostbusters: The Ultimate Visual History". Well, read on to learn how this book is a little bit different than those...
The 240-page hardcover book, which measures approx. 9"x11.5" with a 1" thickness, contains a dust jacket featuring a new cover illustration by Brian Williamson. It's a beautiful piece featuring Ghostbusters imagery, with Vigo and the Scoleri's from Ghostbusters II. The cover underneath is black with plain green text. The book is shrinkwrapped with a
big red sticker on the front of the wrap
. Thanks to this wrap, you'll always know if you got a new unread copy or not.
The Inside Story
only covers the two movies, with more of an emphasis on the first (pages 8-173) than on the second (pages 174-233). Although the book is structured, it's not a chronological history of the movies like "The Ultimate Visual History". It's a series of articles all based around interviews with the cast and crew, though the order is a bit random. I have no idea why "The Gatekeeper" Sigourney Weaver article, and "The Keymaster" Rick Moranis article, are separated by other unrelated articles. You'll hear from big names like Ivan and Dan, of course, but you'll also get to check on the "little guys" like Richard Beggs (Ghostbusters' sound designer) and Tom Duffield (Ghostbusters II's art director). For those people that could not be interviewed, they are quoted from previous publications and interviews, all of which are properly cited. (That includes Proton Charging for
his 2006 Rick Moranis interview
.) So, rather than being a Ghostbusters history lesson, it's more of an "obsessive nerd" look at the minutia of Ghostbusters. If you ever wanted to know about the creation of the Ecto-1's distinctive siren from the guy who created that sound effect, this is the book for you.
CHAPTER 1: THE MAKING OF GHOSTBUSTERS
06. Foreword by Ivan Reitman
08. Introduction to Ghostbusters
10. Dan Aykroyd: The Original Ghostbuster (from Ecto Mag #1)
16. Bill Murray: The Legend of Wild Bill (from Ecto Mag #8)
22. Harold Ramis: Memories of Egon (from Ecto Mag #3)
28. Ernie Hudson: Winston's World (from Ecto Mag #7)
34. Ivan Reitman: Practical Magic (from Ecto Mag #2)
40. Thom Enriquez Concept Art (from Ecto Mag #9)
44. Joe Medjuck: The Phantom Producer (from Ecto Mag #5)
50. Costume Drama (from Ecto Mag #21)
52. Sigourney Weaver: The Gatekeeper (from Ecto Mag #16)
58. Firehouse (from Ecto Mag #36)
60. Rick Moranis: The Keymaster (from Ecto Mag #10)
64. Bernie Wrightson Concept Art (from Ecto Mag #19)
66. Annie Potts: Ghostbusters. Whaddya Want? (from Ecto Mag #4)
72. Leading Lights (from Ecto Mag #21)
74. William Atherton (from Ecto Mag #12)
78. No Ghost Logo (from Ecto Mag #26)
80. Jennifer Runyon (from Ecto Mag #11)
82. John Rothman (from Ecto Mag #9)
84. Montage Madness (NOT IN ANY ECTO MAGS AS A WHOLE)
86. Michael Ensign (from Ecto Mag #17)
88. Ron Croci Concept Art (from Ecto Mag #11)
90. Spook Central (from Ecto Mag #19)
92. Deleted Scenes (from Ecto Mag #28)

CHAPTER 2: VISUAL EFFECTS OF GHOSTBUSTERS
096. Richard Edlund: The Big Boss (from Ecto Mag #11)
102. Inside The Ghost Shop (from Ecto Mag #13)
106. The Library Ghost (from Ecto Mag #7)
112. The Story of Slimer (from Ecto Mag #3)
118. Attack of the Terror Dogs (from Ecto Mag #6)
124. The Candyman (Bill Bryan) (from Ecto Mag #20)
130. Optical Illusions (from Ecto Mag #4)
134. Small World (from Ecto Mag #15)
138. Slime Time! (from Ecto Mag #27)
140. The Armchair (from Ecto Mag #23)
142. Firestarter! (from Ecto Mag #5)
146. The Burning Man (from Ecto Mag #24)

CHAPTER 3: GHOSTBUSTING TECH
150. Ecto-1: The Wallower (from Ecto Mag #1)
152. Stephen Dane's Ecto-1 Designs (from Ecto Mag #14)
154. Proton Packs (from Ecto Mag Special Issue)
156. Neutrona Wands (from Ecto Mag Special Issue)
158. PKE Meter (from Ecto Mag #11)
160. Ghost Traps (from Ecto Mag Special Issue)

CHAPTER 4: GHOSTLY SOUNDS
164. Strange Noises (from Ecto Mag #16)
168. The Perfect Score (from Ecto Mag #6)
172. Chartbusters! (from Ecto Mag #24)

CHAPTER 5: THE MAKING OF GHOSTBUSTERS II
174. Introduction to Ghostbusters II
176. Ghostbusters II Location Guide (from Ecto Mag #12)
180. Kurt Fuller (from Ecto Mag #14)
184. Gary Montalbano Concept Art (from Ecto Mag #8)
136. Ecto-1A Concept Art (from Ecto Mag #22)

CHAPTER 6: VISUAL EFFECTS OF GHOSTBUSTERS II
190. The Magic Factory (from Ecto Mag #22)
194. The Scoleri Brothers (from Ecto Mag #9)
200. The Scoleri Brothers Early Concept Art (from Ecto Mag #13)
202. The Living Painting (from Ecto Mag #10)
206. Vigo Concept Art (from Ecto Mag #15)
208. The Second Slimer (from Ecto Mag #12)
212. The Ghost Nanny (from Ecto Mag #16)
214. Ghost Stories (Titanic & Theater Ghost) (edited from Ecto Mag #25 & #15)
216. The Mink Coat (from Ecto Mag #19)
218. Washington Square Ghost (from Ecto Mag #21)
220. Ghost Jogger (from Ecto Mag #17)
222. Frog Ghost (from Ecto Mag #18)
224. Bathtub Monster (from Ecto Mag #8)
226. Mood Slime (from Ecto Mag #20)
228. The Statue of Liberty (from Ecto Mag #13)
232. Possessed! (from Ecto Mag #14)
The Inside Story
is actually a collection of 64 magazine-like articles (and two new introductions, plus a new foreword by Ivan Reitman) originally printed in the
Build The Ecto-1 model subscription magazines
. In the Table of Contents list above, I have noted which articles have appeared in which model magazines (henceforth referred to as "Ecto Mags"). As you can see, this book doesn't really have any exclusive articles, - the "Montage Madness" article on page 84 seems to be one paragraph from each of several different articles - but the Ecto Mags have LOTS of exclusive articles.
The Inside Story
is a cheap way for fans who want the Ecto Mags, but not the model, to get a great deal of the content from them.
Eaglemoss/Hero Collector does not hide the fact that this book contains previously-released material, as you will find the following blurb on the copyright page: "Most of the contents of this book were originally published as part of Ghostbusters: Build the Ecto-1 2019-2020". I think there might be a legal requirement to state when an item contains previously-released materials, as I've seen this on trade paperback collections, and album re-releases. Be aware that since the articles were meant to be read separately, there is some repeated information. The text and photos are high quality printing on high quality paper, thicker than what is used in the magazines.
It should be noted that some articles are not 100% the same as their magazine counterparts. I mean, the text and the layout seems to be 100% the same, but some photos are different. Below is a page from the Dan Aykroyd article, which also appears in Ecto Mag #1 (
pdf downloadable here
). The magazine is on the left and the book is on the right.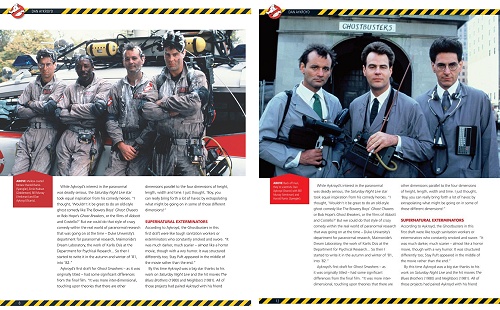 As we are now 36 years removed from the release of the first movie, and 31 years from the second, you might wonder what more is there to learn about Ghostbusters that we don't already know from "Making Ghostbusters", "Ghostbusters: The Ultimate Visual History", and the other publications on the
Ghostbusters
and
Ghostbusters II
books pages. Well, since
The Inside Story
tackles the subject matter differently, there are little tidbits of information that were new to me. (If any of this is old, then forgive me for having a bad memory.)
We all know that roles were planned for John Belushi, Eddie Murphy, and John Candy, but did you know that a young Julia Roberts auditioned for the role of Dana (page 53) and that Sandra Bernhard was originally considered for the role of Janine (page 67)? Jack Hardemeyer, the mayor's assistant in the second film, was not the role that Kurt Fuller originally auditioned for. He originally read for the part of "guy whose desk catches on fire" (page 181) - a character that does not appear in the final film. Fuller is not the only actor to get a role other than the one he auditioned for. Michael Ensign thought he won the part of Walter Peck when he got the call from his agent, but instead he won the "booby prize" of Hotel Manager. In the end, he realized that his role wasn't so bad after all since he "got prestige with [his] godsons when MAD magazine came out with a parody of Ghostbusters, and there were two drawings of [him] in it!" (page 87)
The book goes into extensive detail about the special effects. Heck, the Ghostbusters II section is almost entirely about the effects. If you've ever wondered why the effects look so good, and not quite as dated as other films of the era, here's Ronald B. Moore to explain (page 133).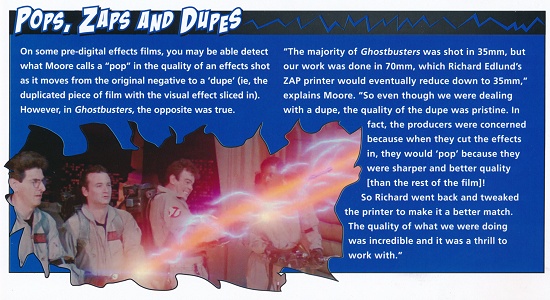 One of the biggest physical effects in the first movie is the massive remains of the Stay Puft Marshmallow Man falling upon Walter Peck. We all know by now that it was actually shaving cream dumped upon poor William Atherton, but foreman Bob Shelley gives us some more details about the gag (page 139).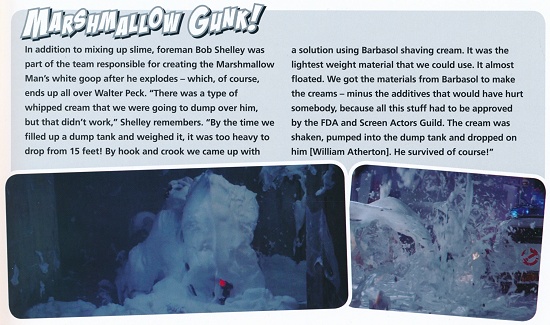 Speaking of marshmallow, over on page 129, Billy Bryan, the man inside the Stay Puft suit explains why Stay Puft remains so well loved after all these years. "It's because his head is shaped like our mother: the TV screen! That's my philosophy anyway." He also explains why Stay Puft is missing his tie.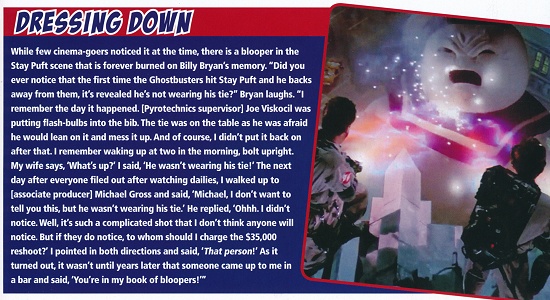 The book is FILLED with little fun facts about all of the ghosts we know and love. In this Benton Jew illustration that appears on page 200, we see that one of the early ideas for the Scoleri Brothers was to have them appear as skeletal gangsters.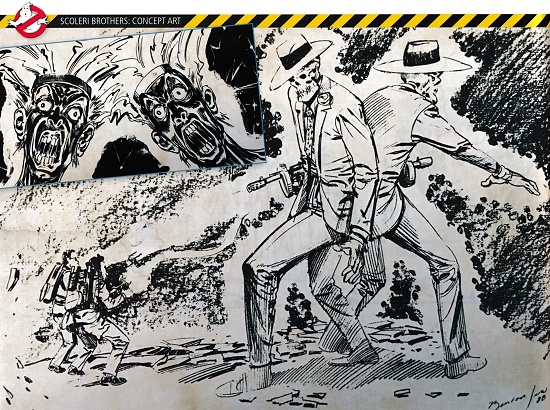 Of course, the final look was much different, thanks to concept artist Henry Mayo. As Mayo says on page 195, "They were kind of a tribute to Archie Goodwin, who was the [writer] of
Uncle Creepy
and
Cousin Eerie
from Warren comics. At the time Archie was sick with cancer, so I was thinking about him when I came up with those designs. Jack Davis designed
Uncle Creepy
and
Cousin Eerie
, and you can definitely see those characters in the Scoleris."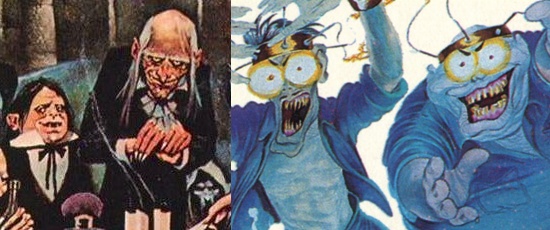 As expected, especially for a book as heavily invested in the special effects as this one, good old Steve Johnson is interviewed. The man behind Slimer discusses his creation of the onion-headed green gluttonous ghost on page 115. However, one particular detail differs from his recollection in a previous interview.
The night before what was supposed to be the final big approval meeting, there was a new twist. "Word came down from the studio that they wanted it to be like John Belushi. I was like, 'Why didn't anyone mention this three months ago when I started the process?' But Ramis and Aykroyd wanted it to be a homage to their deceased friend, based on Belushi's character Bluto from Animal House. So I stayed up all night to meet the deadline and make it look more like John Belushi." Johnson's all-nighter paid off. The next day, word came through that Onionhead was finally approved.
While that sounds fine in and of itself, here's what Steve said in a 2018 interview that appeared in
The Movies That Made Us
(from 27:09 to 28:07):
Steve Johnson: We had spent weeks, months, designing him, and ended up doing 12 before we finally agreed on one. And the night before he was meant to be approved, all the executives were coming next morning to sign off on him, I get a note saying he's got to look like John Belushi. [...] How do I get this to look like John Belushi? This is ridiculous. And you tell me the night before?" This is insanity.

Narrator: Nevertheless... Steve devoted all his energy and talent into transforming this green ghost into an appropriate tribute to the late Belushi.

Steve Johnson: I kind of didn't and told them I did. And they said, "It looks great. [chuckling] It looks just like Belushi."
So, which is it? Did Steve stay up all night to make it look more like John Belushi, or did he just tell the executives that he did, when he really didn't? Which version does Steve want to stick with?
As great as this book is, it's not without its faults.
ATTENTION ALL FUTURE GHOSTBUSTERS BOOK PUBLISHERS: I'm available to be hired as a proof reader. I can help you avoid all of these easily-avoidable errors that I'm about to mention.
Since I'm now bringing these errors to Eaglemoss' attention, maybe they will be corrected when these articles appear in the Ecto Mags. Of course, if the mags have already been designed and printed, then maybe not.
If you didn't already notice it in the two photos that appear in the Dan Aykroyd article comparison image previously shown,
The Inside Story
, and consequently the Ecto Mags, use
Sony's altered photos
. This isn't Eaglemoss' fault, as Sony gave the photos to them this way. I'm not going to list every altered photo in the book, because there are way too many. It's mainly for the first movie, and seems to mainly be confined to the first two chapters. Be on the lookout for blurred faces and no hood emblems on the Ectomobiles, among other things I noted in
my altered photos article
. The very first photo in the book, of the guys posing on the street outside 55 Central Park West, has blurred faces in the background on the left and right. The photo of Peck fleeing the firehouse on page 75 features TWO blurs on the right side: the face of an authority figure, and the NYPD logo on the FAKE police car. Thankfully, as the book progresses, it starts to rely more on movie frames (these are the softer photos that stand out from the rest) and behind-the-scenes special effects photos, which are unaltered.
On page 150 is the common "Ray and Winston exit Ecto-1 outside Fort Detmerring" photo with the hood emblems erased. That wouldn't be anything special to note, except that THREE PAGES LATER (on page 153), another photo from the same scene/photoshoot appears WITH THE HOOD EMBLEMS VISIBLE! This is the ONLY photo in which those hood emblems have NOT been digitally erased. I wonder if Page 153 was "exempted" from the emblem eraser because a photo of Eaglemoss' own Ecto-1 model with the emblems is also on that page.
I can't say that the use of altered photos was a surprise. For the past 10 years, I've come to expect it from any officially-licensed publications. It was also no surprise that I found some spelling and grammar errors. They're all really minor, and won't depreciate your reading enjoyment, but I noted them, so I'll list them real quickly. Some of these are regional nitpicks, but that's why localizations are created for some printed materials.
Page 93, features the Australia and New Zealand use of the term "parking inspector" to mean "parking enforcement officer". People in the U.S. would not use "inspector" to describe this type of civil servant.
Page 111, repeats "the" twice on the third line.
Page 145, "looks a whole lot whole worse".
Page 150, missing "on" between "lights" and "either" on the fourth line.
Page 172, "brought into contribute" should be "in to" as two words.
Page 175, in the introduction for Ghostbusters II, is a mistake that I REALLY CAN'T BELIEVE MADE ITS WAY INTO THE BOOK: Dan Aykroyd's last name is misspelled as "Ackroyd". Dan's name is spelled correctly several times on the same page, not to mention everywhere else in the book. Even though this is the only instance of that common gross misspelling, considering that he's the guy who CREATED the thing the book is about, this error should have NEVER appeared even once!





Page 175, Jack Hardemeyer's last name is misspelled as "Hardmeyer".
Page 184, missing "with" after "could come up" on 11th line.
Page 201, in the Henry Mayo quote, it says, "have me to do the painting". The word "to" should not be there.
Page 233, Kool Aid is misspelled as "Cool Aid".
Page 233, features the British use of the word "torch" to mean "flashlight". U.S. readers will think Dennis Muren was running around the stage with a "blowtorch", like some mad pyromaniac, until they read the next sentence, which is a quote that retains "flashlight".
More serious than those errors are the small bunch of factual errors that appear in the book. Let's get nerdy and discuss...
• MAYOR LAST NAME - In the introduction on page 9, the mayor's last name is given as "Clotch". In
movie canon
, the mayor does NOT have a last name. The surname "Clotch" originates from
Ed Naha's Ghostbusters II novelization
, but that's not movie canon; only what appears in the movie would be.
• PATTY'S UNCLE'S LAST NAME - Okay, this one isn't necessarily an error, but more of a "where the fluff did THAT come from?" Near the end of the Ernie Hudson article on page 33, his role in Ghostbusters (2016) is mentioned as "Bill Jenkins". The movie only credits the character as "Uncle Bill". I wonder if the author was given a Ghostbusters (2016) movie script by Sony and the last name is in there. My compatriots from the Ghostbusters Wiki say that Uncle Bill's last name was never given in any of the movie novelizations. It's been a while since I read them, so I don't remember, but I trust them. Besides, if it did, it would be in the
Uncle Bill article
. So, where did "Jenkins" come from?
UPDATE - 7/24/2020
Thanks to my contact at Eaglemoss, I was put in touch with author Matt McAllister. With his permisison, here is his response about "Bill Jenkins": "Unfortunately I can't remember for sure where the reference to 'Jenkins' originally came from. I checked my Ernie Hudson transcript and he doesn't reference the name himself. The surname is cited as 'Jenkins' widely online, including in the Hollywood Reporter article, but no one from the production appears able to confirm it. So it may be erroneous. I'll let you know if I hear for certain either way. Feel free to include my answer."
• A DIFFERENT KIND OF CONTAINMENT UNIT - Page 24 features a photo of Egon "tinkering with the Ghostbusters' containment unit". Except that's not what it is, and it's printed sideways. It's really a photo of Egon working on a ghost trap from a
deleted scene
. Yes, technically a ghost trap is a type of "containment unit", but that name is distinctively used for that big "holding cell" in the headquarters' basement, and not for the traps.
• ANY SIGNATURE WILL DO - Ghostbusters jumpsuits are profiled, and page 52 shows a photo of one with "Bill Murray" written on the tag. The caption says that it was "autographed" by him. That's not his autograph. It's his name written by the costume designer to keep track of whose costume is whose.
• GOOD ENOUGH FOR GOVERNMENT WORK - According to page 75, Walter Peck works for the "Environment Agency". Ummm, no. He worked for the "Environmental Protection Agency".
• A GHOSTLY AUTOMOBILE - The
Zombie Taxi Driver
is referred to as the "Taxi Ghost" on page 84. I would consider this an error since, the automobile itself is not the ghost, as this name implies. The fans don't usually refer to this entity as a "ghost" because of it's undead and rotting physical form, but technically it's not a zombie, either. It was a formless spirit that came in through the tailpipe of the taxi, and then took on physical form once in the driver's seat. At the very least, the book should have called him the "Taxi Driver Ghost".
• DASTARDLY DELETED SCENES - The deleted scenes article on pages 92-93 contains a bunch of factual errors. (UPDATE, 7/24/2020 - Author Matt McAllister explains the photo errors: "We did originally include direct photos from the City Hall and Nobel Prize deleted scenes but unfortunately had to replace them very late in the day as we couldn't clear the rights to use them in time.")
LOUIS ENCOUNTERS MUGGERS - The book calls this the "Subway Scene" because it says that it takes place in a subway after Louis escapes the firehouse. As scripted, the scene takes place in Central Park during the montage after the containment unit explodes. (UPDATE, 7/24/2020 - Author Matt McAllister explains the error here: "'Subway' usually means a tunnel or underpass here in the UK (which is what the 'Subway Scene' refers to) rather than an underground railway station. It probably should have been reworded to avoid confusion!")





LEAVING CITY HALL - This is the scene where everyone gets ready on the City Hall Loading Dock, and Janine gives Egon her "lucky coin". You wouldn't know that from the photo accompanying the description, which shows the parked Ecto-1 (hood emblems erased) outside the Shandor Building, with chaos all around, while the guys are up on the roof.
NOBEL PRIZE (ASPIRATIONS) - The guys walk down the university stairs to their lab, and then inside the lab, they talk to Dean Yaeger. The talk is extended in the deleted "Stake" scene from the DVD/Blu-ray. The photo used for this scene is from INSIDE the lab, which is NOT the same scene as them walking down the stairs discussing the Nobel Prize. Since video frames were used for other deleted scenes, they could have used one here, too.


• THAT SCENE IN THE MOVIE YOU DIDN'T SEE - The
only
unaltered photo of the Ecto-1 at Fort Detmerring (on page 153) is captioned, "as seen in the first movie". The last time I checked, the Fort Detmerring scene was not in the first movie. Maybe I missed it.
In spite of these factual errors,
Ghostbusters: The Inside Story
is a great resource and a nice companion piece to "Making Ghostbusters" and "Ghostbusters: The Ultimate Visual History". It's worth the $29.95 MSRP ($39.95 in Canada). If you need more convincing, be sure to check out the
page gallery
and the
odds & ends gallery
on Spook Central Facebook page.
This item was provided by Eaglemoss for review on this site.
5 comments
My best guess is the writer of Inside Story looked at the 2016 Movie's Wikipedia page and saw "Bill Jenkins" and didn't question the lack of sources.
But I did see a mention of "Bill Jenkins" in a July 2016 Cinema Blend article.
Jul. 15, 2020 @ 18:20
I think Dan Akroyd and Harold Ramis did a great job of writing the Ghostbuster Scripts. I'm a Ghostbuster Fan and I love Harold Ramis.
Jul. 16, 2020 @ 12:27
On page 13 there's a picture of Ray looking at the light of the neutona wand just before trying to catch Slimer in the ballroom.
Yet, the caption says Ray is looking at some PKE valences
Jul. 18, 2020 @ 05:59
Good catch, Raffaele. I remember looking at the photo, but I don't think I bothered reading the caption. Truth be told, I didn't read a lot of the captions, so there might be more errors I missed. - Paul
Jul. 18, 2020 @ 16:08
Comment
from:
PEDRO FERREIRA
[Visitor]
You really wanted that job didn't you?
Aug. 10, 2020 @ 11:20
Leave a comment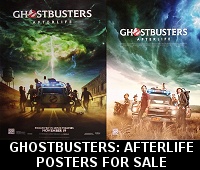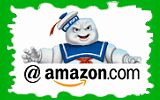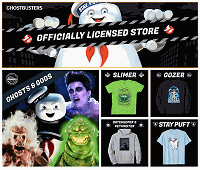 Please be aware that as an Amazon Associate, I earn a very tiny commission from purchases made though the Amazon links on this site.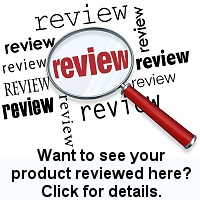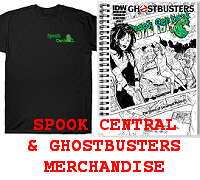 (
MY COMPARISON REVIEW
)
(
AVOID SHIPPINGEASY/STAMPS.COM
)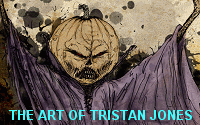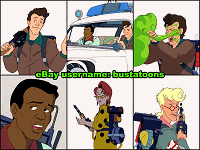 U.S. eBay (Ghostbusters stuff)
U.K. eBay (Ghostbusters stuff)