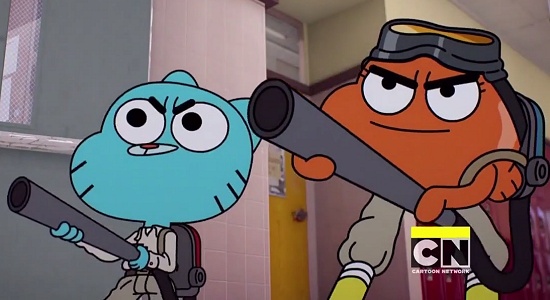 Recently,
Ghostbusters News featured an article
which showed that a piece of Ryo Yamazaki's score from the recently-released video game
Balan Wonderworld
sounded a lot like a piece of Elmer Bernstein's
Ghostbusters
score. This isn't the first time that another composer was inspired by Bernstein's work. Read on to find out more...
Elmer Bernstein composed many pieces for
Ghostbusters
that didn't end up in the film; having been replaced with pop music, much to his chagrin. One piece was a rousing "call to arms" theme for the Ghostbusters entitled "We Got One!", which would have played when they got the Sedgewick call. Of course, it was replaced with the Bus Boys' "Cleanin' Up The Town". If you've not listened to any of the
score albums
(
buy the latest one here
), give "We Got One!" a listen below.
Elmer Bernstein - "We Got One!" (skip to 0:25)
The Amazing World of Gumball
episode
"The Menu"
, which premiered on
March 6, 2017
(Season 5, Episode 27), is about Gumball and Darwin helping their father Richard find a secret item on the Joyful Burger menu. When all else fails, Richard suggests that Gumball and Darwin get jobs at Joyful Burger in hopes of infiltrating the business and finding out the secret burger's name. What follows is a montage showing Gumball and Darwin climbing the corporate ladder and coming to dominate the Joyful Burger franchise, eventually selling shares of the company and buying a mansion with the profits. After a news reporter asks them why they got into the industry in the first place, they are reminded of what they initially set out to do.
The music that plays during this montage sounds awfully familiar. Take a listen...
What do you think? Does it sound like Bernstein's piece from Ghostbusters, or am I just hearing things? Post a comment below to let me know what you think!
VIP EXCLUSIVE BONUS FEATURE
-
Original 1280x720 MKV Video Clip + Flac Lossless Audio File
.
This is not the only
Ghostbusters
reference in
The Amazing World of Gumball
. There are a few more, which I will write about in due time.
No feedback yet
Leave a comment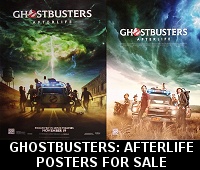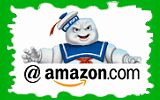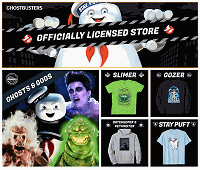 Please be aware that as an Amazon Associate, I earn a very tiny commission from purchases made though the Amazon links on this site.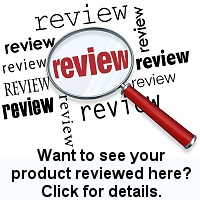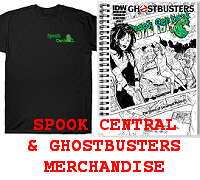 (
MY COMPARISON REVIEW
)
(
AVOID SHIPPINGEASY/STAMPS.COM
)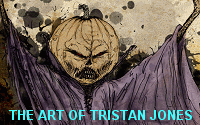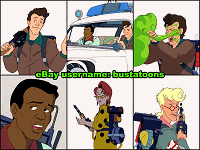 U.S. eBay (Ghostbusters stuff)
U.K. eBay (Ghostbusters stuff)