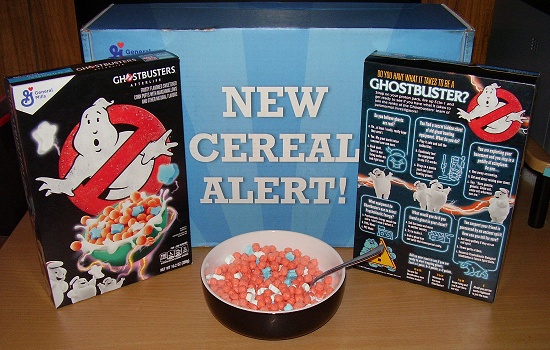 General Mills recently released "Ghostbusters: Afterlife" cereal to supermarkets across the United States. They were kind enough to send me a press kit containing a box. Read on to find out more about it...
Over 35 years ago, back in 1985, dog food company Ralston-Purina released the original
"Ghostbusters" cereal
. As proclaimed in the
television commercial
, the cereal had "marshmallow ghosts" and red and yellow "fruit-flavored O's" (prohibition symbols). Later on,
green and purple ghost marshmallows were added
, with the former meant to represent the ever-popular Slimer. Although it was originally based on the first film, a short while after
The Real Ghostbusters
premiered, the cereal was renamed to "The Real Ghostbusters". For a brief while in 1989, it was renamed to "Ghostbusters II", and then to "Slimer and The Real Ghostbusters" until Ralston-Purina put the cereal to rest around 1990/1991. (VIPs can
download my raw scans of many of the differently-titled boxes
.)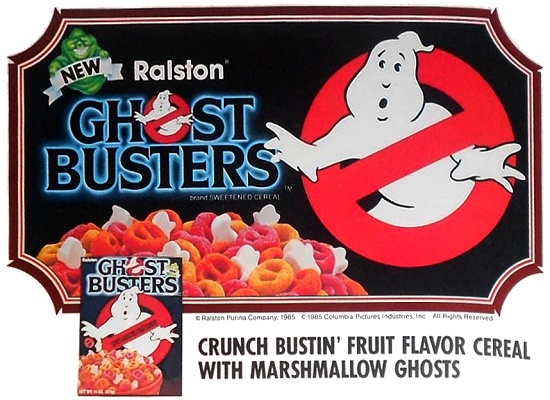 (advertisement courtesy of the Ghostbusters Wiki)
Thirty years later, Ghostbusters cereal is back!
Let me make it clear that, unlike the
Hasbro Kenner Classics Real Ghostbusters toys
, which are new things that are designed to look like old things, the new General Mills cereal is not meant to be the Ralston-Purina cereal. Yes, there are similarities; but it's a completely different thing. So, with that in mind, let's look at the press kit that General Mills sent me.
The kit shipped in this big 19"x13"x6" which proudly proclaims "NEW CEREAL ALERT!" on the top.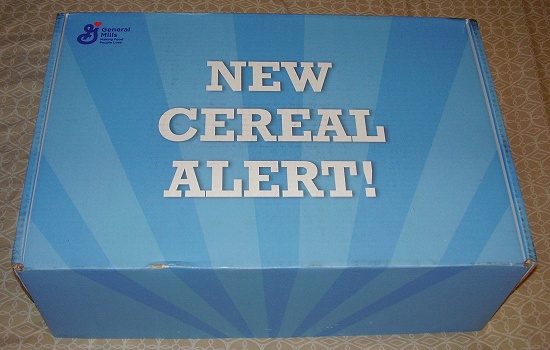 The bottom of the box features bowls of all of the Big G cereals - such as Lucky Charms, Cinnamon Toast Crunch, and Cheerios - and the main mascots of the company, with the slogan, "The Taste Your Family Loves"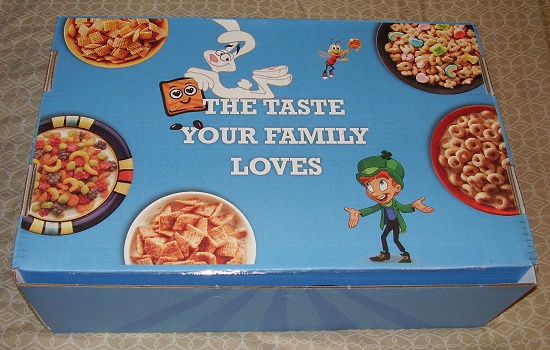 Opening up the box, I find one mid-size 10.2oz box of "Ghostbusters: Afterlife" cereal, a social media disclaimer card, and some festive confetti.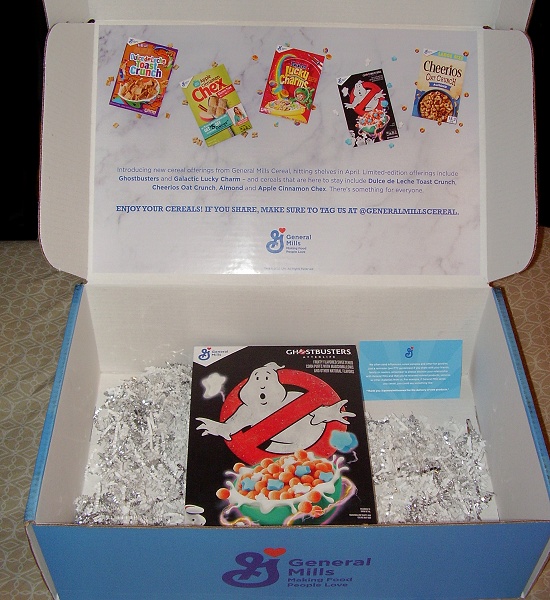 I really thought they would have included two boxes of cereal in such a big box: one mid-size 10.2oz box and one "Family Size" 18.6oz box.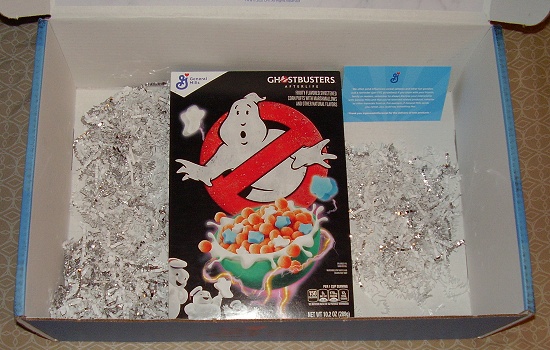 On the inside cover is a large ad for the five new April 2021 cereals: Dulce de Leche Toast Crunch, Almond and Apple Cinnamon Chex, Galactic Lucky Charms, Ghostbusters, and Cheerios Oat Crunch. Galactic Lucky Charms and Ghostbusters are "limited-edition offerings", while the others will be available on a more permanent basis.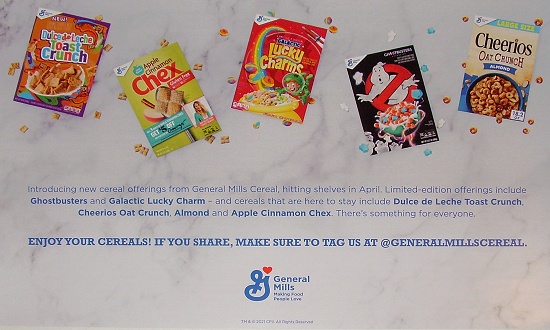 The cereal is available in two sizes. The standard "Mid-Size" 10.2oz box carries a MSRP of $2.50, while the larger "Family Size" 18.6oz box has a MSRP of $3.99. I only have the 10.2oz box (measures 7.5"x11"x1.75"), but I assume that the 18.6oz box features the same deco on all sizes. The front has the riveting Afterlife No Ghost logo, with a spooky bowl of cereal underneath that is being trapped in a proton stream. The
Mini Pufts
are in the lower corner looking super excited to sacrifice their marshmallowy lives to be in the bowl.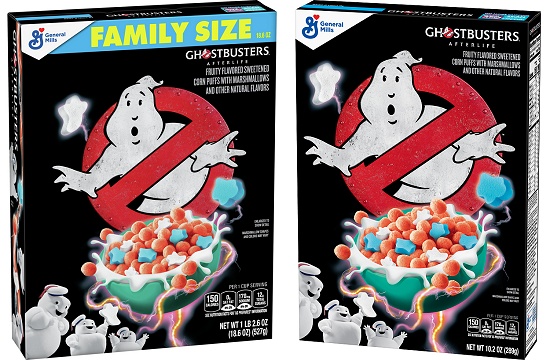 The top and bottom of the box have the movie title and various required logos. One side panel has the
nutritional facts
and ingredients:
Ingredients: Whole Grain Corn, Sugar, Corn Meal, Corn Syrup, Modified Corn Starch, Salt, Canola Oil, Dextrose, Tricalcium Phosphate, Gelatin, Trisodium Phosphate, Natural and Artificial Flavor, Red 40, Blue 1.

Vitamins and Minerals: Calcium Carbonate, Vitamin C (sodium ascorbate), Iron and Zinc (mineral nutrients), Vitamin A (palmitate), A B Vitamin (niacinamide), Vitamin B1 (thiamin mononitrate), Vitamin B6 (pyridoxine hydrochloride), Vitamin B2 (riboflavin), Vitamin D3, A B Vitamin (folic acid), Vitamin B12.

MAY CONTAIN WHEAT INGREDIENTS.

Contains Bioengineered Food Ingredients
The opposite side panel has the Mini Pufts and cereal pieces in a proton stream.

On the entire back of the box is a quiz to determine if you "have what it takes to be a ghostbuster".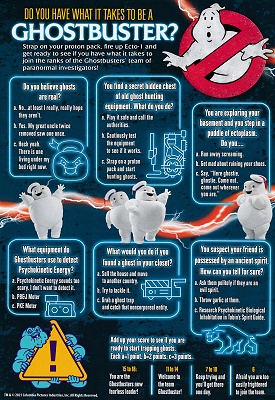 (click to enlarge)
Now, I think it's time to open up the box and see what the cereal looks like. Like I said before, it is NOT meant to look like the original 1980s cereal. Also, there is no toy inside :-(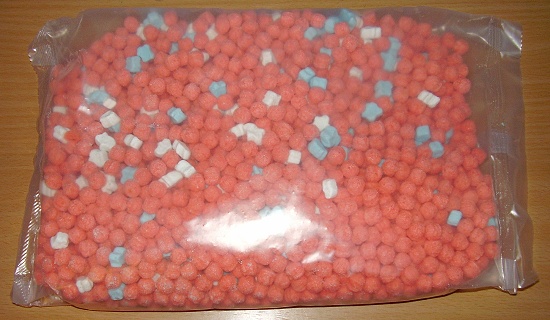 It's comprised of "fruity flavored sweetened corn puffs with marshmallows and other natural flavors". The crunchy little pink round pieces are reminiscent of General Mills'
Kix cereal
. The white and blue ghost marshmallows are meant to represent the Mini Pufts and Muncher, respectively. It does taste fruity and is enjoyable, though it won't replace Lucky Charms as my favorite cereal. I wish General Mills would have made the pieces look like the original cereal's prohibition symbols, as that is more fitting than the little pink balls. It also would have been nice if they went retro and included a hologram on the front cover, as the original cereal did on several occasions.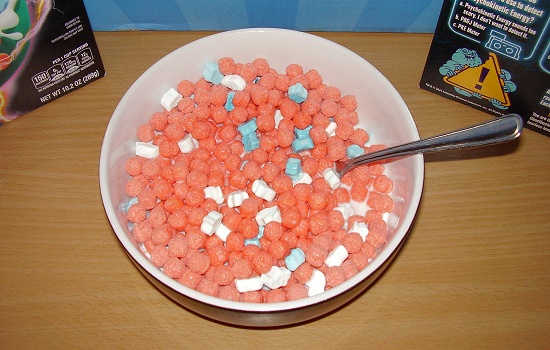 Thankfully, the cereal is not store-exclusive. You should - hopefully - see it popping up in
supermarkets all across the United States
right now. That is, of course, if the eBay scalpers don't hog it all. My friend Matthew Kaplowitz found it in a small shop in Queens, New York; but I have not been able to find it in neighboring Long Island. It seems to be hit or miss right now, but I'm sure General Mills is working on making it as widely available as possible.
It is said to be available only for a "limited time", but there has been nothing said as to how "limited" that time period is. With the movie itself coming out in November, and the cereal out six to seven months earlier, it would be really sad if the cereal is gone by the time the movie is released. General Mills, PLEASE keep this on the shelves for MANY years to come! Coca-Cola kept Ecto Cooler out there for almost a DECADE. Let's see you best them :-)
If you have to resort to buying it online, things are rather bleak.
Walmart's listing
for the 10.2oz box (though the listing photos are for the 18.6oz box) is not available for purchase. That leaves you with overpriced second-hand resellers on
Amazon Marketplace
(Spook Central earns a small commission off Amazon sales) or
eBay
.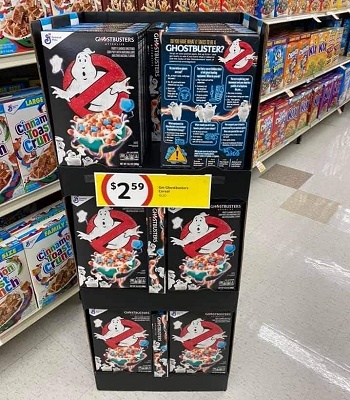 (Display in Kroeger's, April 2021. Photo by
CAT5 Ghostbusters
)
*
VIP-EXCLUSIVE BONUS FEATURE:
All of my original high-res photographs from this article
.
The cereal press kit was provided by General Mills for review on this site. Additional cereal was provided by
Matthew Kaplowitz
of
NerdNewsToday
.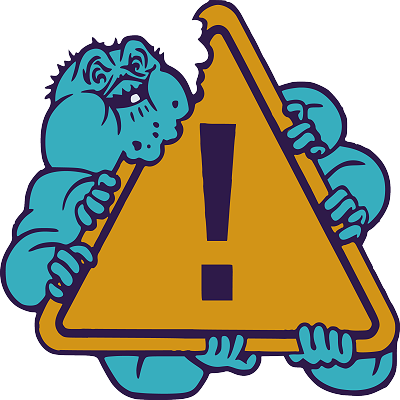 (Muncher icon from box, fixed up by Matthew Jordan)
1 comment
Comment
from:
Denis Trépanier
[Visitor]
May. 11, 2021 @ 11:42
Leave a comment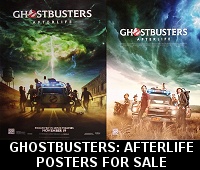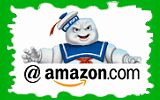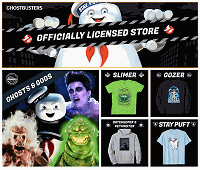 Please be aware that as an Amazon Associate, I earn a very tiny commission from purchases made though the Amazon links on this site.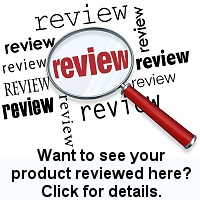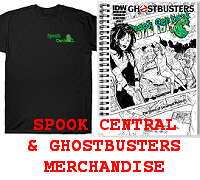 (
MY COMPARISON REVIEW
)
(
AVOID SHIPPINGEASY/STAMPS.COM
)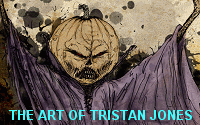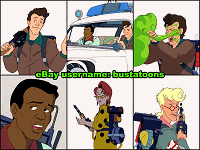 U.S. eBay (Ghostbusters stuff)
U.K. eBay (Ghostbusters stuff)