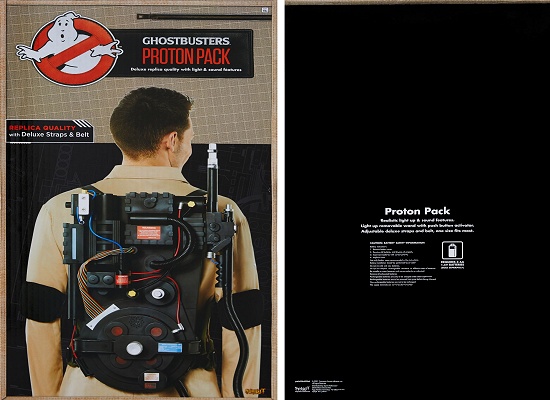 Spirit Halloween just released a
newly-revised-for-2021 version of their popular Deluxe Replica Quality Proton Pack
. With just three weeks left until Halloween, now is the time to pick one up. Read on to find out more about it...
(I am linking to Spirit Halloween's website for all of their items mentioned in this review. It is not guaranteed that the items I am linking to will be in stock at the time that you read this, especially the closer we get to October 31st. The folks at Spirit work hard to replenish inventory as fast as possible. Should an item be unavailable now, check SpiritHalloween.com again in a day or two to see if there has been a change in the inventory status. Of course, you can also check the
Spirit Halloween store directory
to see if there is a pop-up location somewhere near you, and maybe they will have it in stock and ready to take home today!)
As far as I'm concerned, there are three classifications of Ghostbusters equipment replicas:
1. Accurate Replica
- Screen-accurate with lights and sounds.
• What falls into this category: Fan Builds, Anovos, Mattel, Hollywood Collectibles Group, Hasbro Plasma Series.
2. Costume Replica
- Mass-produced, plastic, quasi-accurate, with lights and sounds. Could be considered "toys for adults", as opposed to the roleplay equipment toys Hasbro makes for kids.
• What falls into this category: Spirit Halloween, Rubies' "Imagine" Brand (which look to be based on Spirit's stuff).
3. Costume Prop
- Mass-produced, plastic, looks good from a far, no lights or sounds, no functioning buttons or moving parts. Fundamentally, just a hunk of plastic shaped and decorated to look like the real thing. The low-priced items in this category are just meant to make a Ghostbusters Halloween costume
look
more complete. Nothing more, nothing less.
• What falls into this category: Jakks Pacific's "Disguise" brand.
As stated above, Spirit Halloween's stuff falls into category #2. It's not meant to be 100% screen-accurate, but "good enough for government work", as
my friend Lance
used to say. Before I get to the comparison between the new 2021 version and the original 2017 release, I think it would be prudent to tell you what the Spirit Halloween Proton Pack is. You will find the 2021 version packaged in the uniform-style box that Sony is using for all "Classic Ghostbusters" merchandise (and the occasional Afterlife merch). If you see that box, you know you're getting the new version. If you see the black green-glow box, then you're getting one of the 2017-2020 versions.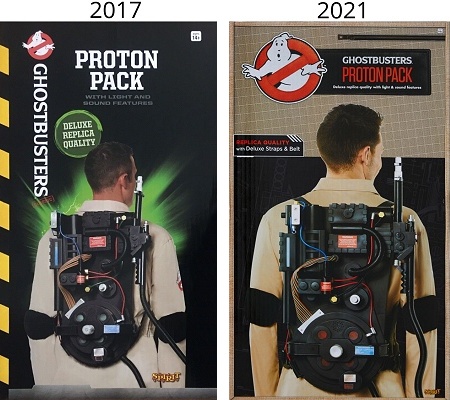 This officially-licensed item measures 22"H x 12.25"W x 6.5"D; weighs 3.6 pounds; and is made from plastic, foam, polyester, nylon, and wire. The main part of the unit is plastic, and the back (that rests upon the wearer's back) is polyester atop foam, with adjustable straps. The particle thrower can be attached to the upper right of the pack, where there is a notch that the wand fits into. The pack has light-up and sound features, which are powered by 3 AA batteries (not included), which go into a small box tucked inside the back that fits in a Velcro enclosure. The lights and sounds run for about 23 seconds before it self powers off. Here is some video I recorded of the entire light and sound cycle.

While I won't sit here and compare this to the actual movie prop - though this new 2021 version is more screen-accurate than its predecessors - I will compare it to the original 2017 version, as well as the 2020 version (which may have originated in 2018 or 2019). The 2020 version is fundamentally the same as the 2017 version, but there are a handful of differences, which I'll address as I go along.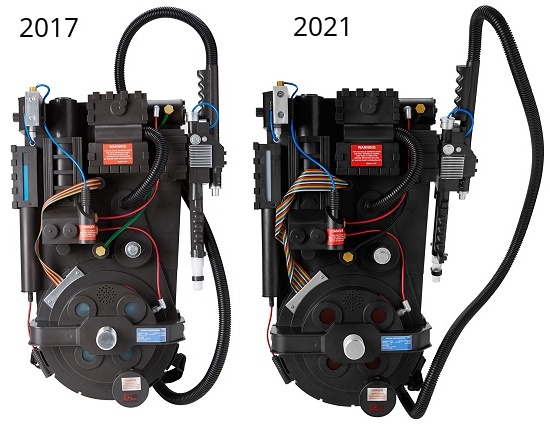 The first difference you may notice if you have a 2017 and 2021 pack in your hands (it may not be so obvious in photos) is that the new pack is significantly darker than the old one. The 2021 is black, while the 2017 was grey. You will also find that the "power cell" light bar on the left is a different color (when
not
lit up). It was black/blue on the 2017, white/blue on the 2020, and all white on the 2021.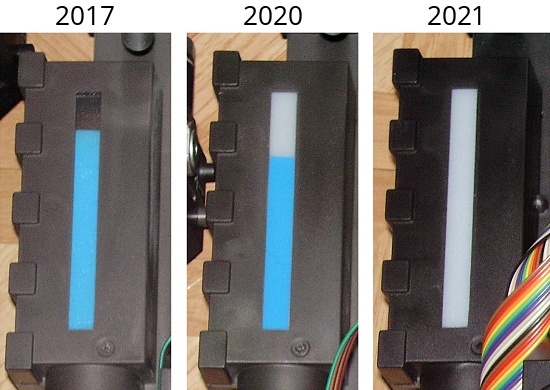 The 2021 has a thicker, more colorful ribbon cable. Not movie-accurate, but infinitely better.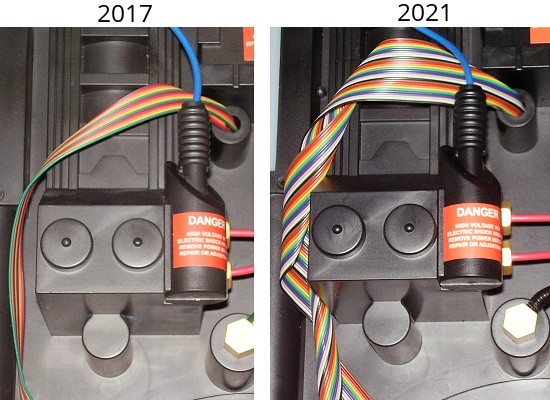 A green wire on the back (which is not on the movie prop at all) has been replaced with a more accurate black wire. As you'll see in this photo comparison, on my 2017 pack, the top red wire is
above
the black hose instead of under it. All of Spirit's photos on the box and online show it
under
the black hose, which is how it is on the 2020 and 2021 packs. I don't know if I can easily fix it on my 2017 pack. I doubt this "production error" makes it valuable.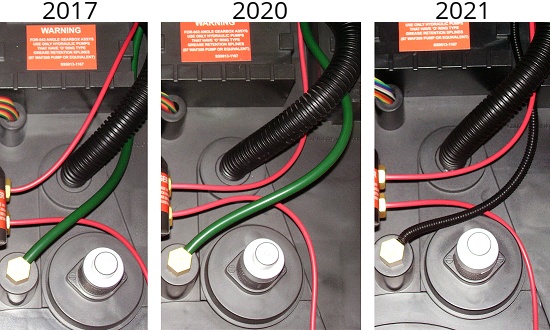 I don't know if this is an official difference, or a quirk of the manufacturing process, but the "Clippard" sticker has been applied differently on all three of my packs. The 2017 has the "Clippard" name facing straight down, 2020 has it facing left, and 2021 has it facing down and slightly to the left. I can't find any photos right now of the movie prop that clearly show the label, so I'm not sure which is correct. I'm pretty sure that the 2020 is wrong, as two of the three have it (pretty much) facing downward.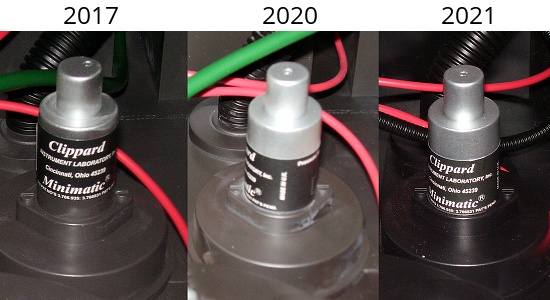 The 2017 pack had two legal stickers on the bottom, in both English and French. A small one declaring that the item was "Made in China", and a larger one stating that the item was made of "new material only" with "Reg. No.: 04T-00792012" and that it has "Content: Polyurethane Foam". Both the 2020 and 2021 do away with the larger sticker, and only have the dual-language "Made in China" sticker.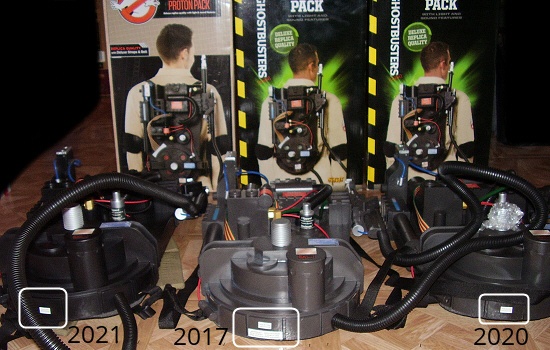 Originally, the wand tip was white. Spirit has now make it clear, which is more accurate.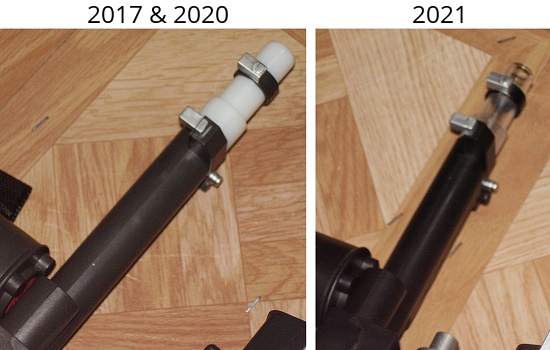 Flipping the pack over, we see the biggest physical difference between the three packs: the straps. The 2017 has wimpy pencil-thin straps. The 2020 beefed them up to wide flat padded straps. The 2021 super-sizes it tenfold, adding thick, pea green, padded, more screen-accurate straps...and a belt!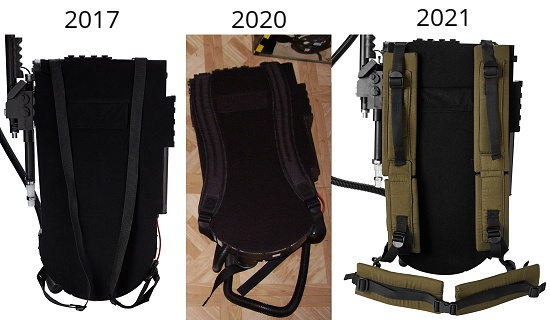 The battery compartment inside changed color from white (2017 and 2020) to black (2021), but that's nothing that needs to be photographed. What does need to be photographed is the best hidden surprise of the 2021 revision: the Cyclotron lights now chase each other. As you'll see in the video below, the 2017 pack (on the right) has all four lights lit up at once. As any Ghosthead knows, that's not correct at all. It took them four years, but Spirit has finally corrected that "error".

Before I close up this review, I have to point out something that I learned recently. Spirit's Proton Pack, both the old 2017-2020 version and the new 2021 version, come in two different boxes. There's the "adult" box that we are all familiar with, which I've already included a few photos of in this review. It features an adult male model (two different guys) wearing the pack. There is also a "kids box" that was hereto unknown to me. As you can guess, it features a child male model showing off the pack. Spirit did not take new photographs for the kids 2021 box. It's the same kid wearing the same 2017 pack as the old box. I confirmed with my contact at Spirit Halloween that THE SAME PROTON PACK IS INSIDE BOTH ADULT AND KIDS BOXES! The kids box does NOT contain a smaller "kid size" pack. The boxes are different, but the CONTENTS ARE 100% THE SAME! So, if you only see the kids box in stock at your local Spirit Halloween store, buy it with full confidence.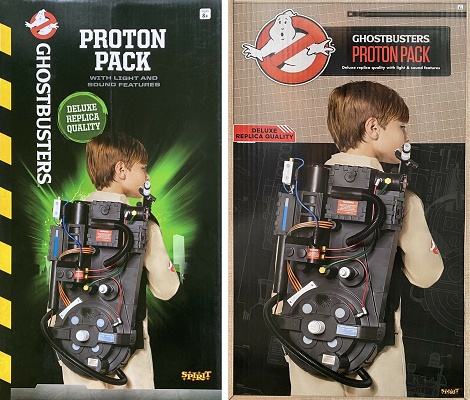 The
Deluxe Replica Quality Proton Pack (2021 Version)
with deluxe straps & belt and light & sound features is available for a MSRP of $79.99. To complete your costume, I highly suggest that you also pick up the following accessories from Spirit Halloween:
PKE Meter
($34.99),
Ghost Trap
($49.99),
Ecto-Goggles
($29.99),
Walkie Talkie
($24.99),
Utility Belt
($9.99), and
Rubber Gloves
($12.99) (for "all you can eat barbecue night at the Sizzler"). Spirit Halloween also has several different jumpsuit/uniform costumes, for both males and females, in kids and adult sizes. Check out
the site's Ghostbusters section
to find the one that best suits you. Finally, Spirit Halloween still sells the
original 2017-2020 version of the Proton Pack (in the black green-glow box)
for $69.99. (
Use code SHIP30 to get Free Shipping on orders over $30 on SpiritHalloween.com.
)
•
SPOOK CENTRAL VIP-EXCLUSIVE BONUS FEATURE
-
All of my original photographs (and some Spirit Halloween stock images) taken for this review
.
Images scanned and/or photographed by me or provided by Spirit Halloween. All videos recorded by me, Paul Rudoff. The 2021 pack has been provided by Spirit Halloween for review on this site. The 2017 and 2020 packs were purchased by me with my own money. For addition information, check out the
Ghostbusters News review
. For additional images, check out
Ghostbusters Wiki
.
No feedback yet
Leave a comment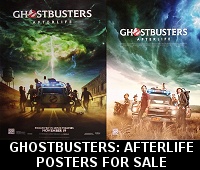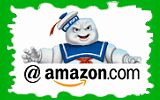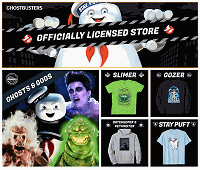 Please be aware that as an Amazon Associate, I earn a very tiny commission from purchases made though the Amazon links on this site.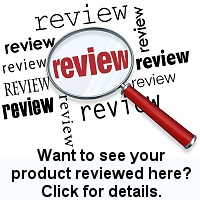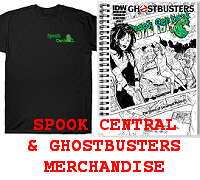 (
MY COMPARISON REVIEW
)
(
AVOID SHIPPINGEASY/STAMPS.COM
)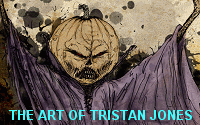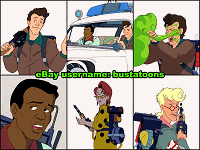 U.S. eBay (Ghostbusters stuff)
U.K. eBay (Ghostbusters stuff)