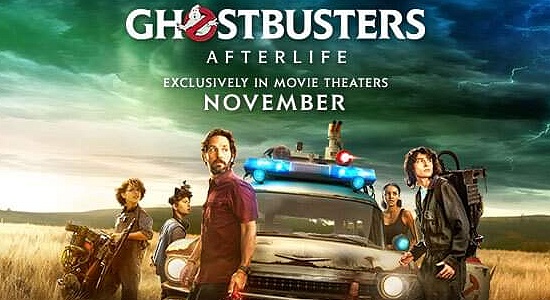 Ghostbusters: Afterlife
, which is in theaters now (
buy tickets here
), has been garnering favorable reviews from Ghostheads all over the world. I was pretty positive about it in
my spoiler-free review
. One aspect of the movie that everyone likes is the strong cast of actors that appear in it. Who are those actors? Read on to find out, but be forewarned that
THERE BE SPOILERS AHEAD...
The entire credit text is written below,
exactly
as it appears on-screen. Every actor's name has been linked to their IMDB page. If you didn't already seen the first warning, let me reiterate -
SOME OF THE CHARACTER NAMES BELOW ARE SPOILERS. IF YOU WANT TO BE SURPRISED, DON'T READ ANY FURTHER.
[ ON-SCREEN CAST LIST ]
Still with me? Okay, here is the long list of text featuring 30 credited actors. Thanks to Alex Newborn for originally photographing the
cast credits off the theater screen
. (The photograph has since been replaced with a framegrab from the
digital release of the film
.)
[ NOTABLE ACTORS ]
Of all of the credited actors, there are a few that I should point out.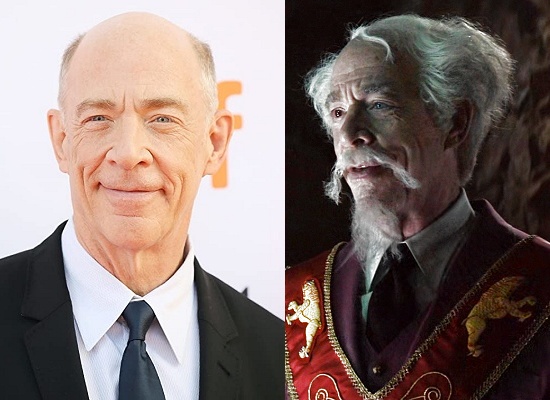 J.K. Simmons as Ivo Shandor
- J.K. has been in several of Jason Reitman's films, most notably
Juno (2007)
. You may also recognize him as J. Jonah Jameson from the same Marvel Cinematic Universal that Paul Rudd is also a part of (as
Ant-Man
).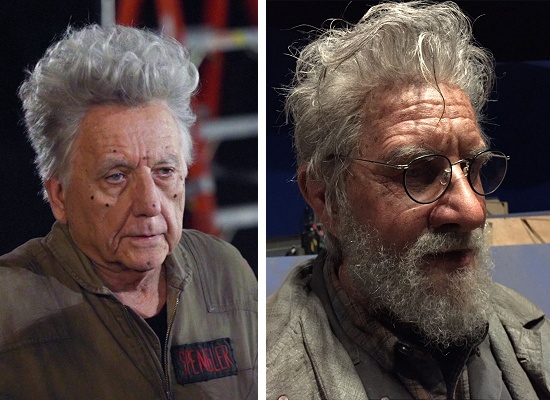 Bob Gunton as The Ghost Farmer
- Bob was the stand-in for Egon and his ghost. You won't see his face in the film, though the above photos (from the Blu-ray's "Spectral Effects" featurette and the Stan Winston School article) provides a look at him in the Spengler jumpsuit and as the living Egon in the opening scene. While Bob's name may not sound familiar, you've likely seen him as the evil Warden Norton in
The Shawshank Redemption (1994)
.
Stella Aykroyd as Deputy Medjuck
- Dan Aykroyd's daughter plays this character named after original
Ghostbusters
producer Joe Medjuck. Dan was even on set when Stella filmed her scenes, as
seen in the B-Roll
.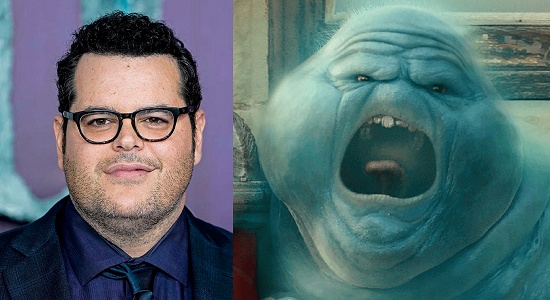 Josh Gad as Muncher (voice)
- Yes, the actor best known as the voice of Olaf the snowman in
Disney's Frozen franchise
provides the grunts and groans of Slimer's blue cousin. The
story of how he was chosen for the role
is rather amusing. Josh was on the Sony lot for other business, Jason Reitman saw him, and asked if he'd like the part. Josh's performance was recorded right then and there.
[ UNCREDITED ACTORS ]
Some people that appear in the film have gone uncredited. Here I will list all of those that have been confirmed.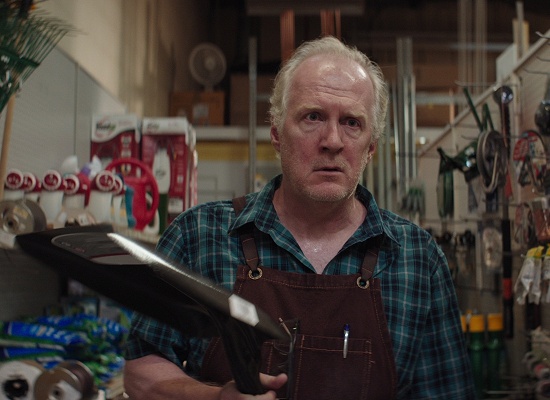 Tracy Letts as Hardware Store Owner
- He's the
real-life husband of Carrie Coon
, which is how he got the job...and no, not through nepotism.
Carrie told The Hollywood Reporter
that "the reason he's in
Ghostbusters
is because he happened to be in Canada with me and [our son] Haskell when they lost an actor due to a conflict, and so they just asked if he was around. (
Laughs.
) So it worked out really well." The image above is a great shot of him from
Trailer #1
that
did not appear
in the final film.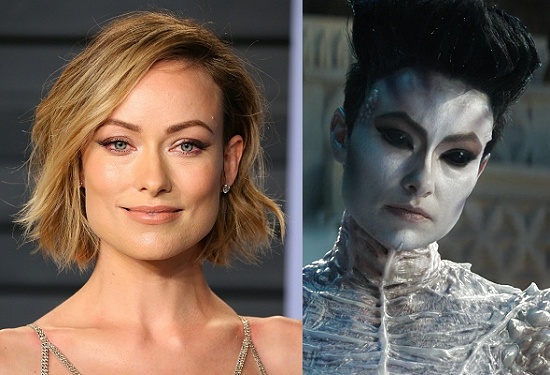 Olivia Wilde as Gozer
- Three women played the character. Emma Portner and Shohreh Aghdashloo received credit, but Olivia did not. Shohreh is credited for providing the voice, which is self-explanatory, but Emma's credit reads "Spirit of Gozer". In
an interview with The Wrap
, Jason Reitman explains...
In the finale of "Ghostbusters: Afterlife," Gozer makes its triumphant return, and the character is played by none other than Olivia Wilde. In a recent interview with TheWrap, director and co-writer Jason Reitman explained how the casting came about. "I've known Olivia a long time, we've wanted to work with each other a long time. I don't think we expected it to be in this format," he acknowledged.

Reitman actually pitched the idea to Wilde over text. "I reached out to her like, 'Hey, you wanna be Gozer?' I just texted her, and she was down from the word 'go'." The filmmaker also noted what a trooper Wilde was, because the demands of a makeup-intense role with so little screentime were intense. "It's not a fun day because you have to show up at the crack of dawn and be covered in prosthetics and makeup and have weird contact lenses put in your eyes," Reitman explained. "It's a beast of a role, but she came at it with complete joy."

The filmmaker also added that professional dancer Emma Portner provided half of the performance of Gozer, namely anytime the character "had to do unusual body language" and explained that "the body performance of the spirit of Gozer was Portner, who is absolutely extraordinary. She's literally one of the great dancers alive and totally cool, and did a lot of that work out there in that dirt field."
Emma actually attended the
movie's New York premiere
on November 15, 2021, though none of us Ghostheads knew who she was, or who she portrayed in the film.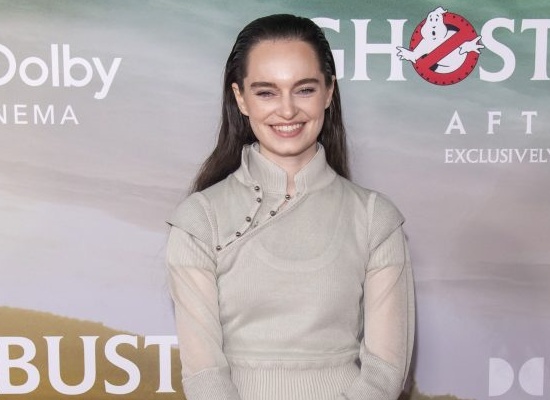 (source:
Footwear News
)
Vanity Fair writer Anthony Breznican
- who was actually present when the cameras rolled on the climax of the film - tells of how Olivia Wilde could not keep a straight face when Murray was hurling improvised insults and taunts at Gozer. At one point, Olivia reportedly broke out laughing and said, "You got me on that one. Too far. TOO FAR!"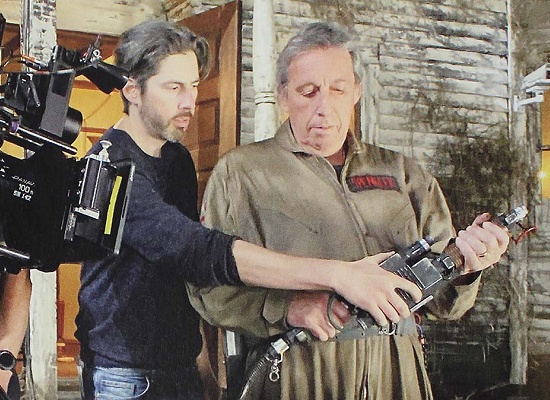 Ivan Reitman as Ghost Egon's Hands
- As will be detailed in the upcoming
"Ghostbusters: Afterlife: The Art and Making of the Movie" book
, Ivan
doubled for Egon's hands
in a few insert shots during the climax of the film.
"In one of the most meaningful moments in the film, the original four Ghostbusters are standing next to each other again, with Phoebe sharing a proton pack with her grandfather as they defeated Gozer together. For a few insert shots, (Jason) Reitman asked his father, Ivan, to put on the flight suit, subbing in for Spengler. "That was the most emotional moment for me. My dad is one of the original Ghostbusters," says Reitman. "I went into this movie hoping to replicate a recipe. I wanted to taste something that I used to have as a child. And that's exactly how I want audiences to feel. I want them to feel like Phoebe," he says."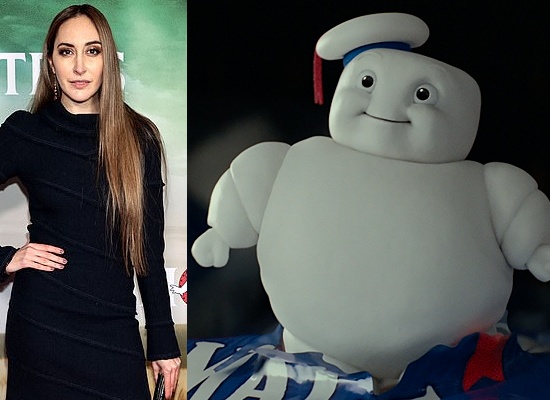 Sarah Natochenny as Mini-Puft Voices
- Nobody who provides the voices of the little guys is credited in the film. Sarah, a prominent voice artist who is best known for giving voice to Ash Ketchum in the
Pokemon
series, proves some of the sounds you hear the little guys make. She
confirmed the role on Twitter
: "Ghostbusters: Afterlife is in theaters today!! So thrilled to play a small but mighty role in this epic movie, as one of the voices of the Mini-Pufts. Congrats to my fellow marshmallows including my bud @shelby_young! #GhostbustersAfterlife #voiceactor". Sarah actually attended the
movie's New York premiere
on November 15, 2021, though none of us Ghostheads knew who she was, or who she portrayed in the film.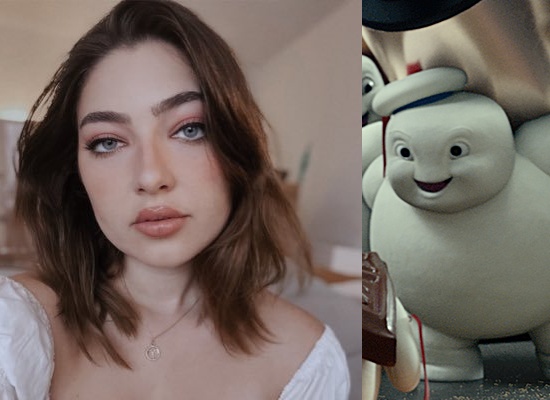 Shelby Young as Mini-Puft Voices
- Sarah confirmed Shelby as another one of the Mini-Puft voices through her previously-mentioned Twitter post, but
Shelby confirmed the role
as well on her own Twitter account: "Who's seeing #GhostbustersAfterlife this weekend?!?! So stoked to have voiced some of these lil guys #minipuft". When asked what the Mini-Puft recording session was like,
Shelby described it
as "an insanely fun session".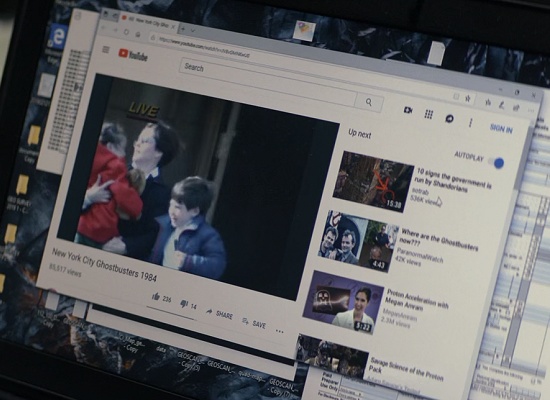 Jason Reitman as Kid Fleeing Building in 1984
- Ivan Reitman's wife Genevieve Robert and two children, Jason and Catherine, were originally supposed to be in
Ghostbusters
(1984), but the footage was cut out. Jason put that footage into
Afterlife
, which is the
first thing shown
when Mr. Grooberson shows the archival footage on the laptop.
Jason confirmed this
when he spoke at the Alamo Drafthouse Cinema Ivan Reitman Theater Renaming Ceremony on November 15, 2021. The quick shot shows his mother bringing six-year-old Jason and his two-year-old sister Catherine out of the apartment building.
That's all for now.
No feedback yet
Leave a comment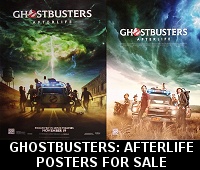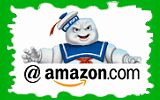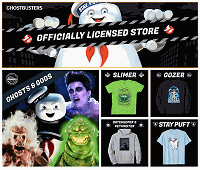 Please be aware that as an Amazon Associate, I earn a very tiny commission from purchases made though the Amazon links on this site.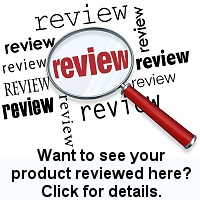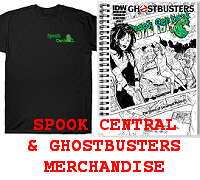 (
MY COMPARISON REVIEW
)
(
AVOID SHIPPINGEASY/STAMPS.COM
)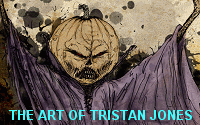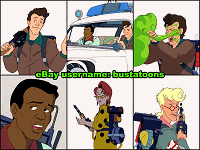 U.S. eBay (Ghostbusters stuff)
U.K. eBay (Ghostbusters stuff)