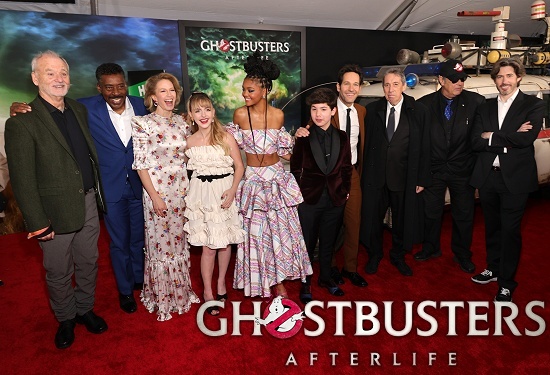 On Monday November 15, 2021, I (Paul Rudoff) attended the "world premiere" of
Ghostbusters: Afterlife
in New York City. The movie is in theaters now (
buy tickets here
), but I'd like to share with you my report on what I experienced at the premiere last week. I should warn you that this article will be very long and image-intensive, but I have broken it up into THREE PAGES to ease the pain. (There will be page links at the bottom of each page.) With that in mind, read on to find out more...
It all started on November 3rd. Cue the flashback music and dissolve...
I received an e-mail from Eric Reich of
Ghost Corps
.
Date: Wed, Nov 3, 2021 at 10:10 PM
Subject: YOU'RE INVITED! Ghostbusters: Afterlife - Premiere Fan Screening in NYC

Hello,

We'd like to invite you and Ghostbusters group to join a special fan screening at the official premiere of Ghostbusters: Afterlife in NYC on Monday, November 15th at AMC Lincoln Square at 8:30pm. If you can make it, please RSVP to this email address ASAP by Monday, Nov. 8th as seating is extremely limited (only RSVP if you can 100% make it). Please note all COVID compliance requirements below. Due to current circumstances, we will be unable to host a large amount of fans on the red carpet. Instead, we will randomly draw 50 lucky fans who RSVP to the screening to be in a small "fan section" on the red carpet which starts at 6:30pm. More details to come!
This flyer was attached to the e-mail.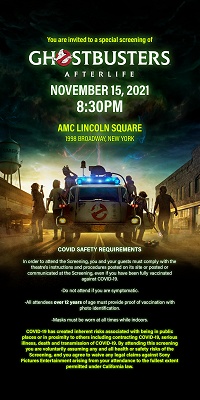 (click to enlarge)
Of course, I let Eric know that I wanted to attend. Ten days later, I received confirmation.
Date: Sat, Nov 13, 2021 at 2:44 AM
Subject: Ghostbusters: Afterlife - RED CARPET - FAN SECTION

Hello Paul, we are able to offer you 1 ticket to the designated fan section on the red carpet! This section is extremely limited due to regulations, so there will be no adjustment in the amount of tickets. Please confirm by Sunday, 11/14 at 6pm EST that you can attend. Due to the limited space in this area, please do not bring proton packs, however flights suits are encouraged! Lastly, please note that all members on the red carpet will be going into the 7:30pm screenings. Members not on the red carpet will be attending the 8:30pm screening and will get separate instructions/details for that screening.

MORE DETAILS (PLEASE READ CAREFULLY):

We're excited to have you join us on the red carpet for the World Premiere of GHOSTBUSTERS: AFTERLIFE on Monday, November 15, 2021.

The premiere will be held at AMC Lincoln Square (1998 Broadway, New York) and we'll need you there by 5:30pm to get you in place for the red carpet opening.

[CHECK-IN]

There will be a line just outside the door to the lobby on 68th Street. You can begin to line up at 5:00pm.

• Please arrive between 5 - 5:30pm. If you arrive after 5:30pm you will not be guaranteed admittance to the red carpet.

• All attendees must show proof of vaccination with photo identification (2nd dose completed at least 2 weeks prior to the event).

• Masks are required at all times while on the red carpet. Masks are required during the screening unless eating or drinking.
I prepared for my trip decked out in my very best Ghostbusters wear:
Spook Central Comic Book Cover T-Shirt
(with sweatshirt underneath because it's November in New York!),
Spirit Halloween Ghostbusters jacket
, and
No Ghost Logo cap
.
(click to enlarge)
Beforehand, I looked up the location of the theater and noticed that it's a few blocks away from a certain haunted high-rise. I also never knew that that apartment building was right around the corner from where they film ABC News and the
Live! With Regis & Kelly
show (now Kelly & Ryan) that my parents attended a taping of
on January 17, 2006
.
Since the train runs once an hour, I would have to get to the City a little earlier just to ensure that I would get to the theater when Sony wanted us to be there. That also meant that I would have a little time to kill. So, I took a taxi (not driven by a zombie) from Penn Station to 55 Central Park West. As the cab drove through
Columbus Circle
, I noticed that a gaggle of Ghostheads had gathered where Louis met the horse. The driver dropped me off at 25 Central Park West, so I hoofed it the two blocks to
55 Central Park West
. Yes,
Spook Central finally visited Spook Central
.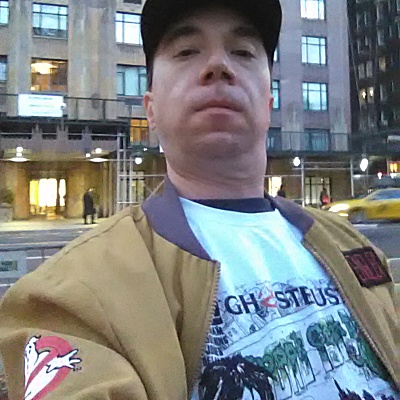 (click to enlarge)
Since the daylight goes away early this time of the year, and time and weather (it was quite chilly out) were not on my side, this would be the only Ghostbusters filming location I would visit. After grabbing a few quick pics (the rest will be added to the 55 Central Park West page here on Spook Central at a later date), I headed over to the theater. As I got to Broadway and West 67th Street, I saw the empty "Red Carpet" tent. Here you see the Ecto-1 and the
empty corral
that us 50 lucky fans would be penned inside of.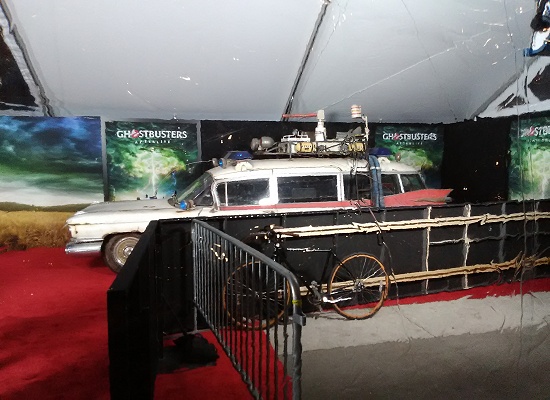 (click to enlarge)
As instructed in Eric's second e-mail, I walked around the corner onto West 68th Street, and waited on the line. It was now 4:53 PM (thank you, photo timestamps), a few minutes before the 5:00 PM start period, and the line was already fully formed. I got to the back, where another Ghosthead noticed my Spook Central Comic Book shirt. He asked me where I got it, and I told him that
I sell them on Spook Central
. I'm really surprised that other Ghostheads don't know this already. Am I not pimping them out hard enough?
Seriously, the SPOOK CENTRAL TEEPUBLIC STORE has both logo and comic book designs available to purchase on t-shirts, sweatshirts, magnets, stickers, and more!
Go buy something, will ya! This fellow Ghosthead, whose name I did not get (sorry), also told me that he used to visit Spook Central when he was a kid. Geez, thanks for making me feel old.
As we were waiting in line, some fans came by and gave us
Frog Brothers Podcast
(FBP) swag bags. (If you don't know, the Frog Brothers were the vampire-hunting characters potrayed by Corey Feldman and Jamison Newlander in
The Lost Boys
.) Each bag contained two stickers (Jurassic Park-esque FBP logo and Mr. Grooberson "Killer Replica"), a Vampire Mini-Puft FBP button, a FBP VHS business card, and (quite randomly) a sealed pack of
1994 Coca-Cola Monsters of the Gridiron trading cards
. These cards feature NFL players of the day cosplaying as monsters and knights. They're completely absurd, but I find them much more interesting than boring old sports cards. My pack contained Ronnie Lott, Randall Cunningham, Neil O'Donnell, Junior Seau (someone I actually heard of), Tom Rathman, and a Checklist card.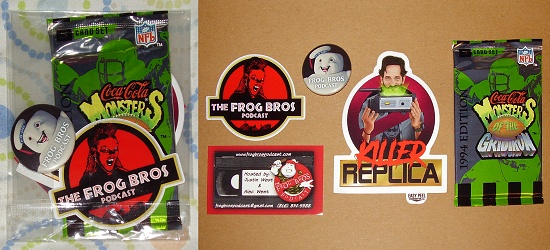 (click to enlarge)
We waited on line in the nippy cold for an HOUR! During this time, the staff checked our vaccination cards, which garnered us red rivet logo wristbands that are very reminiscent of the ones that came with
Kenner's Proton Pack roleplay toy
. I don't know if this was intentional or not. They also gave us a generic yellow wristband after checking their list to make sure we were one of the lucky 50 fans.
(click to enlarge)
At 5:55 PM (again, I'm glad my photos are timestamped), they brought us into the Red Carpet tent to stand in the "fan section". We were corralled like cattle into this little pen off to the side that the celebrities could easily avoid if they wanted to. Here is a photo that Sony took showing all of us fans. I'm off on the right wearing the American Flag mask. I circled myself in the small version below, which links to the 3648x2432 original. (As we proceed from here on, all of the good photos were taken by Theo Wargo/Getty Images for Sony Pictures, while all of the crappy phone photos were taken by me, Paul Rudoff. I don't think you'll have a problem telling which is which.)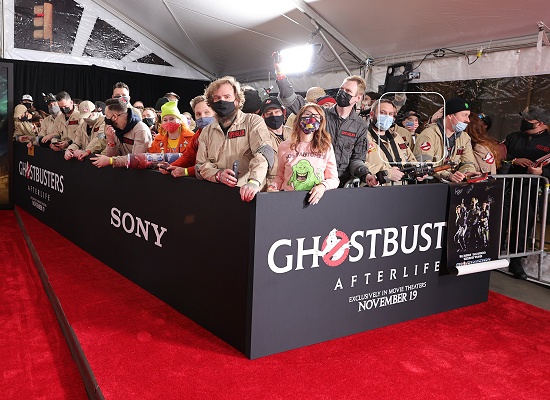 (click to enlarge)
Even though this was the first time I attended a movie premiere, I knew that we would be treated like "props", so I wasn't really surprised that were penned in on the side and not placed evenly against the fence in more prime real estate. I'm also seen in this quick clip that appears at the end of
Sony's Premiere B-Roll Part 1 video
. Several videographers had us doing the whole "Who ya gonna call? Ghostbusters" shtick all night. Like I said, we were "props".
Below is a cropped version of that clip, so you'll see me better. That's Tom Gebhardt standing next to me. The last time we saw each other was back at the
BBQ Films event in June 2016
.

I was in the second row, tucked into the corner. I had to hold my phone high in the air just to
get a view this good
. Most of the time I was trying to look past the redhead in the Ecto Cooler mask.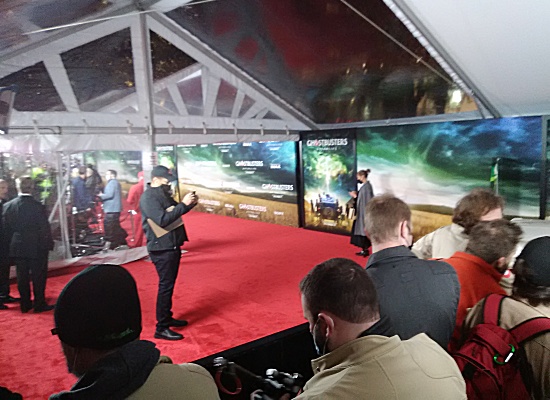 (click to enlarge)
The ideal spot would have been in the front corner next to the cute bespectacled redhead in the pink Slimer sweatshirt... and not just because I adore cute bespectacled redheads who love Ghostbusters. Okay, she's a Strawberry Blonde, but I think she's also married, so it doesn't matter. Anyway, I had to hustle just to take whatever photos I managed to get, and get my copy of
Empire - Nov. 2021
magazine signed. (I'll show that off at the end of this report.)
I should note that while we were inside the tent, it did not feel heated. It felt almost as cold inside as it did outside. Maybe the actual "red carpet" area was heated, but our corner did not appear to be. All in all, between the time we waited on line and the time we were whisked into the theater, we spent about 3 to 3.5 hours outside in the cold. At 6:20 PM they handed out 12.5oz bottles of the
promotional Hi-C Ecto Cooler
. Later, after I entered the theater, I would find an extra bottle of Ecto Cooler sitting on the concession stand counter, so I took it. These are promotional bottles, not sold in stores, which is why they have Slimer on them. The
2016 retail release
did not have Slimer on the packaging.
(click to enlarge)
Not long after that, Mckenna Grace's publicist handed us cards promoting her new single,
"Haunted House"
, which is heard during the end credits of the film.
Buy the MP3 here
. The QR code on the back of the card points to:
https://mckennagrace.fanlink.to/HauntedHouse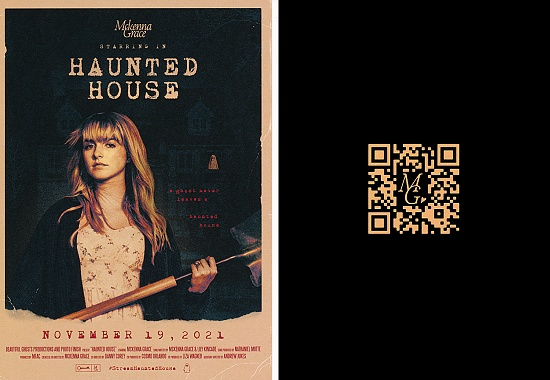 (click to enlarge)
No feedback yet
Leave a comment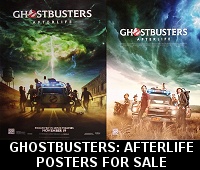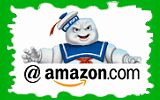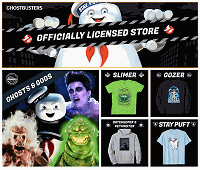 Please be aware that as an Amazon Associate, I earn a very tiny commission from purchases made though the Amazon links on this site.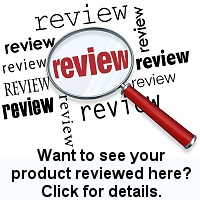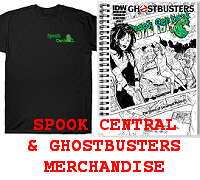 (
MY COMPARISON REVIEW
)
(
AVOID SHIPPINGEASY/STAMPS.COM
)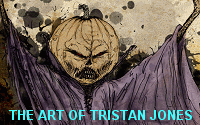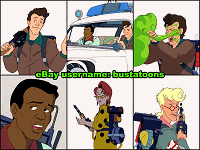 U.S. eBay (Ghostbusters stuff)
U.K. eBay (Ghostbusters stuff)