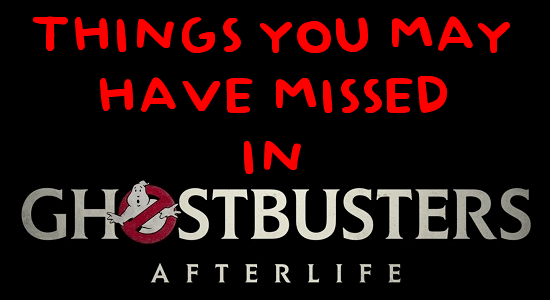 As a result of doing
1,550 Blu-ray framegrabs from Ghostbusters: Afterlife for the Spook Central VIPs
, with some
extra movie framegrabs
and
behind-the-scenes images
for the Spook Central Facebook page, I became intimately familiar with the movie on a shot-by-shot and frame-by-frame basis. This familiarity has lead me to discover things about the movie that you may have missed from a normal viewing, and thus I am writing a
series of articles
to present these discoveries to you.
It should be noted that, for the most part, these "Things You May Have Missed in
Ghostbusters: Afterlife
" articles will not discuss the myriad of references and Easter eggs in the movie, most of which are illustrated in the "We Got One! Easter Eggs Revealed" featurette on the
Blu-ray release
. Also, it probably doesn't need to be said at this point, but just in case some of you
still
have not seen the film, let's just say SPOILER WARNING if you read any further. Finally, all images can be clicked on for the original Blu-ray framegrab. Now that all of that is out of the way, let's get to it...
If there's one thing that
Ghostbusters: Afterlife
is lacking in, it's new ghosts, creatures, and entities. If you eliminate all that came from or were derived from the original movie - Gozer, Terror Dogs, Mini-Pufts - you're left with Muncher, Bug Eye, and the Miner Ghost (though technically, he's a zombie). However, there is another ghost in the movie, and chances are, you didn't notice it.
At 1:35:15 - In what
should
have been the film's "ghosts let loose" montage, we are treated to this scene in Spinners where the rotting corpse of a miner that was killed in a tragic accident at the Shandor Mines is being served a cup of coffee by a waitress.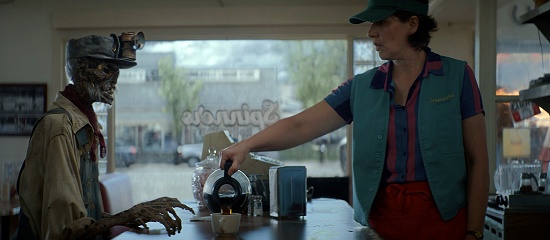 It's a quick bit of business that goes by in a few seconds. You were, likely, paying attention to the miner and the waitress, so you may not have even noticed what was happening on the street outside. Through the window in the background, we see a firetruck speeding down the street with firefighters trying to catch up to it.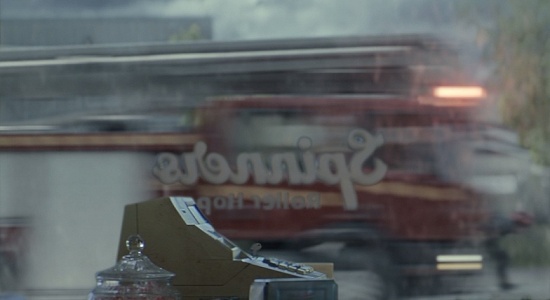 Upon further inspection, the firefighters are actually being chased by something.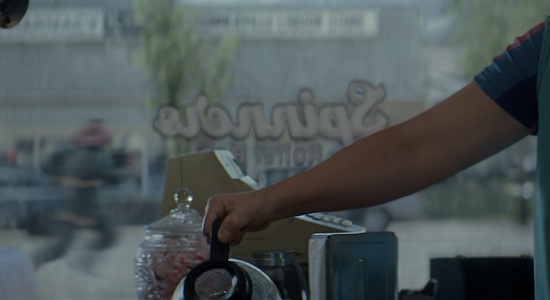 That "something" would be this fiery phantom. We don't get a good look at it, but it seems that this time the fire fights back!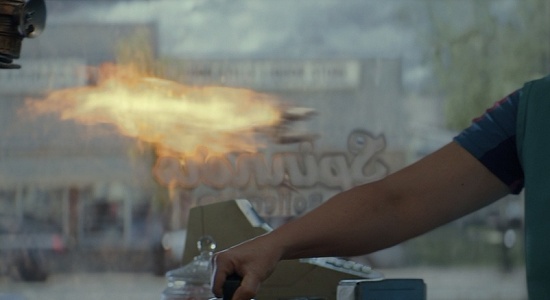 Here is a concept illustration of the "flaming phantasm" by Brynn Metheney, which appeared on page 155 of
"Ghostbusters: Afterlife: The Art and Making of the Movie" by Ozzy Inguanzo
.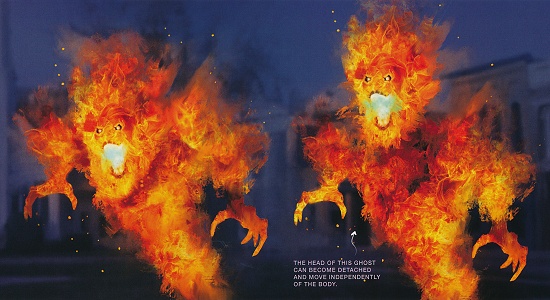 There is also some concept art by Farid Sandoval of a puppy dog "Fire Ghost" that may or may not be the thing that whizzed by Spinners in the movie.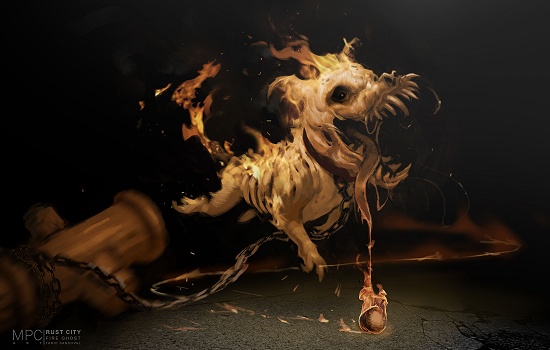 I really would have loved to have seen more ghosts in this part of the film running amok throughout Summerville. Both of the original films have ghost montages, and this was clearly the spot where
Afterlife
should have had one, but it seems like the filmmakers gave up halfway though.
Join me next time as I look at more
Things You May Have Missed in Ghostbusters: Afterlife
.
No feedback yet
Leave a comment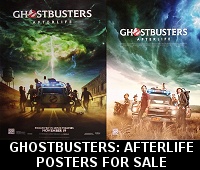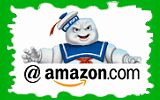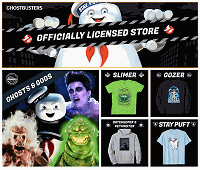 Please be aware that as an Amazon Associate, I earn a very tiny commission from purchases made though the Amazon links on this site.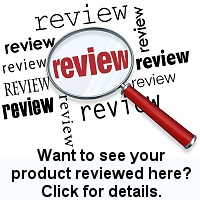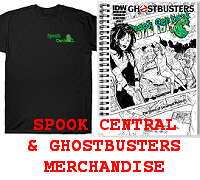 (
MY COMPARISON REVIEW
)
(
AVOID SHIPPINGEASY/STAMPS.COM
)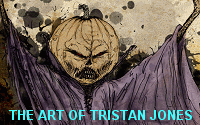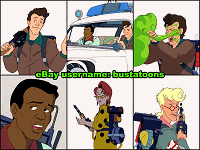 U.S. eBay (Ghostbusters stuff)
U.K. eBay (Ghostbusters stuff)