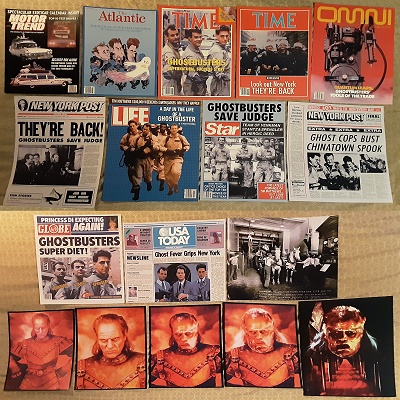 The original two Ghostbusters films are filled with iconic props, such as the Proton Pack, Ghost Trap, and P.K.E. Meter. Fans have built replicas of those props, and that's great, but there is another set of props that is just as iconic, though they go unloved. That being the paper props. Items such as the magazine and newspaper covers from the
first film's montage
or the photos of Vigo that Ray and Egon were developing in the firehouse dark room. Well, prop builder
Rhett J. Martin
is here to show those other tangible props some love. Rhett is currently offering a limited run of a
Ghostbusters Paper Prop Replica Set
, with some being fabricated from scratch while others have been scanned directly from the originals used on set. Read on to find out more...
Before I get into this, I would like to send a HUGE THANK YOU to all of the Spook Central VIPs for providing the funds that allowed me to buy this item and review it for all of you. This item was NOT provided by the manufacturer.
The set includes 17 single-sided reproductions printed in high-quality on lobby card-like unbendable paper stock. Some are from
Ghostbusters
(1984) and some are from
Ghostbusters II
(1989), including a few that were either unused in the latter film or barely appear in it. Fun Fact: There are two versions of the Star magazine cover. One is headlined with "Ghostbusters Save Judge" (included here), the other says "Ghostbusters Save Mayor" (recently
displayed at Ecto-Fest
). (Dimensions given below are approximate.)
The Atlantic (GB1) - 7.75"x10"
Globe (GB1) - 11"x11.5"
New York Post (GB1) - 11"x11.75"
Omni (GB1) - 9.25"x12"
Time (GB1) - 8.25"x10.75"
USA Today (GB1) - 13"x10.5"
Life (GB2) - 9.75"x12"
Motor Trend (GB2) - 7.75"x9.5"
New York Post (GB2) - 9.5"x12.5"
Star (Judge Version) (GB2) - 9"x12"
Time (GB2) - 8.25"x10.75"
Vigo Progression #1 (GB2) - 9.25"x11.75"
Vigo Progression #2 (GB2) - 9.25"x11.75"
Vigo Progression #3 (GB2) - 9.25"x11.75"
Vigo Progression #4 (GB2) - 9.25"x11.75"
Vigo Progression #5 (GB2) - 10.25"x13"
L.A. Fire Company (GB1&2) - 13.25"x10.5"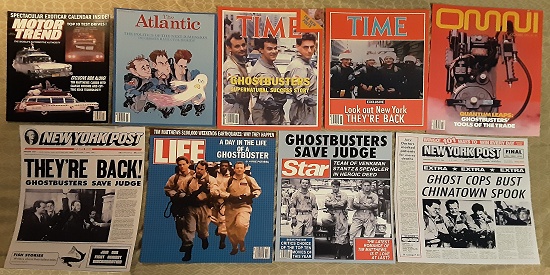 (click to enlarge, note image has been skewed a bit to fit this page; all items are perfectly rectangular)
Do note that these are not real magazines and newspapers, just reproduction covers. They do match quite well to the
ones from the films
.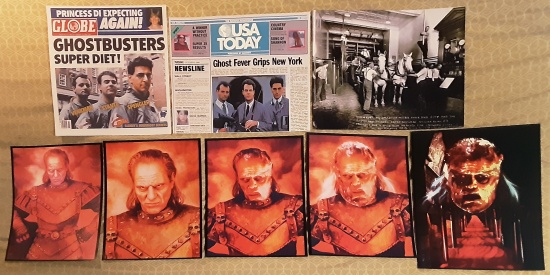 (click to enlarge, note image has been skewed a bit to fit this page; all items are perfectly rectangular)
Rhett packaged up everything quite well in a thin box. The items were wrapped in tissue paper with some extra padding between them and the box. Other than a couple of very minor dings, everything arrived in perfect shape.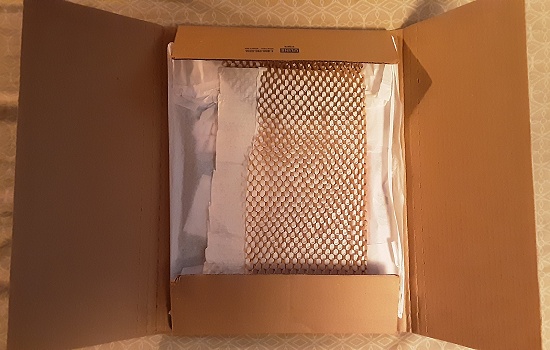 (click to enlarge)
The quality is very good, overall, but some of the small photos are far from razor sharp. I believe this may have been a fault of the source material used. I have been told by Rhett that some of the original props were scanned in to make these reproductions, and some were lovingly recreated. I know what it's like to be at the mercy of "far from ideal" materials to work with.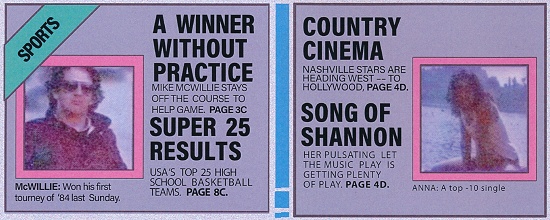 (click to enlarge)
A very nice touch is that several of the newspapers contains readable text. For some, like USA Today, it's the real text that
appeared on the newspaper in the film
.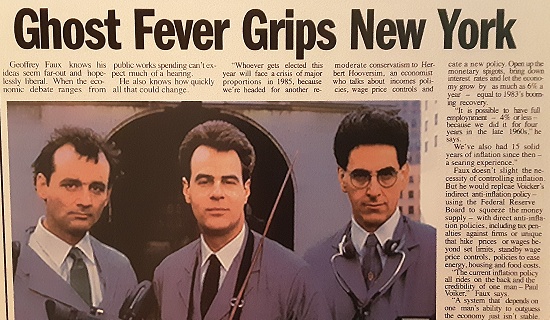 (click to enlarge)
For others, it's filler text taken from the script, which is a nice little Easter egg.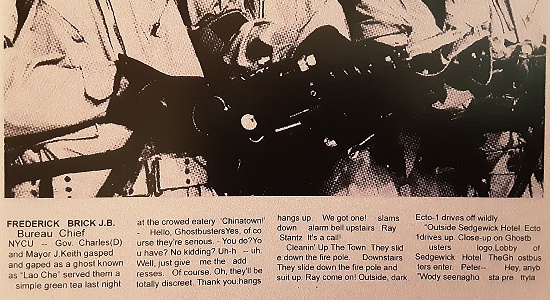 (click to enlarge)
While most of these covers are quite well-known to me, there were a few that I have never seen before. The
Ghostbusters II
Time magazine is one such item. When I first saw it, my eyes lit up, thinking I would finally have a high-quality copy of the infamous Santa Hat photo, made famous by Card #44 from the Topps trading card set. Although this cover was scanned directly from the Earl Hayes production-made piece, the quality of the source material did not provide the high-quality photo I was hoping for.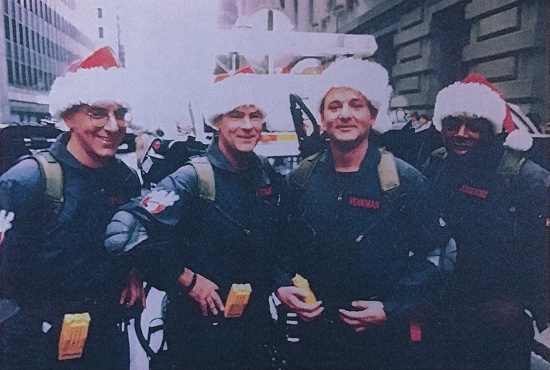 (click to enlarge)
Also, as it turns out, it's not 100% the same photo as the Topps card. The angles are slightly different.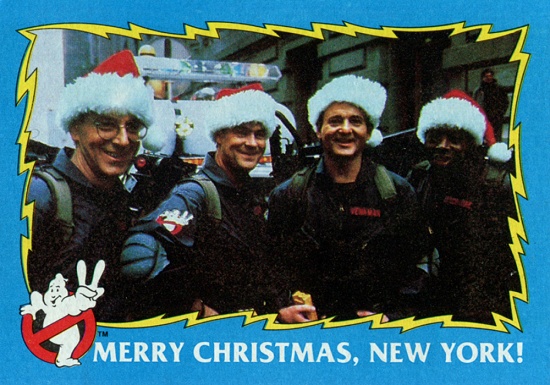 (click to enlarge)
Rhett's Ghostbusters Paper Prop Replica Set is available for
instant PayPal purchase
for $70 + $17 U.S. shipping. Although a bit pricey, and the quality of some photos leave something to be desired, I am still quite happy with these. I will keep them stored away with my Ghostbusters collection, but they are quite worthy of being
framed and hung on a wall
.
The item was purchased with my own money, though Rhett Martin did sell it to me for a discounted price. If you want a different take on the product, check out
Ghostbusters News' video review
.
1 comment
Here are the locations of the magazine and newspaper covers in Ghostbusters II.
-Chapter 13
–Rudy is reading the Star Saves Mayor variant. The Star Saves Judge was never used in the movie but I think was only on display in the midwest sometime.
-Chapter 16:
–Peter's apartment desk are just GB1 ones: New York Post, USA Today, and Time
–When Janine is closing up shop for the day, in Peter's office in the back are the Life, New York Post Saves Judge, Time, and Motor Trend. The rest are from GB1; Time, USA Today, Atlantic Monthly, and Omni.
Jun. 13, 2022 @ 12:31
Leave a comment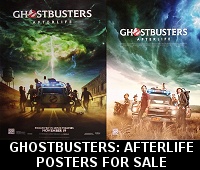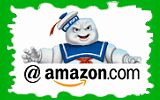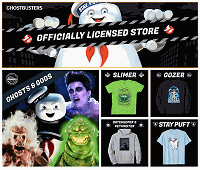 Please be aware that as an Amazon Associate, I earn a very tiny commission from purchases made though the Amazon links on this site.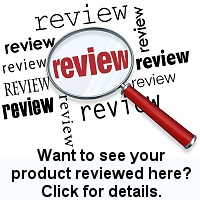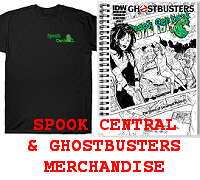 (
MY COMPARISON REVIEW
)
(
AVOID SHIPPINGEASY/STAMPS.COM
)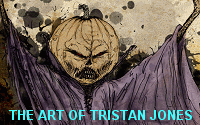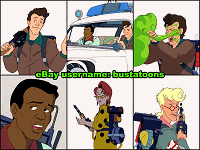 U.S. eBay (Ghostbusters stuff)
U.K. eBay (Ghostbusters stuff)