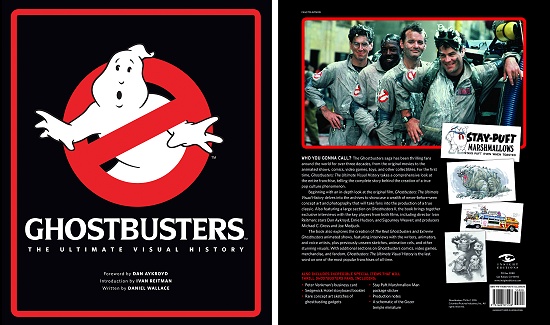 (click to enlarge)
For the first time since the 1980s, a new Ghostbusters informational book was published. Entitled
Ghostbusters: The Ultimate Visual History
, this 224-page hardcover tome was written by Daniel Wallace, with a foreword by Dan Aykroyd and an introduction by Ivan Reitman. The embossed cover is designed to look like the
original RCA/Columbia Home Video release from 1985
, which was also embossed in its original release. Coming in at a nice size of 9.5" x 11.25" closed, in full color print on high-quality paper, the book comes factory-sealed, so you'll know that you're getting a new, clean, untouched copy.
To my knowledge, this is the first hardcover book to cover the entire Ghostbusters franchise. (Last year's
Complete SFX Guide To Ghostbusters
by Future Publishing Ltd. was a softcover magazine-style book.) A great amount of space is spent on each of the major topics, though that amount decreases as you make your way to the back of the book. The book is structured chronologically for the most part, though it jumps out to red-bordered pages centering on specific elements from each movie. These subtopics don't throw off the narrative of the overall book.
Pages 1-5 - Title, Table of Contents, etc.
Pages 6-7 - Dan Aykroyd Foreword
Pages 8-9 - Ivan Reitman Introduction
Pages 10-115 - Ghostbusters
Pages 116-181 - Ghostbusters II
Pages 182-191 - Real Ghostbusters
Pages 192-199 - Extreme Ghostbusters
Pages 200-205 - Video Games
Pages 206-111 - Comic Books
Pages 212-221 - Merchandise
Pages 222-223 - Closing Remarks
Page 224 - Credits
I'll get this out of the way now; the text is the book's greatest weakness. There are many spots in the book where the references that were used shine through the written word. When the montage magazine covers are discussed on page 37, I knew that I was reading a reworded section of
Making Ghostbusters
. Later on, when the official fan club is very briefly discussed on page 220, I felt like I was reading
the fan club article I wrote last year here on Spook Central
. If you gathered up
Making Ghostbusters
, the Ghostbusters II
Rolling Stone
article (June 1989 issue), and the half-book-long Ghostbusters II
Cinefex
article (issue #40) - and add in Spook Central for taste - you'd have at least 80% of the text content from the two movie sections. The book reads like author Daniel Wallace gathered up every available book and resource about Ghostbusters, and condensed them all into one book. That's great for the mainstream fans, but those who consider themselves "Ghostheads" will be very disappointed by the text content.
It's even more disappointing that I was able to find a handful of factual errors in the book, which are listed below. I'm not going to list the half-dozen (or so) grammatical errors I found, such as instances where a small word was missing - page 39's "when the crowd extras were" is missing an "of" between "crowd" and "extras" - and the lack of a dash when "Murray" was split onto two lines on page 19.
On page 15, it is stated that in the original Ghost Smashers script, "Gozer appeared as a mysterious figure shrouded behind mosquito netting who collected the mounted trophy heads of bats, rats, and lobsters". As noted in Making Ghostbusters (page 152), it was Shandor, not Gozer: "Shandor was the name of the Ghostbusters' interdimensional employer -- a decided eccentric whose walls were lined with mounted trophy heads taken from such challenging big game as bats, rats and lobsters. Though Shandor was invariably to be found sequestered in his darkened office, perched on a swivel armchair and covered entirely by a near-opaque mosquito bonnet, no one seemed to suspect that there might be anything inherently out of the ordinary about him."


On page 37, it is stated that "the New York Post story about the Chinatown ghost was to have featured an airbrushed illustration of the phantom in question, but Reitman wasn't happy with the artist's rendition." As seen on page 90 of Making Ghostbusters, a photo of the guys busting the spook would have been used, not a drawing of the spook itself.


On page 87, author Daniel Wallace states that Egon's Twinkie analogy equates to the overstuffing of the containment unit. That is an incorrect interpretation. He was referring to the rise of ghostly activity in the city, which he postulates is leading to "something big on the horizon". ("Let's say this Twinkie represents the normal amount of psychokinetic energy in the New York area. According this morning's sample, it would be a Twinkie thirty-five feet long weighing approximately six hundred pounds.")


On page 113, it is stated that the Ray Parker Jr. song was released as "a twelve-inch vinyl picture disc emblazoned with the red-and-white No-Ghost logo [which] featured an instrumental of 'Ghostbusters' and a remix entitled 'Searchin' For The Spirit'". Having just researched the song's history as a single for the Ghostbusters Wiki, I can tell you that this isn't true. The two different picture discs contain the album and instrumental versions, while the Searchin' For The Spirit remix is found on a standard record with the Dub Instrumental Version.


On page 128, it is stated that "Ray and Winston make their exit from a child's birthday party at a brownstone on the corner of 78th and First". While the brownstone IS on East 78th Street (it's #420), it's actually located in the middle of the block, between First Avenue and York Avenue. It's not on the corner with First.


On page 163, the photo of Slimer eating Louis' lunch has been flipped, as seen below. Also, it is said to have come from "a scene cut from Ghostbusters II", but that's not true. The whole Louis & Slimer subplot was filmed as a series of vignettes, as stated elsewhere in the book. This vignette is used in the movie in the first montage, with only the tailend of it, where Janine comes out and makes a comment, cut from it. So, it's not technically a deleted scene.


On page 202, it is implied that The Real Ghostbusters Gameboy game was ported to Japan as a Mickey Mouse game and Europe as a Garfield game. The reverse is actually true, with Garfield and Mickey coming first (it's debatable which of the two was first out the gate), then it was reprogrammed into The Real Ghostbusters game.


On page 206, it says that NOW Comics' Real Ghostbusters ran for 28 issues, which is incorrect. Volume 1 ran for 28 issues, but there was also a Volume 2 that added another 4 issues, plus 2 annuals (1992 & 1993), and a "Spectacular 3-D Special" that lead off Volume 2. That's another 7 issues in total, bringing the entire Real Ghostbusters series to 35 issues.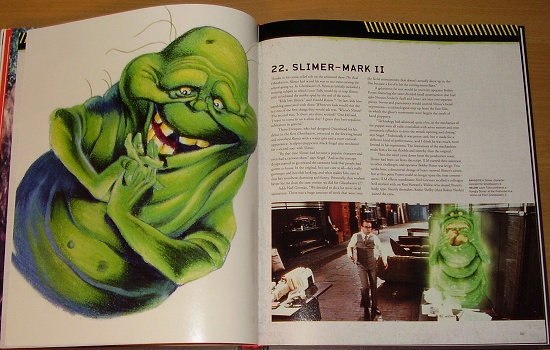 With the major weakness out of the way, it's time to talk about it greatest strength: the images! It IS called
The Ultimate Visual History
, after all.
There are 224-pages of full-color, high-quality images, of which at least 50%, and perhaps as much as 75%, are new to me. That says a lot considering that I've been running a Ghostbusters website for nearly 20 years, and have been a fan for 10 more than that. The images alone are the biggest reason to buy this book, and here are my top three favorites.
Here we see the Ecto-1A from Ghostbusters II being filmed on what is apparently Columbus Avenue. I don't recall ever seeing this location in the film, so perhaps it's from some kind of deleted scene. (UPDATE - 7/29/2019 - The
location has been identified
.)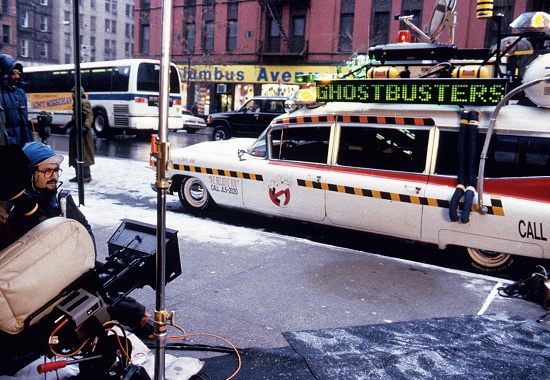 (click to enlarge)
Here's a great casual shot of the four guys in front of the firehouse, while taking a break from the filming of the containment unit explosion scene of the first film.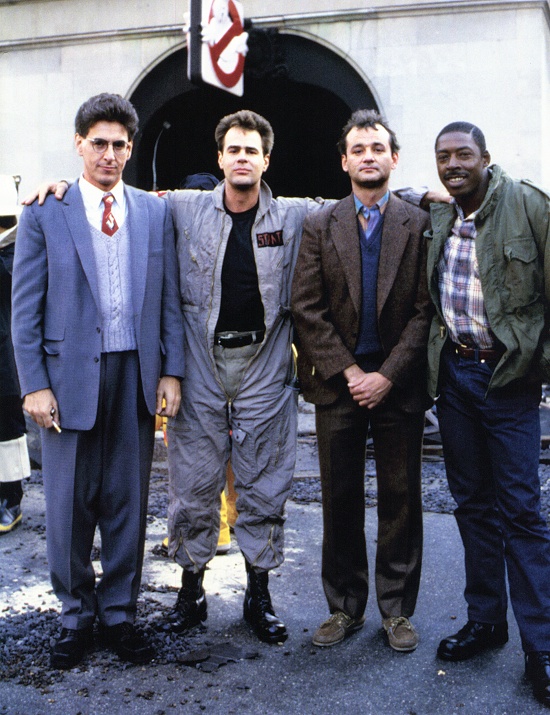 (click to enlarge)
Now this is the single-most confusing image I have ever seen. It's an outtake from the Ghostbusters poster photoshoot, but what's with the baby? Had this been for Ghostbusters II, I would have thought it was Oscar, but it's for the first film.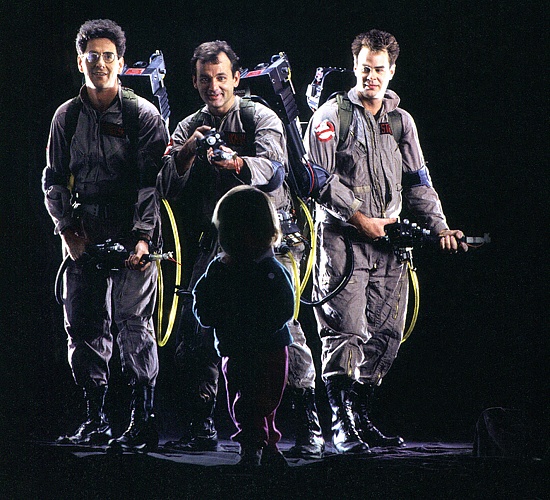 (click to enlarge)
Although there are a LOT of never-before-seen or rarely-seen photos and images in there, if you're looking for new deleted scenes photos, you will be greatly disappointed. The only new images I saw was a single photo of Bill and Dan as the bums, which doesn't show you anything you didn't already see in the
deleted scene on the DVD
.
Making Ghostbusters
had a TON of deleted scene photos, but here you just get the few "standard" photos that pop up all the time. That oft-used shot of Ray and Winston getting out of Ecto-1 in front of Fort Detmerring is all you'll see of
that scene
.
While I'm on the topic of
Making Ghostbusters
images, there is some overlap between the books, but not as much as you would think. Each has a lot of unique images, with maybe a dozen drawings and storyboards that appear in both. The overlapping material doesn't necessary appear in the same context. For example, here is how Steven Dane's Ecto-1 blueprints appear in
Ghostbusters: The Ultimate Visual History
and
Making Ghostbusters
.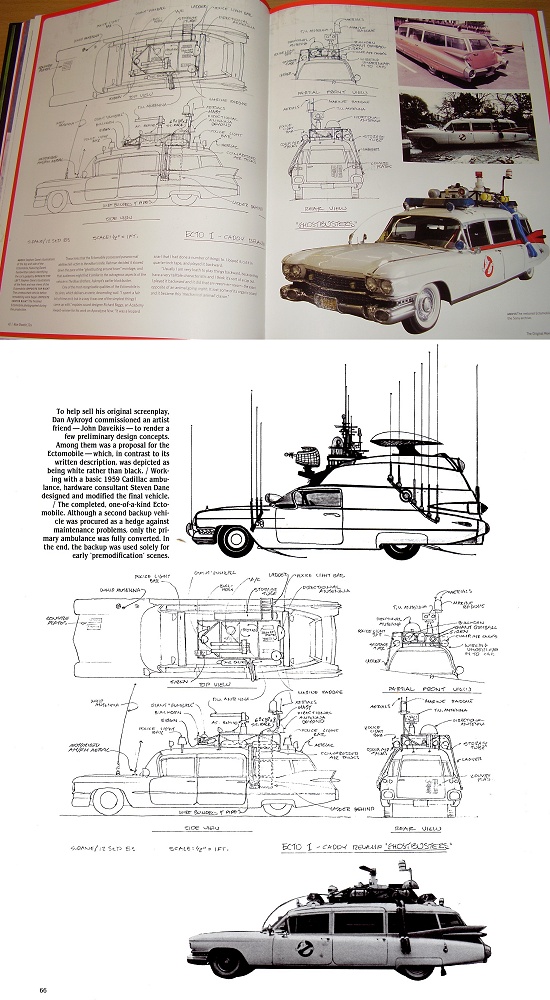 The majority of the artwork in
Ghostbusters: The Ultimate Visual History
is by Thom Enriquez and Henry Mayo, with only two pieces from Bernie Wrightson, both of which were previously published in
Making Ghostbusters
. So, if you're looking for Wrightson's art, you'll want to seek out
Making Ghostbusters
, which has a LOT of it. However,
Ghostbusters: The Ultimate Visual History
is jam-packed with Enriquez and Mayo, including a lot of pieces you will likely have not seen before.
For some reason, the Comics section is filled entirely with Dan Schoening art from the IDW series. There is not a single image for any of the Marvel, NOW, 88MPH, and Tokyopop books, all of which are written about. Almost all of the IDW art is finished pieces that we've seen before. I would have liked to have seen a lot of behind the scenes stuff, like rough concepts, works in progress, deleted ideas...stuff like that. Also, the Toys section does not include any photos of the Extreme Ghostbusters figures or the Neca figures, despite discussing them.
One issue with the photos that I noticed is that there are 10 of them with blurred backgrounds. I could understand if the people in the background were blurred from casual photos, though I would still not like it, but the background extras are even blurred in movie shots. All but one of the photos are from Ghostbusters, so there's a spread of 20 pages where you'll find most of them. That gets pretty annoying, but the good news is that once you get past page 50, you'll only encounter two more of them. Here's the list I made of pages with blurred photos, followed by three such photos.
Page 32
Page 33
Page 34 (in front of camera)
Page 36
Page 38 (2 photos)
Page 47 (left of Murray)
Page 50
Page 88 (officer's face on right & NYPD logo on car)
Page 129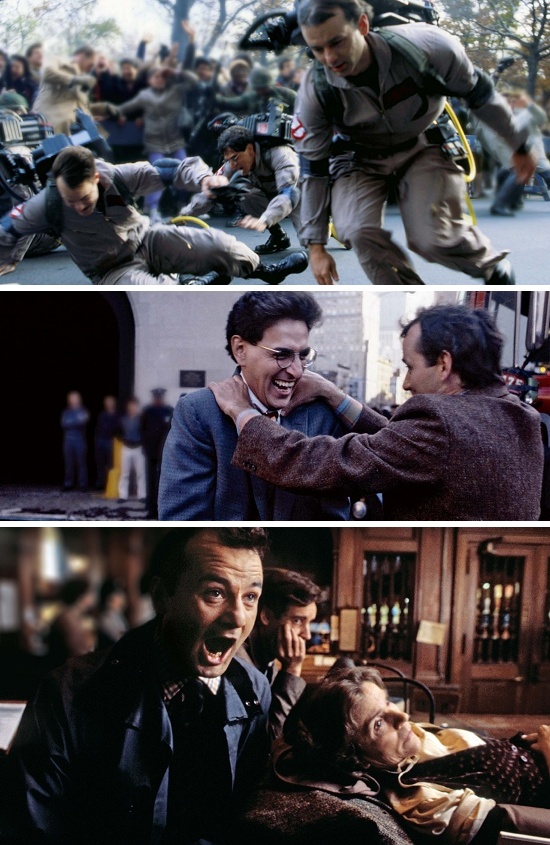 And here's a comparison between an original photo (top) and the blurred version in the book (bottom). The blur occurs to the left of the camera. If it's not that noticable, a close-up follows (original on left, book version on right). Yeah, this wasn't an ideal photo to use, but it was the only one that I knew I had the unblurred original of. It also shows how ridiculous the blur is since the background extra wasn't very identifiable in the original photo anyway.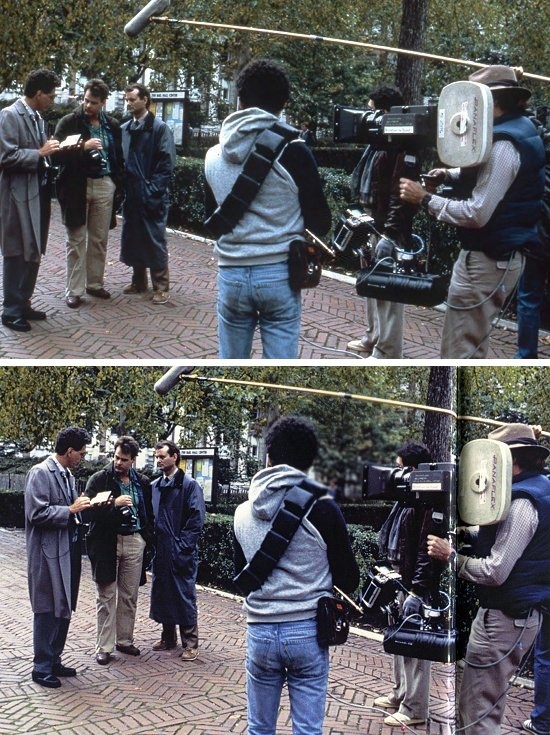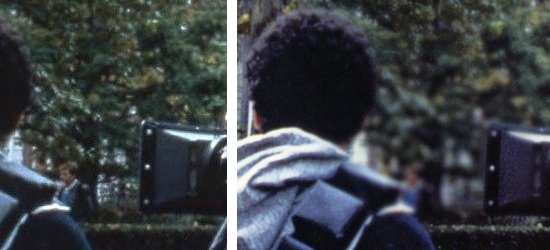 (UPDATE - I have since discovered that the
altered and blurred photos were Sony's fault
. Insight Editions just published the photos the way they got them from Sony. Future publications from other publishers contain the same altered photos.)
Something that publisher Insight Editions likes to do is include special items tucked into the pages of their books.
Ghostbusters: The Ultimate Visual History
is no exception to this. These "pack-in items" (as I call them) are FANTASTIC and I love that they're included. However, they will need to be removed, as they cover parts of the pages they're affixed to. The problem is that they don't come off easily. You will damage something, whether minor or major, when trying to remove them. Insight Editions should have used a "Post-It Note"-type adhesive to affix the items to the book, or figured out some other way to include them. Below is a list of the 18 inserted pack-in items you'll find. The mini animation cel (seen below) came from my personal collection.
Page 21 - "Ghost Chasers" Production Notes
Page 51 - Hotel Sedgewick Storyboard Booklet
Page 55 - Proton Pack Illustration
Page 66 - Gozer Temple Schematic
Page 95 - Terror Dog Concept Sketches
Page 105 - Stay Puft Marshmallows Sticker
Page 115 - Test Screening Preview Card
Page 120 - Peter Venkman Business Card
Page 138 - Vigo As Statue Of Liberty Concept Art
Page 150 - Spelunking Outfit Sketch
Page 152 - Slime Blower Diagram Transparency Sheet
Page 153 - Slime Blower Sketch
Page 157 - Special Effects Breakdown
Page 164 - Slimer Illustration/Sketch
Page 169 - Mink Coat Comes Alive Sketch
Page 187 - Real Ghostbusters Slimer & Peter Mini Animation Cel
Page 199 - Extreme Ghostbusters Ghost Sketch
Page 210 - Dan Schoening-Drawn Stay Puft Sketch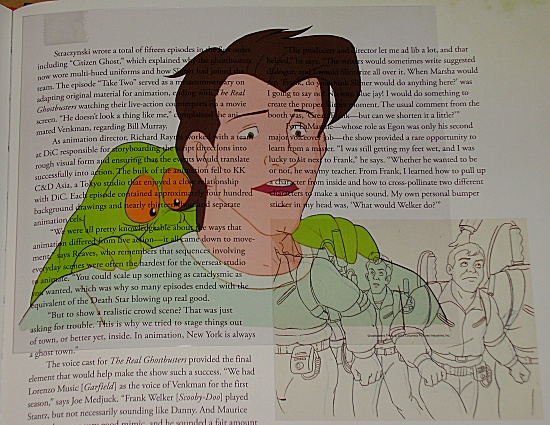 (click to enlarge)
Yes, if you look at the Credits section on the last page of the book,
you'll see my name (Paul Rudoff) headlining the fourth row from the bottom
(placing me between Rino Romano and Adam Savage). I submitted a lot of images, and the 17 listed below are what was used. As you can see, most of my submitted content is in the Real Ghostbusters section (a lot of my animation cels; including one used as a pack-in).
Page 111 -
Official GB1 Score Cover
Page 178 -
RUN-DMC Cassette Single Artwork
Page 179 -
On Our Own Sheet Music Cover
Page 182 -
RGB Egon & Peter Animation Cel (WITH BACKGROUND)
Page 184 -
RGB Ecto-1 Under Water Animation Cel (WITH BACKGROUND)
Page 186 -
RGB Character Body Size Relationship Chart #1 Artwork
Page 187 -
RGB Slimer & Peter Mini Animation Cel (NO BACKGROUND) (PACK-IN)
Page 188 -
RGB Ecto-1 Rear & Stay Puft Man Artwork
Page 189 -
RGB Stay Puft Animation Cel (WITH BACKGROUND)
Page 190 -
RGB Blackie, Boogieman, and Janine & Peter Animation Cels (WITH BACKGROUNDS)
Page 191 -
RGB Slimer Poses Model Sheet
Page 201 - GB NES Video Game Box Artwork (my three-hole punch, from when I stored the cut-out art in a binder, is a dead giveaway this is my personal scan)
Page 202 - Various GB Game Covers (some are the ones I suggested for use based on internet finds)
Page 212 -
RGB Kenner Toy "This Room Protected By" Poster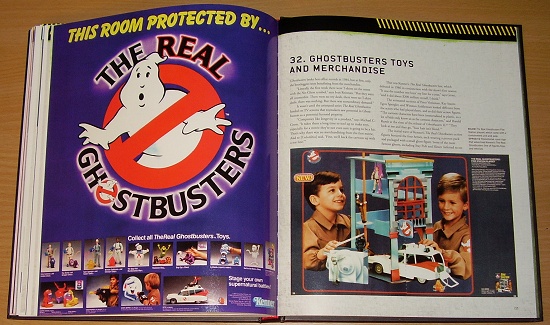 The fandom that has kept the Ghostbusters franchise alive gets one throwaway page at the end. The prop-building fans are represented by Adam Savage of TV's Mythbusters, whom I never knew was in the prop-building part of the community. Is it a coincidence that he was chosen considering the name of his show? The official fan club from 1984 gets a mention in text that is eerily-similar to parts of
my fan club article from last year
, and Ernie Hudson is quoted a few times with his recollections of seeing the fans at conventions. No mention is made of the fan websites or the fan "franchises". I guess I'll just have to be happy with my credit for my contributions to the book.
A few facts are curiously omitted from their related sections. There is absolutely no mention at all of Jason Marsden as the voice of Garrett in Extreme Ghostbusters. Every other one of the main voice actors gets a mention - Rino, Tara, Alfonso, Maurice, Pat, and Billy - yet Jason is completely left out. While talking about Ghostbusters: The Video Game, original parent company Vivendi Universal is briefly mentioned, but not original publisher Sierra. Nor is it mentioned that the game was briefly left without a publisher when Sierra was purchased by Activision. Finally, there is no mention of the Universal Studios Florida attraction anywhere. Not many movies are successful enough to get a theme park attraction - especially in the early 1990s - so this was a pretty big deal for the franchise. Heck, actor/comedian/
Let's Make a Deal
host Wayne Brady even portrayed Winston in the show at one point; before he was famous, of course. That's worth even just a passing mention.
The reboot gets a one-paragraph mention on page 222 in the closing remarks, with no pictures from it. So, if you're one of the reboot-a-phobes, you need not have fear about picking up this book.
What
Ghostbusters: The Ultimate Visual History
really has going for it, is that it's full-color on large high-quality pages, with 50%-75% new images. The pack-in items are great, but the execution is horrible; and the text will give you deja vu if you've read
Making Ghostbusters
, the Ghostbusters II
Rolling Stone
article, and the Ghostbusters II
Cinefex
article.
So, it really comes down to whether or not 224 pages of full-color Ghostbusters images is worth $35 (current Amazon price) to $50 (MSRP). Personally, I think it is. If you feel the same, click over to
Amazon and BUY THIS BOOK
!
5 comments
Thanks for pointing these out! Does anyone out there have any idea what's up with that baby? It's so, so weird. Any guesses, even? A tagline that got dropped?
Nov. 7, 2015 @ 04:08
Comment
from:
Rob Britton
[Visitor]
Best guess would be that it is one of the actors', or Reitman's kids just having wandered into shot. There's a lightness to at least Murray in the photo that indicates its just a spontaneous mistake. I have no proof to back that up, of course, but it comes across that way.
Nov. 8, 2015 @ 14:53
also, petes boots are tucked in his boots in the baby pic .
Nov. 8, 2015 @ 22:09
Comment
from:
Vahan Nisanian
[Visitor]
Another error:
The book states that the interview J. Michael Straczynski gave to the L.A. Times about the Q5 changes to "The Real Ghostbusters" was in 1989; in actuality, it was in 1987.
Nov. 9, 2015 @ 23:59
Thanks for this detailed review. It finally turned the balance for me to forgo this book.
The weaknesses you pointed out and the blurred photos outweigh the otherwise great content for me.
Nov. 11, 2015 @ 05:47
Leave a comment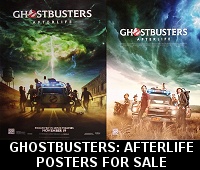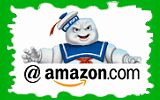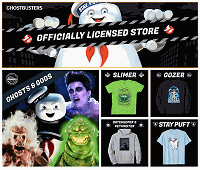 Please be aware that as an Amazon Associate, I earn a very tiny commission from purchases made though the Amazon links on this site.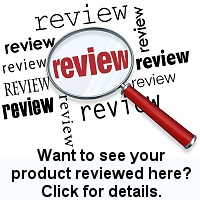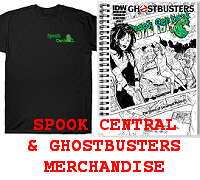 (
MY COMPARISON REVIEW
)
(
AVOID SHIPPINGEASY/STAMPS.COM
)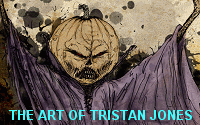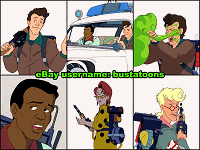 U.S. eBay (Ghostbusters stuff)
U.K. eBay (Ghostbusters stuff)