Updated on September 1, 2018
-----------------------------------------------------------
UPDATE - In an effort to make the photo documentation of the house trips easier to find, here are the quick links to all Facebook photo galleries about the East Rockaway house.
•
Thu. March 9, 2017
•
Tue. May 30, 2017
•
Fri. June 9, 2017
•
Wed. June 14, 2017
•
Wed. August 23, 2017
•
Mon. November 6, 2017
•
Sat. September 1, 2018
-----------------------------------------------------------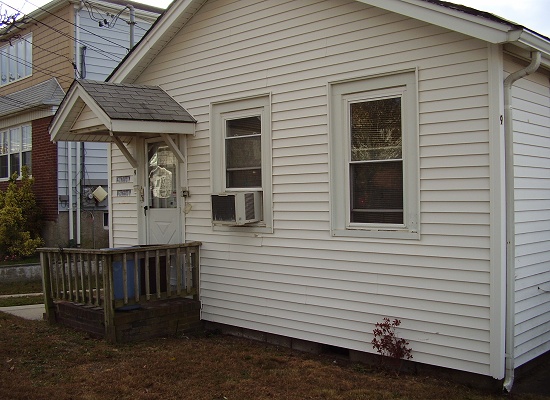 November 8, 2013
Those of you who were visiting this site four and a half years ago may remember
a series of blog posts
documenting what my family and I had to endure due to Hurricane Sandy on October 29, 2012.
One of those posts
was a chronicle of what became of the house that the hurricane forced us to vacate after 23 years when it was flooded with six feet of water. Over the past four years, I have been making updates to that post, adding in brief notes and photos of the latest happenings, and non-happenings. I suspect that I'm the only one who ever knew about the updates, but they were done more for myself and to "document history" than for anyone who visits a Ghostbusters website. In my last update, dated December 7, 2016, I commented, "I have a feeling that when I check on the house again, it won't be there." Sure enough, I was right.
Be forewarned that this is a
very
image-intensive post.
On Thursday March 9, 2017, my sister alerted me to the fact that the house had been demolished. I immediately hopped on a train and got over there to see it for myself...and to take pictures. This is what I saw.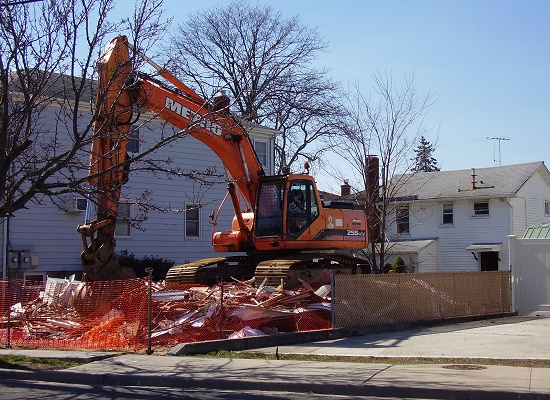 March 9, 2017
I wasn't sure how I would react to not seeing the house there anymore. It was a little sad, but not as sad as I thought it would be. I knew this was coming. The signs were there. Well, the literal sign was there.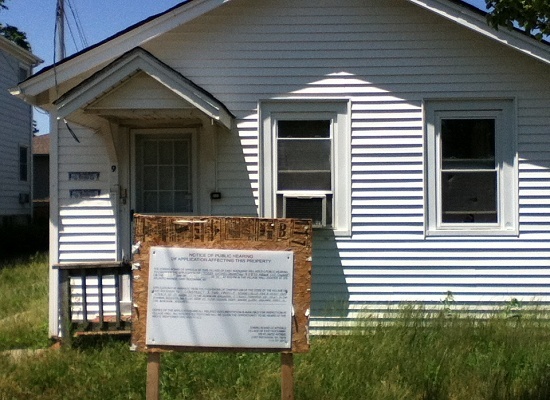 June 10, 2015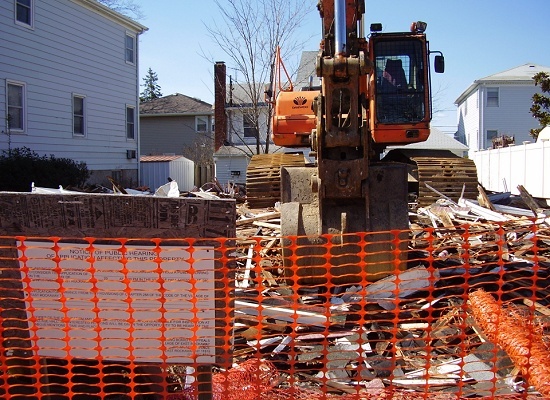 March 9, 2017
I spent 15-20 minutes ruminating over the debris and the pieces of my past life that I saw within it. At first I couldn't figure out what that large white square thing was.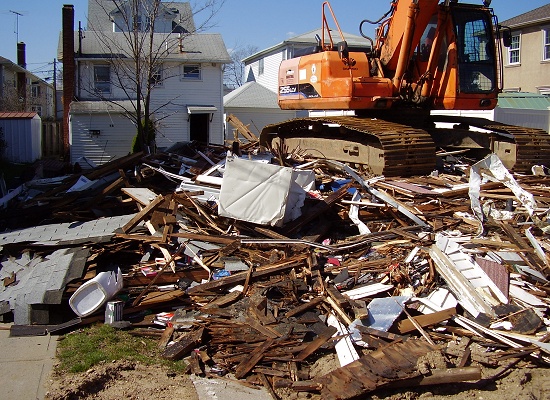 March 9, 2017
Then I saw it from the side and immediately realized that it was the refrigerator. It wasn't even close to where the kitchen was.
March 9, 2017
My father and I used to record a
lot
of stuff off the television onto VHS tapes. In 23 years, we amassed quite a collection of recordings. We had them all over the house. I took some that were above the water level in my room, but we had to leave most of them behind, as seen in the post-hurricane photo below.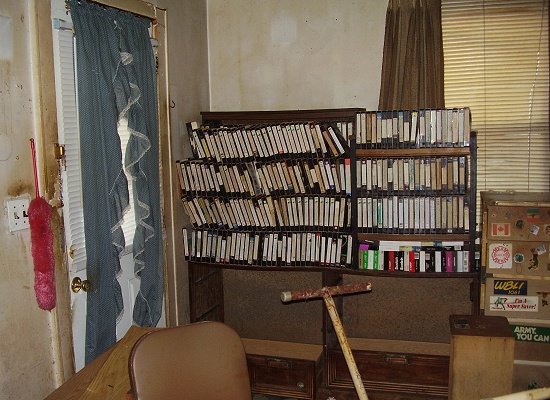 November 8, 2013
As expected, they were strewn throughout the remains of the house.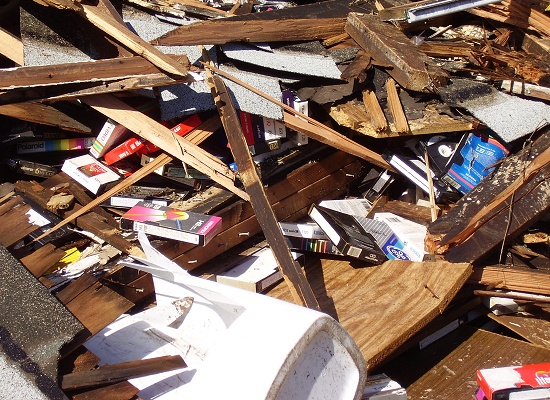 March 9, 2017
There's the bathtub, but it isn't where the bathroom used to be.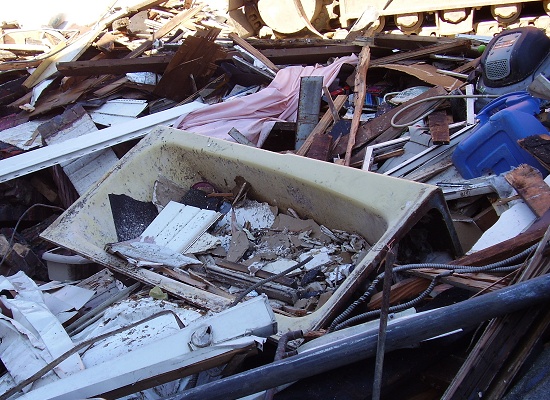 March 9, 2017
We couldn't take my father's lawn mower and other lawn care items because electric items don't fare well in water. Plus, we can't use them in a place that has no lawn.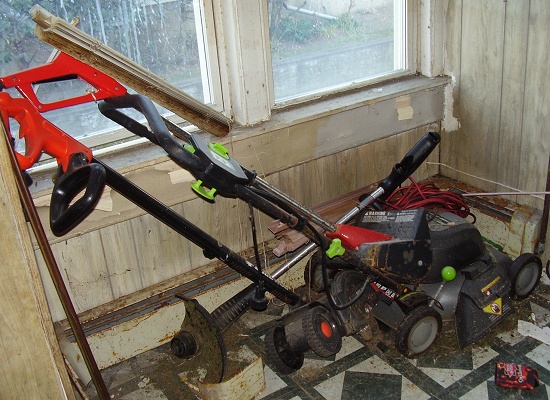 November 8, 2013
The lawn mower was amongst the remains. I also spied the red handle of the snow blower(?) under all of the debris (seen in a different photo). For whatever reason, they bulldozed the blue recycle bin with the rest of the house. I left my Priority Mail shipping supplies at the house because the postal service would give me more for free. Some of the boxes I left were in the pile.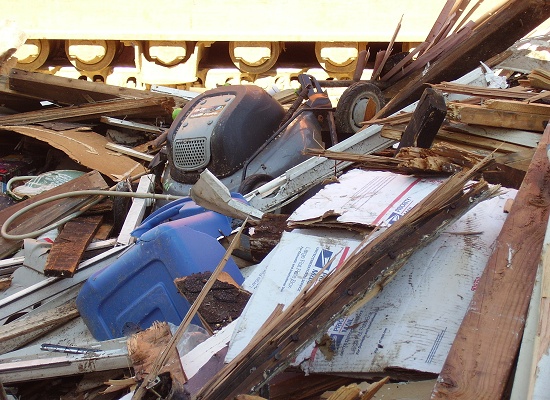 March 9, 2017
Santa won't be coming down
that
chimney any time soon.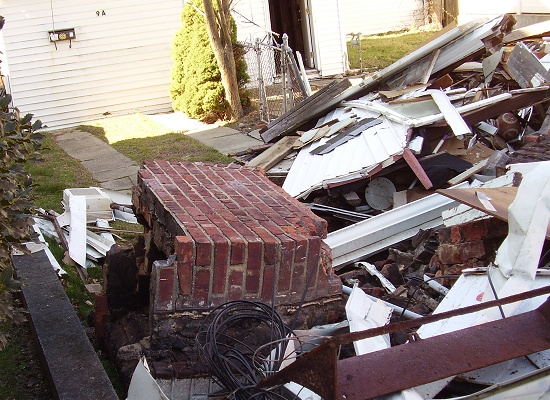 March 9, 2017
Walking around to the other side of the property, I found a mattress crushed under the treads of the crane. There's no sheet on it, which makes it likely that it was from the hide-away bed that my father slept on at one point before he got something better. Of course, if the sheet had come off, then it could have been from my bed or my mother's. It's hard to tell just by looking at it.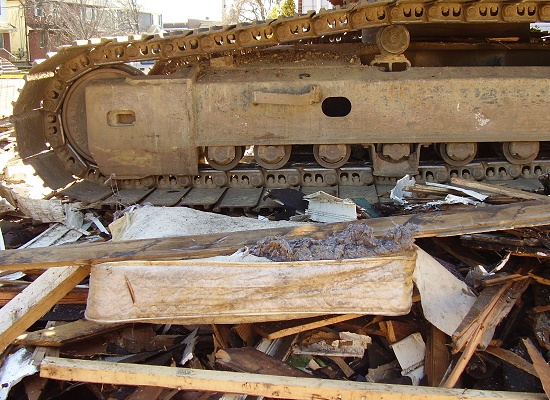 March 9, 2017
The "foundation" of the back right corner of the house is still there. By "foundation", I mean cinder blocks. Yeah, the house was not meant to stand the test of time. That it lasted almost 100 years is a miracle. It was supposedly built in 1920 as a summer beach home. It originally just had a fireplace as it's heating source. An oil-based radiator system was retro-fitted years later (some time before 1989). This corner of the house was where the bathroom and my sister's room (later my mother's "rec room") resided. A year before the hurricane, the floor in that bedroom was replaced, partly due to the ravages of time, but also due to Hurricane Irene in August 2011. In this photo, we can see some remnants from the bathroom and bedroom...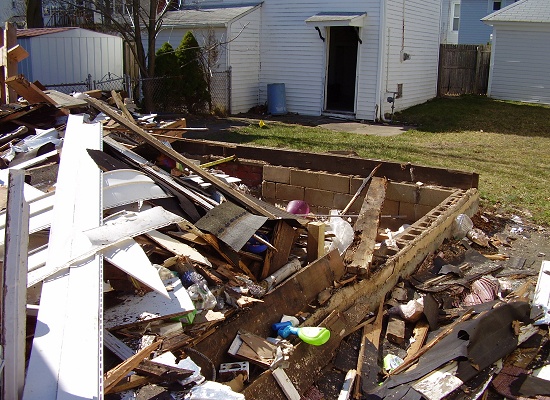 March 9, 2017
...such as the toothbrush holder that was affixed to the wall.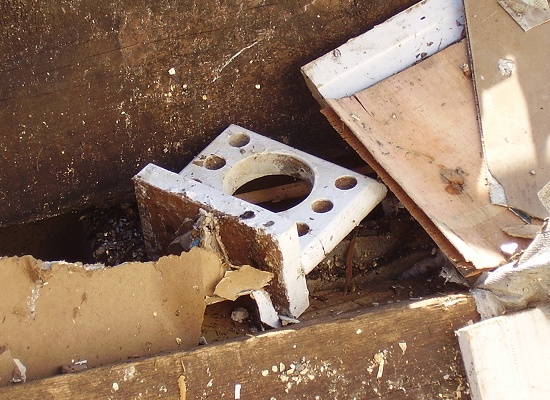 March 9, 2017
When it it was in service, said toothbrush holder looked like this...although not so dirty, as this photo is post-hurricane.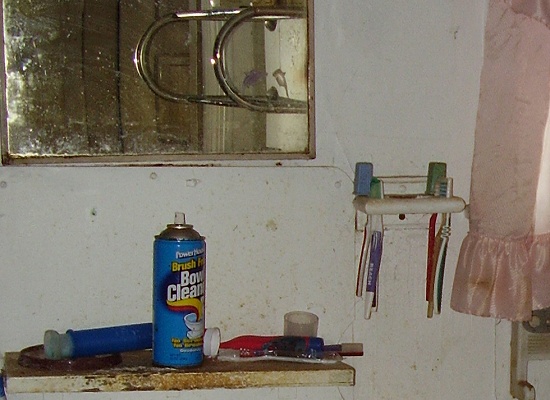 November 8, 2013
In this "corner house" photo, you can see (if you look
really
closely) a few interesting things. At the bottom, there's a blue candy dish(?) that my mother or father decorated in the senior center arts and crafts class many years ago. I never realized that it was left behind at the house, and
maybe
I could have quickly "hopped the fence" and grabbed it from the debris, but it wasn't worth possibly getting in trouble, or getting hurt, for. We have enough things that Mom and Dad made/decorated in arts & crafts that we don't need this candy dish. You'll also notice two trash cans; a rusted Dora the Explorer metal can under some wood on the left, and a plastic purple can sitting out in the open on the right.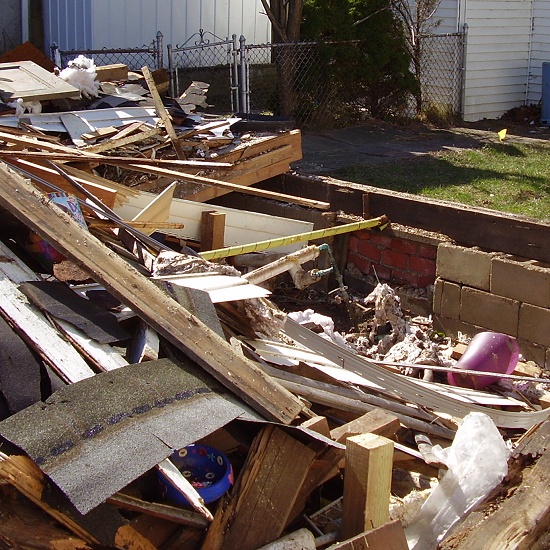 March 9, 2017
These were last seen stuffed together in that back bedroom post-hurricane.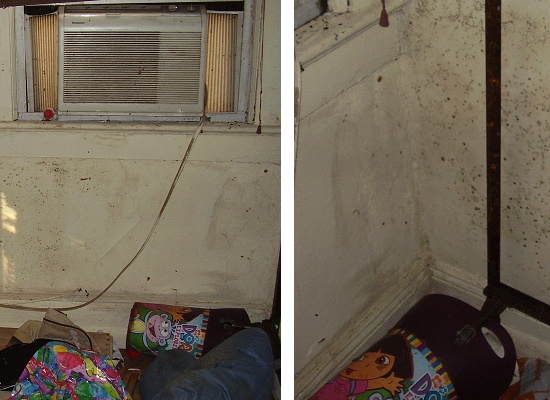 November 8, 2013
Geez, I think I've shown you everything but the kitchen sink. Oh, wait...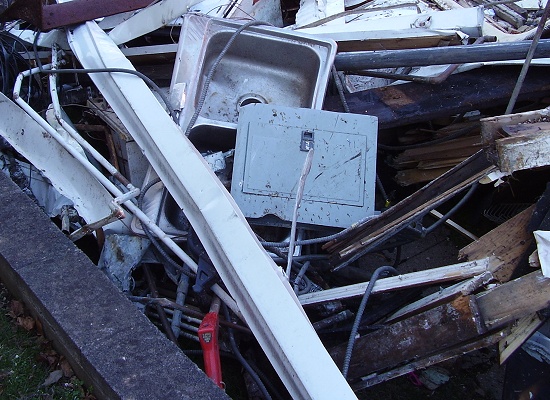 March 9, 2017
That's the cover of the circuit breaker sitting atop the sink. I'm not sure how those two things ended up together, but the breaker cover isn't far from where it used to be. The sink moved quite a bit. The red handle of the snow blower(?) is peeking out from under all of the debris at the bottom.
Currently, the small house on the back of the property, which was converted from a garage, is still standing, albeit with the door left wide open. I suspect that after they cart away the rubble from our former home, they will demolish that one. Then they'll have to bring in a lot of dirt to raise up the land before they can build a new two-family house there. I'll be back in the town in June, so I'll see what's there then. I'll add updates to this blog post until a new house is built. At that point, nothing further will change at the location, so I'll have no reason to go back anymore.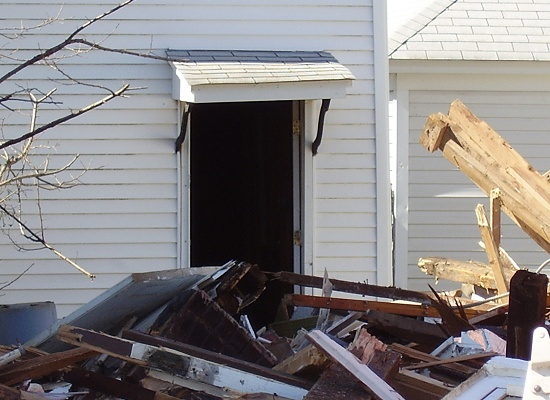 March 9, 2017
I didn't leave without taking home a souvenir. I saw this piece of the house's original pink siding sitting in the front of the debris pile, so I reached in and took it. The more I looked at it, the more it kept saying "take me" to me. I lived in the house for the majority of my life (from 1989 to 2012), and my sister lived there for half of her life, so it seemed fitting to keep a piece of it.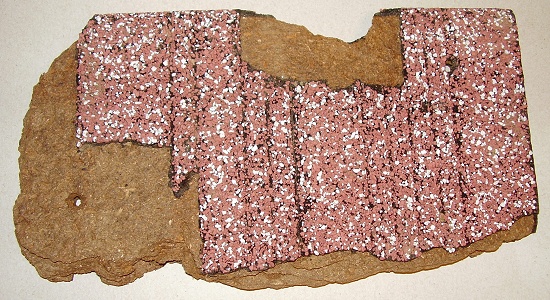 March 9, 2017
I think it was in 2001 or 2002 that the landlord put the white vinyl siding on the house, covering up the original pink exterior.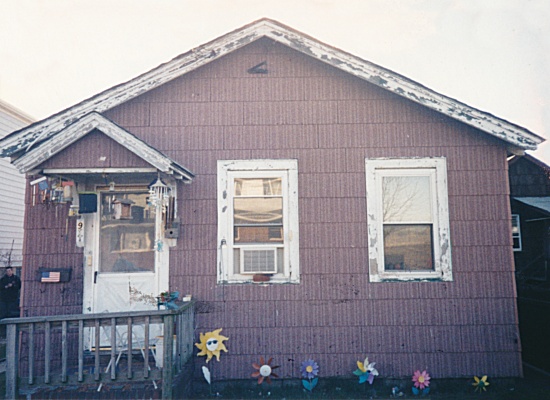 March 18, 2001
With the demolition of that house, all three of the old buildings on the block are now gone. Sometime in the 2000s, the house next door burned down (killing one of our former neighbors in the process), and the Ship's Inn restaurant across the street closed (and was demolished a few years later). A little piece of East Rockaway history is now, truly, history.
More photos taken on March 9, 2017 of the demolished house can be found in
this Facebook gallery
.
May 30, 2017

As expected, the back house (converted from a garage) has been demolished as well, and all of the rubble has been carted away, leaving an empty lot. As I walked up to the place today, there were a couple of (I think) land surveyors measuring the plot of land, or something like that. Anyway, what few photos I took can be found in this Facebook gallery.
June 9, 2017

My sister and I stopped by the old house to visit our former next-door neighbor. It was only 10 days since we last visited the area, and they already started building the new two-family house. They dug up what was left of the original lawn and driveway/walkway and layed the base of the foundation walls. A bulldozer sat atop the dirt pile in the middle.

For some reason, our former neighbor went to village hall and paid for copies of the new house's blueprints, even though she has no vested interest in the property. Since they were laid out on her dining room table, I took some photos of them. While we lived in a one-floor single-family house, the new building will be three-story two-family dwelling, with a two-car garage on the first floor.

All of the photos I took can be found in this Facebook gallery.
June 14, 2017

The new owners of the property are really moving fast to get the new house built. Just a mere five days later, and they have the framework of the garage walls up already. When I visited around Noon, there were two construction workers putting up the walls. I'll be back in the town in late August for a doctor's appointment, and I would not be surprised if I see a finalized new house by then.

Anyway, what few photos I took can be found in this Facebook gallery.
August 23, 2017

The new house seems to be, at least, half completed in just two months. Obviously, there is still much more to do. There was no lock in the door. The wind blew it open, as if to be inviting me in. I didn't go in, of course, since that would be trespassing. I imagine that everything inside still needs to be worked on, and of course, the landscaping needs to be done, but at least there's a structure there. It towers over all of the other houses on the block and looks like a giant blue eyesore. but it's not like I have to live there anymore :-)

It seemed weird to see the ground around the house level with the sidewalk and the surrounding houses. When we lived there, the property was below street level.

As per the sign in the window, the house is being offered for sale by Matthew Hazan of Douglas Elliman Realty. I found the listing. Apparently, the entire two-family house is being sold for $749,000. I would have thought it would be rented as two apartments, unless the new owner will do that. The "2 family FEMA compliant home being built now", has a total of 10 rooms, including 6 bedrooms (3 per apartment) and 4 bathrooms (2 per apartment), and encompasses 895 square feet on a 4,000 square foot (0.1 acre) lot. There are two eat-in kitchens (1 per apartment) and a formal dining room (presumably one per apartment), with no basement. The 1st Floor consists of 2 Garages, Storage, Entry, Fema Compliant. The 2nd and 3rd Floors consists of 3 bedrooms and 2 bathrooms each (each floor is a separate apartment). The house is heated by gas and will have central air conditioning.

I will be going back to the town in November. I'm sure the house will be completed by then. Anyway, what few photos I took can be found in this Facebook gallery.
November 6, 2017

Not much to report. The new house looks virtually identical to how it looked six weeks ago, other than the faux rock siding they added to the front on the ground floor around the entrance and garages. The sides are still bare and the whole thing still looks unfinished. I will be going back to the town in February, so we'll see what things look like by then. Anyway, what few photos I took can be found in this Facebook gallery.
September 1, 2018

This will be the final report as there is nothing more to report. One of the apartments in the new house has been listed for rent. They're asking $2,650 for it, which is $1,150 more than we were paying in the old house located on the same spot. Of course, it's in MUCH better condition.

The listing description states: "Brand New House!!!! 2nd Floor Apartment In 2 Family Home. Located Close To All.... Shopping,,Restaurants And Lirr. . Large Master Suite W/Pvt Bath, 2 Additional Bedrooms W/Shared Bath. Wide Open Layout, Eat In Kitchen W/Center Island And New Stainless Appliances. Hardwood Flooring, Central Air, Washer/Dryer ,Private Garage And Driveway. Pets Considered. Waterview Across."

Each apartment (I assume they're designed the same) contains 3 Beds and 2 Baths with Air Conditioning and Washer & Dryer.

Photos of the interior taken by the real estate agent can be viewed on The Corner Penthouse Facebook page, the Douglas Elliman site, and the NY Times site.

The listing can be viewed on the Douglas Elliman site, the NY Times site, and Coach Realtors.
No feedback yet
Leave a comment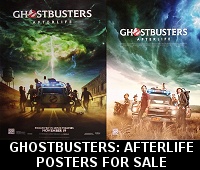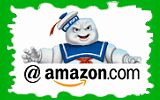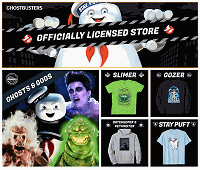 Please be aware that as an Amazon Associate, I earn a very tiny commission from purchases made though the Amazon links on this site.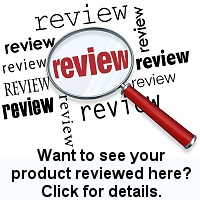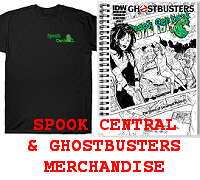 (
MY COMPARISON REVIEW
)
(
AVOID SHIPPINGEASY/STAMPS.COM
)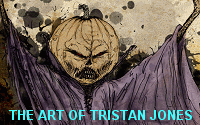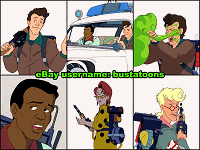 U.S. eBay (Ghostbusters stuff)
U.K. eBay (Ghostbusters stuff)