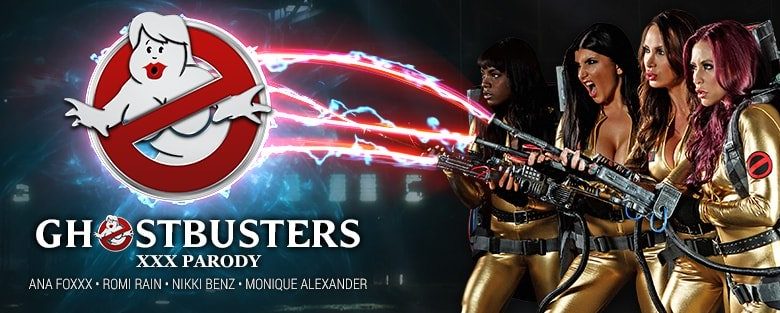 Ever since the gimmick of an all-female Ghostbusters was announced, I knew what would come from it. Surprisingly, it was not the "all girl" feature I expected. Brazzers, a well-known company that specializes in these types of videos, released a Ghostbusters adult parody last year that is kinda, sort of, not really based on Paul Feig's film. I know what you're thinking? Wasn't there already a Ghostbusters adult parody? Yes, Hustler made one in 2011, which
I reviewed
(and was later
quoted in the official press release
). That
wasn't even the first one
based on the original Ghostbusters.
I'll try to keep this review as clean as possible (there will be some mild words and cartoon genitals), but it IS a porn film, so if that offends, don't continue any further. Also, the bulk of this review is about the movie itself, which was originally released on the website in four parts. Information about the DVD release will be included afterward.
To give you a taste of what's to come, let's look at the official PG trailer for "Ghostbusters: XXX Parody" that's been uploaded to YouTube. There's no nudity or sex in it, but it does have some curse words.
Yeah, the trailer is a parody of the
first trailer for Ghostbusters (2016)
. That's a nice touch, and gives me hope that this parody will be decent, for what it is.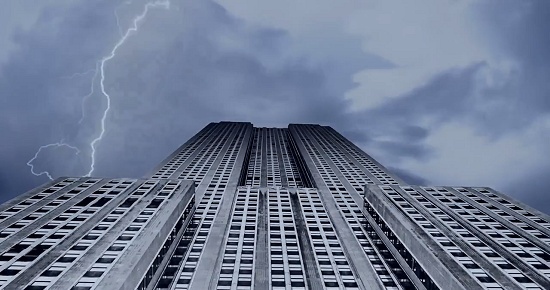 The 2 hour 20 minute movie opens with an upshot of an apartment building (I wonder why they
thought of that
) in which a young woman is being seduced by an invisible man sleeping in her bed. Well, actually, he's hovering above her bed with an erect penis. That makes this a hard one to screencap "clean" :-) Anyway, as you can guess, he becomes a corporal entity and we get...
Play Theme Song
...a title and a theme song. This knockoff actually sounds more like Michael Jackson's "Bad" than Ray Parker Jr.'s "Ghostbusters".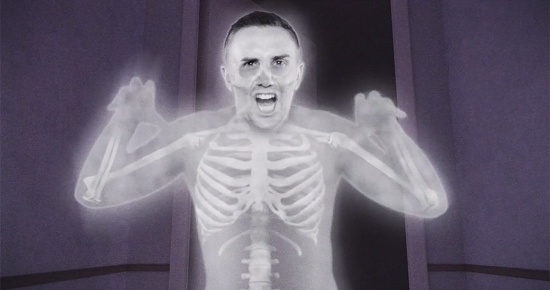 SEX SCENE #1 - Monique Alexander and Keiran Lee (24:04)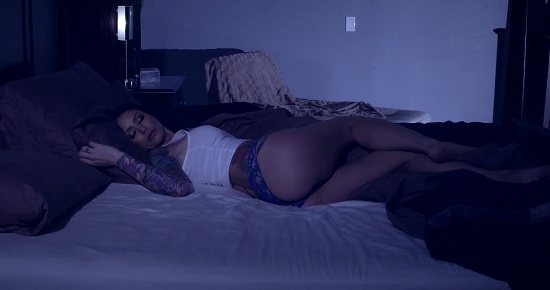 It seems that everyone is using their stage names as their character names (their stage surnames all appear on their jumpsuits), so I will refer to them as such. I also won't comment much on the scene contents (that will be saved for an explicit review on an appropriate website), but I will say that it looks like this movie will follow the modern "norm" of porn where women are treated more like pieces of meat to cram things into rather than willing participants who enjoy the act. The only other thing I will note is that a few times the scene cuts to Monique "simulating" the sex acts without the guy there, so as to show what it looks to an "outsider" because he's invisible.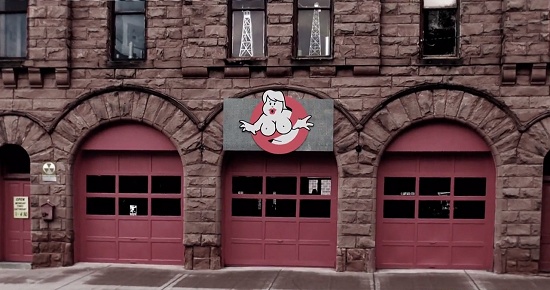 The scene turns out to be a flashback of Monique telling the story to a group of male Ghostbusters (Xander Corvis, Sean Lawless, Charles Dera, and Isiah Maxwell), all of whom work out of a firehouse with a "no female ghost" logo on the outside that Kevin obviously designed. The guys laugh at her, taunting her to start her own team. I think you can see where this is going.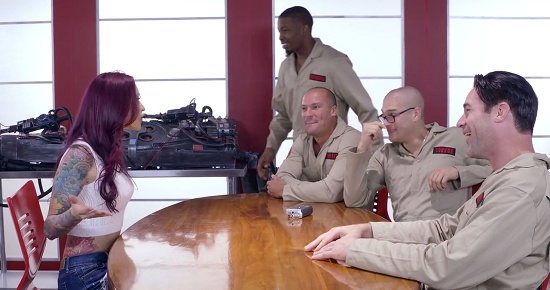 It's worth noting that some attention was made to the props. The jumpsuits and Proton Packs look very much like the real thing. They're not exact, of course, but I think they would get in legal trouble with Sony if they were exact, anyway.
This is where Part 1 ends and Part 2 begins.
Without any further backstory, we jump to the newly-formed team of female Busters (Monique Alexander, Nikki Benz, Romi Rain, Ana Foxxx) at the house of some guy in distress. He remarks that they're not the guys he called, to which Monique replies, "We're even better. We're the Nutbusters." Okay, stop right there. I can look past the whole lack of backstory on this new team; where the other three ladies came from, why they have those uniforms, and so on. I just can't get past that name. While I get what the name is in reference to, what the Hell does it mean in the context of this movie? If they're a team who busts ghosts, why not go with a name indicative of that? Let's assume the guys have the name "Ghostbusters" trademarked, so why not call your team "Ghost Smashers" or something with "ghosts" in the title?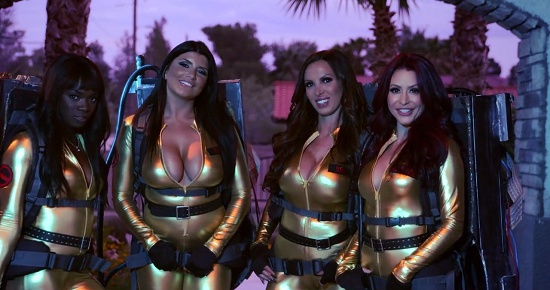 I'd like to think that this is some clever inside joke/reference to one of the early Ghostbusters adult parodies,
Muffia's "Nutbusters" from 2009
. In fact, this new team of Nutbusters even dresses like the team in the Muffia movie.
Nutbusters (2009)
Anyway, the guy is hoping that the Nutbusters can help deal with his possessed wife, who's upstairs in the bedroom. As they head upstairs, we see that the Nutbusters also have Proton Packs (with cyclotron chaser-ish lights!). Some rather comically oversized Proton Packs, but Proton Packs nonetheless. Since they're the same ones we saw in the male Busters headquarters, it would seem that the ladies are thieves.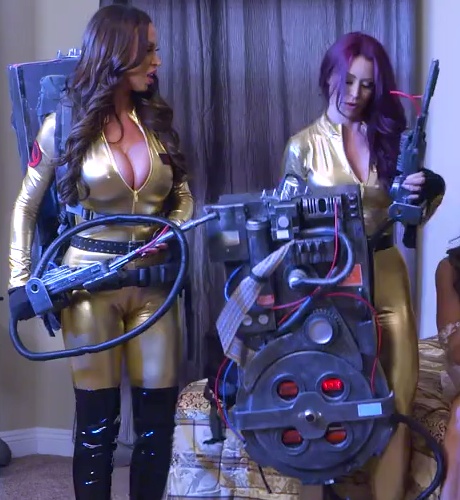 They find the possessed wife (Abigail Mac), tied to the bed shouting sexual comments to all of them. Monique determines that she's horny, not possessed, and tells her teammates to escort the husband downstairs while she and Romi attend to the missus.
SEX SCENE #2 - Abigail Mac, Monique Alexander, and Romi Rain (17:36)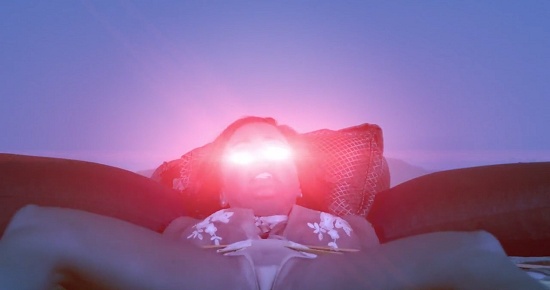 The trio downstairs hears Monique and Romi "exorcising" the demon out of Abigail, which leaves them feeling "awkward". The ladies feel that they should "do something", and since they both think that the husband is kinda cute, they decide to go above and beyond their usual level of service.
SEX SCENE #3 - Ana Foxxx, Nikki Benz, and Michael Vegas (20:19)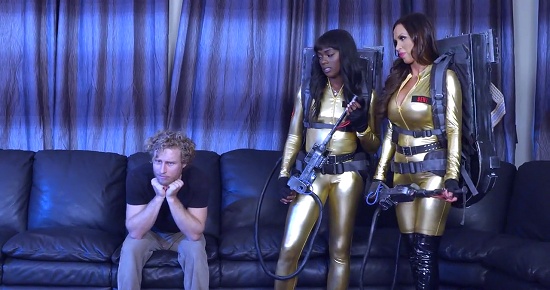 Right about now, I think the husband is glad that the female Busters stole the call from the male Busters. Otherwise, this would be a completely different kind of porno. Once the job is done, they all meet back up in the bedroom, where they discover that the house is still haunted - by the ghost of Keiran Lee (from Scene #1). They chase after him.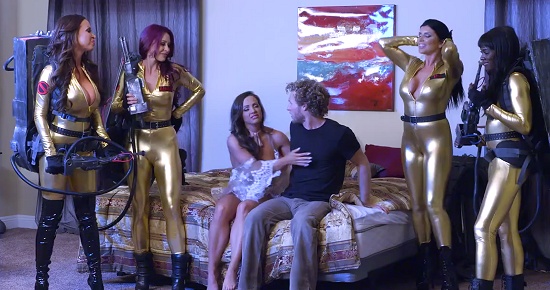 This is where Part 2 ends and Part 3 begins.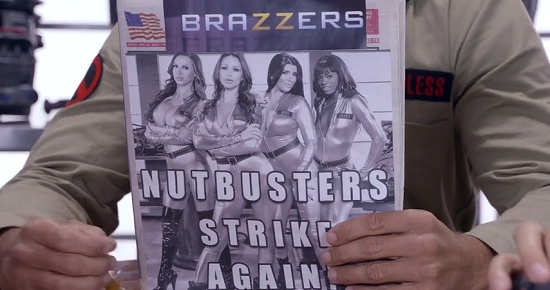 Meanwhile, back at male Buster HQ, the guys are mad because "those bitches actually went out and started their own crew". To put that in Paul Feig speak, "Ain't no bitches gonna hunt no ghosts." The Nutbusters actually made the front page of Brazzers magazine (in a photo taken in the male Busters HQ, no less!). I have to wonder if the "special services" they performed for their last clients helped to get them more business. Sean goes on to say, "Seriously, though, an all-female team busting ghosts? That's the stupidiest thing I ever heard of!" A funny little jab at Feig's film. This all leads to some in-fighting amongst the crew. Anyway, Xander answers a call with "Nutbusters", which means that both the male and female teams have that stupid name. Okay, I'm just gonna roll with it...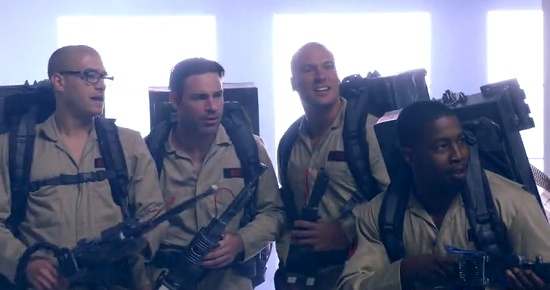 They got a call, so cue the not-so-soundalike of "Cleanin' Up The Town".
Play Dirtying Up The Town
They arrive in the ballroom of some unnammed hotel. Looks like we're gonna see the guys in action in a semi-parody of the original Ghostbusters ballroom scene. Instead of Slimer, they will face off against what the subtitle calls, The Bukkake Bride. Well, she's just as slimy.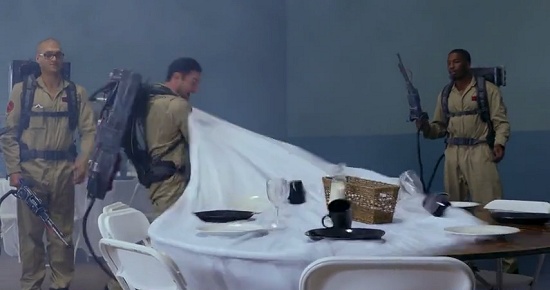 The flowers are...nowhere to be found!
SEX SCENE #4 - Veronica Avluv, Sean Lawless, Charles Dera, and Isiah Maxwell (33:30)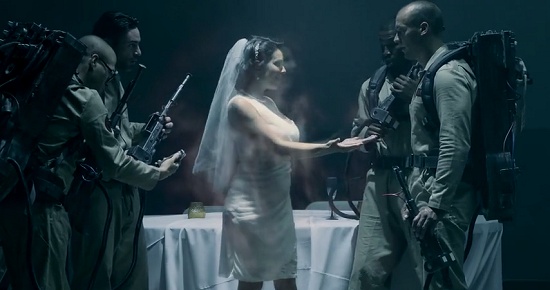 Xander, the "Egon" of the group, does not feel that they should be fornicating with the ghost bride, so he does not participate in the sex scene. After they "slime the ghost", they put her in a rather large ghost trap (what is it with these comically oversized props?), and do their own spin on the "We came, we saw..." line.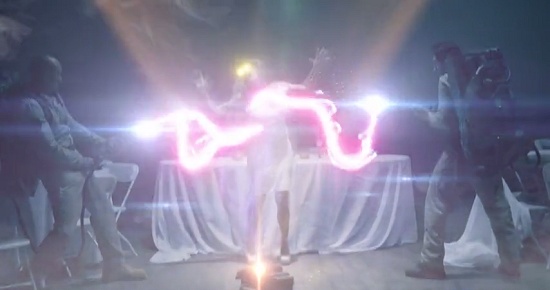 This is where Part 3 ends and Part 4 begins.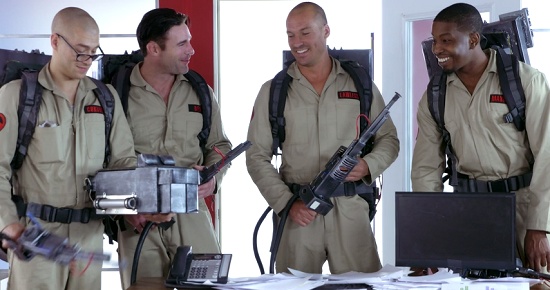 The guys come back from their experience in the ballroom, talking about needing ghost condoms and almost crossing streams, to find that their headquarters is haunted by Keiran Lee's ghost. The "one that got away" from Monique's bedroom and the house of the horny possessed couple.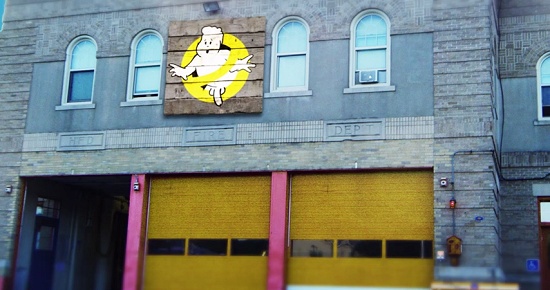 Cut to the female Busters headquarters, which is also a firehouse. What is it with Busters and firehouses? Instead of a "no female ghost" logo, theirs is adorned with a "no male ghost" logo that features a yellow circle and a ghost that looks suspiciously like Rowan from the Feig film. Of course, where the guy's logo had her breasts on display, the ladies' logo has his penis hanging out.
While the exterior says "firehouse" (somewhat literally, as you can read text on the building that says, "HFD Fire Dept"), the interior screams "office building". Looks like the females are doing better than the males.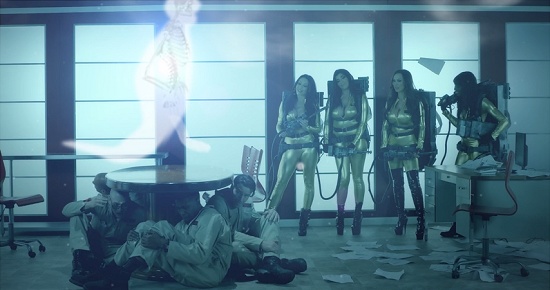 The ladies get the call to help the guys, who are scared spitless, hiding under a table from Keiran's well-endowed spirit. The ladies save the day and trap that troublesome specter. Geez, ladies saving weak, pathetic guys... maybe Paul Feig wrote this movie, too. Anyone know if he also uses the pseudonym Leon Mickles? The guys show their gratitude in the only way guys in porn know how to do.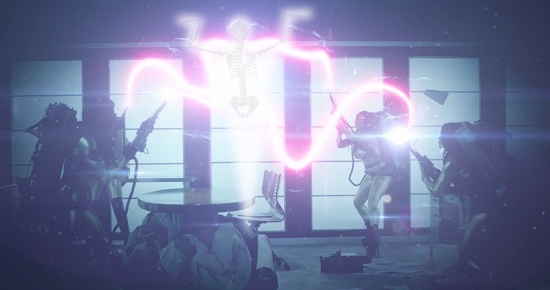 SEX SCENE #5 - Monique Alexander, Nikki Benz, Romi Rain, Ana Foxxx, Xander Corvus, Sean Lawless, Charles Dera, and Isiah Maxwell (30:42)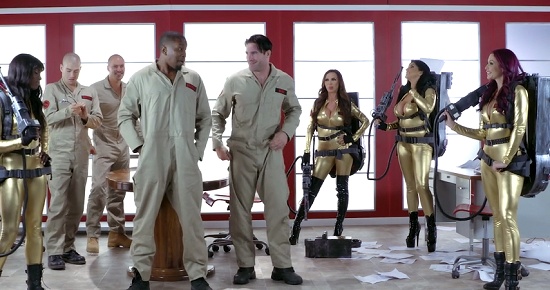 After everybody has a turn with each other, the phone rings. Monique and Xander both quickly run to be the first to answer it. The Nutbusters are on the case!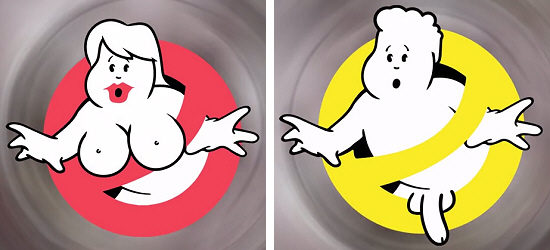 The thing to understand about this "movie" is that like the 2009 "Nutbusters", it was really just meant as a bunch of scenes made for individual purchase, although there is a little bit of a plot to tie them all together. That connective tissue is thin, and that's a shame because while it's nice that the sex scenes are of considerable length, I would have preferred a bit more plot. This is actually the kind of plot the Feig film should have had, if he wanted to have an all-female team. Instead of starting over, have them come in as rivals to the males, and then in the end, they all work together and form one super-team. Maybe not with an orgy (though I'm sure Jillian Holtzmann would be up for some girl/girl), but with some other kind of apocalyptic event. I guess that kind of thing only happens in the comics.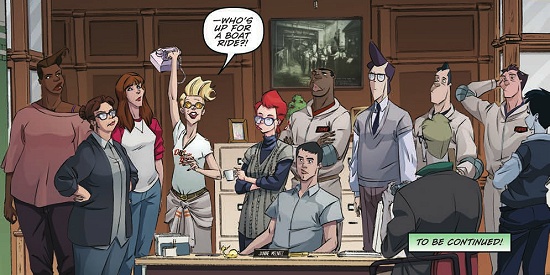 IDW's Ghostbusters 101, Issue #3
As I've been mentioning throughout this review, "Ghostbusters: XXX Parody" is available on DVD. The single-disc release contains all four parts of the movie, along with a Photo Gallery (4:03) containing 40 images, a Popshot Recap (8:06), and four Bonus Trailers. The DVD shows all four parts of the movie back-to-back like a complete movie, but with each end credits cut off, and with no adjustments made to make it seem seamless. Each part has it's own beginning credits, and the audio awkwardly stops right where each part's end credits would be. On the positive side, there is no website url embedded in the lower corner of the video (as it is online), but it is DVD resolution and not HD (like the illegal webrips of the online video). The movie is preceded by explicit trailers for each of the four parts, but not the Ghostbusters 2016 parody trailer seen online (embedded at the top of this review).
That said,
THE DVD SHOULD BE AVOIDED AT ALL COSTS BECAUSE IT HAS BEEN AUTHORED INCORRECTLY!!!
Whether you use Play Movie or the Scene Selections, you will go to the movie on DVD Title 3, which runs for 2:19:43. You may noticed that that runtime is a little short, that's because the movie is defective and incomplete. During the trailers that preceed the movie, the picture and audio freezes from 0:50 to 2:10 and then again from 2:22 to 2:40. It seems like it *should* play, as the trailer for "part 2" isn't there, nor is the rest of the "part 3" trailer, but it just stills until it eventually resumes. Even worse, later on during the actual movie, the ending of "part 3" with the ghost bride (scene 4 in the movie) is either cut out or skipped over (the popshots and dialog afterward are gone). It gets worse, as the end of the entire movie is cut out! While the first guy is popping, it just stops and goes back to the menu.
I checked it out in every single player I have (Blu-ray player, Playstation 2 & 3, Xbox 360, computer) and it played the exact same way in all of them. Three different copies from two different sellers had the same errors, so that means that Brazzers did not author this DVD properly. Brazzers did not reply to my requests for a fixed replacement. They simply do not care about their customers. As such, I can't recommend the DVD. If you want to see this movie, either pay to stream it on their site or look for free webrips of all four parts. They are out there and not very hard to find. Brazzers also has
a SpreadShirt shop
where they sell merch with the topless female no ghost logo on it.
To add insult to injury, there's a hidden copy of the movie on DVD Title 1 that runs for 2:27:21 and plays fine, except for the trailers before the movie. If your DVD player allows you to directly access Titles, and you skip to Chapter 2 (after the trailers), you can view the entire movie without an issue. Of course, not all players allow direct access, and customers should not have to go through this much work to watch the movie they paid for. Furthermore, it's even more insulting that the Popshot Recap leaves in the missing endings for Parts 3 and 4.
Do be aware that another company called Baby Doll Pictures also released a DVD in 2016 titled "This Isn't Ghostbusters: A XXX Parody". The "A" is misplaced, as it should be titled, "This Isn't A Ghostbusters XXX Parody" because it is really a 2008 movie called "Ghost Whispers" (originally released on DVD by Sex Line Sinema) that has nothing to do with Ghostbusters. The movie on both the original "Ghost Whispers" DVD and the misleading mistitled DVD is presented in 4:3 Letterbox! I can't believe a company would author in 4:3 Letterbox instead of 16:9 Widescreen in 2008. I could understand in 1998, but not 2008! DON'T buy the Baby Doll Pictures "Ghostbusters Parody" DVD!!!!!
Finally, I'd be remiss if I didn't point out that this isn't the first Ghostbusters parody that Brazzers did. Back in 2014 they filmed a parody scene entitled, "Who Ya Gonna Call? Porn Busters!", starring British actors Ava Koxxx, Leigh Darby, and Danny D. (plus one other woman in a non-sex role). Here's a bonus mini-review of that scene, because it was kinda fun. I should point out that three images have been altered to remove or cover some nudity.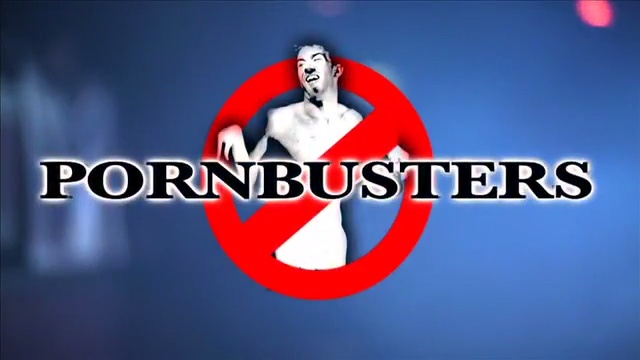 The scene opens with our two lady Pornbusters donning their black vinyl uniforms. They don't wear the standard jumpsuits for a rather big, obvious reason. Two big reasons, if you catch my DDrift.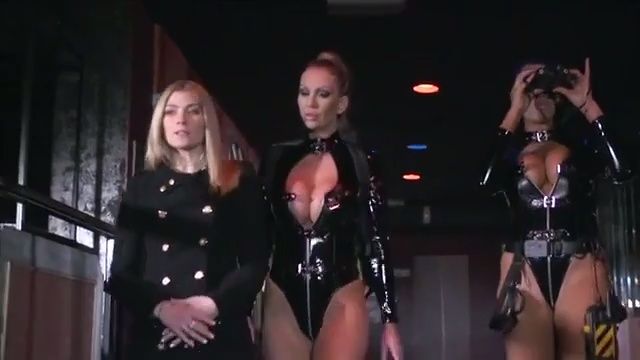 The 'busters arrived at a haunted theater, and the manager thanks them for coming so quickly. Ava (the brunette Buster) replies, "We handle this kind of thing all the time." For a bit over three minutes of non-sex stuff, they pack in a lot of callbacks to the two films. I actually found that a bit surprising, and it felt "unique" to hear this familiar dialog said with British accents. The three walk down the hall in a scene reminiscent of the guys with the hotel manager in Ghostbusters. Miss Manager tells of her ghost problem. She thinks the place is haunted by "porn stars". The Pornbusters specialize in busting dead porn stars. I guess that's a big problem over in England. Thank goodness we don't have that here in the U.S. I'd hate to run into the spirit of Ron Jeremy. Methinks he'd be more of a glutton than Slimer.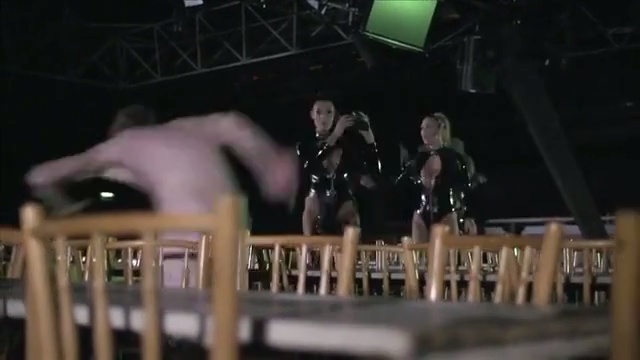 They investigate the main area, prompting Leigh (the blonde Buster) to say, "Listen. Do you smell something?" Just when they think everything's okay, naked Danny D. goes scurrying across the room. Leigh follows, and when she takes her wand off her pack, we hear the Proton Pack start-up sound effect (or a close facsimile). Even if the effect isn't being used accurately, I would not have expected this type of parody to even give
that
much effort.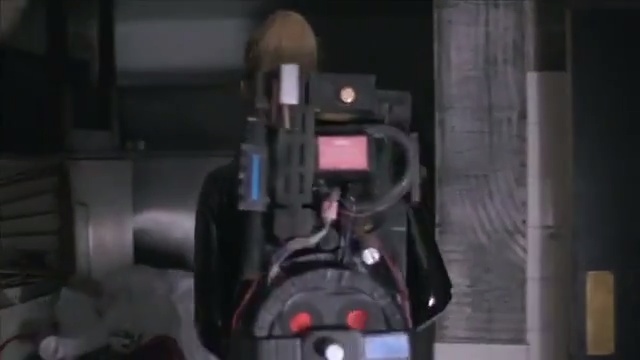 As she turns around, we get a good look at the Proton Pack prop. It is vaguely accurate, which, again, shows that some effort was made by all involved. "Ghost" Danny - gotta use quotation marks because he's never shown as a transparent entity - runs off, knocking down Ava as he goes past her. In doing so, he leaves some slime on her. Being that he's running around naked, I think you can figure out what the "slime" is. As expected, we get a "he slimed me" callback.
The theater manager runs up to them asking what it is. Leigh responds, "What you have is a Class Five Full-Roaming Porn Star". An amusing little take on Ray's line from the first movie. She goes on to call him "a little slimer".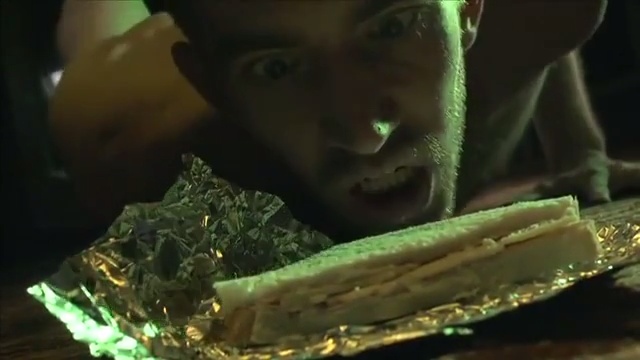 The Pornbusters plan is to catch him and what better bait than a Ham & Cheese sandwich. I gotta admit, I laughed at that. Needless to say, he takes the bait and they catch him.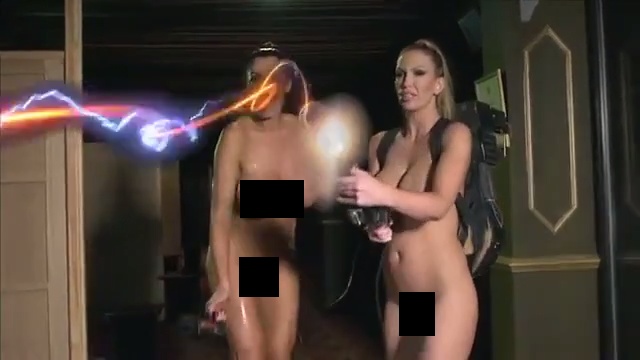 After 30 minutes of "releasing his energy", Danny proclaims that "busting makes me feel good". While he's drained, the Busters don their sole Proton Pack and fire at him.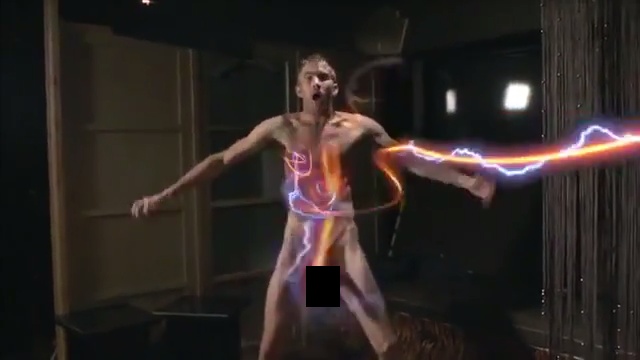 The Proton Streams actually look and sound like the real thing. Again, that's more effort than one would expect from a porn scene that's, let's be honest here, trying to cash in on a familiar name. Kudos to the crew who put this together.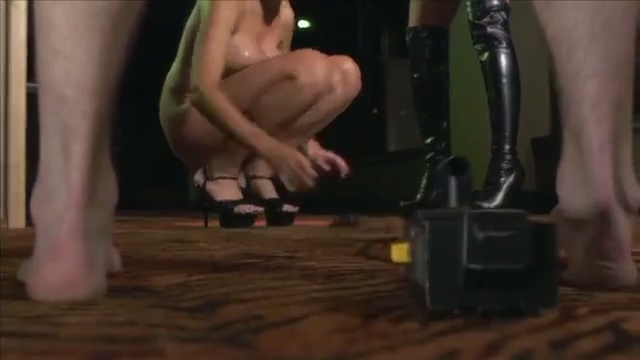 Ava throws out the trap, and as you'll soon see from the next bunch of images, it's a repainted
Kenner Ghost Trap
. I wonder if they just happened to have a 30 year old toy lying around, or if they hit up eBay and this was cheaper than the already-black Mattel prop replica.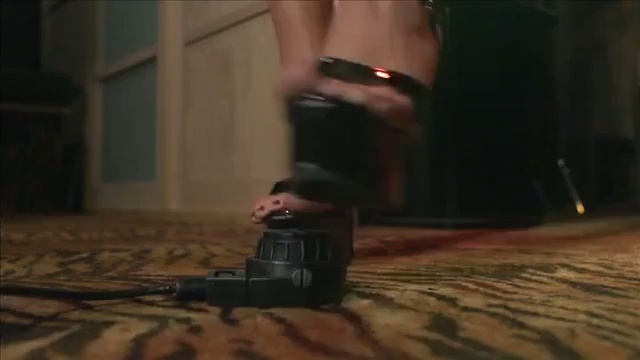 Whatever the case, Ava stomps on the squishy plastic petal.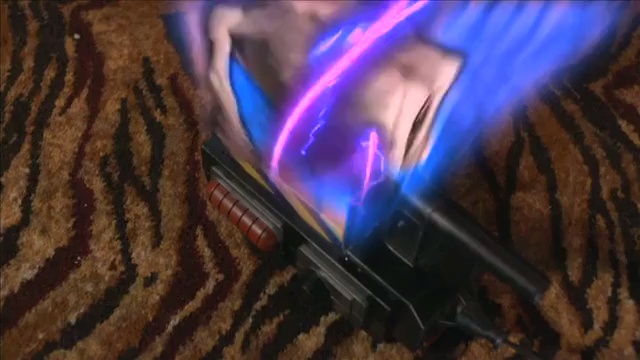 Some decent effects show Danny being sucked in. This isn't the type of sucking he prefers, but he'll have all eternity to ponder that with John Holmes in the Pornbusters' containment unit.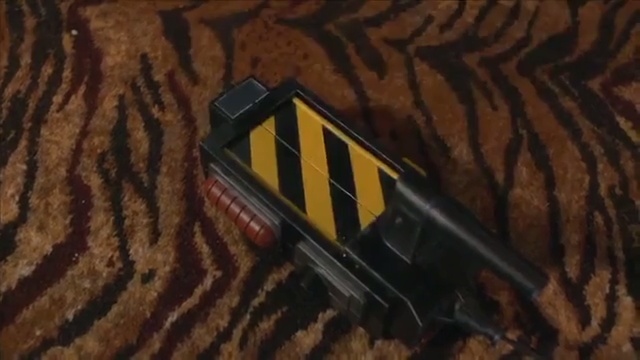 The ladies triumphantly proclaim, "One in the box. Ready to go. We be fast, and they be slow". Yeah, it's a Ghostbusters II callback. Who'd have thunk it!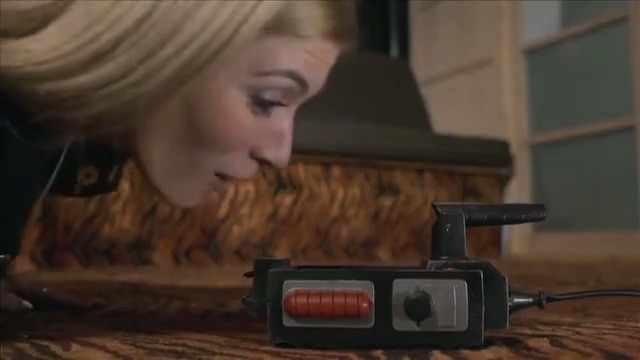 The manager leans down toward the trap and exclaims, "WOW!" Hell yes, a SECOND Ghostbusters II callback. Fade out. The end.
Should you be interested in this scene, it's available on a DVD entitled "Brazzers Presents: The Parodies Volume 4 featuring Laying Pipe With The Bros". Considering my first hand experience with how Brazzers authors a DVD, I'm not sure if I could recommend buying that over finding it through other means. Take a chance on it if you dare! BWAH HA HA!
3 comments
Ghostbusters Parody? You mean that film that came out last year by that Fage guy?
Sep. 9, 2017 @ 02:33
I was actually going to call this "a parody of a parody", but some people get offended if I point out that Feig's movie is a parody, so I left that out to "keep the peace" :-)
Sep. 11, 2017 @ 17:35
Comment
from:
PEDRO FERREIRA
[Visitor]
Oct. 15, 2017 @ 12:33
Leave a comment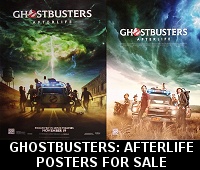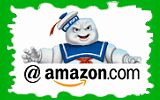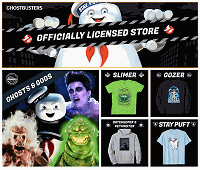 Please be aware that as an Amazon Associate, I earn a very tiny commission from purchases made though the Amazon links on this site.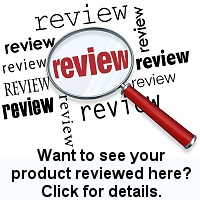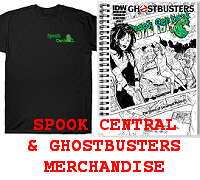 (
MY COMPARISON REVIEW
)
(
AVOID SHIPPINGEASY/STAMPS.COM
)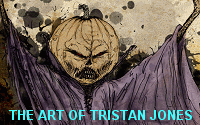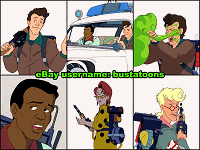 U.S. eBay (Ghostbusters stuff)
U.K. eBay (Ghostbusters stuff)