About a month ago Hustler Video's production
This Ain't Ghostbusters XXX
came out on 3D Blu-Ray/DVD Combo Pack. Below is my Ghostbusters-centric review.
The first thing you will notice about the packaging is the lenticular cover on the slipsleeve, which has a sort-of 3D effect. If you peer under the cover, you can see that there's a 2D version of the art below, but don't rip off that cool lenticular just to see the 2D art underneath. The front cover artwork features two nods to the actual Ghostbusters property. The layout is very reminiscent of the
Ghostbusters: The Video Game
cover art with green-glowing ghosts flanking the logo with the 'busters in front of it at the bottom (with the same two 'busters firing in each), while the guys themselves are positioned in much the same way as the guys on the
Ghostbusters II
movie poster (with each guy in the same place).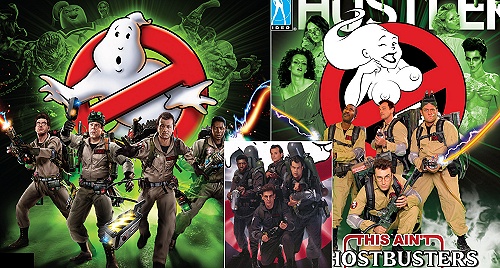 The slipsleeve is even cooler because it has a panel that opens up to reveal a two-page gatefold with imagery from the movie, both regular and hardcore. Pull that sleeve off to reveal a standard Blu-ray case, inside of which are the two discs.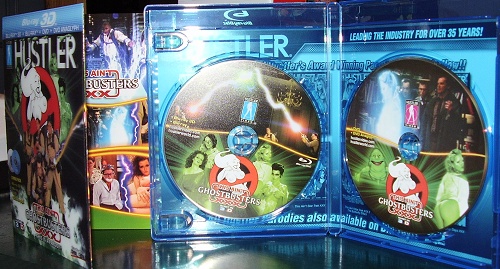 The Blu-ray disc contains a "Blu-ray 3D" copy of the movie, which requires a 3D HDTV to view, as well as a regular 2D copy of the movie, which can be viewed on any Blu-ray player. The DVD disc contains an anaglyph 3D copy of the movie, which requires the red-and-blue-lensed 3D glasses that are included in the case, as well as a 2D version that requires nothing but your eyes to view. The 3D glasses that are included in the case are not generic glasses, but actual
This Ain't Ghostbusters XXX
3D glasses with artwork of the stars on both sides.

As a really special surprise, also included in the case is a
This Ain't Ghostbusters XXX
trading card! The card shows a character from the film on the front, and some humorous vital statistics on the back. There are a total of eight to collect: Peter Venkman (which I got), Egon Spengler, Ray Stantz, Winston Zeddemore, Dana Barrett, Janine Melnitz, the Ghost Librarian, and the 1950s MILF Monster. According to Marissa at Hustler Video, all copies of the movie were supposed to have a set of all eight cards in them, but there was a mix-up that resulted in 8,000 videos having 1 card each in them, instead of the first 1000 videos having all 8 cards. Marissa was kind enough to send along an image of the front and backs of all eight cards. (To keep things semi-clean, only t he censored front image is belong shown.)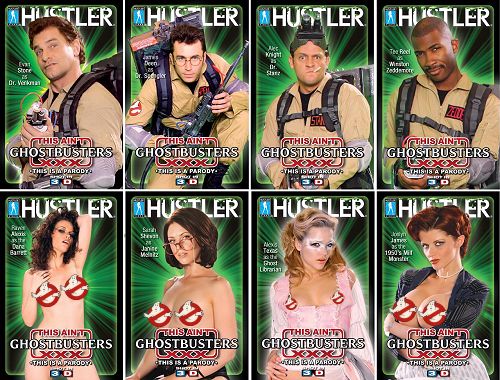 Now let's pop one of those discs into the player and check out the movie... The first thing we see on both discs is Charlie Laine in a humorous, but unskippable and unfast-forwardable anti-piracy ad, followed by legal notices and warnings. This is unacceptable. If I've seen it once, why the hell do I have to see it again every time I put each disc in to watch the movie? I find great irony in the movie studios, both mainstream and adult, putting anti-piracy ads at the start of their DVDs and Blu-rays, while the pirates will let their "customers" jump straight to the movie without having to be subjected to that nonsense. If the studios don't want people to pirate their movies, then they need to give their customers a better experience than the pirates do. It's as simple as that.
Once all of that nonsense has passed, you're presented with two options: watch the movie in 3D or in 2D. It should be noted that if you're looking for the bonus features, they're only on the 2D menu. So if you watch the 3D version, be sure to head over to the 2D menu for the extras (each menu has an option on the far right to switch between the two menus). I'm not going to comment on the 3D aspects of the movie because I didn't watch either 3D version of the movie. This review is actually going to be more of a rundown of the movie with commentary. Hence, it's going to contain a lot of spoilers. But since there isn't much in the way of a plot, I'm really not spoiling anything for you. Still, consider this your
SPOILER WARNING
.
Just to give you more of a chance to back away before any possible spoilers, here's a cast collage to fill up some space. I'll start talking about the movie itself after this image.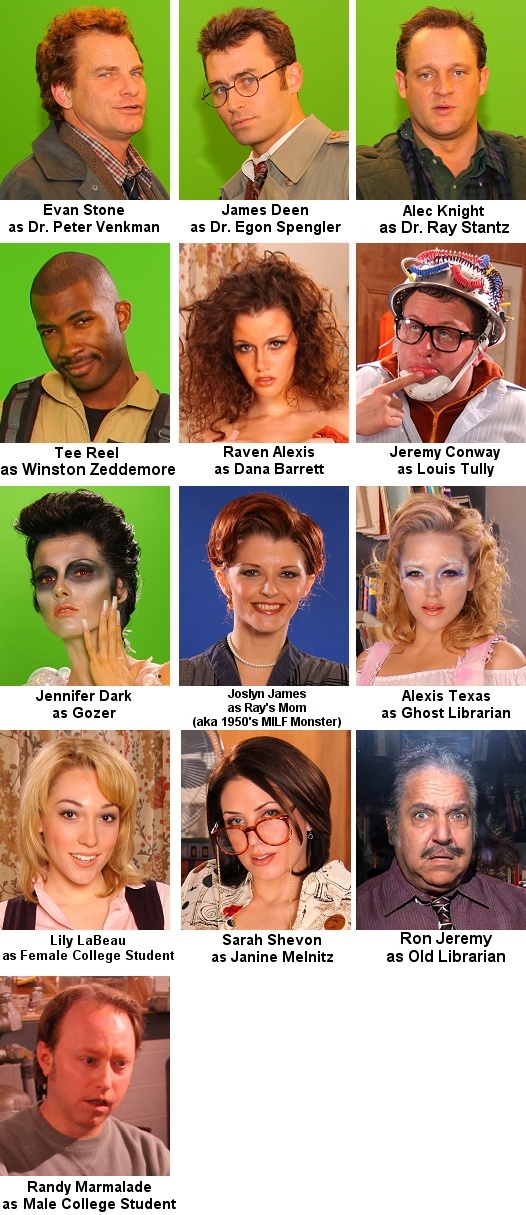 The movie begins it's 1 hour 53 minute runtime with the Hustler logo and some legal notices. It ends with them, too, so the actual movie runtime is a few minutes less that. The movie proper starts with an exterior shot of a lion statue outside the New York Public Library. Interestingly, it's not the same lion shown at the beginning of
Ghostbusters
, but rather the one on the other side of the entrance. That's kinda fitting since this movie can be seen as the opposite of that one. Yes, that is Ghostbusters extra, and adult film legend, Ron Jeremy as the old librarian at the beginning (in the original the character was a woman). I wonder if his casting in the film was intentional because of his appearance in the legit Ghostbusters film, or if it's a fantastic coincidence. Ghostbusters fans will notice a quick nod to the original as a book floats from one pile of symmetrically-stacked books to another. Just like in the original, cards come flying out of the card catalog drawers, and the old librarian runs through the stacks screaming.
He stops dead in his tracks and screams as a bright light engulfs him; cut to the logo and title, play the theme song. Said logo here is not the No Ghost logo you know and love from the original, but rather a female version. A "Mrs. No Ghost", if you will. The
This Ain't Ghostbusters XXX
theme song sounds more authentic than a lot of the covers I've heard, especially those on cheap Halloween party mix CDs. You can hear it in all its glory in the Photo Gallery bonus feature. After the title is a shot of an anatomically-correct CGI gargoyle statue with a very long stone schlong pointing straight at the camera. How's that 3D working for you now? It took me a while to figure out that this is supposed to match the shot in the original film of the back of the Columbia University statue shown under the title. If you look carefully behind the gargoyle, you'll see the same Columbia University building that's in the background of the shot in the original film. Of course, by not putting the "This Ain't Ghostbusters XXX" title over this shot, it makes it appear totally random and out of place - and best left on the cutting room floor.
We're now inside the Paranormal Studies laboratory at the university as Dr. Peter Venkman (Evan Stone) is administering an ESP test to two college students (Lily LaBeau and Randy Marmalade). The movie doesn't tell you that it's the Paranormal Studies laboratory because the movie doesn't really tell you much of anything. The movie's biggest fault is that large chunks of the story are missing. You might be wondering why I'm quibbling about the story in a porn film. Well, if you're gonna present a story, present the whole thing. Don't just give bits and pieces and expect the audience to knowingly fill in the rest. Sure, the majority of people who watch this movie would have already seen the original
Ghostbusters
, but having to see another movie in order to understand the story in a different movie should never be a requirement.
So Peter's giving his test and, just like in the original film, no matter what the gal answers, she gets it right. Conversely, no matter what the guy answers, he gets it wrong, and an electrical zap for his troubles. Eventually he's had enough and storms out of there, sadly not repeating the original's "It's pissing me off" line. Since Peter never says exactly what his test is supposed to "find", there's no set up for this line anyway. There are lots of little famous bits of dialog from the original film that aren't in the parody. With that said, there are some sprinkled throughout. Just not as many as there should be.
Evan Stone totally nails the character of Peter Venkman, even though he sounds like Dave Coulier's Bill Murray impression in
The Real Ghostbusters
than the real Bill Murray. As you watch him weaselly hit on the female college student, you completely feel like you're watch the "real" Peter Venkman. Actually, I think that all of the actors who played roles that were in the original film looked and acted like their non-porn counterparts. You always got the sense that you were watching the "real" characters. The only poor casting choice was for the one new character in the film: the 1950s MILF Monster.
Anyway, all of Peter's charms coerce the naive blonde student into sexual intercourse. The sex scenes feature some fairly rough sex, with lots of slapping. This is gonna be a turn off for some, and may make this unsuggestable to watch with your girlfriend or wife.
SEX SCENE #1 - Female College Student (Lily LaBeau) and Peter Venkman (Evan Stone)
After Peter finishes his private tutoring session with the student, Ray Stantz (Alec Knight) comes barging. Although Alec has Ray's youthful enthusiasm down pat, he looks more like Eric Young from (TNA) Impact Wrestling than Dan Aykroyd. Anyway, he tells Peter that "there's been a disturbance at the New York Central Library". Wait a minute. I thought the opening shot of the film, which will repeat again in a few seconds as the establishing shot for the next scene, shows a building clearly marked "New York Public Library". Which is it? He goes on to tell Peter that "ten people witnessed a free-forming, full-frontal nude apparition" that "blew the books off the shelves and nearly blew every guy in the place". He gathers up some equipment, Peter gathers up his pants, and they head out to the New York Public Library. Or the New York Central Library. Whatever.
They don't interview the old librarian, and instead are seen navigating the stacks. It's here we first meet Egon Spengler (James Deen), who is checking the place out with his XXX Meter (played by Mattel's PKE Meter prop replica for extra authenticity). If the guys are looking for XXX, as Peter says, they should relocate to California. There's tons of XXX out in Chatsworth. This scene in the library stacks really feels like the authentic Ghostbusters characters, especially Peter with his goofing-off and his flippant attitude. The ghost librarian is now a sexy young thing played by Alexis Texas. If you're not familiar with Ms. Texas, you may know her sister, wrestler Tyler Texas, or her cousin, singer Hannah Montana. The guys think she's harmless, until she appears to kick Peter in the balls. Actually, if you watch the Behind The Scenes featurette on the disc, you'll see that she really punched him in the balls, but the movie was poorly edited here so it appears to be a kick. Not sure what to do, Egon and Peter tell Ray to "FUCK HER!", instead of the original movie's "GET HER!". He happily complies as the ghost becomes solid, which is good because we'd be entering a whole other realm of porn if she's remained non-corporeal.
SEX SCENE #2 - Ghost Librarian (Alexis Texas) and Ray Stantz (Alec Knight)
Missing Story Alert: In the original movie, the guys go back to the university, are promptly evicted, take out a mortgage so they can start their own business, and buy a dilapidated firehouse to become the headquarters of said business. You'll find none of that in this movie.
From the library we go to an apartment building where we meet two of it's residents, Dana Barrett (Raven Alexis) and Louis Tully (Jeremy Conway). Louis ambushes Dana in the hallway as she passes his apartment to go to hers. He thought she was the drug store delivering him the adult videos he ordered, which he plans to play at double speed so he can ejaculate twice as fast. He tells her that she left her television on, so he dutifully climbed in through the window and turned it off. Of course, it's still on when she enters the apartment. He also pilfered a pair of her panties, which he's been sniffing all day. I can totally see the stalker-esque Louis doing something like that in the original film.
Upon entering her apartment, the Busters commercial is playing on the still-on television set. They don't call themselves "Ghostbusters" in the commercial, but rather "Busters". I'd say that this was due to avoiding copyright infringement, but later on Janine answers the phone with "Ghostbusters", so I'm not sure why the change was made here. The commercial copy was a nice pornified version of the original: "Are you troubled by strange noises in your bedroom? Do you feel like you're being watched while you masturbate? Have you or anyone in your family ever been touched or fondled inappropriately by a banshee, incubus, or succubus? If the answer is Yes, then don't dick around. Pick up the phone and call the professionals: Busters! We ready to believe you."
Dana goes into the kitchen to put away her groceries. She puts a carton of eggs and a package of hot dogs on the counter. You'd expect for the eggs to self-fry, as in the original movie, but the writer puts a little twist on the scene by having the hot dogs shoot out from the package towards Dana. This won't be the last time a weiner is thrusted towards Dana's face in the movie. Dana hears strange noises coming from the refrigerator, takes a peek, and find a snarling beast and a pyramid structure inside. She screams and closes the door.
Missing Story Alert: The Ghostbusters buy a dilapidated car, Peter chats with Janine in the office/lobby area of the headquarters.
The scene opens with an establishing exterior shot of the firehouse in New York, faithfully recreated in CGI. The inside firehouse office/lobby area is also somewhat faithfully recreated. The walls are green and white like the real place, and it looks accurate enough. The one thing that can be said for the filmmakers, is that in regards to the stuff they DID put into the film, they did try to give it an authentic feel. They clearly studied. Who said they never studied? Egon is under Janine Melnitz's (Sarah Shevon) desk pleasuring her, and probably fixing her computer while he's at it - the guy can multi-task, when Dana comes in looking for help with her haunted refrigerator. Peter, who's been sleeping in the background, promptly springs to life to assist her.
Missing Story Alert: Dana is examined in the upstairs lab area of the Ghostbusters headquarters while the guys talk to her about her situation. Peter is tasked with going to her apartment to check it (and her) out.
Later that night at the firehouse, they get a call, even though the sound effect used is for an alarm clock. Janine hits the alarm and the guys suit up. A few comedy bits thrown in as Ray looks at his hands through the Ecto-Goggles, and is mystified as if he has put on a pair of X-Ray Specs. We also learn that Peter's ass does tricks. I'm thinking that he and Mr. McMahon should get together and form a vaudeville act.
There's a rather odd replacement song for The Bus Boys' "Cleanin' Up The Town", which is in the same style of music, but does not at all have the same feel. The lyrics are: "I saw a film about a rich kid / In a private airplane / He was gonna meet his Mama / He was feeling so ashamed / He said, Mama I've lost / Everything that you gave me / I need your help again, / Yes, I need you to save me / This ain't a song about money / This is a song about love / I just need a little more / Of what Mama couldn't buy me."
The Ghostbusters get into their Ectomobile... actually, make that Erectomobile since it bears the license plate "ERECTO1", and zoom out of the firehouse. The authentic-looking CGI car pulls up at the Chateau de Braun (one of director Axel Braun's many financial endeavors), bearing the same entrance as that of the Biltmore Hotel in Los Angeles, California thanks to a still photo of the actual place. You know, where the original movie was filmed. Just like in the original film, as the car stops we see a close-up of the No Ghost logo on the door, which is not the Mrs. No Ghost logo used on the box art and seen before the title screen at the beginning and end of the movie. The logo that the Ghostbusters themselves use in this movie is very very close to the real thing. It's legally surprising how close they were able to make it. The logo from the car door in the original movie is on the left, while the car door logo from the parody is on the right.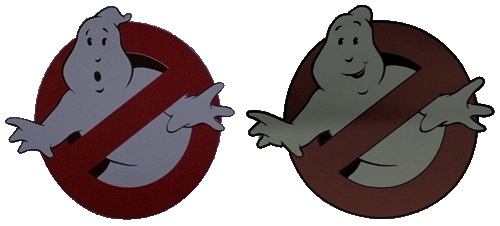 Missing Story Alert: Upon arriving at the hotel, the Ghostbusters are greeted by the hotel manager, who informs them of the troubles on the 12th floor. They go to board the elevators and exchange some witty banter with a hotel guest.
They step off the elevator and into our first entirely-CGI location, the 7th floor of the hotel. We know it's the 7th floor, and not the 12th as in the original film, because the numbers on the rooms are in the 700s. Ray's worried that they haven't completely tested the equipment (in the original film this dialog is said while still in the elevator). Peter tells him not to worry because, "we're wearing an unlicensed nuclear power plasma assisted accelerator on our back which is ribbed for her pleasure". As Ray turns around to get switched on, we get our only look at the entire proton pack. Although it's in no way 100% exact, it's authentic looking. Some of the iconic elements are there, such as the ribbon cable and the cyclotron. If someone were to wear this at Comic-Con, none of the non-Ghostheads would think he wasn't wearing an authentic pack.
Although they don't come across a hotel maid upon whose cart they could fire upon, they still split up. Peter casually strolls down one of the corridors and comes to a showdown with an anatomically-correct Slimer. Actually, we don't know that his name is Slimer, or Onionhead for that matter. Given the type of movie this is, and since he a "slime penis" (TM Chris S.), perhaps we should call him Penishead. As in the original movie, he charges at Peter and slimes him something wicked. Now Evan Stone finally knows what it's like to be on the receiving end of all those money shots he's delivered to all of his female co-stars over the years. Using the XXX Meter, Egon tracks down the little green gooper to the hotel ballroom. Upon entering, the Ghostbusters find the ugly little spud playing with his pud. - Peter: "He's masturbating. That's disgusting. That's disgusting." - Hands down, Penishead is my favorite character in the movie. I'd love to see some animated
Penishead!
shorts starring him. They'd be infinitely better than the animated
Slimer!
shorts that were paired up with
The Real Ghostbusters
in the late 1980s.
In an effort to better capture him, Ray suggest that they split up. Peter likes the idea, adding that they could do more damage that way. Again, a nice little throwback to the original film. Egon fires his stream at the little guy, followed by Peter. Ray throws out an authentic-looking CGI ghost trap, and the little bugger is caught. Afterwards, the guys gather around the trap, and Peter asks Egon why he always says "Don't cross the streams". His reply, "Fear of public urinals, I guess".
MAJOR Missing Story Alert: It's at this spot in the movie that you're REALLY going to feel like you're watching something that's been heavily edited. Continuing on from the ballroom bust, we don't see the guys talk with the hotel manager over the price of the job, the "business is booming" montage (which includes Ray's ghostly BJ - why isn't that in the porn version?), the hiring of Winston Zeddemore, Peter meeting Dana at her place of work (Lincoln Center) to discuss her case, Ray explaining how the containment unit works (where they store the ghosts they trap), Peter meeting EPA scum Walter Peck (thus no chance to use "Mr. Pecker" in a Ghostbusters porn parody), Egon explaining the surge of spiritual energy using a Twinkie as an allegory, Dana getting dragged into her kitchen so she can be possessed, Louis throwing a party, and Louis' uninvited Terror Dog guest chasing him into the park and possessing him. See, I told you a lot of story elements were cut from the parody movie.
After the hotel bust, Peter visits the possessed Dana for their date. We don't know why she's possessed, who Zuul is, and why Peter's even there for a date. There's also an interesting little flub here. Earlier, Dana entered her apartment through the living room, but now Peter enters through the kitchen, even though they both came in through the same front door. He comes into her living room to find her lying seductively on her couch. After a little back and forth dialog that matches most of the exchange from the original film, which was pretty sexually-charged as is, the sex scene begins.
SEX SCENE #3 - Dana Barrett (Raven Alexis) and Peter Venkman (Evan Stone)
Missing Story Alert: Some little bits you won't see include the possessed Louis leaving the park and talking to a horse, the police bringing Louis to the firehouse (though it's mentioned in the parody that that's how he got there), and Louis's examination with the colander on his head.
After the sex, Peter calls up Egon, who's in the firehouse lobby with Janine and Louis. There's no explanation as to why Louis is wearing a colander with wires on his head, or why he's acting strangely. Peter says Dana is Zuul, while Egon says that they have "The Slave" there at the firehouse - meaning the being that possessed Louis. After he hangs up the phone, Louis gives us this movie's take on the original's "chosen forms" speech: "Zuul the Insatiable will cum on one of the pre-chosen forms. During the erection of bukkais, Zuul chose to cum on a very large and movie Slorb, on that day I can tell you." Watch in the background, and you'll see that Louis' speech is getting Janine all hot and horny. Soon Janine is demanding that Egon get down on his knees because "Mama wants some slorb ejaculate on her coochie supplicant, now". If Sarah Shevon doesn't win an AVN award for Weirdest Line of Dialog in An Adult Feature at the next awards ceremony, then you just know that those awards are rigged.
SEX SCENE #4 - Janine Melnitz (Sarah Shevon) and Egon Spengler (James Deen) and Louis Tully (Jeremy Conway)
Okay, here's where the movie makes a major fan faux pas. Pairing Janine and Egon is great. It's about time those two got it on. Adding Louis to the mix is bad. So very very bad. Janine doesn't lose her mind and start hitting on Louis until
Ghostbusters II
. In
Ghostbusters
, it's Egon she wanted to get with. Conversely, the target of Louis' stalker-ish affections was Dana, not Janine. Geez, doesn't the writer of this movie even remember that earlier he had Louis pilfer Dana's panties and sniff them all day long until he told her about it and she took them away? Continuity, my good Mr. Krypton. Look it up.
MAJOR Missing Story Alert: Lots more of those pesky little things called "details" including Ray and Winston having their biblical speech in the car, Walter Peck coming to the Ghostbusters with his legal papers, the containment unit getting shut down and blowing a huge hole through the roof of the firehouse (while Ron Jeremy and others look on), possessed Louis escaping the Ghostbusters' custody to search for the possessed Dana, the Ghostbusters getting arrested and put in jail, the "ghosts causing havoc throughout the city" montage, possessed Louis meeting possessed Dana and making out with her (an obvious place for a sex scene between the two of them in the parody movie), the Ghostbusters meeting the mayor and winning him over, the Ghostbusters with a full police escort going to Dana and Louis' apartment building, a sinkhole outside the building nearly taking the Ghostbusters out, the Ghostbusters climbing up the 22 flights to Dana's apartment, and then going from the apartment up to the rooftop temple.
After the threesome, it's up to the rooftop temple we go. I'd comment on why there's a temple up on this rooftop, but I think I've written more about the missing story elements than the writer, Roger Krypton, actually wrote story elements for the film. So Dana and Louis are in front of this temple, and in a flash they turn into Terror Dogs and Gozer (Jennifer Dark) appears. We know it's Gozer THE GOZERIAN thanks to this black guy (Tee Reel) who just shows up out of nowhere with the rest of the Ghostbusters. Even Egon is perplexed. "Who the fuck are you?", he asks. "Ernie Hudson", the black guy replies. Peter sees the No Ghost logo on his jumpsuit and assures everyone that "it's okay, he's with us".
Now here's where I want to do Mr. Krypton's job and provide an explanation for who this black guy is and why he's there. We're going to assume, that like in the original film, the Ghostbusters arrive at the apartment building in their company car, and leave it there on the street while they make the long climb up to the roof. This black guy is in fact a homeless bum named Ernie Hudson. If you want to take things one step further, he's one of the homeless bums from the
Ghostbusters
deleted scenes (who reappeared at the end of the film outside the apartment building, if you
read the script
). Ernie was able to sneak past the crowds and armed national guardsmen and get inside the Erecto-1. He was planning on sleeping inside the roomy back of the car, which was way better then the usual cardboard box he sleeps in in Central Park. While in there, he finds Winston Zeddemore's spare jumpsuit - Winston is on vacation at the moment - and puts it on for warmth. One of the national guardsmen sees him in the jumpsuit in the back of the car and figures that he's one of the Ghostbusters. He gets him out, reminds him to take one of the proton packs, and escorts him up to the roof. There Ernie finds the Ghostbusters and the movie picks up from there.
Gozer appears in all of her topless glory and DAMN does she look sexy. Who knew Sumerian gods could be so hot. She's semi-covered in mesh and bubbles, which obscure her other naughty bits. She's not concerned with whether Ray is a god or not. No, she'd rather know if he has a 13-inch cock. Ray, being truthful, tells her No. Not keen on that answer, she fries the four Ghostbusters with electricity from the palms of her hands. Peter reminds Ray that "when someone asks you if you have a 13-inch cock, you say YES!" Words to live by.
Unsure of what to do, Ray reminds everyone that "it's not like any of us have a 13-inch cock. I mean, it's not like we're..." and before he can finish his thought, it occurs to him that there, indeed, is now a black man on the team - and being that's he's black, he must have a 13-inch cock. Peter tells Gozer that Ernie will have a good time with her. So Gozer then says to "choose the form". I took that to mean, "Choose the form you want to screw me in". Egon took that to mean, "choose the form I will destroy you in". Peter repeats what Egon said, as if he came up with it on his own, which I found to be quite humorous.
They all clear their minds so that no form is chosen. Of course, if you've seen
Ghostbusters
, you'd know that Ray couldn't keep his mind cleared and ends up choosing the form. This time it's not the Stay Puft Marshmallow Man, but something far more scary: his mother! - Ray: "She used to read stories to me by the fireplace and tuck me in at night." - Ray's mother (Joslyn James), aka the 1950's MILF Monster, makes her way to the building, peers over the roof and asks her son if he has a 13-inch cock. "Mom, gross!", he replies. He pleads with the black man not to screw his mother: "Winston, you can't. It's my mom." Why he calls him Winston, when earlier he said his name was Ernie Hudson, is something the writer doesn't explain. So allow me... Winston Zeddemore, the only black member of the Ghostbusters, is on vacation right now. As I explained earlier, Ernie stole Winston's jumpsuit. Ray, seeing a black man in Winston's jumpsuit, just instinctively called him "Winston". Anyway, knowing that Ernie/Winston will go ahead with the deed, he tells the other Ghostbusters to turn their backs so they don't have to watch Ernie/Winston and his mother getting it on.
SEX SCENE #5 - Ray's Mother/1950's MILF Monster (Joslyn James) and Winston Zeddemore (Tee Reel)
Hands down this is the worst sex scene in the movie. So much for going out on a high note. Actually, the movie doesn't go out on any note, but rather just ends. Winston shoots his load on Ray's Mother's chest, causing her to scream out in agony, as that's how the Ghostbusters defeat Gozer. No crossing the streams, no closing the portal to the other side. Just Winston ejaculates on Ray's Mom's chest, she screams, explodes, and he's left covered in foam(!). One "I love this town!" later and it's a wrap.
Talk about an anti-climatic ending. Did Roger Krypton also write the last episode of The Sopranos?
Ghostbusters
, if you think about it with a perverted mind, has a very natural pornographic ending. The four Ghostbusters have a gangbang with Gozer, they cross their money shots, and she's defeated. Yet here Gozer shows up for a mere topless cameo with no sexual interaction at all. Such a wasted opportunity. You're better off stopping the movie before the last sex scene and just imagining your own ending. You will undoubtedly come up with some better than what's in the movie.
So the credits roll and, annoyingly, only a few of the cast members have character names attached to them. Luckily, we knew ahead of time who was playing whom, for the most part. The only unknown is Randy Marmalade, but process of elimination tells us that he's the male college student.
If it seems like I'm being hard on the movie, it's only because I had such high expectations for it. There's so much unfulfilled promise here. Let's break it down and see how it rates in certain categories.
• MOVIE - Epic Fail! Any movie that's missing as many pieces of the story as this one does is not a good movie. If you're making an adult movie and you're gonna provide a story, provide a complete story. Otherwise, just provide the sex scenes and leave out the story completely.
• PORN MOVIE - A moderate success. Putting aside the rough-play, since that comes down to personal preference, you have four solid sex scenes that were well filmed. The last scene between Joslyn James and Tee Reel leaves a lot to be desired, but maybe that's just me. It also seemed to me that all of the sex scenes went on for way too long. They all seemed a lot longer than they actually were. Maybe if they shorted them down a bit, they'd have more room for plot, or even another sex scene or two. The biggest disappointment here is that there are only five scenes. That's not a lot of fuck for the buck, in my opinion. I don't know what the norm is these days, but if I look through my collection, I see 1999's
Sextraterestrials
, which contains 7 sex scenes in its mere 1 hour 20 minutes runtime (33 minutes less than
This Ain't Ghostbusters XXX
), and contains just about as much plot as
This Ain't Ghostbusters XXX
. On the other end of the spectrum is 2008's
Roller Dollz
, which is a whopping 4 hours 8 minutes (spread across two Blu-ray discs), containing 11 sex scenes and lots of plot - plus a bunch of bonus features, including two bonus sex scenes. I kinda wish
This Ain't Ghostbusters XXX
had gone the
Roller Dollz
route with a much longer movie and more sex scenes, foregoing the 3D versions of the movies in order to fit it all on the disc(s).
• GHOSTBUSTERS SPOOF - It's very very close, I can feel it. The elements that are there look authentic enough. It shows that the filmmakers studied the source material and lovingly tried to recreate it. The actors who play characters from the original film were all well chosen and play their parts perfectly. So why isn't it perfect? Simple. WAY too much of the story is missing. Where's Walter Peck? Where's the containment unit explosion? These are iconic Ghostbusters elements, yet they're MIA here. By my calculation, you get approximately 22 minutes of story and the other 90 minutes is sex scenes, end credits, legal notes, and logos.
• GHOSTBUSTERS PORN SPOOF - Unfulfilled potential. The sex scene pairings simply do not cover all of the possibilities that the original film provides. Where's Dana and Louis? That one is so obvious. Where's Gozer in a Ghostbusters Gangbang with the four guys? Talk about an epic finale; especially if they cross streams! Where's the Dream Ghost and Ray? Heck, there isn't even a Dream Ghost character in the parody movie, and that was the most obvious sexual connection in the entire original movie! She gave lucky Ray a blowjob, for cryin' out loud. How could you NOT translate that to a porn parody of the film?!? If you want to go a little deeper - "Deep Inside Dana" is Hustler's planned sequel - you could pair up the blonde at the party with Louis. Go a little deeper still and pair up one or more of the three original Ghostbusters with the real estate lady. Who says she can't be a pretty young thing? Maybe screwing her gets them a discount on the place. The possibilities are limitless. Hey, Dean Yeager.
Now, to be fair, let's see how
This Ain't Ghostbusters XXX
. compares to the other
Ghostbusters
adult spoofs that have been produced over the years.
• SEXBUSTERS (1984) - 1 out of 10 stars. I hesitantly call this a spoof because I can tell that the producers made this as a way to cash in on the then-newly released hit film
Ghostbusters
. So it's a spoof in that regard, and the knock-off theme and logo are clearly spoofs, but everything else is a reference at best. There are no ghosts and no ghost busting. The "Sexbusters" are actually on-call prostitutes/sex therapists.
• NUTBUSTERS (2009) - 4 out of 10 stars. This one-hour "movie" is comprised of only two sex scenes. No story, no plot, and no credits - just two parody sex scenes and that's it! The first sex scene is between the Gatekeeper/Dana and the Keymaster/Louis, while the second is between two female 'busters and a male Gozer. While it's obvious why this movie doesn't rate higher, at least they were smart enough to pair up the Gatekeeper/Dana and the Keymaster/Louis.
• THIS AIN'T GHOSTBUSTERS XXX (2011) - 7 out of 10 stars. The elements that are there look authentic enough, and all of the actors reprising roles from the original are all well chosen and play their parts perfectly. The first three sex scenes are perfect pairings, the fourth takes a huge misstep by including Louis, and the fifth is best not mentioned at all. However, it's the vast amount of missing story elements and unrealized sex pairings that prevents this from being a perfect 10.
A few words about the technical aspects of the movie. I found there to be lots of inconsistency in the dark areas of the picture. To better explain this, look at the picture below (click on it for full size). Ron's hair is dark gray with black splotches in it, which doesn't look right. For another example, look to the immediate right of Ron's face in the side of the bookcase. There's light gray towards the front of the bookcase, and a dark gray blob in the back with no proper fade in between, as you would expect from the drop-off in lighting. I've also witnessed this phenomena in the guys jackets while they're examining the library stacks, which is a sort of dark scene, and other places as well.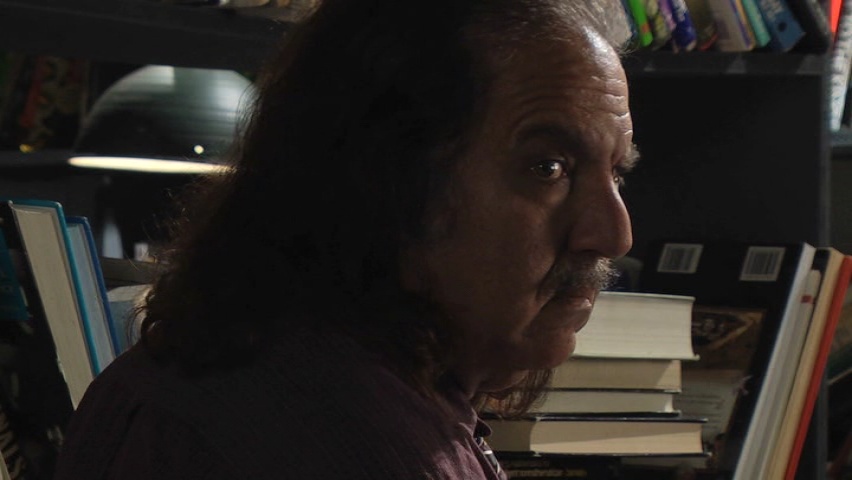 Probably related to that, there are shots where the picture will go from dark to light or vice versa and back again. A good and easy to find example is the very last shot in the film where Winston says, "I love this town". That shot starts off light for a second, then gets darker for a second, then goes back to being lighter. There are other shots throughout the film like this.
And still probably related to both of those, there is a graininess in some of the dark areas of the picture that shouldn't be there in a 2011 production that was presumably shot digitally. Maybe this is due to the 3D cameras that were used. Maybe this was done with a filter to try to make the movie look like it was shot on film, as the original was. I don't know what the case is, but the film doesn't look as sharp as it should be.
Volume levels vary wildly. Some dialog is very low, some in the middle, and some extremely loud (like the sex sounds). You'll definitely need to keep one hand on your remote's volume controls at all time. Where you put your other hand is your business.
A great deal of the film was shot against a green (or blue) screen with only four practical sets, which gives it a cheap feel. I know that the filmmakers did it to save money, and it doesn't look entirely bad, but it still looks cheap. Doing the car as CGI is a big disappointment. Couldn't they find a Ghostbusters fan to lend them an Ecto? Also, since the LA firehouse was used in the Jenna Jameson adult movie "
Flashpoint
" 14 years ago, it would have been a nice touch for them to use it in this movie. I wonder if they tried and were turned down. Still, at least they used a still photo of the actual Biltmore Hotel for the hotel exterior shot, so that proves that they DID study :-)
## Bonus Features ##
It should be noted that bonus features are on the 2D menu only on both discs, because they're only in 2D. Also, the back of the case is wrong. There are no trailers or phone sex ads, not that they're missed.
• Behind The Scenes Featurette (17:13)
For a behind the scenes featurette of an adult movie, this featurette was surprisingly non-pornographic. It was really just straight interviews with some of the cast and glimpses of how they shot the non-sex scenes. The highlights, for me, were the interview with Ron Jeremy, and the making of the Venkman Sliming scene. I thought it was interesting how Evan Stone, playing Venkman, was essentially telling director Axel Braun how to do his job properly because he felt that Axel wasn't going to do it right.
• Photo Gallery (5:48)
The slideshow is really disappointing. Instead of showing each image by itself full-size, to take advantage of the full Blu-ray and DVD resolutions, each image is shown in a "scrapbook" setting on a small portion of the screen. A woman's head is cut off in a few of the photos. The only good thing about this bonus feature is that you get to hear the full-length, complete, uninterrupted theme song while the images are being displayed. Actually, you hear it one and a half times.
======================================================
BONUS EXTRA CONTENT
This section is separate from the review. It's some extra stuff I had about the film, including links to a lot of multimedia.
The movie features two original songs, one of which is a parody of the Ghostbusters theme song. The other one is this movie's "Cleanin' Up The Town"-equivalent, played when the Ghostbusters leave for their first case. Below are the lyrics for both songs, which I typed up.
"This Ain't Ghostbusters"
performed by Harry Nutsack



(This Ain't) Ghostbusters

This ain't no game
But it's lots of fun
Who you gonna fuck?
(This Ain't) Ghostbusters

There's lots of slime
And there's lots of cum
Who you gonna bone?
(This Ain't) Ghostbusters

I ain't bangin' no ghosts

I ain't bangin' no ghosts

Well I'm havin' dreams
That I'm getting head
Who can I fuck?
(This Ain't) Ghostbusters

And invisible slut
Suckin' in my bed
Who should I bone?
(This Ain't) Ghostbusters

I ain't bangin' no ghosts

I ain't screwin' no ghosts

Who you gonna bone?
(This Ain't) Ghostbusters

When I want to bone
And nobody's home
Who can I bang?
(This Ain't) Ghostbusters

I'm in love with a ghost

I kinda like the fat ones

I'm in love with a ghost

Bustin' makes me feel good

Who you gonna bone?
(This Ain't) Ghostbusters

Who you gonna fuck?
(This Ain't) Ghostbusters

Who you gonna bone?
(This Ain't) Ghostbusters

Louder
(This Ain't) Ghostbusters

Ha! Ha! Ha!
(This Ain't) Ghostbusters

I can't feel you
(This Ain't) Ghostbusters

Ha! I can't feel you
(This Ain't) Ghostbusters

Who?
(This Ain't) Ghostbusters

(This Ain't) Ghostbusters

(This Ain't) Ghostbusters

"Mama"
performed by Harry Nutsack
(real song title is unknown)

I saw a film about a rich kid
In a private airplane
He was gonna meet his Mama
He was feeling so ashamed

He said, Mama I've lost
Everything that you gave me
I need your help again,
Yes, I need you to save me

This ain't a song about money
This is a song about love
I just need a little more
Of what Mama couldn't buy me
Now, here are some external links, including lots of multimedia.
Spook Central Blog: Rave Reviews Press Release (July 7, 2011)
Bleeding Cool: Hustler Press Pack (archive) (I received the same press kit from Hustler, too)
Review: Ghostbusters News (June 4, 2011)
Hustler Official Stills: Part 1 / Part 2 / Part 3 (30 images in each gallery) - Hustler gave out over 300 high-resolution still images from the production. Most of them feature nudity or sexual intercourse, but the remaining 90 are suitable for use on this site. There are a few in which I censored out the nudity because I needed to include those images to either show a scene pairing or to better show one of the actors (there were no shots of Gozer's costume without her breasts being visible).
Teaser Trailer Stills (32 images)
Movie Frame Stills (35 images)
Behind The Scenes Featurette Stills (15 images)
Edited Teaser Trailer (April 28, 2011, 1:45) (1920x1080, 41 Mb)
Edited Teaser Trailer - 3D Version (May 25, 2011, 1:49) (1920x1080, 41 Mb) [3D effect done by YouTube, actual video is two images side-by-side]
Trailer (May 19, 2011, 1:44) (1920x1080, 48 Mb) (Gozer's breasts blurred at the end)
No feedback yet
Leave a comment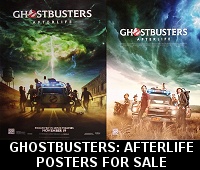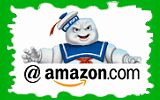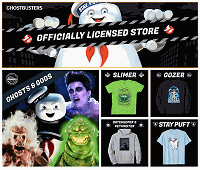 Please be aware that as an Amazon Associate, I earn a very tiny commission from purchases made though the Amazon links on this site.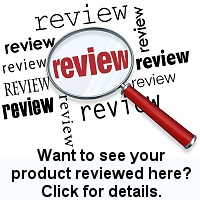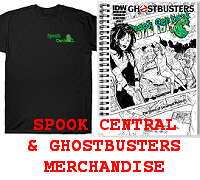 (
MY COMPARISON REVIEW
)
(
AVOID SHIPPINGEASY/STAMPS.COM
)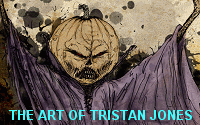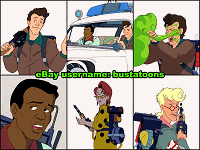 U.S. eBay (Ghostbusters stuff)
U.K. eBay (Ghostbusters stuff)