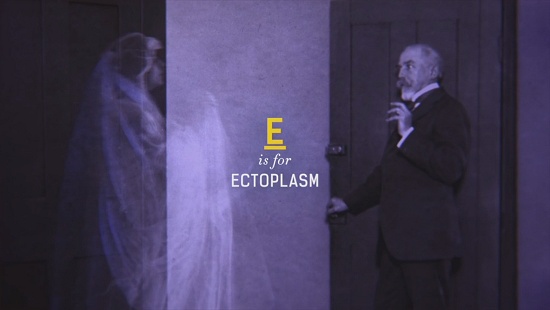 Most Ghostbusters references are short bits that can best be encapsulated with a small video clip, as evidenced by
Spook Central's collection of Ghostbusters reference videos on Critical Commons
. However, sometimes there's a reference for which a small clip won't do it justice. It is for these types of references that I'm starting this new reoccurring feature here at Spook Central, which I dub the "Ghostbusters Reference Review" (because creative names aren't usually my strong suit).
"Andrew and Zelda will date for seven months, three weeks, four days, and one hour.
This television program is the comprehensive account of their relationship, from A to Z."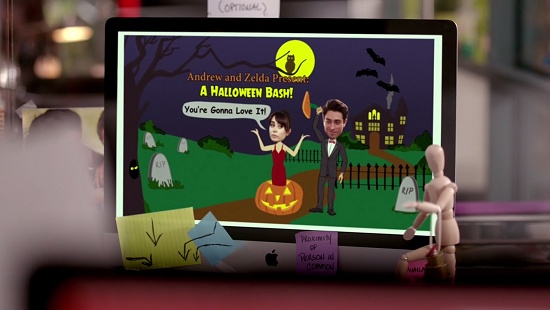 Our first reference is from
A to Z
, a charming little television series that lasted only 13 episodes, thus preventing it from fulfilling its promise of 26 alphabet-titled episodes documenting the relationship between Andrew (Ben Feldman) and Zelda (Cristin Milioti). The fifth episode, "E Is For Ectoplasm", which aired on October 30, 2014, was a Halloween episode.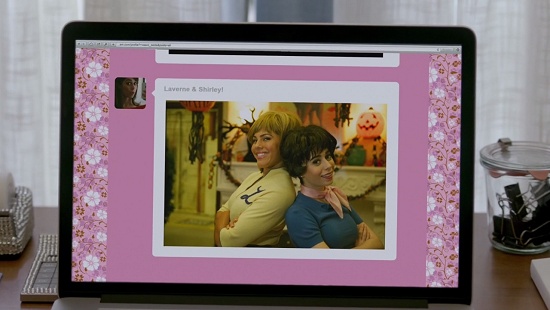 Andrew and Zelda are planning their first joint Halloween party, which just so happens to coincide with their one month anniversary. As narrator Katey Sagal informs us, normally Andrew and Zelda spend Halloween with their best friends. Zelda and her BBF Stephie (Lenora Crichlow) live in the apartment used for exteriors in the later California seasons of
Laverne & Shirley
. (That would be the one at 419/421 North Sierra Bonita Avenue in the Fairfax District of Los Angeles, which I wrote
a Shot on Site article about on The Corner Penthouse
.) As such, Zelda and Stephie have been dressing up as Laverne and Shirley every year for Halloween since they graduated from law school. Meanwhile, Andrew and his buddy Stu (Henry Zebrowski) have been playing Ghostbusters since the fourth grade. The familiar theme song plays while we see them goofing around as kids. Yeah, the costumes shown did not exist when the characters would have been in the fourth grade, as the Rubies' inflatable Proton Packs are a post-2000 invention.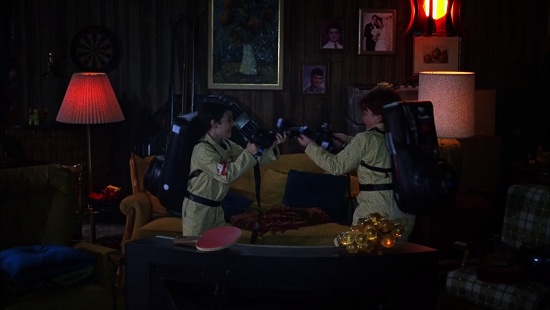 Stu is upset because for 20 years they have been doing a Ghostbusters Halloween, and now that tradition is being cast aside because of the joint celebration with Zelda. Meanwhile, Stephie is upset for the same reason; because she can't go as Laverne to Zelda's Shirley due to Zelda now doing a couple's costume with Andrew. In an effort to make peace, Andrew and Zelda offer their friends the opportunity to do the party with them, as opposed to being guests to it. Stu and Stephie love this plan. They're excited to be a part of it. As expected, their friends have ideas that conflict. Stu wants a Ghostbusters theme, while Stephie wants a Haunted Paris theme. Andrew and Zelda are stuck in the middle.
Everyone meets up in the gal's apartment to discuss the compromise of a half-Ghostbusters, half-Haunted Paris party. Around the apartment, we see that Stu has already gathered up a bunch of Slimer and Stay Puft decorations, including a large inflatable Slimer that looms behind the couple. Stu isn't too thrilled that she keeps deflating his Stay Puft Marshmallow Man. On the other hand, Stephie is not too happy that Stu wants to put ectoplasm on her Eiffel Tower, and that he wants to spend 90% of the party budget "hiring someone called Ray Parker Jr. or something like that". Fed up with their bickering best friends, Andrew and Zelda call off the party. Stu is happy with that because that means he gets to eat all of the Rick Moranis-shaped empanadas by himself.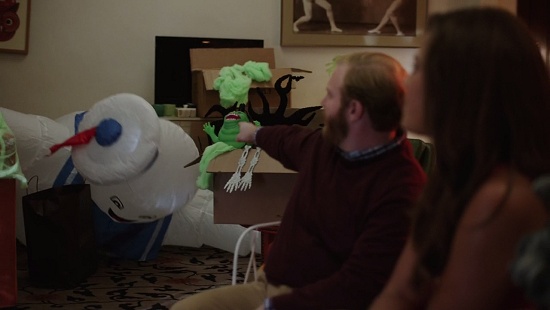 As luck would have it, Andrew's boss at the matchmaking service Wallflower, wants them to be the Golden Couple at the office sexy singles Halloween party. Stephie shows up to the party wearing the Laverne costume, and as you guessed, Stu is there, too, wearing a Ghostbusters costume. We're not talking about an off-the-rack job, either. He clearly spent a lot of time and money to make an pretty accurate-looking costume, complete with self-named patch, Ecto Goggles, and Proton Pack. I'm sure it's not screen-accurate, but it's definitely impressive for a Halloween costume. He introduces Andrew to his "new best friend", Mr. Ray Parker Jr. He blows Andrew off by telling him, "We're gonna go do something which makes us feel good, and for him, that's 'busting'". Ray admonishes him, "You know when you say stuff like that, the price goes up."
Later, Stu finds Stephie at the buffet table. Just like Squiggy in
Laverne and Shirley
, he greets her with a nasally, "Hello, Laverne". She gets the reference and likes it. Andrew and Zelda see them together and confront them, which leads to a little spat. Meanwhile, office worker Dinesh (Parvesh Cheena), having been locked in "nerd jail" by the boss (because she wanted to hide the unsexy people at the party), decided to climb through the air ducts as an escape. As expected, he falls through the ceiling. When he come to, he see Ray Parker Jr., and asks if he's in Heaven. Everyone laughs.
A little while later, the boss locks the quartet in a room to work out their issues, and they do. After the party, they all go to a Frank's Coffee Shop to unwind. A significant time has passed, as now Andrew is also dressed as a ghostbuster, and Zelda is now dressed as Shirley. Andrew's jumpsuit also has a custom name patch on it. Zelda suggests watching
Ghostbusters
afterwards, which excites Stu.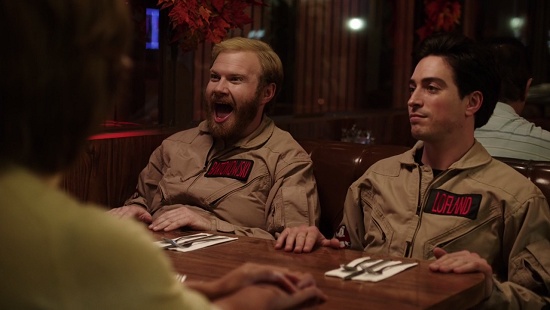 This chapter in the relationship of Andrew and Zelda is over, but not before we head back to the party for Ray Parker Jr. to perform "Ghostbusters" while the credits flash by underneath.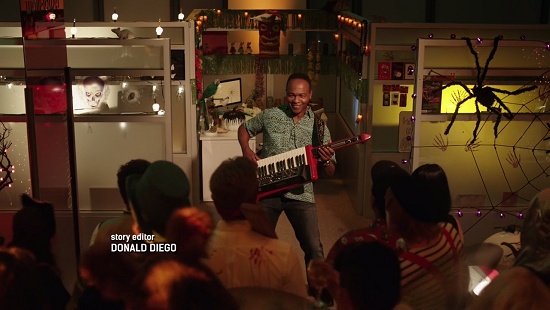 Interestingly, it was after this episode that
the show was cancelled
, though the remaining episodes that were shot (up to letter "M") were aired. The writers did their best to kinda wrap-up the story using the two more episodes that were produced after the cancellation, but viewers never learned how the rest of Andrew and Zelda's relationship turned out. Did they get married? Did they break up? This was a rather cute show, and seemed more to fit the premise of "How I Met Your Father" than the "Mother" show with that title (which starred Cristin Milioti as the "Mother").
A to Z
is NOT available on DVD, Blu-ray, or streaming; nor can it be watched on
NBC.com
or
Amazon
. There is literally no way to officially watch (or buy) this episode or series, other than the one-time airing exactly three years ago today. Thankfully, I have a decent copy, which is viewable below. Be sure to also check out all of my 1280x720 screen grabs at
Ghostbusters Wiki
(Spook Central VIP members can download them all in one zip file; see below) and the
IMDB gallery
for two set photos with young Andrew and Stu.

Watch the Full Episode (21:34, 852x480, 180 Mb)
VIP-EXCLUSIVE BONUS FEATURE
-
All 52 full-size 1280x720 framegrabs from this episode in one zip file + the original 1280x720 487MB MKV video file
. This is the video file that I downloaded years ago from a pirate site. Specifications: 21:34, 487MB, MKV. Video: MPEG4, H264, 1280x720 23.976fps. Audio: Dolby AC3, 48000Hz, 6ch, 384kbps. Do note that the video file is defective from 2:15 to 2:18.
---
For the complete list of Spook Central's Ghostbusters Reference Review posts from years past,
check out the References category
.
No feedback yet
Leave a comment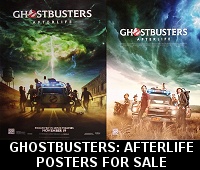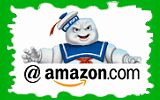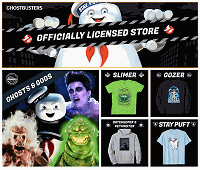 Please be aware that as an Amazon Associate, I earn a very tiny commission from purchases made though the Amazon links on this site.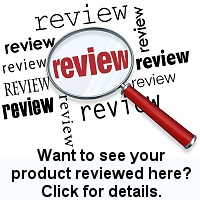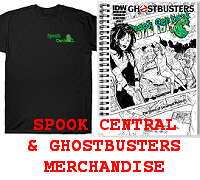 (
MY COMPARISON REVIEW
)
(
AVOID SHIPPINGEASY/STAMPS.COM
)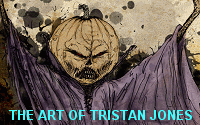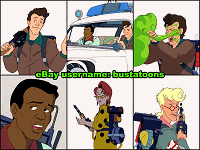 U.S. eBay (Ghostbusters stuff)
U.K. eBay (Ghostbusters stuff)