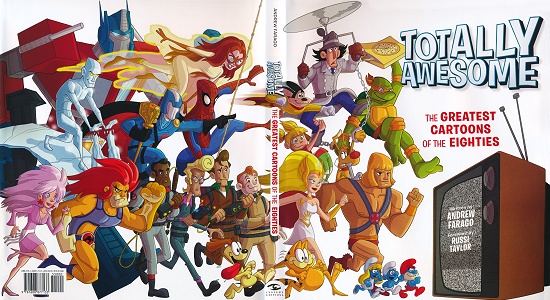 (click to enlarge)
Insight Editions has been releasing high-quality collector's-worthy Ghostbusters books for the past few years, and last year we got two.
Ghostbusters: Ectomobile Owner's Workshop Manual
(
reviewed here
) was the obviously release, but
Totally Awesome: The Greatest Cartoons of the Eighties
was another, and it likely slipped under the radar for most. This 160-page hardcover tome was written by Andrew Farago (curator of San Francisco's Cartoon Art Museum), with a foreword by legendary voice artist Russi Taylor (Minnie Mouse, the kids in DuckTales, Baby Gonzo in Muppet Babies,
etc.
). Coming in at a nice size of 9.5" x 11.5" closed, in full color print on high-quality paper, the book comes factory-sealed, so you'll know that you're getting a new, clean, untouched copy.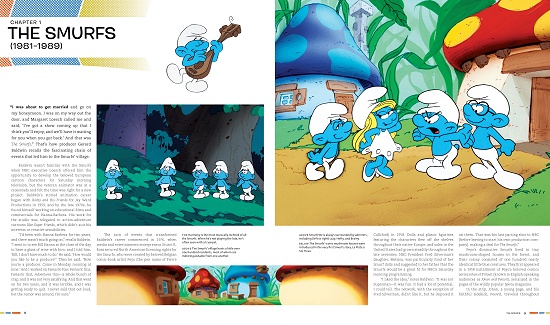 In lieu of dust-repellent paper, there's a quaint little
dust jacket
that features a beautiful wraparound illustration by
Christian Cornia
, teaming up the characters from the shows covered within. The "greatest cartoons" covered through the book's 14 chapters are as follows.
The Smurfs (1981-1989)
Spider-Man and His Amazing Friends (1981-1983)
He-Man and the Masters of the Universe / She-Ra: Princess of Power (1983-1985)
Inspector Gadget (1983-1986)
G.I. Joe: A Real American Hero (1983-1986)
The Transformers (1984-1987)
Jem (1985-1988)
Thundercats (1985-1989)
Muppet Babies (1985-1987)
The Real Ghostbusters (1986-1991)
The Disney Afternoon (1985-1990) - Adventures of the Gummi Bears, DuckTales, Chip 'n' Dale Rescue Rangers
Teenage Mutant Ninja Turtles (1987-1996)
Garfield (1988-1994)
Mighty Mouse (1987-1988)
Each chapter details the history of each show with approximately 8 to 10 pages (Disney Afternoon gets about 15 pages), each with lots of large images sourced from animation cels, storyboards, or other production artwork - except for Thundercats, which uses framegrabs, and Disney Afternoon, which appears to be using promotional artwork.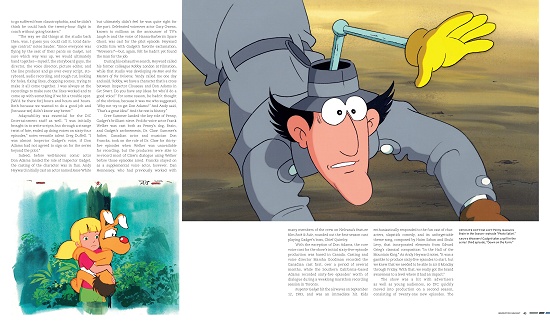 Although I watched every one of these shows growing up,
The Real Ghostbusters
, of course, was the only one that I was quite knowledgeable about. As such, I learned quite a lot from reading
Totally Awesome
. I never knew that Jim Carrey auditioned for
Inspector Gadget
, as noted in this except from pages 46 and 47.
Townsend Coleman joined the cast in the final months of production on the second season as Corporal Capeman, Gadget's comic-relief sidekick, beating out dozens of other actors -- including Jim Carrey. "I remember showing up at B&B Sound in Burbank, corner of Hollywood Way and Magnolia," says Coleman. "There were only four of us in the studio, but it was Maurice LaMarche, the voice of Chief Quimby, on his first series as well. Then there was Frank Welker. Not only had I never met him, I'd never even heard of him since I was so new to the industry and didn't know who the big players were. Frank's a nice guy, very soft-spoken, a real sweetheart of a guy. And to my right is Don Adams! I knew who he was, since I was a huge Get Smart fan growing up. And I was a bit starstruck."

Coleman continues, "I remember looking at the three of them, and I remembered this character from when my kids watched the show, Dr. Claw. And I wondered who did that voice, because the actor had to be eight feet tall, nine hundred pounds, some huge guy. As we went through the script and circled our lines, we came to a Dr. Claw line. And I thought, we'll probably skip over that since that actor's not here. And we got to that line, and all of a sudden, Frank opens his mouth and out falls Dr. Claw's voice.

"And I gasped. I mean, I literally slapped my hand over my mouth and said, 'Oh, my gosh, that's . . . !' not realizing that we were recording, and I stopped all of that momentum. I just laughed and apologized."
How shocking is it that Townsend didn't know who the great Frank Welker was?!? Well, I guess there's always a point where we learn something for the
first
time :-)
Speaking of Mr. Welker... While he is never interviewed (my understanding is that he's not keen on such things unless contractually obligated), he does appear in a small photograph with the rest of the
Muppet Babies
cast and crew on page 101. It should be noted that in addition to Frank, the photo features another The Real Ghostbusters cast member: Katie Leigh, who voiced Junior Ghostbuster Jason.
(click to enlarge)


The Muppet Babies cast and crew, circa 1985. From left to right: Greg Berg, Jim Henson, Howie Mandel, Laurie O'Brien, Hank Saroyan, Russi Taylor, Maia Matisse, Katie Leigh, Jill Colley, Frank Welker, and Bob Richardson.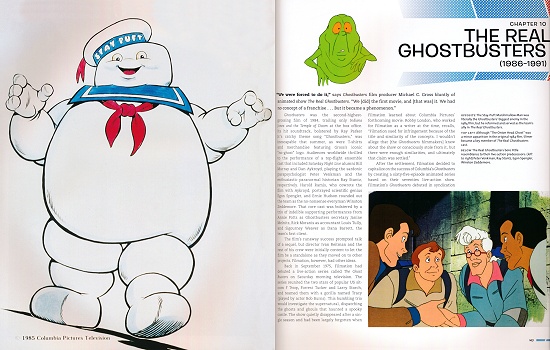 Even though it would have been great to hear Frank's comments on Ray and Slimer, us Ghostheads are not left in the cold in terms of interviewees. The Real Ghostbusters chapter features remarks from Michael C. Gross, Robby London (DIC producer and Filmation writer), Tom Sito (Filmation's Ghostbusters crew), J. Michael Straczynski, Maurice Lamarche, and Mark Edens.
On page 108, Gross and London recall the rather heated meeting with ABC that could have easily caused the show to never be greenlit in the first place.
Negotiations with ABC were considerably more tense, however, because of the network's in-house Broadcast Standards and Practices department. As a result of the incredible financial success of the Ghostbusters film, Gross and fellow producer Joe Medjuck found themselves in a rare position of power during their negotiations with ABC and asserted their authority during their first meeting with the network.

"They're not used to hearing that," laughs Gross, looking back on his dealings with ABC. "We didn't need them. We're Ivan Reitman. We're Ghostbusters. Basically, we didn't give a f--- if this show was on. Every time Standards and Practices told us what we couldn't do, we turned to ABC and said, 'F--- you. We don't need this show.'"

Robby London, who had recently joined animation studio DIC as a producer, was also part of that meeting, as DIC was on tap to animate The Real Ghostbusters, a series that would create some much-needed revenue for the studio. "So I walked into this first-ever meeting as an executive and immediately felt like a lamb in a slaughterhouse," London recalls. "Joe [Medjuck] began laying down the law and tearing into one of the network child development consultants -- in no uncertain terms -- and I was completely aghast and stunned at the disparaging way he spoke to the network. Michael's right -- they didn't need the show, didn't intend to put up with any interference, and were completely free to indulge in the luxury of telling people off! I was sweating bullets, and I thought to myself 'What rude, arrogant assholes!'

"And that was my first day!" London adds.
Thankfully, everyone stayed cool and the show made it to air. If it didn't, there wouldn't have been any content for The Real Ghostbusters chapter! Said chapter covers a lot of the same ground over its 9 pages as The Real Ghostbusters chapter in
Ghostbusters: The Ultimate Visual History
(
reviewed here
), but that's to be expected. In some ways it's kind of a condensed version of what was written in the Visual History book, but it still provides enough details to tell the show's history.
I'm pretty sure that it was already told in the Visual History book, but if it wasn't, you'll learn about those amazing voices that bring the animated Ghostbusters to life. Here on page 110, Maurice speaks about his audition process.
Voice actor Maurice LaMarche was a big fan of the Ghostbusters movie, and immediately identified with Egon Spengler's oddness. "[At my audition], I was totally told not to imitate," he recalls. "Emulate, possibly, but they wanted no impressions. So, of course, I got in there, had absolutely zero ideas on an alternate approach to Egon, because Harold Ramis embodied him so perfectly, that I just blurted out this best-I-could-manage impression of Harold's deep, somewhat glottal-sounding voice, and then said, 'I'm sorry, but I have no other ideas' and I slunk out of the studio. I went home sure my agent would chew me out and never audition me again, so imagine my shock when I got a callback. Michael Gross himself said, 'Yours worked so well for this character, you're the only one who gets to do an impression. But nobody else.'"
When discussing the voice of Peter on page 110, Michael C. Gross recounts a tale slightly different than what
I
always heard.
The original movie cast generally gave Gross and Medjuck free rein with creating the cartoon, with one notable exception. "That first year Lorenzo Music [played Peter Venkman and] he was great," recalls Gross. "He gave a great reading, and we thought he was perfect. A year into the show, Bill Murray went to Ivan Reitman and said, 'Hey, why don't you get somebody to do me?' That's when we switched to Dave Coulier. But that's the only input we had from any of the actors. Maurice LaMarche as Egon, Frank Welker as Ray, Lorenzo Music as Venkman, and Arsenio Hall as Winston. They were all great to work with."
It was always my understanding that Bill made a casual remark to someone about Lorenzo not sounding like him, and that person got word back to the show's producers, who mistakenly took it to mean that he was unhappy with Peter's voice.
J. Michael Straczynski (along with Gross) provides the lions share of the comments, such as this "new to me" information from page 113.
"When I wrote 'The Grundel,' during the voice-recording session, Joe Medjuck turned to me and said, 'Y'know, if I didn't know any better, I'd say this episode was about the danger of pederasts.' I think he was hoping I would say, 'No, it wasn't.' Because that was something that absolutely no animated series had addressed or would ever address, especially back in the extremely sanitized eighties.

"'Yeah, that's exactly what it's about,' I said, 'because even as a metaphor we need to start warning kids about this kind of thing.'"

Straczynski continues, "He looked at me for a long moment as that rolled around in his head -- we both knew that he could choose to stop the voice recording, change lines, adjust things -- before finally nodding and saying, 'Okay, then.' And that's all that was ever said about it. Had I tried that at Filmation, everyone in the building would have had a simultaneous myocardial infarction."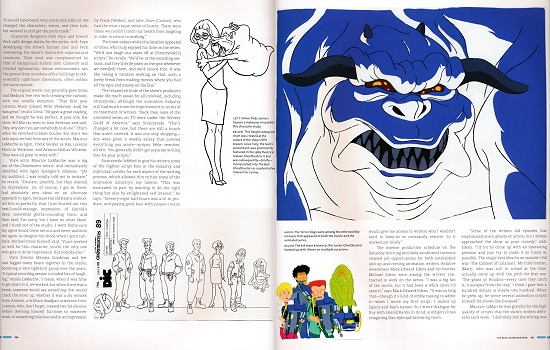 All throughout the book, there are small and large (usually half-page) bits of artwork, mostly animation cel reproductions. I am pleased to report that there is no duplicated artwork compared to the Ultimate Visual History book, other than two or three common images. I am not pleased to report that Insight Editions used my
Junior Ghostbusters animation cel #2
(on page 111), which I submitted for use in the Ultimate Visual History book back in 2015, but they did not give me credit or ask me for permission to use it in another book. I'm not mad, just disappointed. (They did give credit to Derek Osborn for his Terror Dog cel.)
Other than that, all of the images for all of the shows are a thing of beauty, and are half the reason why this book is so good. That said, a weird layout issue arises on pages 81 and 82, which features the 12-page storyboard of Jem's opening title sequence. The pages are laid out in such a way that they could be read in order from left to right, top to bottom if they were printed as two side-by-side pages. Instead, the pages fall on opposite sides of a single page. So you have storyboard pages 1, 2, 5, 6, 9, 10 on one page, then you flip over to page 82 for storyboard pages 3, 4, 7, 8, 11, 12. It doesn't prevent you from reading the boards once you are aware of the way it's really laid out, but it would have worked better, and looked SO awesome, as a two-page side-by-side spread.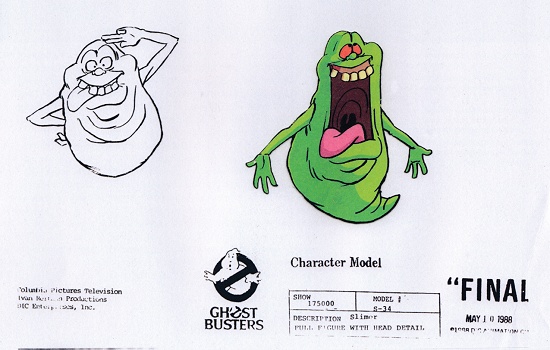 Most of the chapters contain a "pack in" item glued inside (the real reason why it's sealed in plastic). You may remember Insight Editions doing this for the Ultimate Visual History book. It's kinda their trademark, as they also did it in the
Ultimate Warrior: A Life Lived Forever
and
Assassin's Creed IV Black Flag - Blackbeard: The Lost Journal
books. I'm sure they did it in other books, too, but those are the only others I own which have the pack-ins. Below is the full list of packs-ins for this book. You will notice that there are no pack-ins for Jem, ThunderCats, and Muppet Babies. Also, none of these items can be removed without ripping the book and the item.
Page 14 - The Smurfs - Sassette sketch.
Page 24 - Spider-Man and His Amazing Friends - Nearly full-page colored sketch of Peter, Angelica, and Bobby.
Page 36 - He-Man and She-Ra - She-Ra and Hordak sketch.
Page 46 - Inspector Gadget - Inspector Gadget sketch.
Page 61 - GI Joe - Women's Winter Wear for Lady J model sheet for GI Joe: The Movie.
Page 66 - The Transformers - Press release for daily series.
Page 112 - The Real Ghostbusters - Slimer color character model.
Page 138 - Teenage Mutant Ninja Turtles - Huge 2-page-long size comparison chart of the main villains and one turtle.
Page 143 - Garfield - Full color mini-card cel and background reproduction.
Page 155 - Mighty Mouse - Internal memo from Ralph Bakshi about cats and mice drawing.
Totally Awesome: The Greatest Cartoons of the Eighties
carries a MSRP of $50 ($70 in Canada), but right now you can get it for $30 with free shipping
at Amazon
. That price may seem steep, but it's completely worth it for the high quality of the product.
Imagine if Insight Editions was able to work out a deal with Don Shay and do a high-quality full-color reprinting of the long out-of-print
Making Ghostbusters
book? You'd pay $50 or more for that, right? Or if Insight Editions got Sony to agree to let them publish Dan Aykroyd's
Ghostbusters 3: Hellbent
screenplay; that would surely be worth $50 - right? Imagine how cool
that
would be! Even cooler if IDW did a companion
Hellbent
graphic novel. Anyway, enough of my wishful thinking...
If you're the type of person who used to read Cereal Geek magazine (or knows what that was), this book is
Highly Recommended
for you. If you're just a fan of one of the shows covered, as long as you understand that each show only gets 8-10 pages, I'd say it's
Recommended
for you. If you have any doubts, go check out the
gallery on the Spook Central Facebook page
.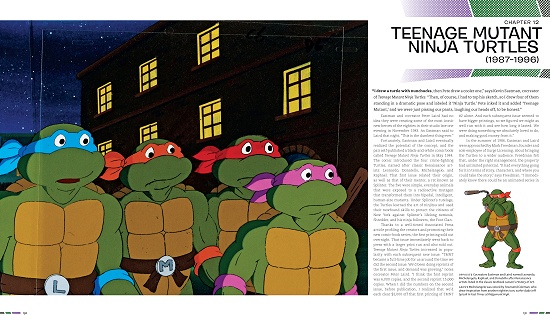 In closing, I leave you with this humorous anecdote from Larry Kenney (voice of Lion-O in ThunderCats) from page 93.
Larry Kenney still receives fan mail and is adored by legions of ThunderCats fans on the convention circuit, but he's the first to admit that the relative anonymity of voice acting has allowed him to maintain his sense of humility. "Around Christmas of 1985 or 1986, I was shopping at Toys 'R' Us and noticed two young boys in front of a ThunderCats display. One asked the other which character he was going to buy. I walked over and said, 'You should get Lion-O. He's the one who says, 'Thunder . .. thunder . . . ThunderCats, hooooooo!' As I walked away I heard one of them say, 'He didn't even sound like Lion-O.' I thought, 'If he only knew.'"
1 comment
"It was always my understanding that Bill made a casual remark to someone about Lorenzo not sounding like him, and that person got word back to the show's producers, who mistakenly took it to mean that he was unhappy with Peter's voice."
Actually I read the recollection by Michael Gross. It was Murray who made the observation to Reitman and then he informed the RGB production team to change the voice actor.
Oct. 15, 2018 @ 19:18
Leave a comment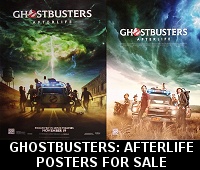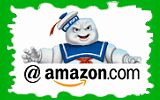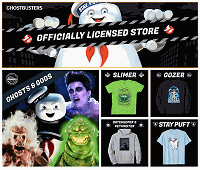 Please be aware that as an Amazon Associate, I earn a very tiny commission from purchases made though the Amazon links on this site.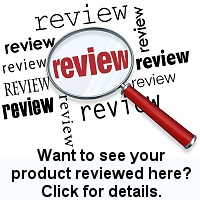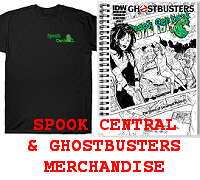 (
MY COMPARISON REVIEW
)
(
AVOID SHIPPINGEASY/STAMPS.COM
)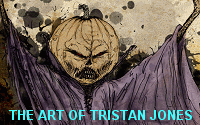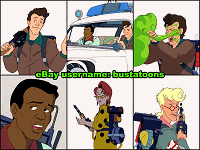 U.S. eBay (Ghostbusters stuff)
U.K. eBay (Ghostbusters stuff)