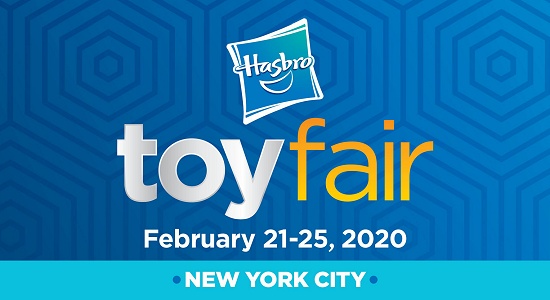 On Saturday February 22, 2020, I attended the Hasbro 2020 Toy Fair in New York City, an offshoot of the larger
New York Toy Fair
going on elsewhere in the city at the same time. Thanks to the invitation-only event, I was able to be amongst the first to see the new Ghostbusters toys Hasbro will be releasing later this year. Join me as I share with you my experience of the event and provide you with details on all of the products you can look forward to.
(UPDATE: Most of the products listed below, and MANY that were not announced at the time, can now be PURCHASED AT AMAZON.)
I should warn you that this article will be very long and image-intensive, but I have broken it up into THREE PAGES to ease the pain. (There will be page links at the bottom of each page.) I will also give some attention to the non-Ghostbusters booths I visited, as I want to fully document my experience. The images seen here are only a fraction of what was taken. Check out the
supplemental page elsewhere on Spook Central
for the full gallery of 100+ images. The product descriptions in the quote blocks are what has been given to me by Hasbro, and are being presented exactly as written. After each description, I will give my opinions and impressions on the item.
Except for the presentation livestream screenshots (taken by Matthew Jordan), and where otherwise noted, all photos in this article were taken by me, Paul Rudoff, exclusively for Spook Central. Please do not repost them elsewhere without permission. Thanks.
I made sure to dress to impress, wearing my
Ripple Junction Ghostbusters long sleeve t-shirt
, the
Spirit Halloween Ghostbusters jacket
, and my standard
No Ghost Logo baseball cap
. The one thing I didn't think to do was get a photo of myself proudly representing what I love, but that's because I don't like being photographed. I'm more mysterious that way.
I arrived at Penn Station and made the nine block walk to The Times Center at 242 West 41st Street. On the way, I actually found a Ghostbusters 2016 deleted scene filming location. Some of you are thinking, "Cool!" Most of you are thinking, "Why'd you have to bring up
that
movie?!?" Well, it's not like I intended to find it. I was at the corner of 7th Avenue and West 38th Street waiting for the light to change when, for whatever reason, I decided to look over to the left down West 38th Street. That's when I noticed the distinctive Ben's Deli sign. I instantly recognized it and remembered it from the
article I wrote about the Deleted and Behind The Scenes shots
from the movie and its TV spots. Once I saw the U.S. Post Office further down the road, I knew I found the spot, which is roughly 242 West 38th Street. I'll cover this more in a
separate blog post at a later date
, but for now, here's the movie shot on top and my photo of the location on the bottom.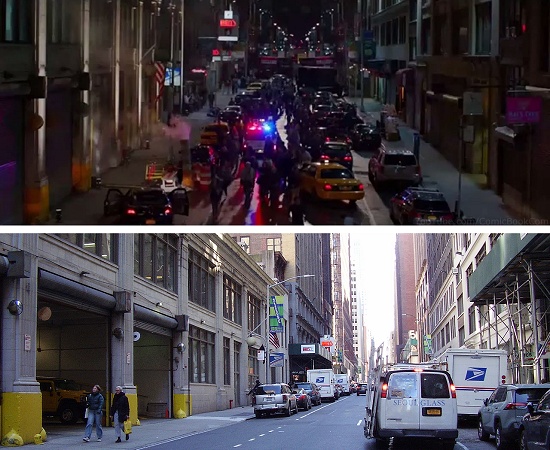 Finally arriving at The Times Center, I was greeted by a familiar sight. The
Ghostbusters, Virginia
were in attendance, with their Ectomobile parked out front.
Ghost Corps New Jersey
were also in attendance, and it was nice speaking to
Tom Gebhardt
again. I haven't seen him since the
2016 BBQ Films event
.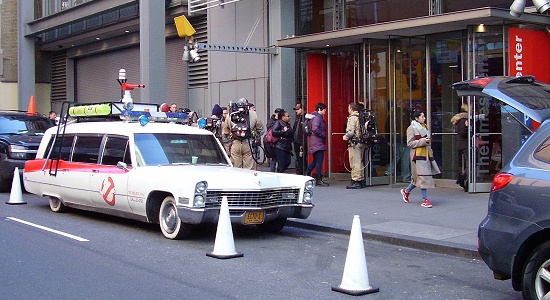 I checked in at the front desk and got my Hasbro press lanyard. This was the first press event I ever attended, and it was a bit surreal to see "Paul Rudoff" and "Spook Central" on the badge. I guess I am now, finally, a legitimate journalist.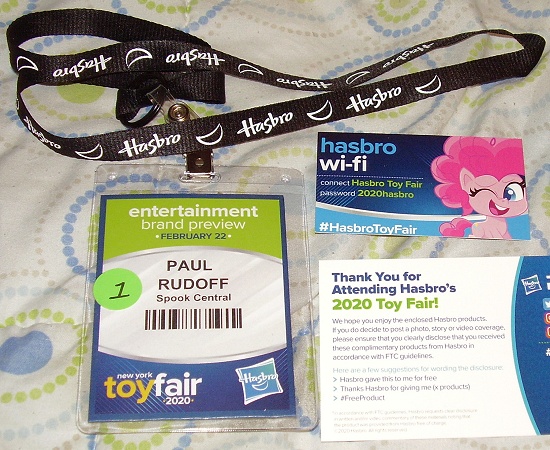 We all had to wait a little bit, but were let in to the presentation room around 1:10 PM - though it didn't start until the stated time of 1:30 PM. It ended around 3:42 PM. Yes, it was OVER TWO HOURS LONG! Ghostbusters was kept last, and started at 3:23 PM. I guess they kept the best for last :-) They didn't spend as much time on Ghostbusters as they did on Marvel and Star Wars. I swear that each of those were discussed for, what seemed like, an hour each!
We were prohibited from taking photos or video during the presentation, with the promise that photos would be available at 6PM the same day on the
Hasbro Newsroom site
. As of this writing, there are still no photos there. Hasbro livestreamed the presentation on the
Hasbro Pulse Facebook page
, and after four days, finally made it permanently available (in seven chronological parts) to
stream on their website
.
The Ghostbusters portion of the presentation was hosted by
Tom Warner
(Senior Vice President of Franchise and Partner Brands) and
Kevin Evans
(Senior Manager of Product Design, and Design Lead on the Ghostbusters line). They started off with a brief slideshow of vintage Kenner promo artwork.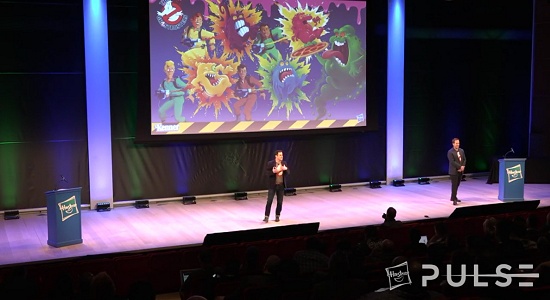 Then the new Kenner Classics Real Ghostbusters Wave 1 retro figures were shown on screen. The line consists of Peter, Ray, Egon, Winston, Stay Puft, and the Green Ghost (Slimer). They look exactly like the original figures from the 1980s.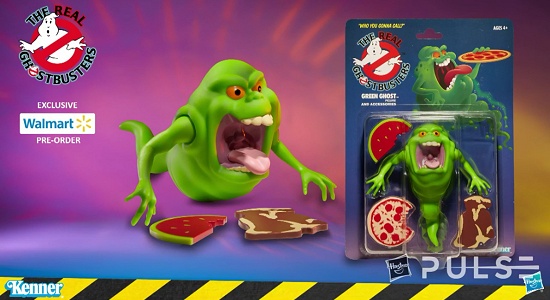 The two hosts tried to think of something they loved from their childhood. Something that could never, ever possibly destroy them. What they thought of was...Ivan and Jason Reitman! I expected for them to show up on-screen in a pre-recorded video - like Gregg Berger (voice of Grimlock in Transformers) did earlier - but to my utter surprise, they showed up IN PERSON! The audience erupted in applause.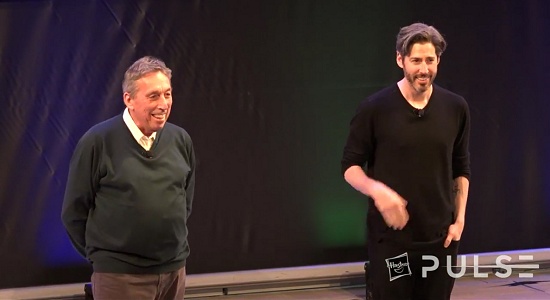 The movie-based "Plasma Series" figures were discussed. The line includes Peter, Ray, Egon, Winston, Dana Barrett, and Gozer. Each comes with a part to build a Terror Dog. (These figures are for the adult collector. There are other figures of the guys that are for the kiddies...or the kiddies at heart.)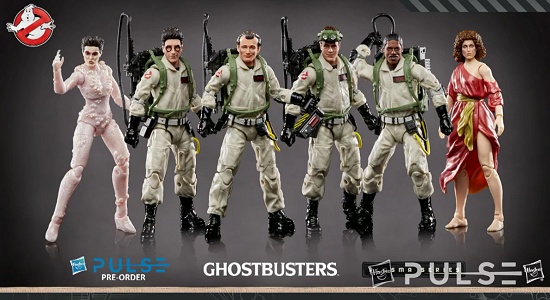 Jason then opened up a briefcase and took out the actual screen-used
Ghostbusters: Afterlife
Neutrona Wand movie prop.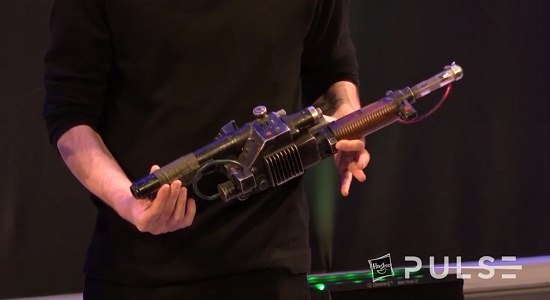 The Hasbro rep then pulled out their own Spengler's Neutrona Wand replica, which is very close in appearance to the real thing. The Spengler Wand was demonstrated. It has lights and sounds, vibrates, and comes with a stand for display when not in use.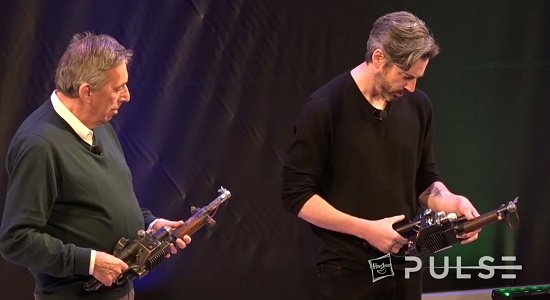 The folks at Hasbro then surprised Ivan and Jason with their own Ghostbusters figures in their likenesses, which were housed in gold boxes that looked like Tobin's Spirit Guide books.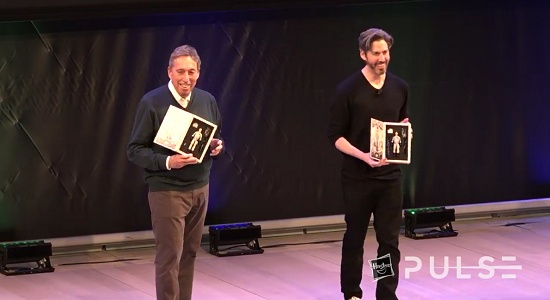 Jason posted two photos on Instagram
giving us a good look at the figures.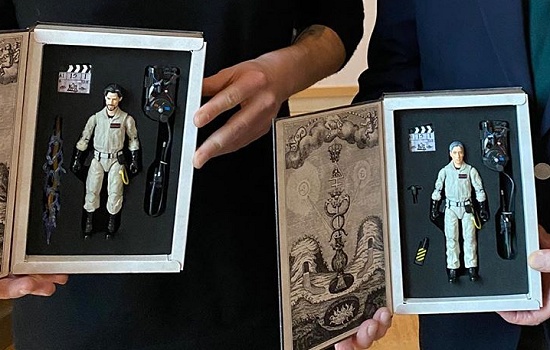 That was the end of the presentation. The Reitmans made a fast exit, and did not stick around afterward to meet the fans. I would have given each of them one of my
Spook Central business cards
, and gotten them both to autograph the back of one, had I been given the chance. I met up with Tom Gebhardt later who told me that he was told that the Reitmans had another engagement to be at, which is why the Ghostbusters portion was the shortest part of the presentation with very little of the product line shown.
At that point, it was 3:42 PM and we were then led out in numbered groups to tour the showroom floor. The event ended at 5:00 PM (they pushed it to 5:15 PM), so this did not leave much time to check out all of the booths in detail. I was in Group #1, led around by a rep carrying a Peppa Pig sign. This part of the event was rather disorganized. I think their plan was for Group #1 to be taken to the first booth (Power Rangers), while Group #2 would start at the second booth (G.I. Joe) and so on. Between the second and third booths (Hasbro Gaming), our guide handed us off to someone else; and by the fourth booth (Transformers), we just all broke off on our own. Considering Ghostbusters was right across from Transformers, and I wanted to maximize my time there, I think it was for the best that we all did our own thing.
I don't have much to report about Power Rangers. I never cared much for the original series when it was on Fox back in 1993. I just thought it was rather stupid. I got into it from
Dino Thunder
(2004), through
S.P.D.
(2005), and to
Mystic Force
(2006). Those series were a little less goofy than what I had seen previously, and it doesn't hurt that each prominently featured a "cute girl" in the cast - namely Emma Lahana, Aly Purrott & Monica May, and Antonia Prebble. The latter plays a novice witch named Clare who reminded me of Tara Charendoff's Gwen in those
two Sabrina the Teenage Witch TV movies
. I also recommend
Lost Galaxy
(1999) for Cerina Vincent (who should have won a "Best Costume Design" Oscar for
Not Another Teen Movie
) and
R.P.M.
(2009) for Rose McIver & Adelaide Kane. If you're into Power Rangers, the big ticket item they were showing off is
the sword-flute thing ("Dragon Dagger") that the Green Ranger used
to summon his Zord in one of the series.
As for G.I. Joe, I was rather surprised by how sparse the booth was considering that it's one of Hasbro's big brands. At least I
thought
it was. From what I could tell, the booth was really there to promote the new
Snake Eyes: G.I. Joe Origins movie
coming out in October - this one NOT
starring Nicolas Cage
.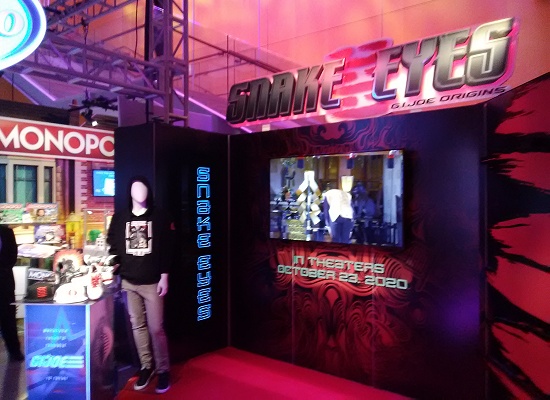 The Hasbro Gaming area was filled with a plethora of different Monopoly board games. They have one about the White House named
"Monopoly: House Divided"
, hopefully without an orange token. There was a super-fancy set that may or may not have been made out of real diamonds. It was inside a glass case, so maybe it was. A photo of that set is below. Other variations include
"Monopoly: Sore Losers"
(the 99% rise up against the 1%),
"Monopoly: Speed"
(it's over in 10 minutes or the
bomb explodes
),
"Monopoly: Longest Game Ever"
(in case you didn't think the normal game was long enough),
"Monopoly: Super Electronic Banking
" (for those too "Millennial" to know what paper money is), and
"Monopoly: 85th Anniversary Edition"
(with fancy sparkly tokens).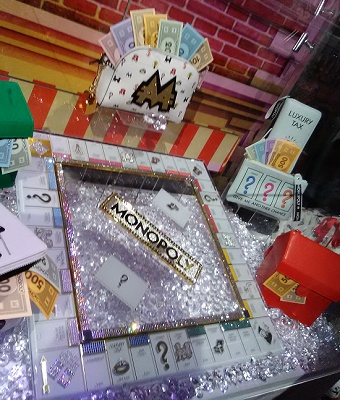 Between the three halves of the Gaming booth - and yes, I realize there is no such thing as "three halves" - was a little mailbox filled with enamel pins. We were told that we could take as many as we wanted, and since there are five in the set, I grabbed all five. Each pin is an anthropomorphized version of a famous Hasbro game, with the backing card featuring a humorous quip in a word bubble. The set includes
Monopoly
("Go buy yourself something nice!"),
Life
("In through your nose, out through your mouth!"),
Jenga
("Let the good times ROLL!"),
Operation
("Tibia or not tibia? That is the question..."), and
Taboo
("Zero filters, zero F#%@$"). I know it's such a simple thing, but I
LOVE
these pins. They're so cute and unique. I don't think they actually sell these anywhere; they're exclusive to events like this.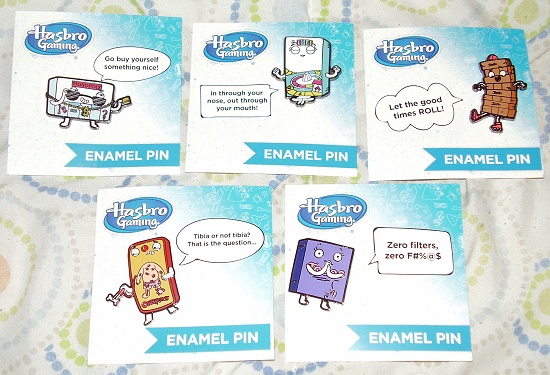 The second Gaming section was hosted by an employee named Dana. She took one look at my Ghostbusters jacket (remember, the front looks like the jumpsuit "uniform" with velcro'ed name patches), and called me "Stantz" (the jacket's default patch which I have no interest in changing). She then introduced herself by saying something to the effect of, "Although my name is Dana, there is no Zuul". I think I found the future Mrs. Rudoff. Unfortunately, I was so caught offguard, and I rarely think of the right thing to say at the right time, that I failed to think to say, "Oh, Dana, it's you!" The
ONE
time I get to use that line, and I forget to use it!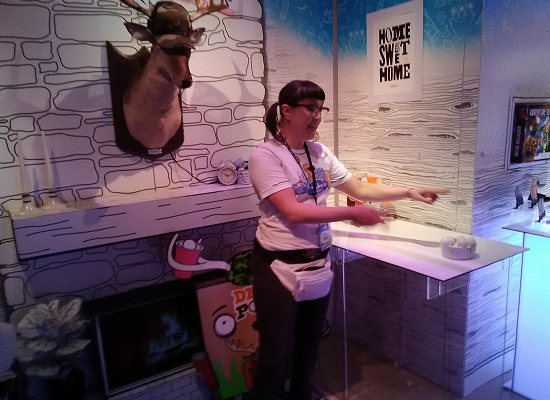 Anyway, in this section, a new version of Clue called
"Clue: Liars Edition"
was on display. It features a big red electronic button (think:
Staples' "Easy Button"
) in the middle of the board that when pressed calls out "LIAR!" or some other phrase. Across the way, Dana told us about the
"Deer Pong"
game. No, that's not a typo. It's a deer head with small cups on the antlers that you bounce ping pong balls into. I guess you could add beer, but I don't endorse such a thing. We could have tried out the game, if we wanted to. Also on display was an
updated version
of the "Mall Madness"
game from the 1980s
and one of those "use a magnet to guide a thing through a maze" games based on Operation featuring a canine patient. It's called
"Operation: Pet Scan Edition"
, and will be available for $19.99 on July 1, 2020.
As we exited out toward the main showroom, we entered the last Gaming section. It was here that they had all four of the new Tiger Electronics LCD games on display:
The Little Mermaid
,
Transformers
,
X-Men
, and
Sonic The Hedgehog 3
. Yes, you heard me right. Hasbro decided to bring those crappy little things back from the dead. Why? I have no idea. Well, I mean, I know they brought them back for nostalgia's sake, but it's not like anyone was clamoring for their return. In these days of bright, colorful, full-featured games on the phone you have in your pocket (not counting the Nintendo Switch), who in their right mind would play a big, clunky hunk of plastic with only one game on a crappy barely-lit screen with pre-rended graphics? Oh, and get this: They
still
run off two AA batteries. I get that that's how they were powered back in the day, but in 2020, portable devices are usually powered by USB with rechargable batteries built in to the device. To quote the Angry Video Game Nerd, who did an
episode about Tiger games
, "What were they thinking?" We did get to try them out, if we wanted to. I gave The Little Mermaid a spin, and didn't get very far. It took me a while just to get it turned on and started because I'm not used to things with separate on and off buttons anymore. Anyway, if you want the Tiger games, they'll be available in the Fall of 2020 for $14.99 each.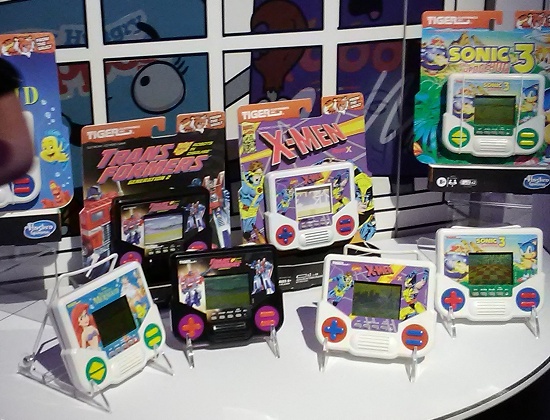 There was also a tub of sealed
Rubik's Cubes
at the end of the Gaming section. I think they might have been free for the talking, but I didn't bother to ask, as I don't really need one...unless it's a Ghostbusters Rubik's Cube. C'mon Hasbro, make that happen.
At this point, those of us who remained in the group were taken to the Transformers booth, completely bypassing Dungeons & Dragons and Magic The Gathering. I guess there was nothing of importance at either of those booths. Transformers was PACKED! I could barely see anything that was on display. They did have a HUGE robot that was made up of six smaller robots/figures joined together - kinda like Voltron. I don't remember if it's the Dinobots, the Constructicons, or something else. There are too many characters in the Transformers universe for me to keep track of.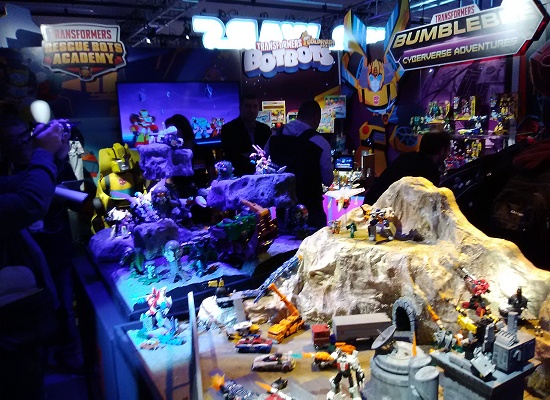 It wasn't hard to notice the Ghostbusters booth across from Transformers, and since our guide went missing, I decided to go out on my own. By now, it was probably close to 4:00 PM, and with the event set to end in an hour, I needed to be in control of how the time was spent, and not go at someone else's pace.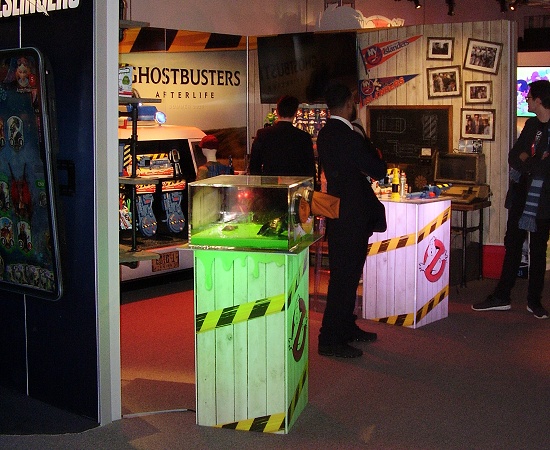 Let's tour the booth from left to right, shall we?
On the left side of the booth was a slime testing station. It's a pedestal with a plastic display case on top that has two rubber gloves attached to it, and inside is a big heaping helping of green slime. You put your hands in the gloves and play with the slime, without the hassle of getting messy. I gave it a try, and DAMN, is the slime strong. It's not the loose liquidy slime of our childhoods. It feels like you could cradle a small object in it if you stretch it taut. (The o'lovely
Olivia
from Hasbro plays with the slime at the 0:15 mark in
this video from the Hasbro Pulse Facebook page
.)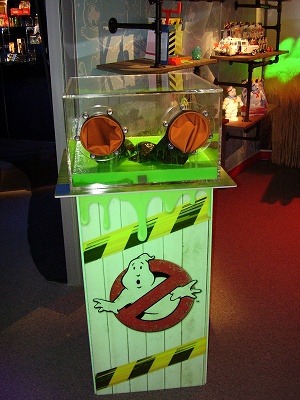 On another pedestal at the front of the booth was the Proton Blaster M.O.D. This was one of two that were on display, though the other was only boxed, while this one was boxed and loose.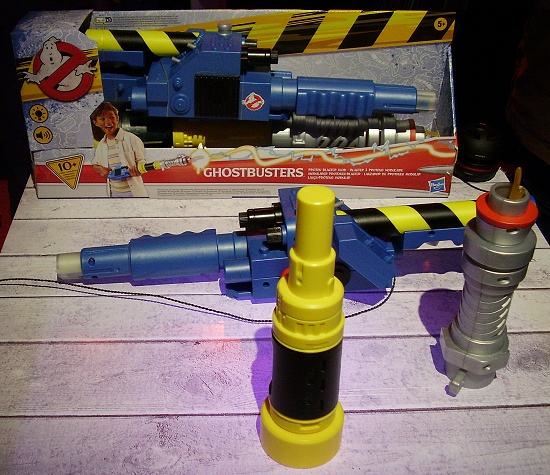 GHOSTBUSTERS PROTON BLASTER M.O.D.
(Ages 5 and Up / Approx. Retail Price: $29.99 / Available: Summer 2020)
(BUY IT FROM AMAZON)
Kids can imagine busting ghosts all kinds of ways with this modular and customizable GHOSTBUSTERS Proton Blaster M.O.D. ("Made on Demand") role-play toy from Hasbro. The primary blaster, complete with sound and light effects, comes with two attachments - the Blast 'n Trap and the Plasma Stream. When kids attach either accessory, unique lights and sounds are activated. Attachments can be placed in three locations: on the front, side, or back of the main blaster so kids can customize their blaster to fit their Ghostbustin' adventure.
This looks pretty neat. It's a customizable neutrona wand that can make over 10 different combinations, according to the
back of the box
.
Let's look at everything on the left wall of the booth, starting with the left-most item on top: Ecto-Plasm Ghost Gushers.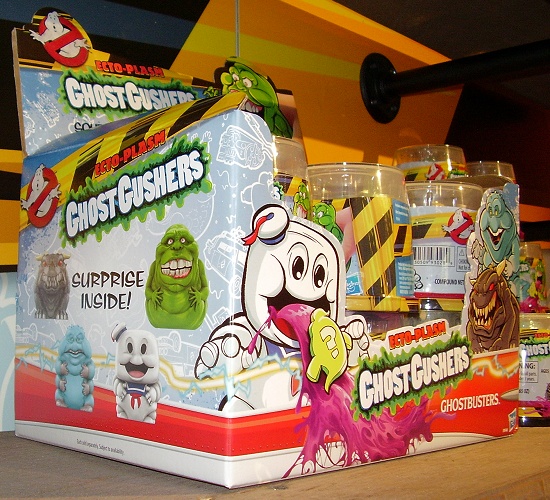 GHOSTBUSTERS ECTO-PLASM GHOST GUSHERS
(Ages 4 and Up / Approx. Retail Price: $7.99 / Available: Summer 2020)
(BUY IT FROM AMAZON)
It's time to get slimed with the slimy, gut-busting surprises of GHOSTBUSTERS Ecto-Plasm Ghost Gushers from Hasbro. Choose from one of four ghost figures, inspired by the original Ghostbusters movies and the new GHOSTBUSTERS: Afterlife movie! Inside each figure is one of twelve different mini-figures, suspended in colorful slime. Squeeze the big ghost and the small ghost will gush out, covered in slime!
If I'm understanding this properly, it's a ghost that vomits out slime and another ghost. Does Paul Feig work for Hasbro?
It's an interesting concept, and I'd certainly love to try them out. Thanks to Hasbro's PR department, we got a better look at the four ghosts: Terror Dog, Slimer, Muncher, and Stay Puft.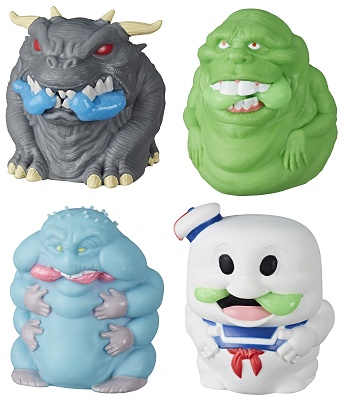 Also thanks to Hasbro's PR department, and Matt Jordan, we get our first look at all 12 mini-figures that, presumably, will be randomly paired up with one of the above four ghosts. Yes, the dancing toaster from Ghostbusters II, the Bog Hound from
The Real Ghostbusters: "Scaring of the Green"
, and Samhain's head from The Real Ghostbusters are all included. Thanks to Matt for assembling this image and finding someone's photo of the left side of the display box at the Toy Fair, which shows all of the minighosts. The two that don't match the others came from that display box image. Matt believes them to be the trash can ghost from
The Real Ghostbusters: "Mr. Sandman, Dream Me A Dream"
and
Splat
from the VOID's
Ghostbusters: Dimension VR Experience
and later the
Ghostbusters World
mobile game.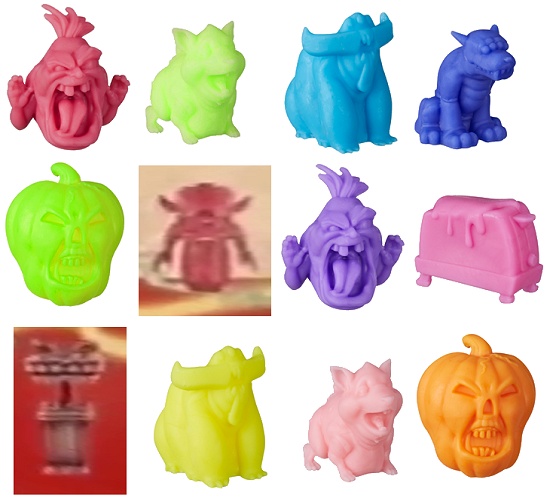 However, it's kinda sad that Hasbro is ripping themselves off with an identical product in their Marvel line.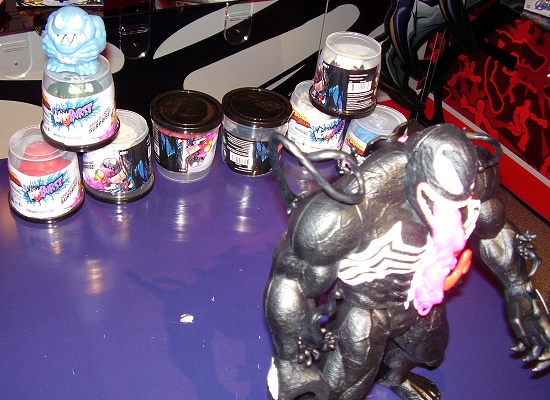 The very familiar-looking containers behind the big slime-spewing...excuse me, ooze-spewing Venom figure (with waggable tongue) are the
Spider-Man: Maximum Venom - Venom Burst 2-Packs
(
2 two-packs here
). If you don't see the similarity, here's Hasbro's product description.
MAXIMUM VENOM VENOM BURST 2-PACK
(HASBRO/Ages 4 years & up/Approx. Retail Price: $15.99/Available: Fall 2020)
Squeeze, ooze, surprise! Enter the world of MAXIMUM VENOM with this VENOM BURST 2-PACK of figures. When kids squeeze the sides of each VENOM BURST figure, ooze gushes out, along with a second hidden figure! It's an ooze-filled surprise that's definitely "venomized"! This MAXIMUM VENOM VENOM BURST 2-PACK includes two evil outer figures with colors and details inspired by the most sinister symbiote in the MARVEL UNIVERSE - VENOM! Squeezable, sinister outer figures include HULK, VENOMIZED HULK, ANTI-VENOM, CARNAGE, CAP SYMBIOTE, ANTI-VENOM GROOT, and SYMBIOTE GROOT! Surprise inner characters include: GAMMA HULK, CAPTAIN AMERICA, BLACK SPIDER-MAN, RED SPIDER-MAN, LIGHTENING THOR, GROOT, METALLIC IRON MAN, RED IRON MAN, MILES MORALES, GREEN GOBLIN, ASTRAL DOCTOR STRANGE, and MODOK. Each figure comes in a can that's perfect for storing ooze and figures. Collect other VENOM BURST figures to maximize the "venomized" fun! Each figure sold separately. Includes compound, 2 figures, and 2 1-inch inner figures.
Even the store display boxes look the same, only with different set dressing.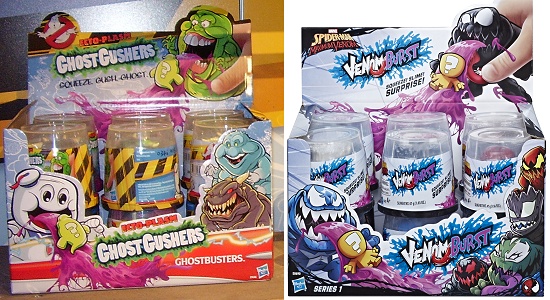 (Venom Burst image courtesy of Hasbro)
No feedback yet
Leave a comment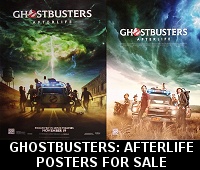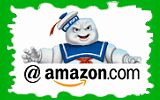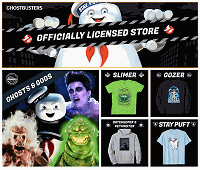 Please be aware that as an Amazon Associate, I earn a very tiny commission from purchases made though the Amazon links on this site.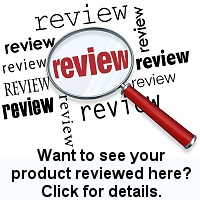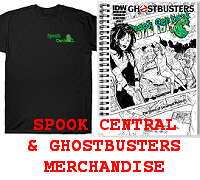 (
MY COMPARISON REVIEW
)
(
AVOID SHIPPINGEASY/STAMPS.COM
)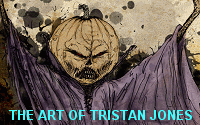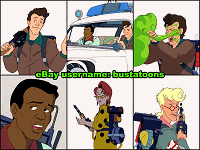 U.S. eBay (Ghostbusters stuff)
U.K. eBay (Ghostbusters stuff)