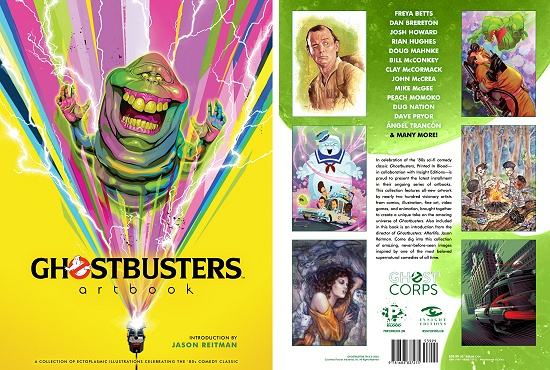 Insight Editions is set to release
Ghostbusters: Artbook
on May 19, 2020, but they were kind enough to send me a copy a month early to preview/review for all of you, dear Spookies. Let's take a closer look at it...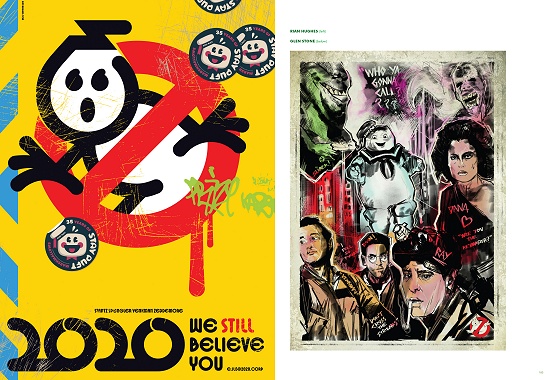 (click to enlarge)
Let me start by stating what this book is not. It's NOT a tome of Ghostbusters movie production artwork. You will not find the complete storyboard sequences for both films, nor will you find any of the concept art by Bernie Wrightson, Thom Enriquez, Henry Mayo, etc. So, just what WILL you find in this book? I'll let the back cover blurb tell you.
In celebration of the '80s sci-fi comedy classic Ghostbusters, Printed In Blood - in collaboration with Insight Editions - is proud to present the latest installment in their ongoing series of artbooks. This collection features all-new artwork by nearly two hundred visionary artists from comics, illustration, fine art, video games, and animation, brought together to create a unique take on the amazing universe of Ghostbusters. Also included in this book is an introduction from the director of Ghostbusters: Afterlife, Jason Reitman. Come dig into this collection of amazing, never-before-seen images inspired by one of the most beloved supernatural comedies of all time.
It's a book containing Ghostbusters fan art done by 171 artists (not quite "nearly two hundred"), two of whom are little kids (one being
Afterlife
star Mckenna Grace). In other words, it's DeviantArt in print form. If that's something that interests you, keep reading.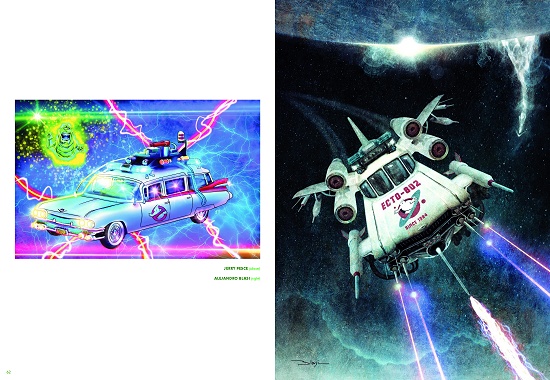 (click to enlarge)
The hardcover book is heavy (almost 4 pounds) and large (roughly 9.5"x13"), with 208 pages, featuring high-quality printing on thick paper. This is not some cheap little fanzine. All of the artwork is organized into ten subject-based chapters:
01. "Who Ya Gonna Call"
- Movie Posters (pages 5-19)
02. "We're Ready To Believe You"
- The Guys (pages 20-38)
03. "Egon, This Reminds Me..."
- Ghosts (pages 39-54)
04. "Light Is Green, Trap Is Clean"
- Ectomobile & Traps (pages 55-66)
05. "He's An Ugly Little Spud"
- Slimer (pages 67-91)
06. "We Came, We Saw, We Kicked Its Ass!"
- Group Portraits (pages 92-118)
07. "Okay. So She's A Dog"
- Dana, Louis, and Terror Dogs (pages 119-147)
08. "Ray, When Someone Asks..."
- Gozer (pages 148-165)
09. "Choose The Form Of The Destructor"
- Stay Puft (pages 166-180)
10. "Try To Imagine, All Life..."
- Odds & Ends (pages 181-203)
The back of the book includes a full Artist Index, organized by last name. Click on it below for a readable enlargement.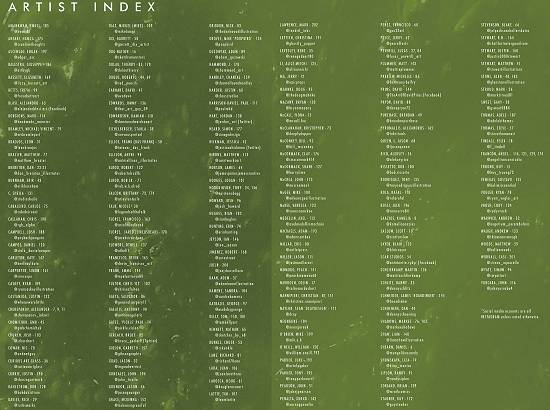 (click to enlarge)
Notable artists include many of the guys on the IDW comics team, such as Dan Schoening, Erik Burnham, and Tim Lattie. Speaking of comics, Dan Brereton reuses his four portraits of the guys that originally appeared on the
88MPH Legion variant covers
way back in 2004 (the Venkman artwork is dated "03" as they were all drawn the year before). So much for the back cover's claim of "all-new" and "never-before-seen" artwork.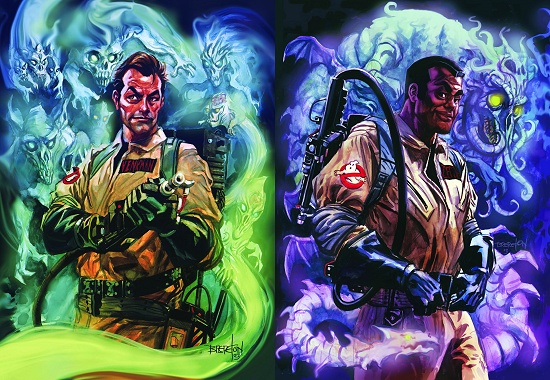 (click to enlarge)
As previously stated, 13-year-old Mckenna Grace (who shares my birthday), one of the stars of
Afterlife
, has a portrait of Gozer on page 152 that she painted on canvas. It's on the left side of the image below.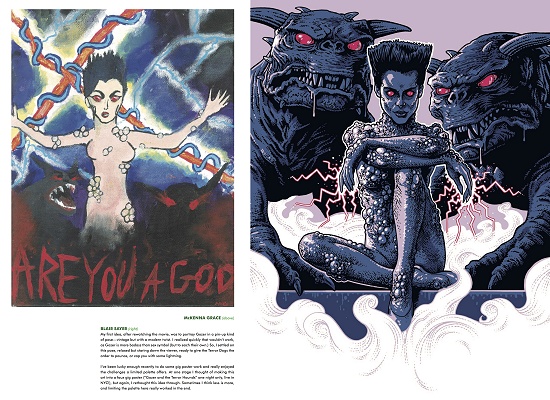 (click to enlarge)
Mckenna is one of two non-professional children to have artwork in the book. The other is Logan Hodges, the five-year-old nephew of artist Bob Rissetto. (In the image below, Bob's art is on the left and Logan's is on the right - though I'm sure you figured that out already.) These pieces bring back memories of the fan art that used to appear in the various NOW Comics books.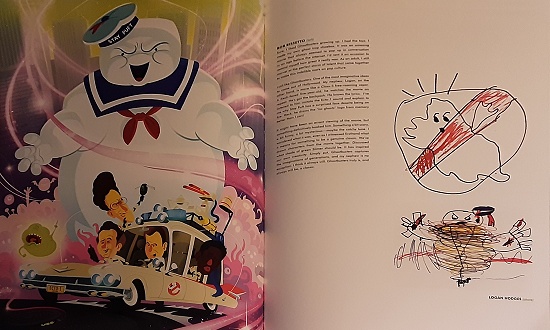 Most artists have only one piece in the book, through a few artists have multiple pieces. A lot of the artists have brief paragraphs accompanying their work in which they reminisce about their love of Ghostbusters. Nearly all of the art is based on the first film, with
Ghostbusters II
only getting nods in two pieces. All of the artwork contained in the book ranges from cute to scary, but nothing overly gruesome. It's all suitable for the movie's PG rating.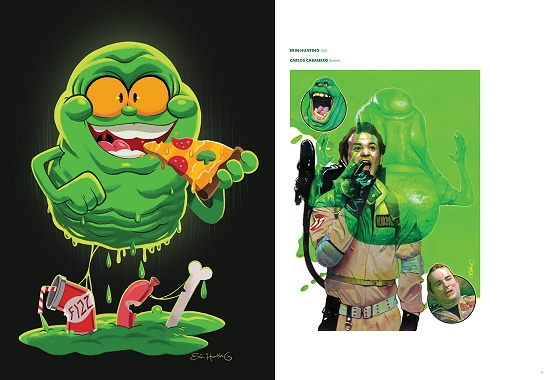 (click to enlarge)
There are a lot of pieces that I love, but I'll only spotlight a few of them so I don't spoil the book for you. On page 17 (right side of the image below) is poster art by Colin Murdoch that reminds me of classic movie poster artist
Drew Struzan
. Oh, how awesome it would have been if Printed in Blood, the group that assembled the artists, had gotten Drew to do his own take on a Ghostbusters movie poster.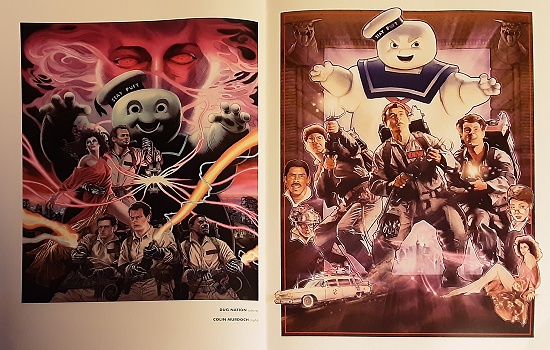 On pages 104 (left) and 105 (right) are two more of my faves. Neongore created a Tales from The Crypt-inspired comic book cover, while Josh Church did this nice collage of the characters and Ectomobile with "GHOST BUSTERS" written in large green dripping bubble letters, with proton streams separating everyone for proper social distancing.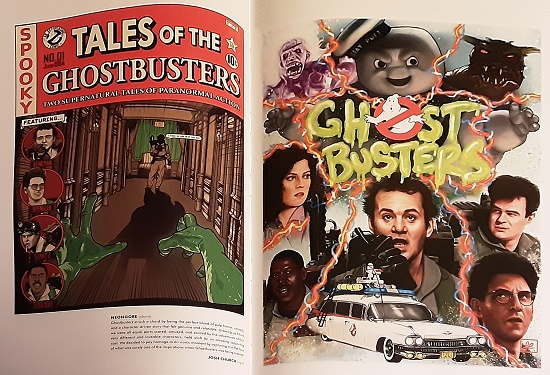 Cover art was done by Bill McConkey, and there is a brief introduction by Jason Reitman that he wrote on October 21, 2019. At the back of the book you'll find a note from editor Steve Hoveke (it's signed "SH", and this is the only credited person with these initials) that was written on December 13, 2019, along with a dedication to Harold Ramis and the special thanks and credits. After that, tucked into the back, is a 4"x6" postcard with JJ Harrison's
Ghostbusters: Race Against Slime
cover art on it, and Insight Editions information on the reverse.
For what it is, it's a great book. There are many pieces that that I love, and I would highly recommend this book to other Ghostheads.
Ghostbusters: Artbook
carries a list price of $39.99 ($53.00 in Canada), but you can always find it
a little cheaper at Amazon
.
Now, Insight Editions and Ghost Corps - Can we talk about a "sequel" with movie production artwork in it?
Some images were provided to me (at my request) by Insight Editions, some are photographs that I took, and others came from the
official press kit
(mirrored on the
Spook Central Facebook page
). This item was provided by Insight Editions for review on this site.
No feedback yet
Leave a comment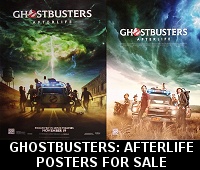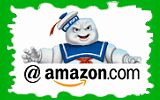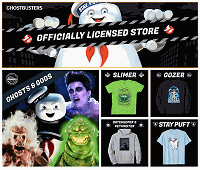 Please be aware that as an Amazon Associate, I earn a very tiny commission from purchases made though the Amazon links on this site.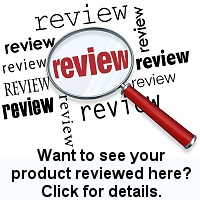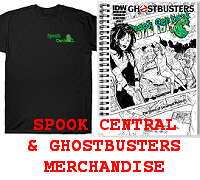 (
MY COMPARISON REVIEW
)
(
AVOID SHIPPINGEASY/STAMPS.COM
)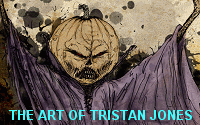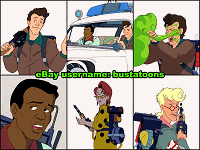 U.S. eBay (Ghostbusters stuff)
U.K. eBay (Ghostbusters stuff)